These Outdoor Workouts Will Keep You Moving This Summer
From the beach to the hills, Reebok Trainer Austin Malleolo is sharing outdoor workouts you can do no matter where you are this summer.
You've spent enough time working out at home these past few months, and now it's time to get outside and take advantage of that glorious summer weather.
Austin Malleolo
, Head Coach of Reebok Training Center, has some outdoor workouts that are certain to leave you sweating – and not just from the spike in temperature. Malleolo says the objective of these workouts is to take advantage of the space around you. "The goal is to use all different types of surrounding areas that we have from a beach to a hill, or simply a place to spread out, work out and run."
While we still need to practice working out at a safe distance from others, working out outside is a great opportunity to meet up with your gym buddy to hold each other accountable. But even though it can be exhilarating to get outside and get moving, Malleolo cautions to not go overboard. "Remember to not go out too hard if you are doing something that you have not done in a while." There's a long summer ahead, and you definitely don't want to burn out too quickly. "The excitement will be there, but remember that we want to come back tomorrow for another workout and not take the day off because we came out too hot." There's no shame in setting a pace and sticking to it.
With limited travel options, summer is a great chance to get creative with where and how you work out. You can use some of that much-needed beach time to get a workout in, or if you're planning a hike, dress workout ready and build it into the day. If you're one of the many that have taken up running (or stopped running) during these last few months, you can hit an outdoor track to pick up the pace. Even if you're in your backyard with the goal to break up the routine, Malleolo says there are a lot of ways to work on your fitness outside. "The gym really is everywhere. What makes working out special, now that we can get outside and get it done with others, is that we will be able to enjoy the weather, our surroundings, each other and of course some fitness." So, grab your face mask, your water bottle and your shades to make the most of your outdoor workouts this summer. Check out Malleolo's programs below.
Week 1 Track Workout:
4 sets:
400m at fast pace,
60sec rest,
200m at faster pace
Rest: 3 min btw. sets
(2400m Total)
400m Run Pace 1 mile PR pace or faster
200m Run Pace faster than 400m
Workout Goal: Build back some running volume and speed if you haven't been running during quarantine.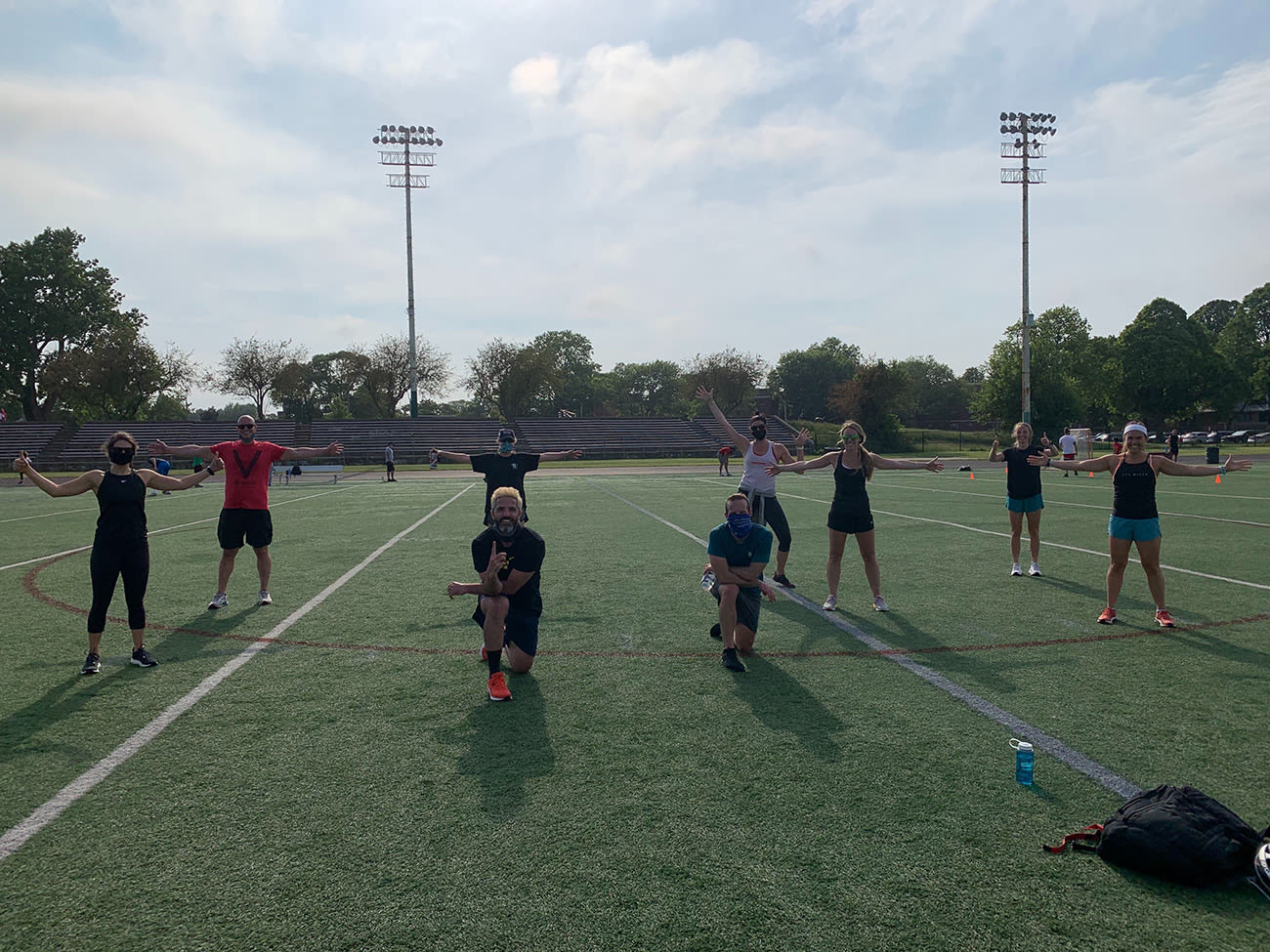 Outside Workout Circuit:
Round 1 Cardio
Run 5 laps around the park
1 Sprint around the park
Round 2 (12 min)
3x
1 Min Step Ups
1 Min Jumping Jacks
1 Min Pop Squats
1 Min Push ups
Round 3 Cardio
3x
Run 2 laps around the park
10 Burpees
Round 4 (9 min)
3x
1 Min Lunges
1 Min Squat Holds
1 Min Squat Jumps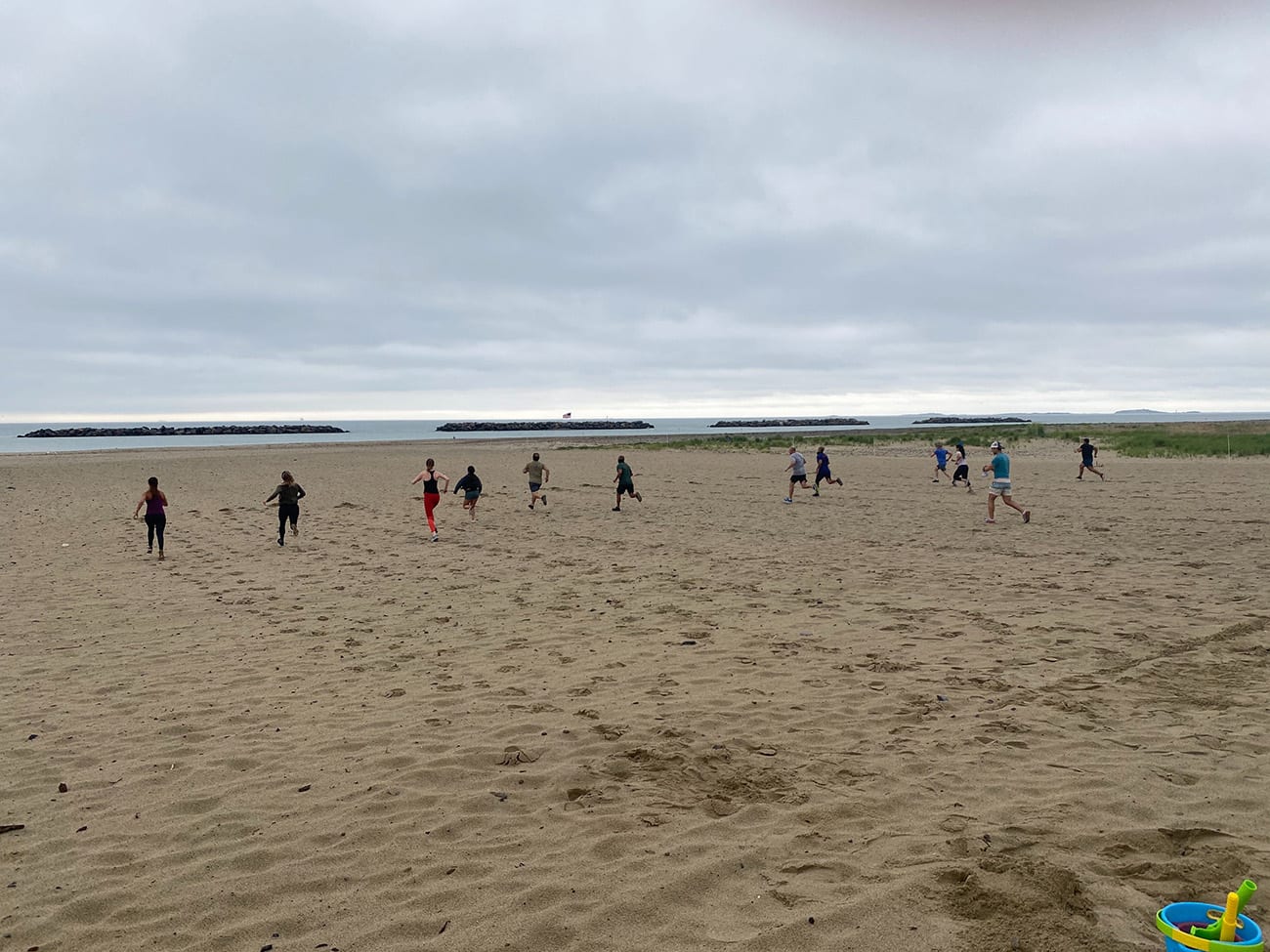 Beach workout:
8 min EMOM (every minute on the minute)
Shuttle Sprint Down and Back ~75-100m
Rest 2 mins
12 min EMOM
Min 1: 15 Wall Jumps
Min 2: 10 Burpees
1 Mile Shoreline Cooldown Run
Hill Workout:
5x jog to sprints
Workout
4x 150M hill sprints every 5 minutes
After last run, rest to the 5-minute mark and then…
Sprint to the top of the hill
Cool down: Walk down to bottom of hill