The Ballroom Is Where Families Are Found
Former mother of the House of Ninja shares how ballroom shaped who she is.
A parent looks out for their children, believes in them and fiercely protects them. But, being a parent can be equally as difficult as it is rewarding. Can you imagine if you had multiple children all over the world to look after? Legendary former mother of the New York House of Ninja, Aishah "Spyder" Murray, knows what that's like. "Having children in New York, all over the world, in and out of the House of Ninja, it's been my aim to make sure that they know they have someone who is ready to stand by, for, and up for them." For her, ballroom is where she learned how to express herself and the culture has majorly influenced who she is today.
While some say you can't choose your family, Houses within the ballroom community, like the House of Ninja, serve as symbols of what it means to create your own family. They're made up of chosen members (House mother and father and the children they take care of) and were born out of a necessity for the LGBTQ+ community to survive. Like many parents, when she became a House mother, Spyder feared she wouldn't live up to expectations. "I never saw myself being a parent when I first began in Ballroom and once I became one, I worried if I would do it justice. I had to let go of the idea that I needed to look a certain way and carved my own imprint out."
Through her experiences in ballroom, Spyder has learned about herself and what it means to be a caretaker and an example for her children. "I found in my experience giving your children the freedom to express themselves and with good communication you can see a different side you may not have considered before." She also has a vision for the future of ballroom and is ready to pay it forward. "I would love to see more women celebrated for their achievements and influence in the scene. I'd like to see less appropriation of the culture and more of learning the history of where the culture began, as well as those who are responsible for the freedoms we take part in today. Respect."
Over the years, Spyder has carved out her place not only as a mother, but as a voguing legend. Ninjas are known to hit hard and fast on the ballroom floor. Spyder says the style she ended up falling in love with surprised even her. "Old Way is the style of Vogue that chose me. Many don't know that I started with Vogue Femme in the club scene. It wasn't until elders from the scene slowed me down that I gained an appreciation for Old Way. It's such a beautiful expression as well as the foundation of Vogue." She says voguing affords her a sense of liberation and ownership. "I've often referred to Voguing as Freedom. Simply because there are no rules. You can't box me in, it isn't what you think it should be. No one owns my Vogue. It is my expression; it is my release. It is the breath in my body, and it is as easy or as complicated as I choose it to be but IT'S MINE." Balls were and continue to be a safe space for the community to connect and to be accepted for who they are.
Like ballroom, Reebok believes in all types of love and the freedom to express yourself. That's why Reebok's
2021 Pride campaign
is centered around the pioneers of ballroom, those who protested and marched for their right to exist. This year, Reebok is donating to the
Sylvia Rivera Law Project
, an organization working to guarantee that all people are free to self-determine their gender identity and expression, regardless of income or race, and without facing harassment, discrimination, or violence. There has never been a more important time to share in the mission of amplifying marginalized voices.
Spyder's talents have allowed her to travel around the world walking in balls from Paris to Amsterdam, giving her the opportunity to pass on her knowledge by teaching voguing in places like Africa. She says ballroom is different around the world and that's what makes it so special and unique.
Spyder pulled together a few personal photos to highlight some of her most memorable moments throughout her travels and life within ballroom. See below for her collection.
A Grand Prize Moment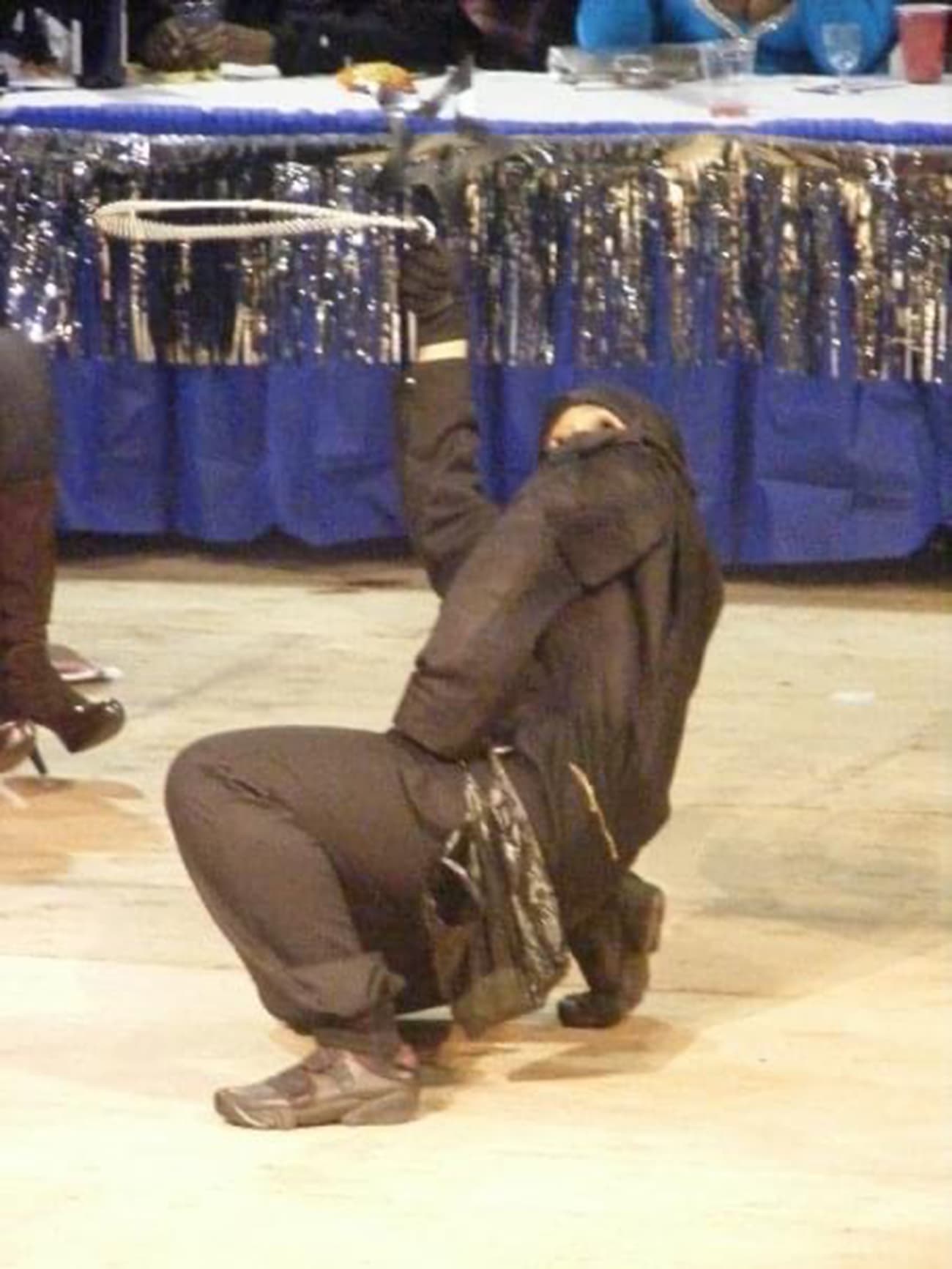 This photo was taken at a WBT (woman, butch, trans) scene ball. The category called for cat burglar and was Women's Performance. I decided I wasn't wearing anyone's catsuit. I wanted to be comfortable and walk Old Way. At the end I pulled out a string of pearls and twirled them around my finger while voguing! #GrandPrizeandMadeAStatement
Voguing in Paris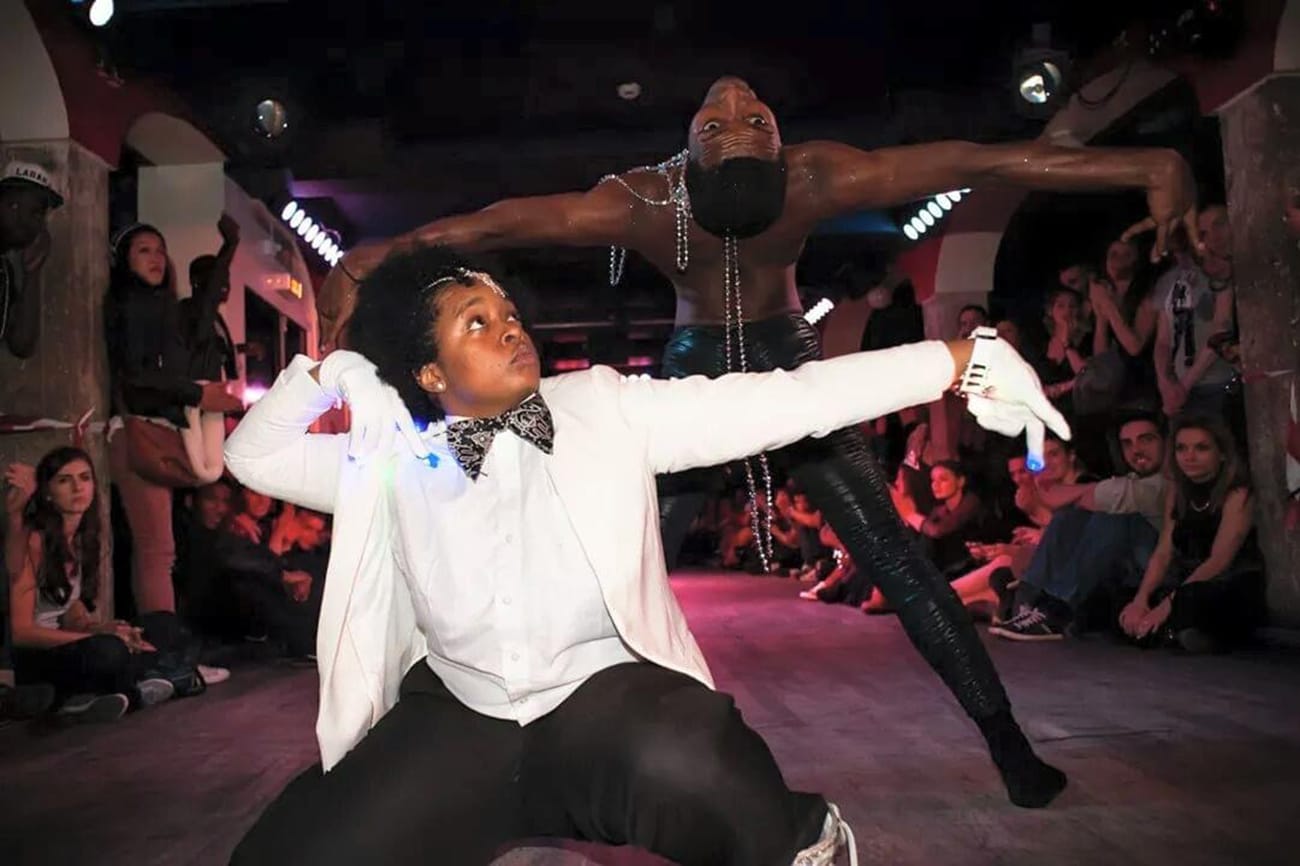 Photo Credit: La Mona
This photo was my first trip to Paris and first time competing internationally. The scene was just beginning, and I was able to show my style of Old Way and took grand prize. I chose the white dinner jacket scene to stand out with my light up jeweled watch and light up gloves. Along with a jeweled head piece and sequence and silver high tops. My effects are well thought out.
Two Looks in Amsterdam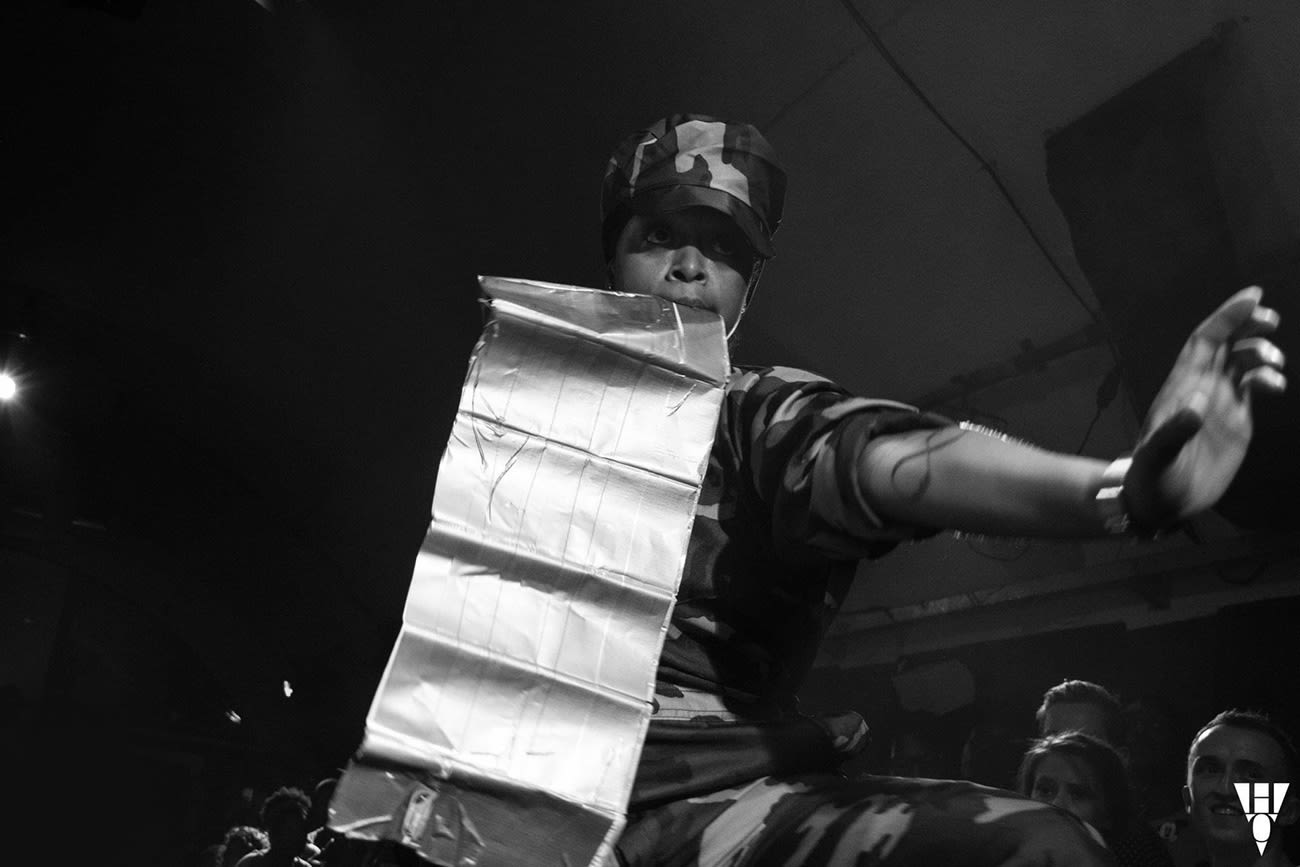 Photo Credit: House of Vineyard
This photo was the first time I traveled to Amsterdam and competed in a ball. I showed up in an old school doll effect with a map of NYC. This photo was important to me because I did something not many do while competing. I changed into a completely different look in the middle of competing. I morphed my classic doll look into the 2014 version!
On Set in the UK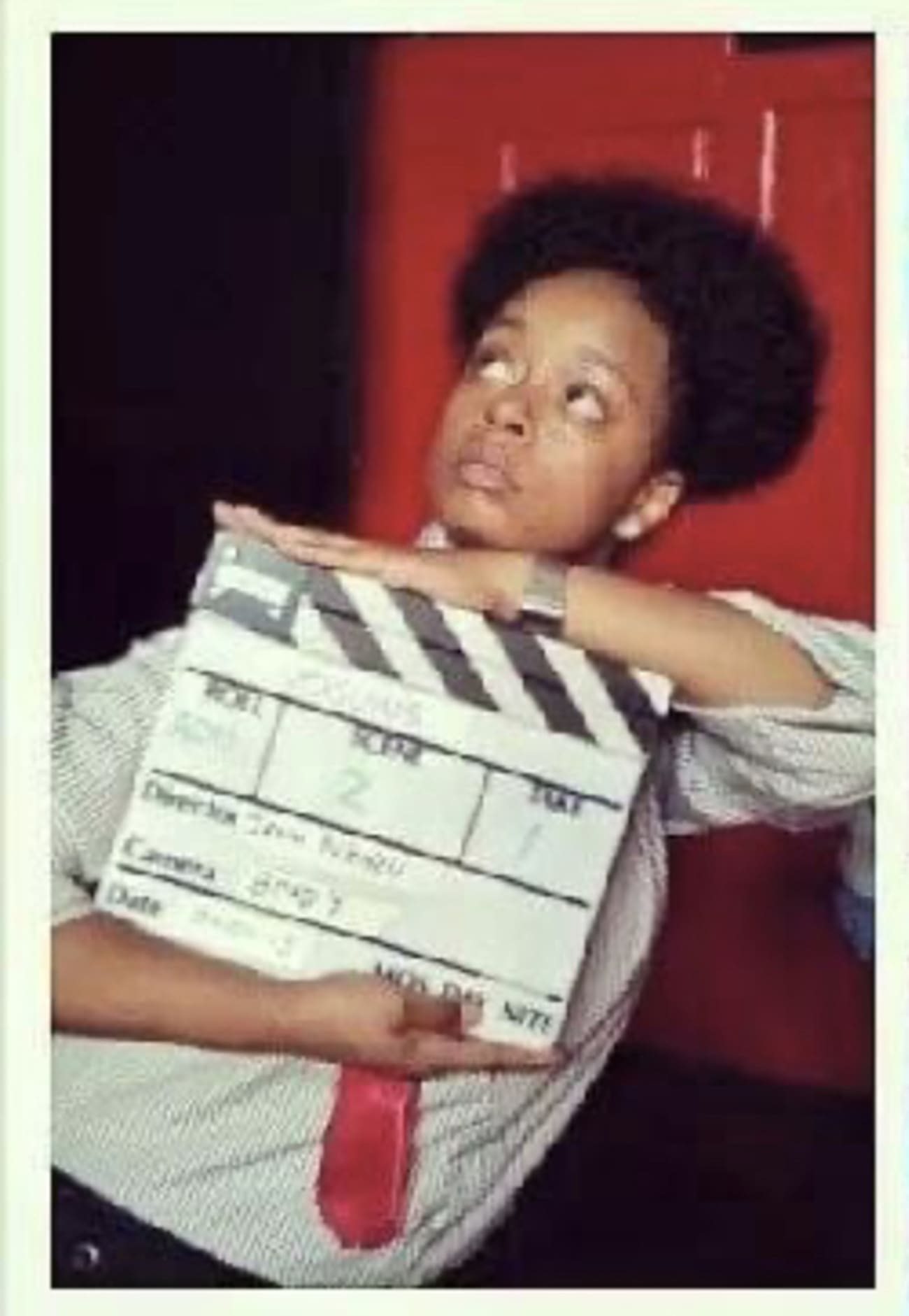 This photo was on the set of a UK short film named En Vogue. It was such an amazing moment for me to be included amongst such talent doing something I enjoy so much; dance/vogue. The film would be played all over and gave me a taste of being in front of the camera.
Honoring a Legend in Paris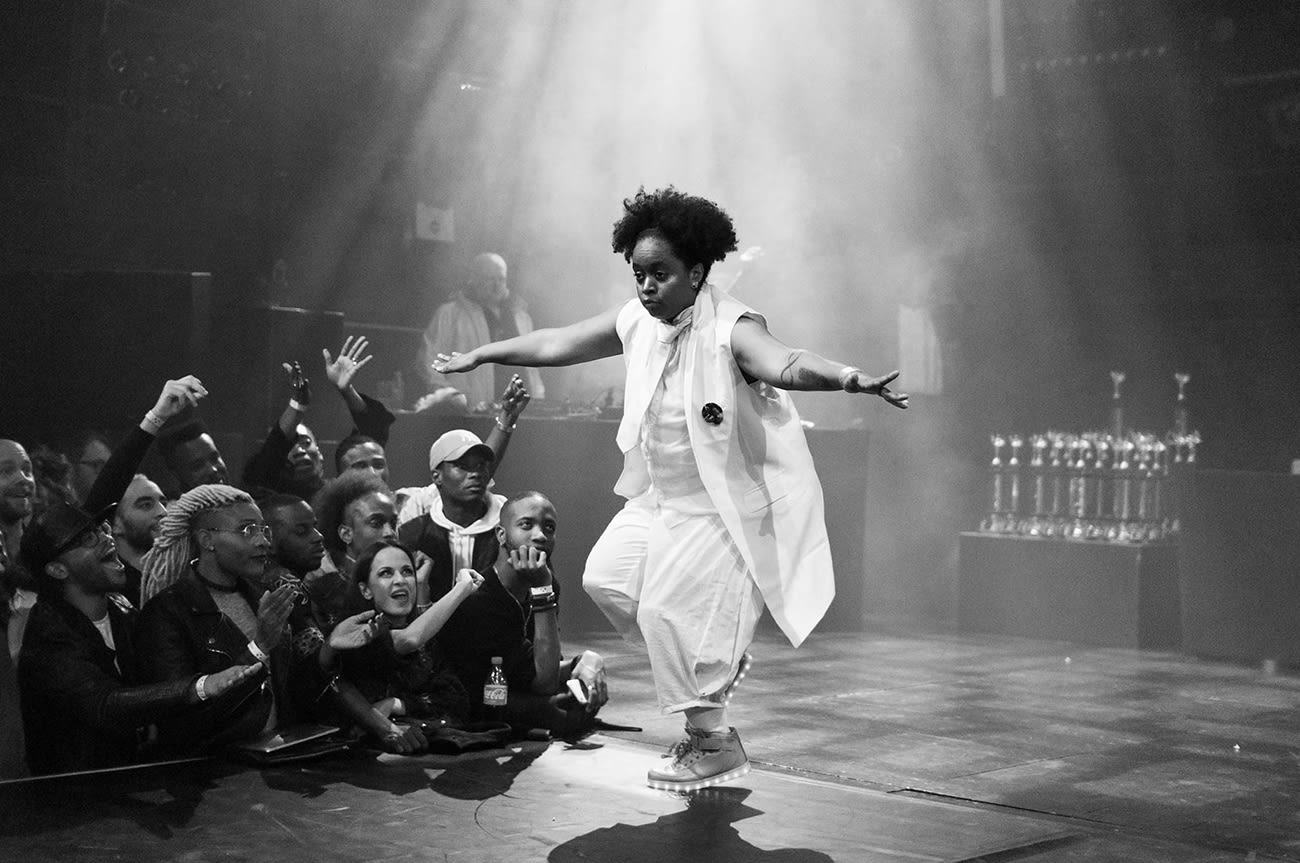 Photo Credit: Jérémy Duflot
This photo was taken at the Celebration of Life Ball in honor of Willi Ninja in Paris and it was my second time visiting. At this moment I was an up incoming legend in the scene, becoming known more and more internationally, and showing the world my talent. It was great being present and loudly visible as an African American woman who walks the Old away category, and who isn't a size 2 and is fierce every step of the way. I learned how far my reach was from NYC and how I was inspiring young women and people around the world with my passion and presence in the scene.
Becoming a Mother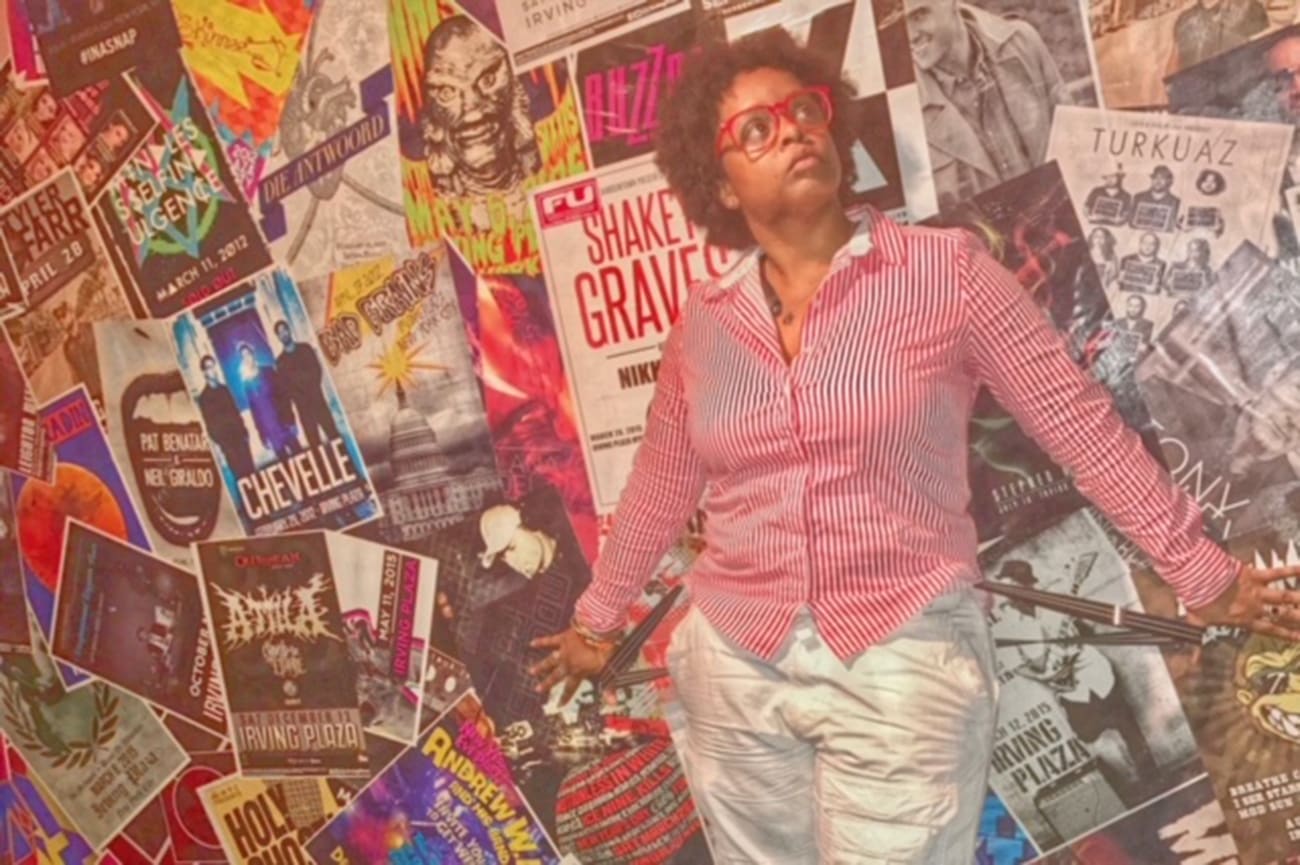 This photo represents when I had been made mother of the NYC chapter, and was really figuring out how to rebuild a chapter and instill in my kids what the founders Willi and Sandy Apollonia Ninja wanted for the house. Those values were family, foundation, love, support, evolution, and history amongst other important things. I found a wall at a ball to take this photo in front of, and I find it fitting because I was taking bits and pieces of teachings and a legacy to create my lane and add to the lineage.
Competing in NYC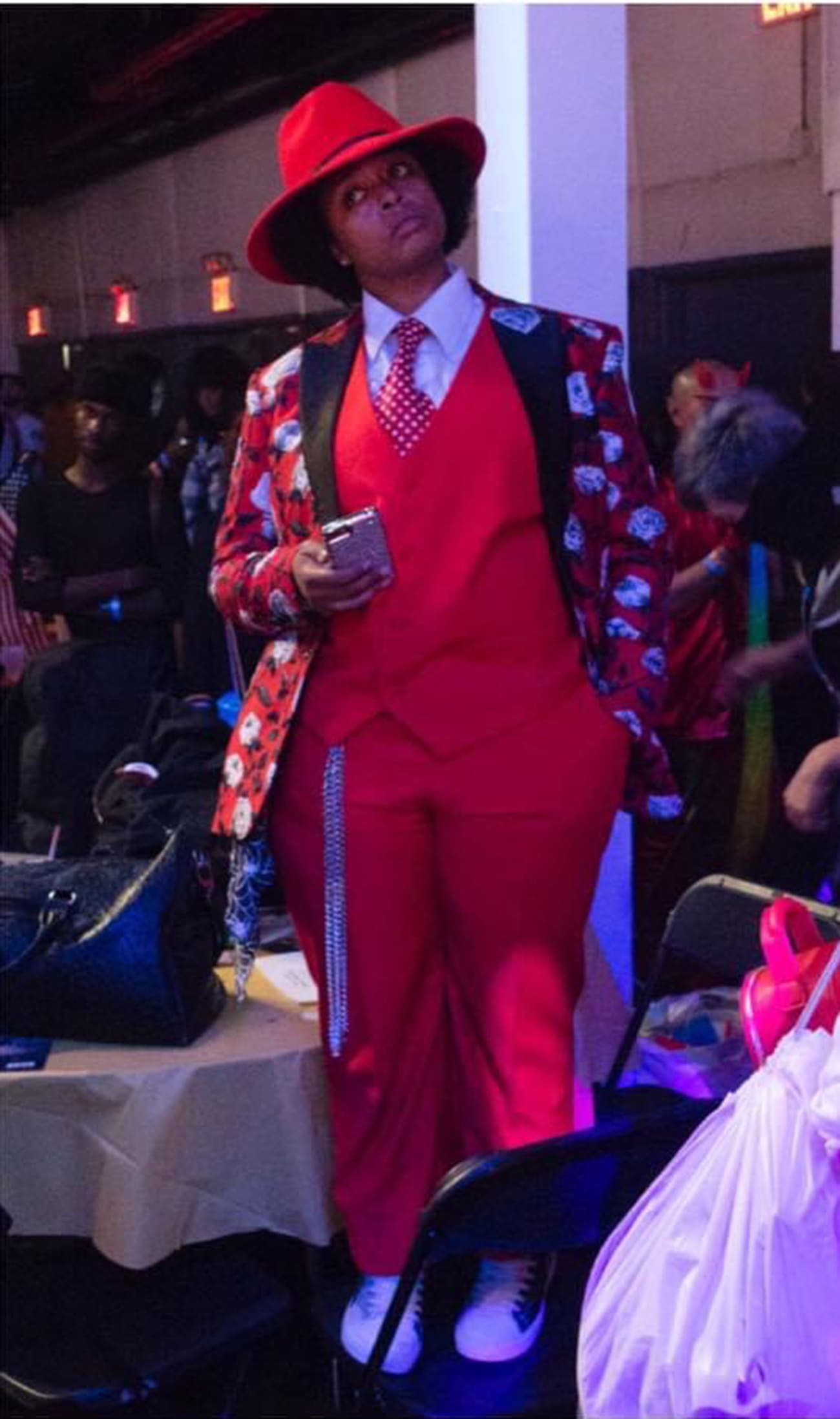 This was taken at the Latex Ball, the biggest ball in NYC. I dressed in honor of my all-time favorite artist. My old way category effect called for us to come as our muse. She is a singer and is one of my biggest inspirations. I will direct her music video one day!!! Here I have on a combo of a zoot suit and fabulous jacket, sneakers and my red fedora (I love a mean hat!). When you can bring an Icon to their feet, have the commentators excited for your presentation and a judge on the panel want your poster it's a great feeling.
A Proud Moment on TV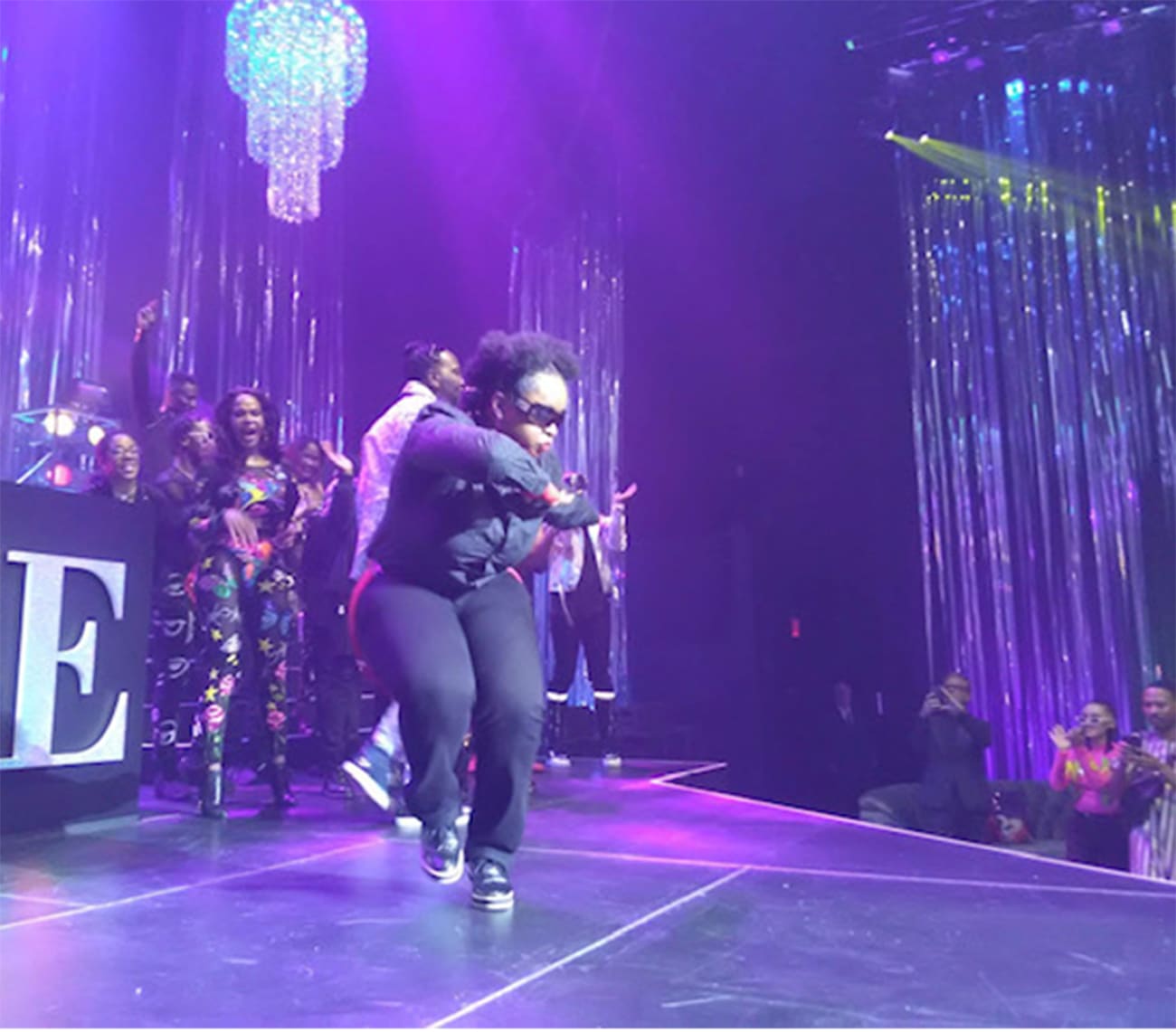 In this photo I am performing at the premiere event of a TV show that highlights Ballroom culture. Not only did I have the opportunity to be a part of 2 episodes including the pilot, I got a chance to perform this night. On stage with so many icons and legends that have inspired me along the way, it was truly an amazing moment for Ballroom. We had no idea how big it would be, but I got to represent some of those who have to fight hard to be seen in Ballroom and I was beyond honored. Tears of joy ran down my face as I watched myself on TV. After this moment in the same year, I was deemed Legend. It truly was a major set of accomplishments in my life and journey!
A Journey Worth Celebrating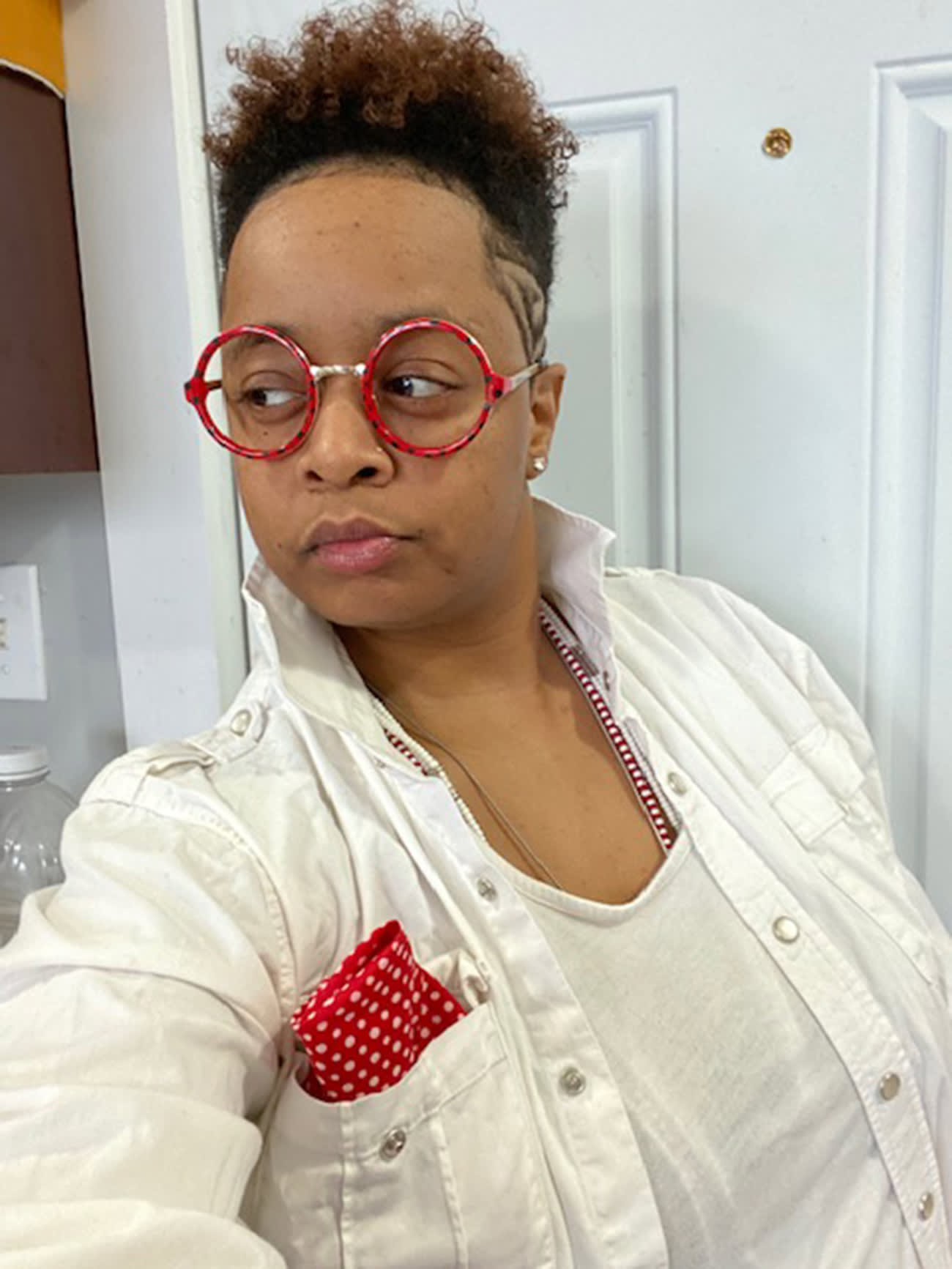 This last photo is present day. The haircut, colors, style...it shows a woman standing in her strength, power and purpose! Some of life's lessons come in various ways. Never would I have thought that I would've gone through so many different things up to this point, some that would've broken someone else. When I look at this photo what comes to my mind is SURVIVOR and you better believe I do it as I always do WITH FLARE. Legendary, worthy, inspiration, teacher, strength, old way (the only way). I'm forever present and ready!
I also want to lift up my father Kelvin Glen Murray whom I lost recently this year. He's always been proud of the work I do, but he never got the chance to see me do it and now I feel he can! This is for my Dad and for my family of blood and stone! With love and gratitude, Spyder.