On + Off The Court with Victoria Beckham
The iconic designer's fifth drop takes tennis chic up a notch.
After a year of working out primarily in our homes, the idea that we could (gasp) actually start exercising with other people come this fall is incredibly exciting. Whether that looks like outdoor yoga classes, indoor Pilates sessions, tennis doubles or even just a personal training session at your gym, a new fitness itinerary begs the question: What will we wear?
If your workout wardrobe needs a refresh, look no further than the latest drop by Reebok x Victoria Beckham. Although Beckham drew inspiration from the rules of dressing on the tennis court (think pleated dresses, branded visors and chic collared tees), the sartorial rules of your own fitness-meets-fashion world should know no bounds (if 2020 has taught us anything, it's to expect the unexpected).
"I love the sense of uniform we see in tennis culture," says Beckham. "It's the epitome of smart sportswear dressing. There's a parallel between something traditionally masculine that's translated into feminine everyday sportswear for the modern woman." For her fifth drop, familiar sportswear icons are translated into new and functional materials (i.e. natural yarns) to create a strong energy between analogue and digital executions.
A Reinvented Autumn Palette
Again, Beckham delivers the unexpected. While we're typically used to fall colorways that incorporate darker, more moody hues, the new Reebok x Victoria Beckham drop will be decidedly softer, mimicking the colors one might find in her make-up palette. "Black will always remain a hallmark, but this drop puts chalky tones alongside it," Beckham says. "I love the sandy rose, golden sand and cream colors that look so fresh against traditional neutrals."
As for materials, luxe terry will continue to stay strong, as will laundered nylons (inspired by the Reebok shell suits of the 80's) with elastic drawcords on hem lines and cuffs. Performance materials will be based on comfortable quality yarns, spun and constructed to keep one's body in place and make her feel confident in all activities. The new drop will feature cult-favorite cropped puffers, ponchos and half-zip hoodies.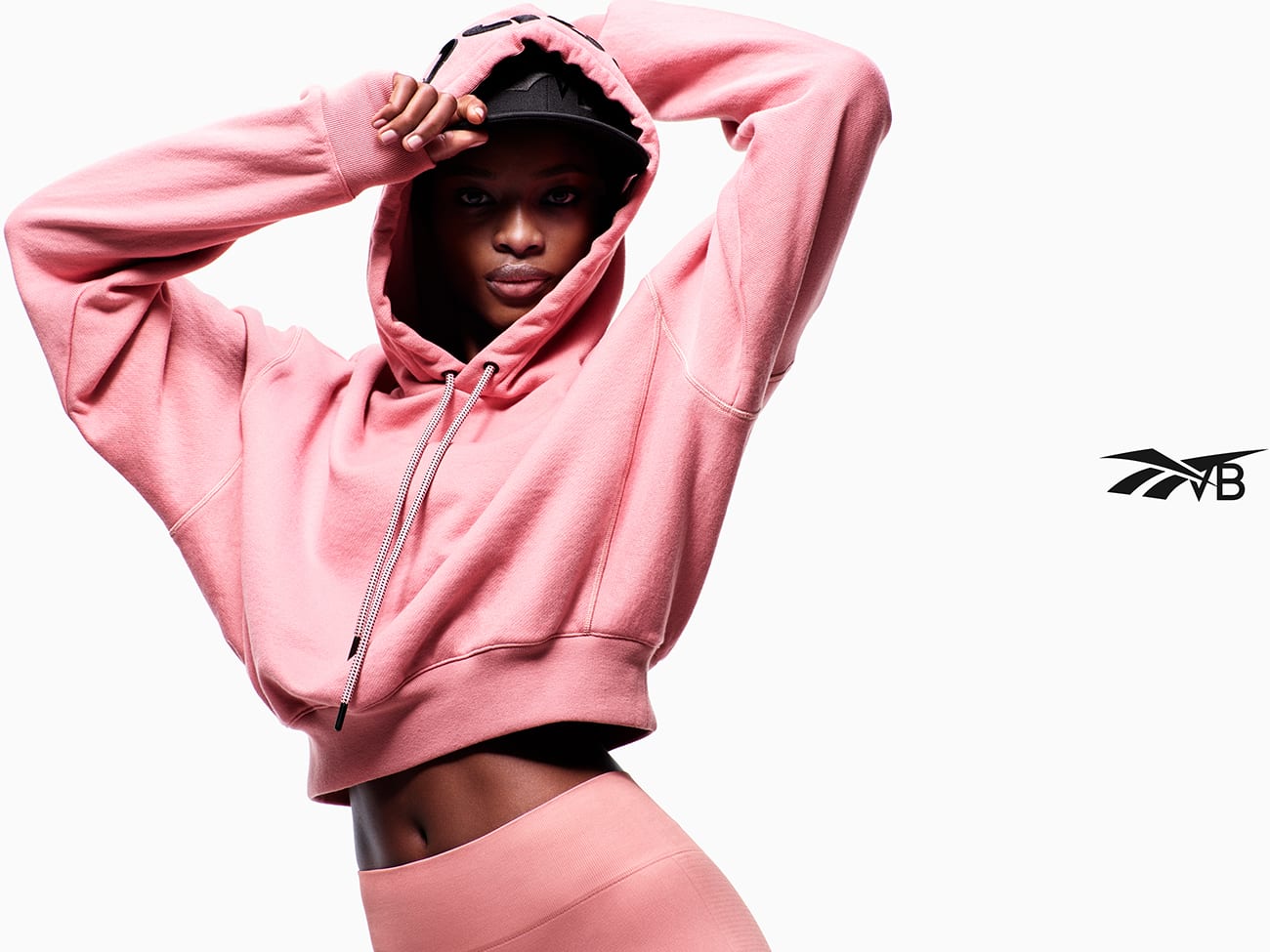 Match Point
According to Beckham, the Reebok x Victoria Beckham Drop 5 is meant to be worn in sets. For almost every garment, there is another item in a matching color that should accompany it. "This goes back to the idea of uniformed dressing," she says. "There's something so chic about traditional tennis sets that flatter both from a color and structural perspective."
Even if you're not fresh off the court, Beckham says there's a simplicity and purity that matching sets add to timeless femininity. The performance sets (cropped hoodies and sleek leggings) work just as successfully at the gym or the studio, for travel and days at the spa, even errands squeezed between appointments in what will hopefully be a thriving post-pandemic life.
Rounding Things Out
As for footwear, this Reebok x Victoria Beckham drop will feature a new execution of the Zig Kinetica II paired with an archival reference from The London silhouette of 1984. Beckham says the friction of the "1984 x 2021" will make this an all-around gym runner. Expect colorways of all-white, digital green and a deep blush, with suede leather accents. The Reebok x Victoria Beckham Club C will debut in all-white and creme colorways, plus there will be a storm glow version of the Reebok x Victoria Beckham Bolton Knit.
On the accessories front, expect cinched drawstring backpacks, geometric messenger bags, branded headbands and ankle socks. As usual, the fifth Reebok x Victoria Beckham drop will surely go quick, so get in on that wardrobe refresh you've been craving.