Calling All Kids! This Trainer's Superhero Workouts Are Out of This World
More than a million youngsters have done superhero squats with Glenn Higgins' themed virtual workouts.
On most days,
Glenn Higgins
is a regular, mild-mannered personal trainer. The stubble-bearded, 39-year-old trainer leads 40 clients per week through one-on-one workouts at Glenn Higgins Fitness, his training space in Surrey, England—slamming medicine balls,
pumping iron
and flipping tires.
But on Fridays, Higgins turns into a superhero.
Dressed in costume, Higgins spends his Fridays filming workouts for his YouTube fitness channel, "Get Kids Moving." For youngsters stuck on screens during at-home schooling this past year, Higgins became a critical link to making virtual P.E. class fun. Almost 50,000 people subscribe to his YouTube channel where superheroes and action movie characters take turns starring in workouts.
"Get Kids Moving" happened by accident. Back in 2017, Higgins was doing what many trainers do on social media—showing followers new exercises to try, like variations on step-ups or elevated split squats using
a step
. On vacation, he'd pack a camera
and a mat
to film himself doing short, high-intensity interval training workouts in front of international landmarks like the Eiffel Tower. Then, in honor of a just-released new blockbuster action film, Higgins decided to film a short workout using a homemade lightsaber while dressed in a movie character costume.
"I thought, for a bit of fun, why don't I film a lightsaber workout," he says. "It was really just for me." The workout went viral, and soon teachers around the globe began using Higgins' video in physical education class.
"The kids absolutely loved it," says Kevin Tiller, a physical education teacher at West Elementary in Andover, MA, and founder of
Phys. Ed Review
, a site that reviews and writes about tools for gym class. "The activities were easy things kids could actually do—that, to me, was the appealing part of the whole thing."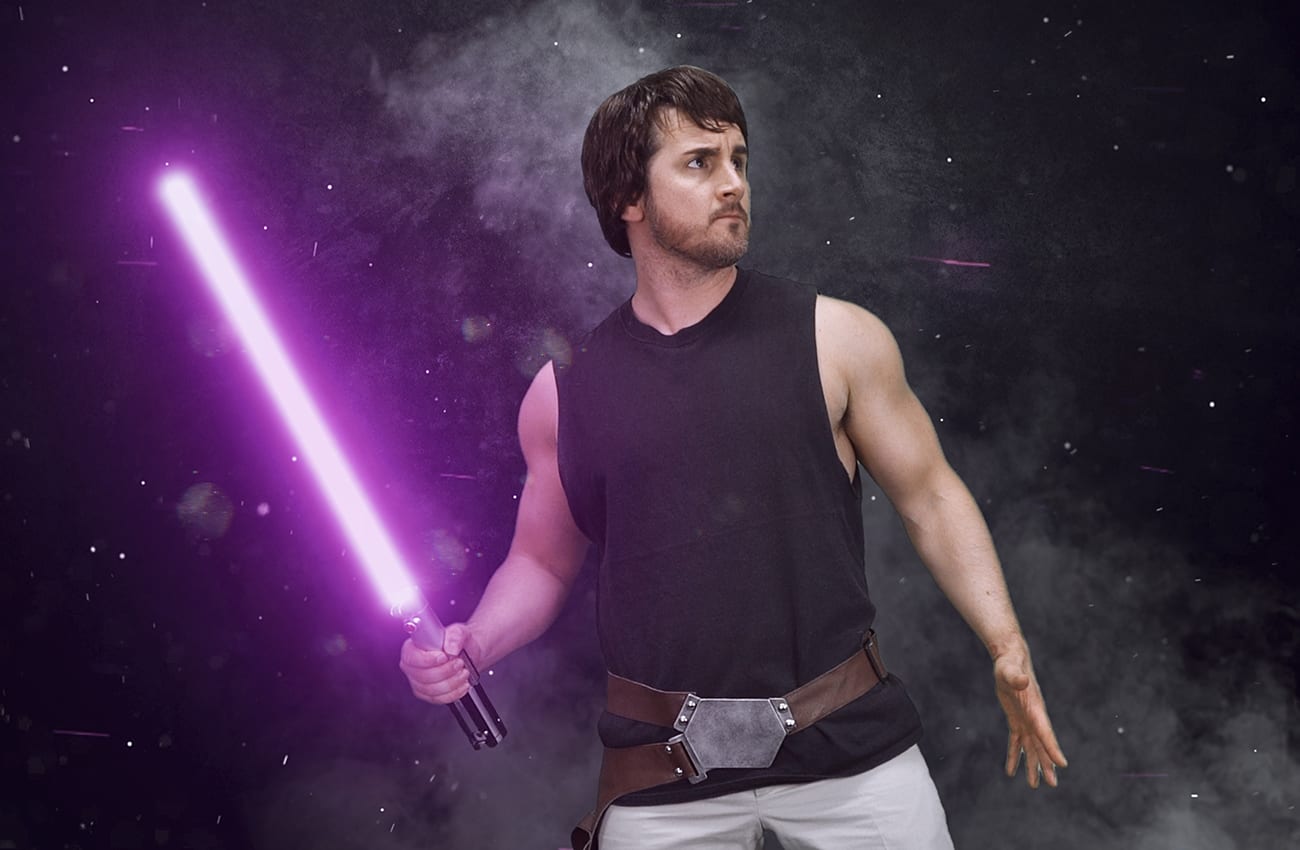 Right Place, Right Time
As the viewership on Higgins' channel grew, teachers in the U.S. and UK were eager for more. "So I branched out into other superheroes and the teachers and kids absolutely loved it," he says. Higgins, once a member of a boy band, soon found himself recapturing some of his love for performing through the weekly video series. "The creative part was lacking in my life a little bit, which is why I jumped fully into trying to make these types of videos," he says.
A few years later, the world faced a new threat from COVID-19. Teachers needed help getting kids to stay active remotely, and Higgins was ready. "Before COVID, I had a good collection of varied superheroes and movie characters," he says. "When we went into lockdown, teachers from the U.S. and elsewhere were contacting me saying they'd been sending the workouts to kids as homework for distance learning. I started getting these pictures sent to me of kids in their living rooms, doing the workouts. It was just incredible."
Suddenly, Higgins' videos were being watched by kids all over the world, and his workouts catapulted to more than a million views.
Taking It to the Next Level
As viewership started to blast off towards infinity, Higgins wanted to level up the content he was providing to kids. He was already filming the videos each Friday and working on editing them in the evenings. Now, he started spending countless hours perfecting the details—working for several days to learn and implement a better video editing effect, or diving into prop- and costume-making. Like cosplayers who take their image-crafting very seriously—
and wind up looking exactly like their favorite heroes
—Higgins spent evenings adding personal touches to store-bought costumes, making them look as authentic as possible.
Another way Higgins raised his game to inspire his young audience: Bringing in actresses to play heroines and princesses so kids have some female ass-kickers to emulate, and timing new videos to coincide with big releases for maximum character excitement. In the future, Higgins has a plan for expanding his cast even further. "My vision is to have a 'Get Kids Moving' superhero team of our own," he says. This super-fit team with identifiable costumes would appear in videos, but also see kids in the real world. "Sending them out on school tours can teach kids at a young age how they should take on the fitness world," says Higgins. "The goal is to teach every kid how to be a healthier person."
Related Links:
Related Products or Services: