From the Mind of Cardi B
The singer's latest collection is her most daring yet.
Here she goes again. If you, like everyone else, can't get enough of Cardi B's iconic style, then you're going to lose it over her latest Reebok collection. Her signature Cardi B personality was infused deep into every design, ensuring that her vison for this next collection was brought to life. It's not every day you get to get to wear a visual representation of Cardi's real, raw persona but coming this August, she grants the wishes of her legions of fans.
Let's talk shoes first. Think soft leathers, premium suede overlays and textured emboss effects. There will also be sleek, angular uppers set against bold, exaggerated bottoms with luggy outsoles. "Some sneaker collections, I'm like, 'Hmm, what can people wear this with?' I'm so happy that now my shoe collections come with clothing so that they can match it up and look like a whole entire outfit instead of wearing my sneakers with another brand."
Speaking of clothing…Cardi B's second apparel capsule collection builds on the signature cutlines and details from her first drop, but this time through more of a fashion and lifestyle lens. "This collection is inspired by Cardi's time growing up and hustling in NYC," says Apparel Designer Morgen Kohn. "The details reflect Cardi herself: cut-outs represent her open personality, bungee details allow for maximum versatility and pop-color stitching gives an overall monochromatic look that little something extra."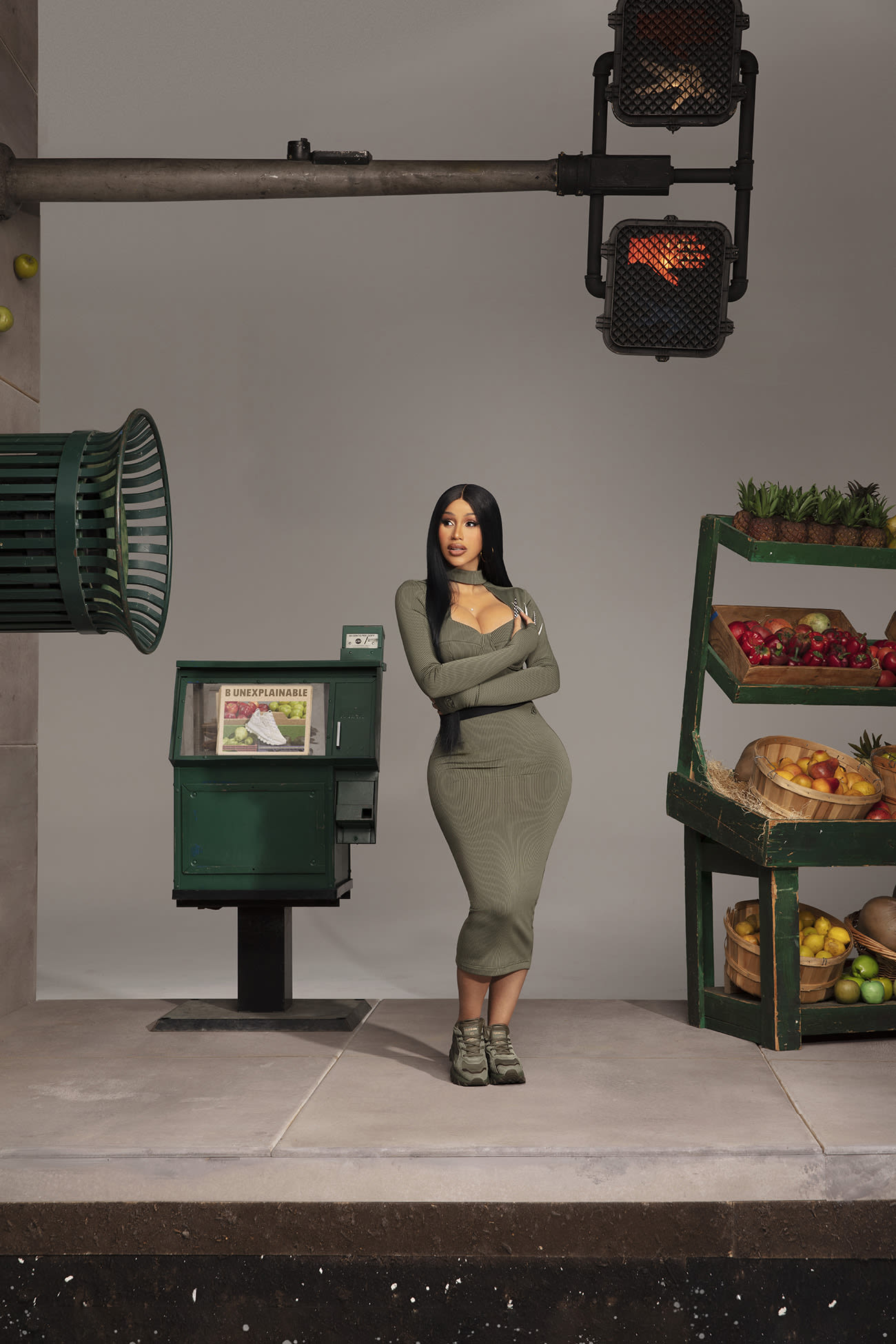 The silhouettes feature dramatic proportions, ranging from tight fits to oversized sleeves with super cinched waists. "What inspired the design of this collection was snatch knits," says Cardi. "The pants tighten up—you don't even have to go to a seamstress. They're already tight enough. Sometimes [ladies] just want clothes that fit us nice, that shape us up, that give us a nice little shape. I hope that these [clothes] make them happy and feel comfortable."
One notable apparel piece is Cardi's woven tracksuit, which showcases her unique take on the iconic Reebok Vector track jacket. Two-tone rib sets give off a mix of glam and streetwear, while also pairing maximum style with ultra-comfort. Take off the trackpants, throw on the skirt and you're ready for your next event.
It's important to both Reebok and Cardi that her line offers inclusivity for everyone, not only through sizing but design and materials, as well. "We heard loud and clear the positive reactions from Cardi's fans regarding our full plus-size offering of her last activewear drop," says Kohn. "Building off this, we continue to offer every model in her new FW21 collection up to 4X sizing to ensure all of her fans are able to shop the co-created apparel collection."
"This partnership is a true collaboration with Cardi and her team," says Product Manager Kelly Dunn. "She's heavily involved in every step, starting from the beginning design stages all the way through the full creation cycle to market. During each part of the creation process, we work hand-in-hand with Cardi to bring the story, colors and designs to life, from sketch to sample form. Nothing is put into production without Cardi's kiss of approval."
So, which piece in the collection is Cardi's favorite? "Listen, when it comes to my pieces, I don't pick favorites," she says. "Like, you don't pick which one is your favorite kid. All of these collections are my children."