A Day in the Life of a National Geographic Explorer
Tracking predators through unforgiving terrain, this scientist and adventurer moves to the rhythms of nature.
Imagine lying belly-down in the bush, steadying your breath and pounding heart as you watch Tanzanian lions stake out their turf. Or crouching behind boulders in the mountains of Nevada, stealthily tip-toeing from one rock to the next as you silently map the movements of the giant black bears who call the rugged terrain home. Part adventurer, part explorer and part scientist, the work of a so-called large carnivore ecologist is not always safe—and almost never easy. But it's a dream job for
Rae Wynn-Grant, Ph.D.
, a fellow at the National Geographic Society whose passion for wildlife and the wilderness runs deep. On any given day, you'll find her in remote corners of the world getting up close and personal with some of the largest, fiercest (and occasionally most lovable) creatures that inhabit the earth.
For such an intrepid adventurer, quality activewear is essential: Clothes and
shoes
have to support and fuel movement across all kinds of terrain, in all types of weather. "Shoes are the ultimate portal into exploration," she explains. "They provide literal protection as we travel through new terrains, and over time, they tell amazing stories of the journeys we've taken and the experiences we've had."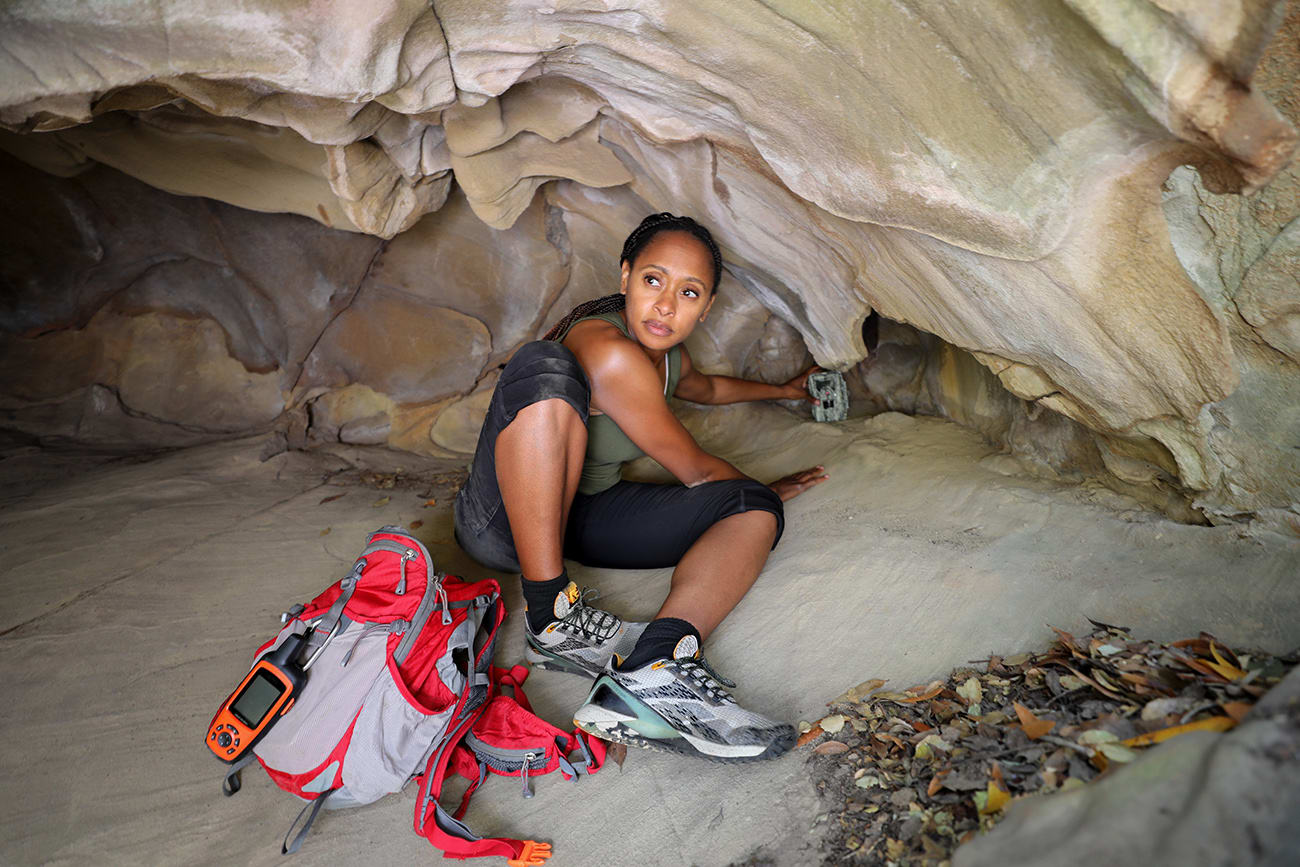 Rise and Shine
Morning starts early for Wynn-Grant. Planning her route through the different territories she'll be trekking and different predators she'll be tracking helps inform what gear she's going to pack. "You have to be prepared for anything and everything out there," she says. From digital trackers to binoculars, "being super-organized with your gear is the key to a successful trip."
Setting off for long days in the wilderness calls for careful clothing selection as well. "In the summer, I live in
tank tops
out in the field," she says. "And I love wearing colors that reflect the landscape, so khaki is always a great option." Along with
tank tops
,
technical pants
with zipper pockets in lightweight fabrics are also a must, as are versatile sneakers that can support long, hot hikes over rugged terrain. Built for exploration and high-impact activity,
Nano X1 Adventure's
durable and breathable uppers, plus a responsive and flexible forefoot for lightweight cushioning, enables plenty of comfort, grip and dexterity. Wynn-Grant appreciates her pair's safari-inspired color palette, designed in celebration of a special partnership between Reebok and National Geographic. "I was thrilled to join Reebok and National Geographic to not only shine a light on the incredible environments that inspired the collection but to also provide inspiration for future exploration," she says.
Gear packed and ready, it's time to hit the road. Slowly, the landscape unravels from urban sprawl into wild, winding mountain paths, lush with greenery against giant boulders and ancient rock formations. Wynn-Grant preps for the long hike ahead by doing another quick equipment check and running through the likely routes she might take.
Hitting Her Stride
A strenuous and
challenging hike
—scrambling over rocks, through streams and up to the peak of the Santa Monica Mountains—takes Wynn-Grant into the sizzling heat of the afternoon. With a few rest stops along the way for water, trail mix and location checks, this is definitely not a job for the faint-hearted. Fitness, agility, endurance and a deep understanding of the surroundings are all vital for success in this job. "This is physical, mental and emotional work," she says.
Once in the mountains, Wynn-Grant checks her GPS tracking device for location data and signals from tagged animals and scours the soil for signs of animal activity. "It's not just about relying on your tracking devices—reading the landscape for tracks, markings and scat is just as important," she says. "You may come across animals who aren't yet tagged." For that reason,
hiking slowly and mindfully
through the terrain is important. "You really don't want to surprise a bear out here, and especially not one with cubs," she notes. "We are in their territory, and everything we do needs to be respectful of that."
Hiking down into a remote, rocky area cracked open with crevices and narrow caves, Wynn-Grant sets up a camera trap to observe for mountain lion presence. They are cautious and shy animals, she explains, so a camera that is automatically triggered by motion is an ideal way to capture footage of mountain lions without disturbing them. In turn, the imagery provides vital information on the animals' true behavior, helping humans learn how to protect and preserve these elusive predators.
As the light of the afternoon starts to fade, setting up camp for the night becomes a priority. A flat clearing surrounded by trees makes the perfect spot.
Into the Night
Out on her rounds for the last of the light, Wynn-Grant discovers tracks. She takes photos and documents them. Using her GPS unit to read location data, she checks which tagged animals might be present in the area.
Back at camp as dusk falls, Wynn-Grant takes notes on all her observations. Having earlier picked up the trail of a tagged bear, she plans out tomorrow's hike deeper into the territory. Undaunted by the prospect of sleeping in the wild among such large carnivores, she heads into her tent, ready to start out at first light the next day. "I'm honored to do this work exploring and protecting our planet," she says. "It's a privilege to be so close to these animals, to see the cycles of life and seasonal changes." Being out in the mountains, she explains, means she is constantly learning from nature. "These animals have so much to teach us," she says softly. "All we need to do is listen."
Related Links
Related Products