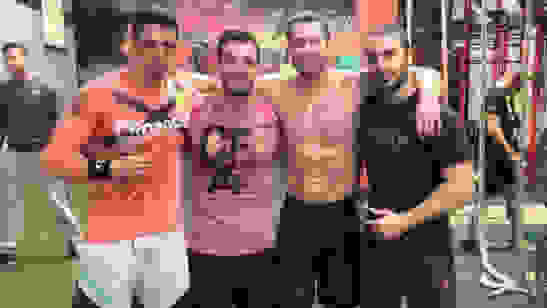 CrossFit Is a Universal Language
With an estimated 7,000 languages spoken throughout the world, some may say the only international language is love. But if "WOD," "Fran," and "AMRAP" are part of your everyday vocabulary, then there's no stopping you from the roaming the world and hitting a CrossFit workout at any box in the area. While on a work trip to Spain, Pete O'Donnell, Coach at Reebok CrossFit ONE and a Level-2 CrossFit Trainer, experienced this firsthand when his limited Spanish vocabulary caused little to no issues in forming amazing connections in foreign lands—though what he lacked in language, he made up for in burpees.
Working at Reebok CrossFit ONE (RCF1) has already opened up so many opportunities to grow as a trainer, coach alongside some of the best in the sport, and help others toward achieving their fitness goals. So when I was presented with the chance to take a market trip to Spain, you better believe I didn't think twice before saying yes. The trip would give me a chance to see CrossFit on a global level, gain new contacts, and bring back some ideas to share with RCF1. Still, as I touched down in Spain and mumbled my way through checking in at the hotel, the more I started to worry that the language barrier would stand in the way. Beyond the basic, hola, adios, gracias, and cerveza, my Spanish skills are poor at best. And while I had a few pre-scheduled visits with box owners and coaches lined up in advance, the trip was mostly "guerrilla style," where I'd check my watch and say, 'Alright, I'm close to this box and there's a class there at noon; let's drop in and see what's up.'
If the owners were there, and could speak English—or have someone translate—we'd get right to talking, finding common ground through CrossFit and coaching. At some locations, however, there was a very strong language barrier, which meant getting a lot of "Who's this guy?" kind of looks. The cool thing—probably one of the coolest parts of my trip, actually—was that even in those cases where I couldn't explain who I was or where I was from, once the WOD started, it was just like any other box I'd drop into in the States. The music was turned up, the clock was counting down, and everyone was fired up to get after the workout; whoever I was, I was welcome.
As I observed some classes and participated in others, the language became less of an issue. Common segments of any CrossFit class—coaches asking about injuries, getting warmed up, and running through the flow of the WOD—gave clues that didn't make me feel much like an outsider. They'd be pointing to the whiteboard, and even though I couldn't read what was written on it, by paying attention to the movements the coach was demonstrating and watching those around me, I could figure out that they were doing, say, a push press at 60 kg. Actually, the kilograms versus pounds probably tripped me up more than the Spanish did. My fellow CrossFit athletes encouraged me not to worry about it, but true to my character, I needed to know how much I was lifting. You could say I became best friends with my phone's calculator that week, scrambling to figure out how much weight was on the bar before picking it up from the ground.
Language was also less of an issue when I had the help of a friend of a friend. That's what's funny about the CrossFit community—I mention to a fellow coach that I'm going to Spain, and the next thing I know a guy named Raul is not only picking me up at the train station and taking me to my hotel but also taking me on a tour of the local CrossFit boxes. He knows them well as he himself is the owner of CrossFit La Forja in Sevilla, which felt like a true, old-school CrossFit-style box in a small community. It was a very homey gym—not a big, elaborate establishment—just a double garage big enough to get the job done.
CrossFit La Forja was one of the first five affiliates in Spain, and Raul Hermida is still able to keep the community rich. He knows everyone's families, and I don't just mean their names. He knows where his athletes live, what their siblings studied in school, what their parents do for work—everything. Even when the economy tanked and some members of his box could no longer afford CrossFit, he told them, "Well, it doesn't really matter. When you have the money, give me what you can, or give me what you think is appropriate. We'll figure it out down the road."​
Having come from close-knit boxes myself, hearing this kind of story never gets old. I mean, where else does something like that even happen other than CrossFit? It just shows that Raul looks at those who work out at his box as family, and like many box owners, is guided completely by passion.
While I obviously knew CrossFit was big globally—just look at how many Games athletes have come from other regions around the world—it was great to see that the CrossFit culture of supporting and encouraging one another, both in and out of the sport, also continues to span borders. I visited 13 boxes across four cities while in Spain, and I felt welcome at all. Through my experience, I learned that if others in the CrossFit community see you're invested, they will more than likely ask what box you hail from and then the conversation will just take seamlessly off from there.
And that's just it about CrossFit. I came from a regular gym, walked into a CrossFit box, signed up for a two-week trial thinking I was in pretty good shape, but got my ass completely handed to me in a scaled work out. I was hooked. After a year of training, I started coaching, and later progressed to coaching at Reebok CrossFit ONE at Reebok's Global Headquarters. I've been full-time here since May 2015, and at times, it still hasn't sunk in that 'this is my box, this is my community, and this is my home.' Yet, as I traveled from box to box in Spain, feeling such genuine welcomes and inclusion at each, I realized no matter where the box is located, CrossFit is a universal language.