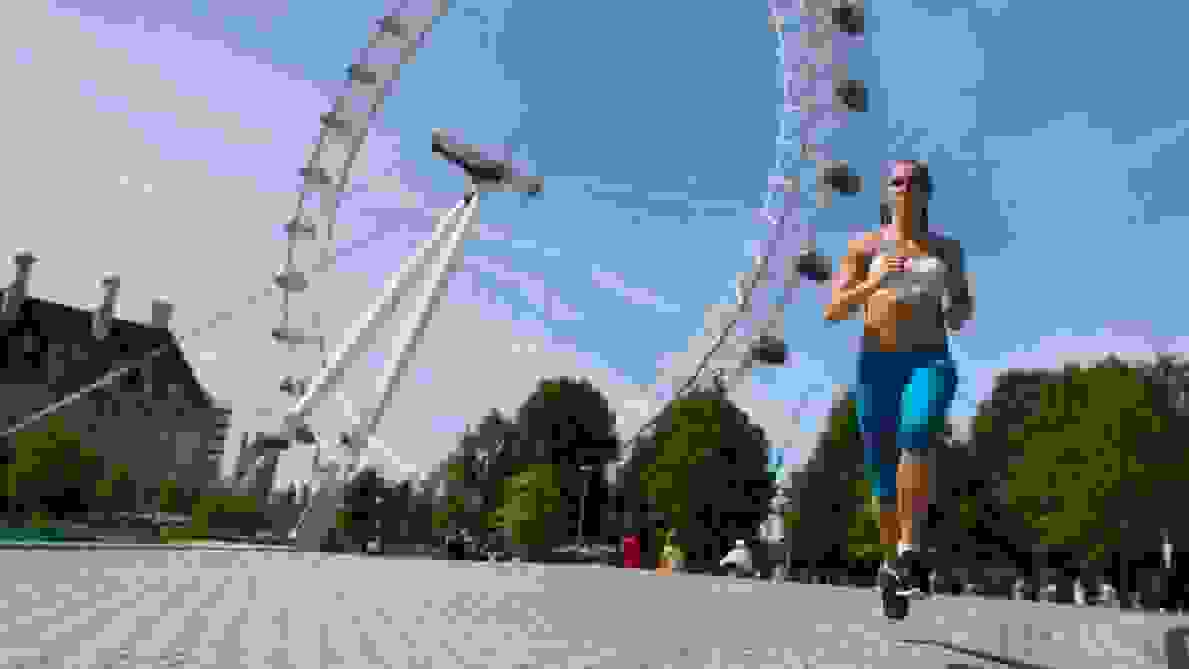 Eat, Sweat, Chill: A CrossFitter's Travel Guide
Whether it's for business or a vacation, traveling to a new city can be exciting and energizing—a different culture, unique food, and sights that will amp up your Instagram followers.
Hitting up some tourist destinations is a must, but don't forget to get away from the hot spots and experience the town like a true local, from the small cafes to the nearest box.
Travel blogger Kirsten Alana recommends going to residents' favorite places to get the most authentic experience of a town.
"When I go to a new destination or re-visit an old one, I concentrate on getting to know locals and what the locals love to do, and then I experience that locale in it's most authentic way," Alana says.
"I look for people on Instagram who live in the places I want to visit, and I reach out with a comment or message hoping to get their advice."
Besides acting like a native, another way to authentically experience a new culture is to dive into the scene, specifically the health and fitness one. CrossFit's popularity is still growing worldwide, with more and more boxes popping up, along with health-based restaurants and spas that cater to athletes.
We've scoured some of the hottest cities to visit that offer not only culture and great eats, but boxes, studios and spas, too. Read on for where to sweat, eat and chill if you're looking for the true local experience in NYC, Paris and Tokyo.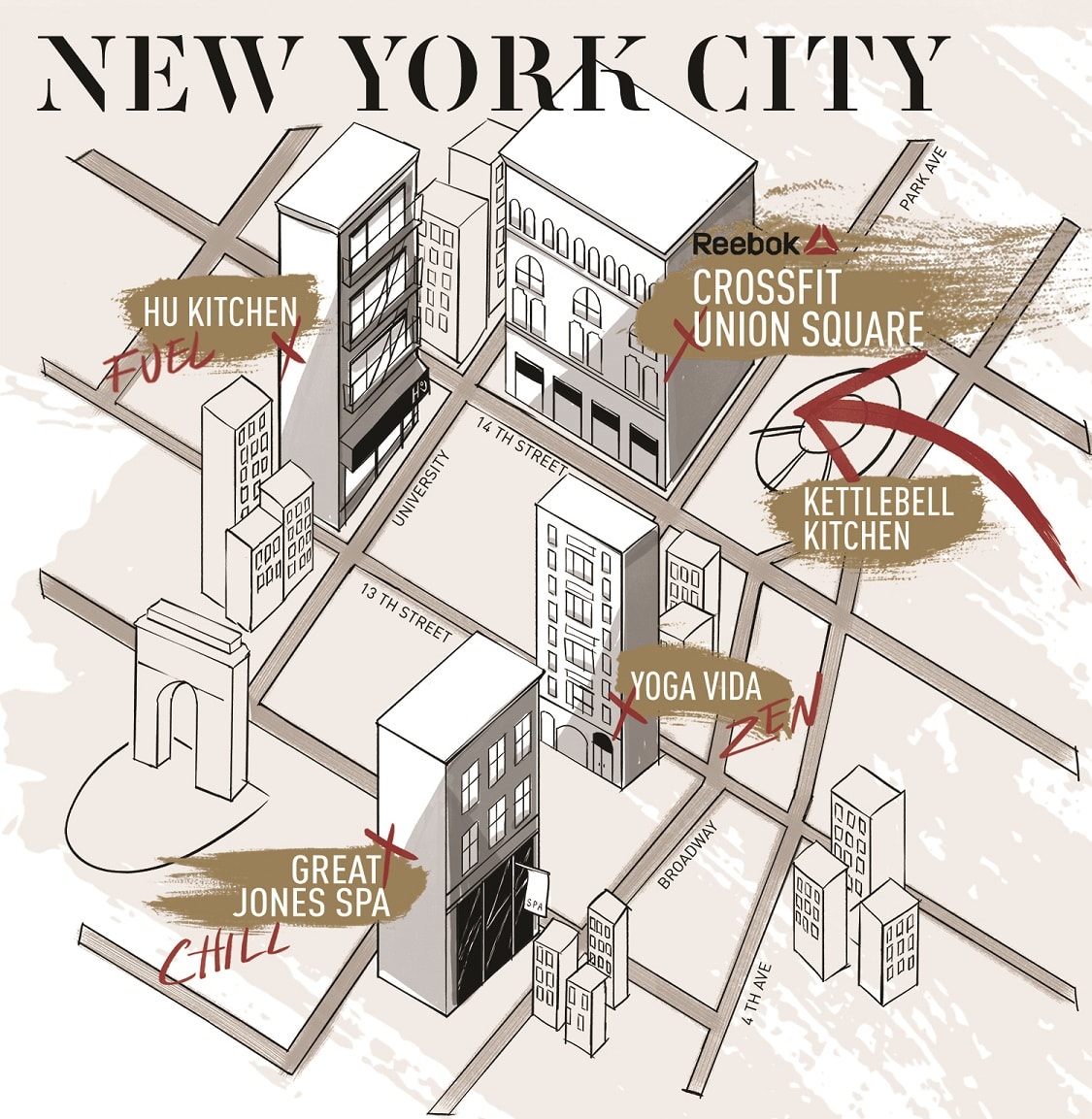 Hu Kitchen —Hu Kitchen lives up to its tagline—"back to human"— with natural food like the Hu Paleo Chocolate, which contains no cane sugar, soy lecithin, refined sugar, gluten, emulsifiers, or GMOs. The food is unprocessed, full of plants with some animal protein, gluten-free and is the overall definition of clean eating. Whether you dine-in or take out, the food is sure to keep you feeling full and healthy. Don't leave without ordering one of their juices or smoothies, too.
Great Jones Spa —At first, you'll be amazed by the tranquil atmosphere and the three-story waterfall, but then you'll be drawn in by the amazing selection of spa treatments available. Opt for the hot stone massage or a Pure Fiji Coconut Sugar Glow scrub. Other healing options include reiki, shaitsu and aromatherapy. Or you can just get a three-hour pass to the water lounge, which has a hot tub, cold plunge, river-rock sauna and chakra-light steam room.
CrossFit Union Square —Crossfit Union Square is a 7,500-square-foot facility with some of the world's best equipment and trainers, too, including two-time Reebok CrossFit Games champion Annie Thorisdottir. The box is a welcoming community for new and experienced CrossFitters alike.
Kettlebell Kitchen —A favorite of the CrossFit crowd, Kettlebell Kitchen offers a complete paleo and clean meal menu, which can be tailored to your fitness needs—pure paleo, fat loss, muscle gain and sport performance. The best part? There is no wait time—the company is a delivery-meal based service that brings pre-ordered meals right to your box, just in time for the end of your workout. Or for a quick bite between adventures, get KettleBell Kitchen sent straight to your hotel room.
Yoga Vida — Get your zen on at Yoga Vida, which is chock full of workshops, events and classes at all times of the day, which is perfect if you're looking to get in a quick workout between sightseeing or business meetings. The community at Yoga Vida supports the notion that yoga is for everyone, and incorporates compassion, integrity and accessibility into all of their classes, so you'll feel right at home even if you are visiting from afar.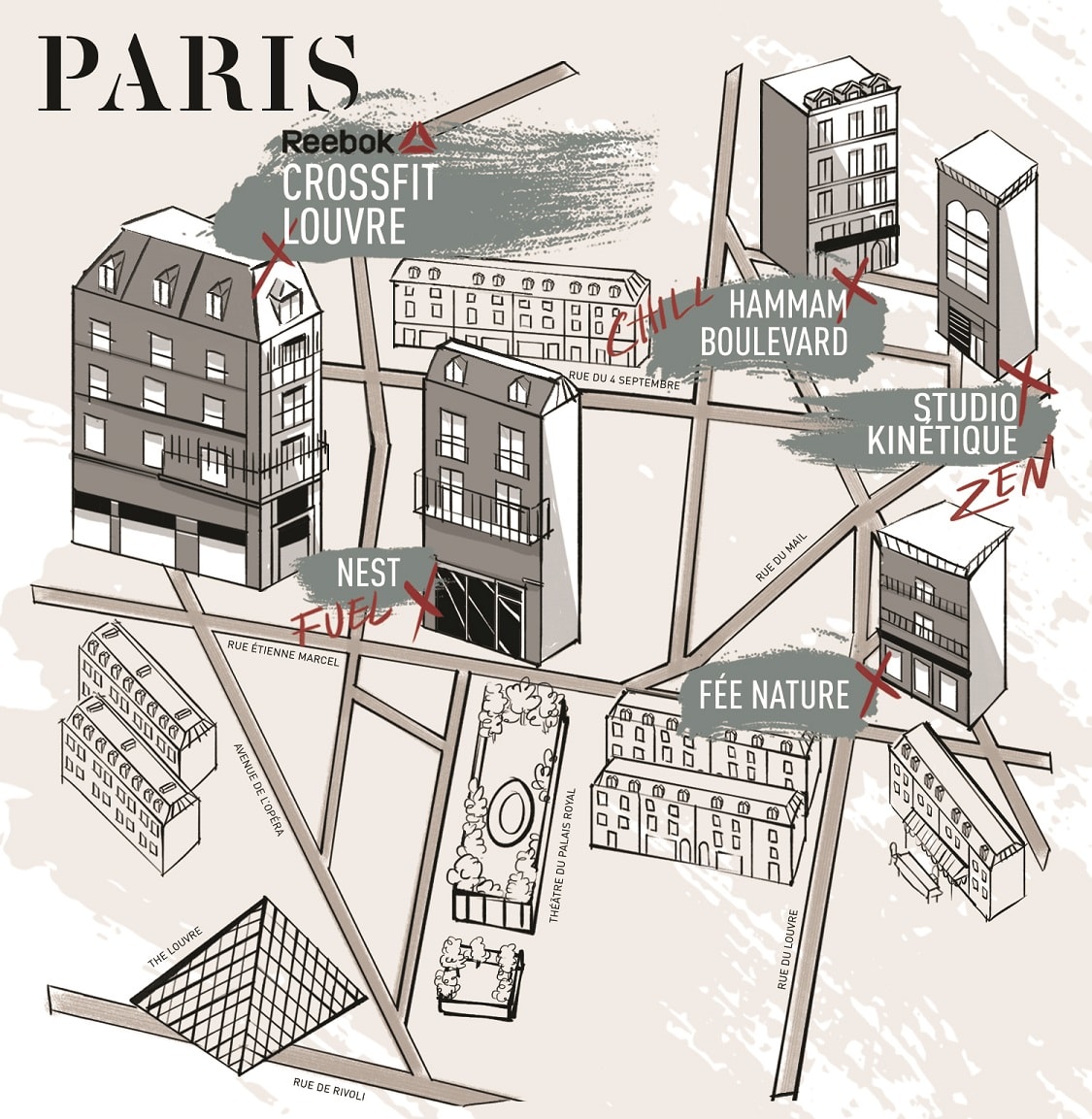 Reebok CrossFit Louvre —After you've splurged on fresh croissants and homemade macaroons, a stop at the local box might be necessary. Reebok CrossFit Louvre is located in central Paris within a clean and organized space. The box is packed with a variety of equipment and has open gym pretty much all day, every day, along with plenty of classes at all hours. The moral: you have no excuse to miss a WOD even with a jam-packed schedule.
Hammam Boulevard —As a top notch spa, Hammam Boulevard has the most calming feeling with a light and airy atmosphere that will instantly have you breathing easy. Perfect for a rainy day, visit this spa for a relaxing massage, or get a "grommage" treatment, a type of full-body exfoliation.
Studio Kinetique —For a break from your regular CrossFit routine, head to Studio Kinetique for Pilates, Gyrotonic® or Gyrokinesis® courses. Gyrotonic, created in the 1980s, involves using a specific machine to work the spine and pelvis through a series of curved, arched and spiral actions. Gyrokineses adds breath-work to the movements, much like yoga.
Nest —This cozy and quaint Vietnamese restaurant is run by a brother-sister duo and only serves up the freshest food. Nest offers just a few entrees and plates, but can fix them to offer vegetarian and vegan options. Don't pass up their Lychee Lemonade or the vegan banana bread dessert.
Fée Nature —With the tag line "eat well to live better," Fée Nature (Nature Fairy) will leave you feeling fresh and nourished with its vegetarian fare. Eats include organic, seasonal produce with grains like quinoa and black rice, as well as a wide variety of dairy-free and gluten-free options.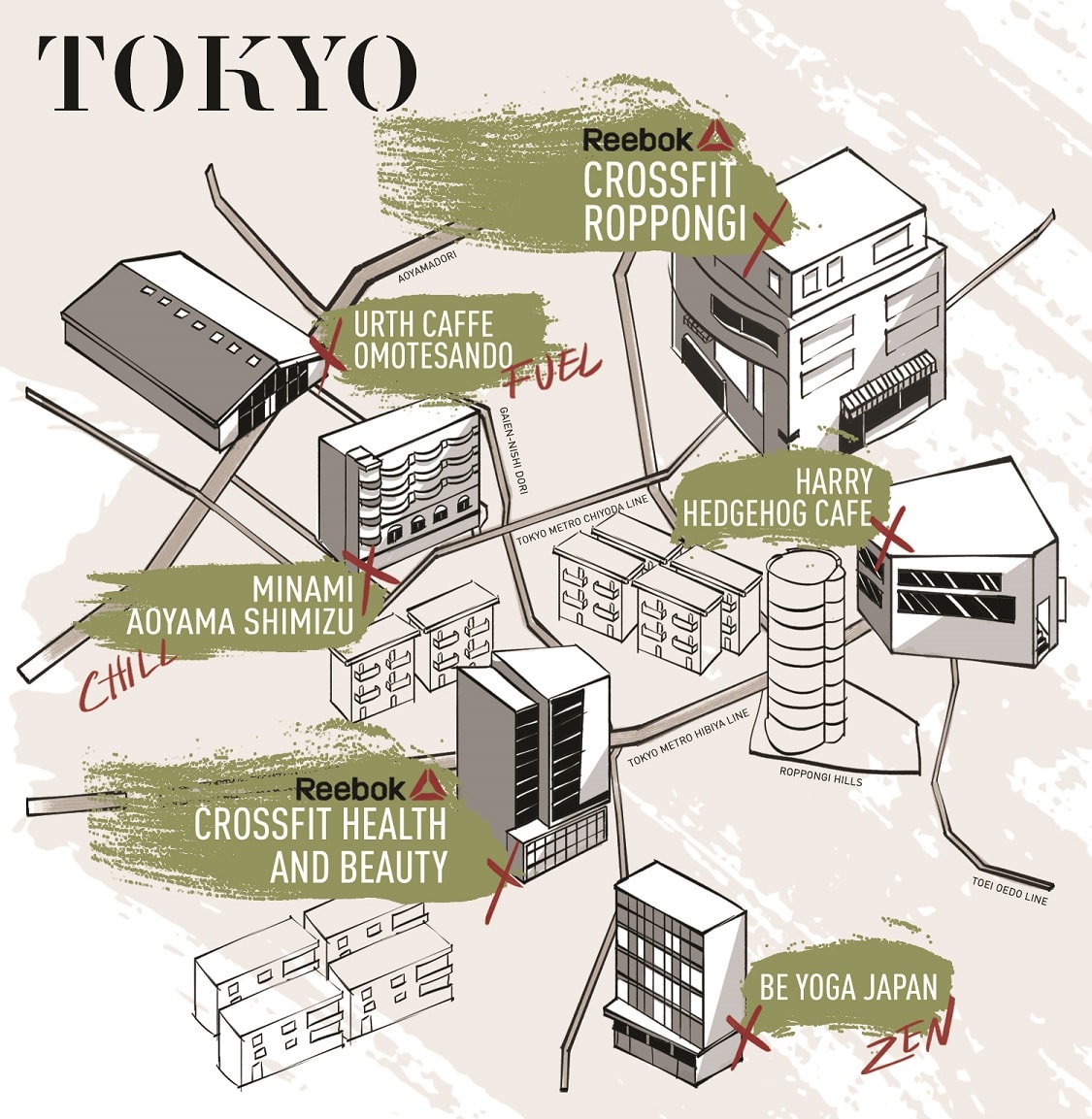 Reebok CrossFit Roppongi —Head to Reebok CrossFit Roppongi for a class any time of the day, from morning to night. The gym is modern and new, and the staff and trainers are extremely friendly at this close-knit box. If you're searching for a place to drop in for a WOD during travels, look no further.
Urth Caffe Omotesando —The organic coffee and tea are great at Urth Caffe, but the vibrant ambiance and laid-back, fun atmosphere are even better. Fuel up with a matcha latte or splurge on a decadent pancake or waffle at this local hot spot.
Minami Aoyama Shimizu-Yu —This bathhouse, or "sento," is open late and promises a relaxing time. Plus, after its renovations in 2009, the bathhouse now sports a more modern, cafe-style look. Included in the entrance fee to this traditional communal bath house, guests get a towel and are sent to a wash station before dipping into a large, warm bath. For an even more exquisite experience, try the silk bath, which is aerated with a high concentrations of fine bubbles .
Reebok CrossFit Heart and Beauty —Filled with top trainers, like Aya Osanai and Nicholas Pettas, Reebok CrossFit Heart and Beauty is a must-stop for any CrossFitter visiting the city. The box offers top equipment, a friendly vibe and a variety of classes options beyond just your regular WOD. Along with CrossFit, CrossFit Heart and Beauty offers CrossFit Lite and boot camp.
Be Yoga Japan —Recently named one of the world's top 25 yoga studios by Travel + Leisure, Be Yoga Japan is a can't-miss studio. The studio follows the ISHTA philosophy— Integrated Science of Hatha, Tantra and Ayurveda. You'll get a top-notch class filled with safe alignment, breathing and pranayama techniques, as well as meditation instruction to supplement the moves. Classes are taught in both English and Japanese.
Harry Hedgehog Cafe —You might think the name is just a cute idea, but no—the Harry Hedgehog Cafe offers cuddly playtime with these adorable little creatures. Patrons get to pick out their own personal hedgehog and chill for the next half hour. The animal cafe trend is quickly growing in popularity, so book a reservation beforehand.