The Art of Style with Rae Sremmurd
Style and swagger don't just happen.
These two things are proven over time, and hip-hop duo Rae Sremmurd have both.
While music may be their first love, it's clear fashion comes in a pretty close second.
Never afraid to take a risk or dabble in styles that are unexpected, brothers Swae Lee and Slim Jxmmi are making their presence known in the fashion world.
The best part about their personal style is that they bring their own flavor and personality to each outfit they rock on stage and off. The guys are all about color and vibrant outfits, the crazier the better, because (frankly) why the hell not?
The group's style is about self-expression and not caring what anyone else thinks because they're not following the trends, they're making them.
"We just go for what feels good," says Swae. "Just because somebody else doesn't wear it, we don't care. That doesn't mean it's not fresh to us, we just put it on."
As the freshest faces, spearheading Reebok's new Classic Leather campaign, the Classic Leather shoe is a perfect match for two guys who require a sneaker that can act as a blank canvas.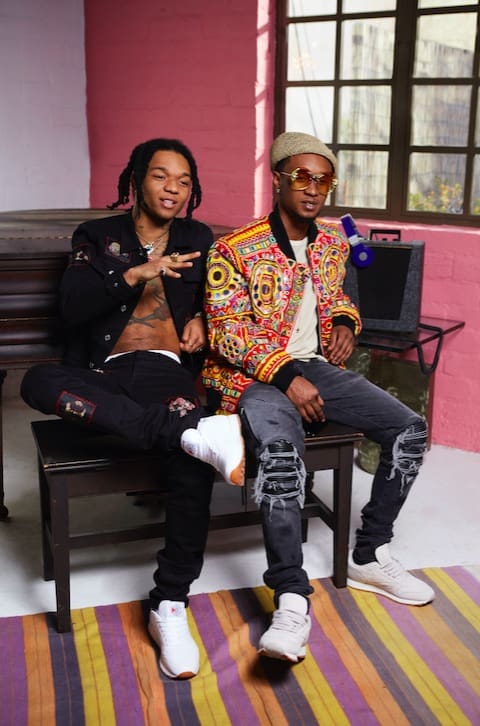 "When we were starting out, we had all these wild house parties in Tupelo, Mississippi," said Jxmmi.
"It was all about creating a community for different kinds of people to come together and just have fun. The Classic Leather is all about defying classification – anyone can wear it, wherever you're from, whatever your situation is."
For Rae Sremmurd, their style is undefined and varies from day to day always keeping fans guessing.
"However I'm feeling that day, that's how I dress," says Jxmmi. "I might feel like 'pink fur on my goggles' Jxmmi one day, I might feel like t-shirt Jxmmi another day, I might be 'rock star Jxmmi and not even have on a t-shirt the next day."
As true masters of their craft, Swae and Jxmmi are also artists with their own style as well. With their fun-loving personalities, they're never lacking in creativity. Both brothers can be seen rocking the Classic Leather on and off stage, styling it their own unique way.
"I like to wear graphic tee shirts, cool jeans and two different color Classics," says Jxmmi. "They're so clean, like pink and purple, red and blue, blue and white, and it's so tight. Classic leather goes with everything."
For Swae, the Classic Leather is the go-to sneaker he can wear without worrying if it will match.
"I'm not going to lie, my go-to thing with the Classic Leather lately is to wear them with just a tee shirt and you can just put that on and be fresh for days; you don't have to worry," he says.
The duo continues to push fashion boundaries with their fearless take on style. They constantly surprise us and prove that being unafraid can lead to creating a classic and iconic style all your own.
How do you style your Classic Leathers? Tweet @ReebokClassics and show us!