Emoji-Powered Workout Bot is Your Toughest Trainer Yet
Looking for a workout? Reebok's Reebot has you covered!
We've created an emoji-powered FitBot for Twitter that sends you a custom workout at the touch of a button.
All you have to do is plug in a few of your favorite emojis into a tweet to @Reebok and your workout will be sent to you within seconds!
So before your next gym visit open Twitter to test it out and get a few new moves!
Step 1: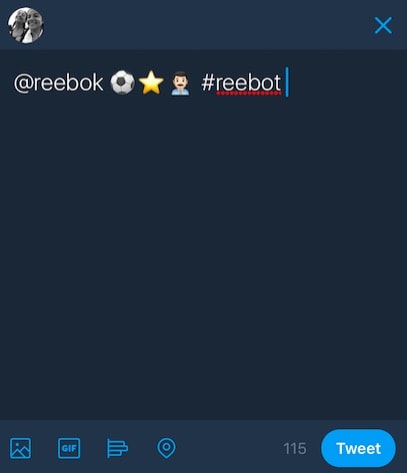 Type a tweet to @Reebok with the hashtag #reebot along with up to three emojis. Any combination of three emojis will serve you up a custom workout.
That's right all 800 emojis are options … we expect to see some really creativity here!
For example: 🐛+ ⚽️+ 🍼 =Inch worm thrusters + 20 side shuffles + 1 min child's pose
Step 2:
Hit send on your tweet, receive your workout and go sweat it out!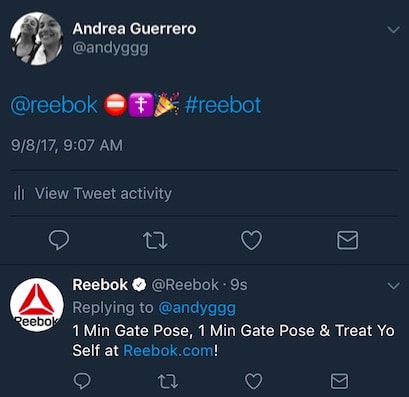 Helpful Tips:
*You don't need to add commas between emojis
*Make sure your Twitter notifications are on so you get alerted when the FitBot responds to you!
*You have to include the hashtag #reebot to get the FitBot to respond.
Know a friend who needs some workout inspiration? Tell them about the @Reebok #Reebot today!