Dad Bod Hacks for Your Paternity Leave
Recently, celebrity dads and Silicon Valley CEOs are embracing paternity leave faster than you can say "bundle of joy."
And with the growing trend grabbing headlines, it's likely we'll see more dads follow suit.
For all the fathers, and soon-to-be-fathers, who fall into this category, the question then becomes: How does one stay fit while spending so many hours at home?
Paul Tremblay , Reebok trainer and father to one-year-old Felix, suggests incorporating a workout in the day. He is not talking about pushing the stroller around the block, either.
"One of the biggest things I stress to my members is that fitness extends beyond the gym walls," says Tremblay, owner of CrossFit NCR. "Once you learn how to properly perform a few key movements, there's no stopping you from busting out reps of those movements from home on the days when making it to the gym is not feasible."
For new dads, Tremblay sees an at-home workout as a surefire way to bond with your baby while simultaneously putting those 'Dad Bod' stereotypes to rest.
To get you started, he and his son are demonstrating eight simple movements. Tremblay recommends performing 10 reps of each movement and then repeating the workout from the start.
"Creativity is the key to keeping this fun. The at-home, father-child workout puts that creative spin on the norm."
"Exercise with your kids! It matters!" Tremblay adds. "We want to see our children grow up healthy, and daily exercise plays a big role in that. It's never too early to set the example."
The Tike Swing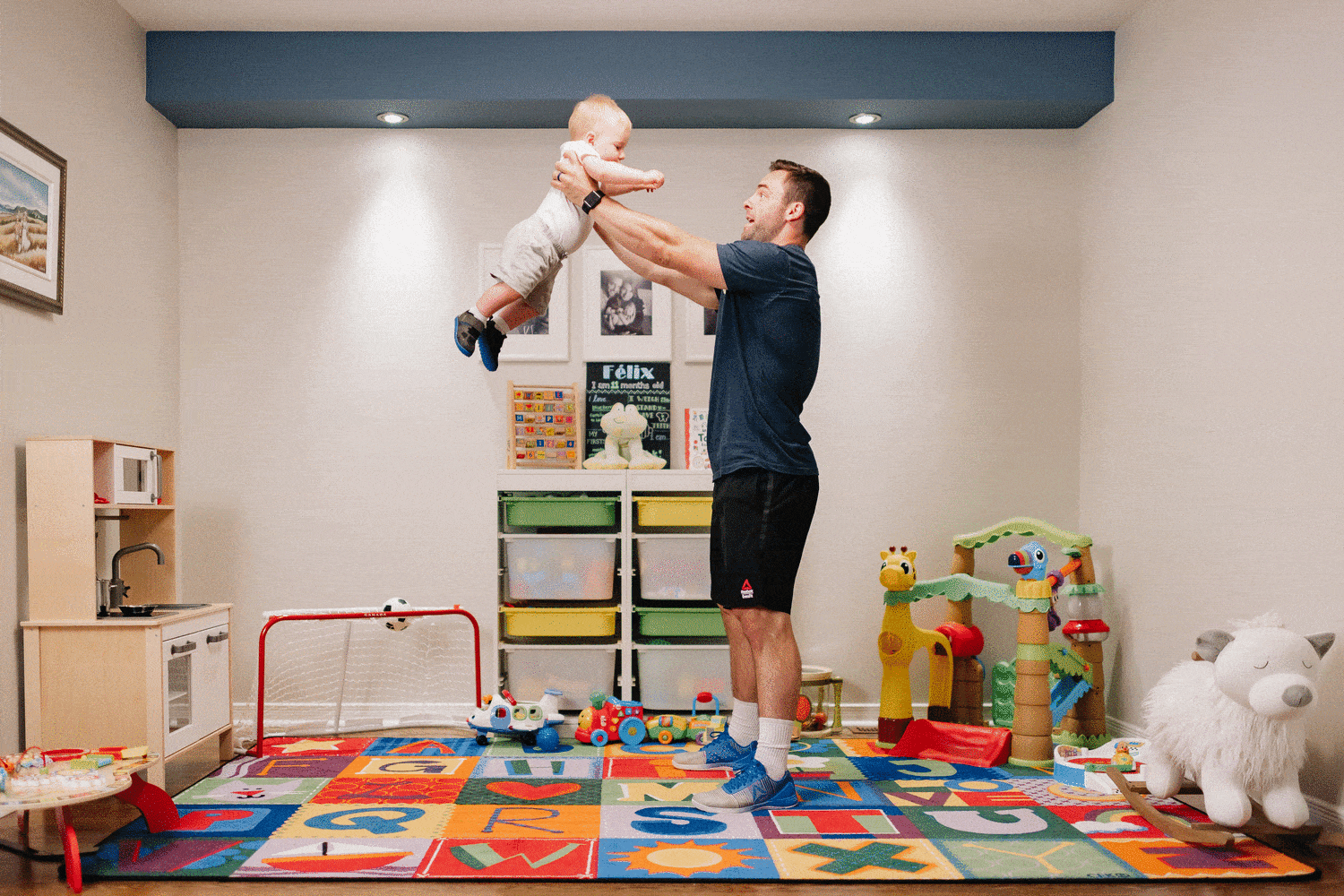 Think: kettlebell swing ... except there's no need to purchase a kettlebell. With feet planted directly under the shoulders, hold your child around their armpits and gently swing from under your legs up to your nose.
Front Squat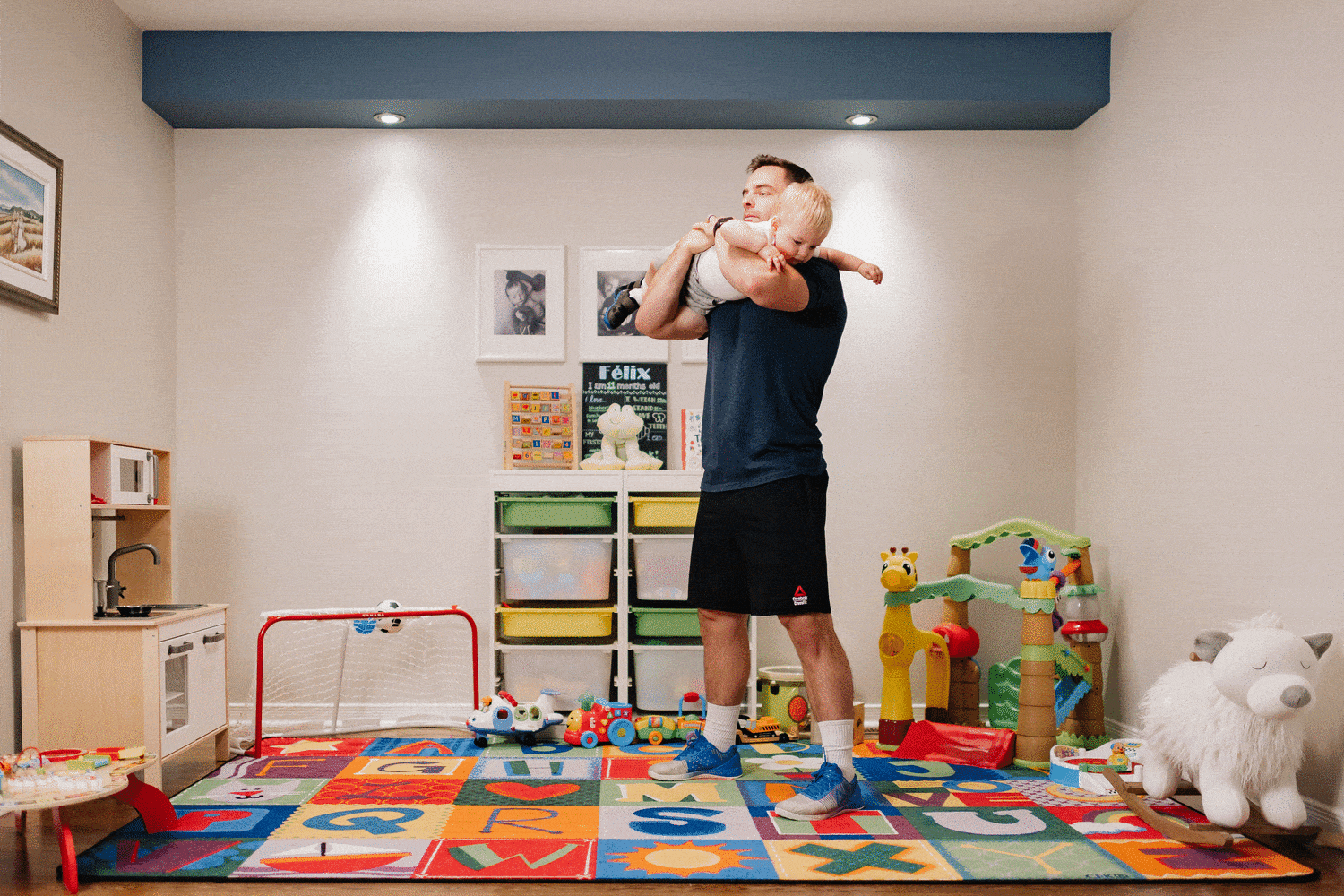 With feet positioned slightly outside the shoulders, hold your child across your chest. Squat down and up, keeping your heels planted on the ground throughout the movement.
Back Squat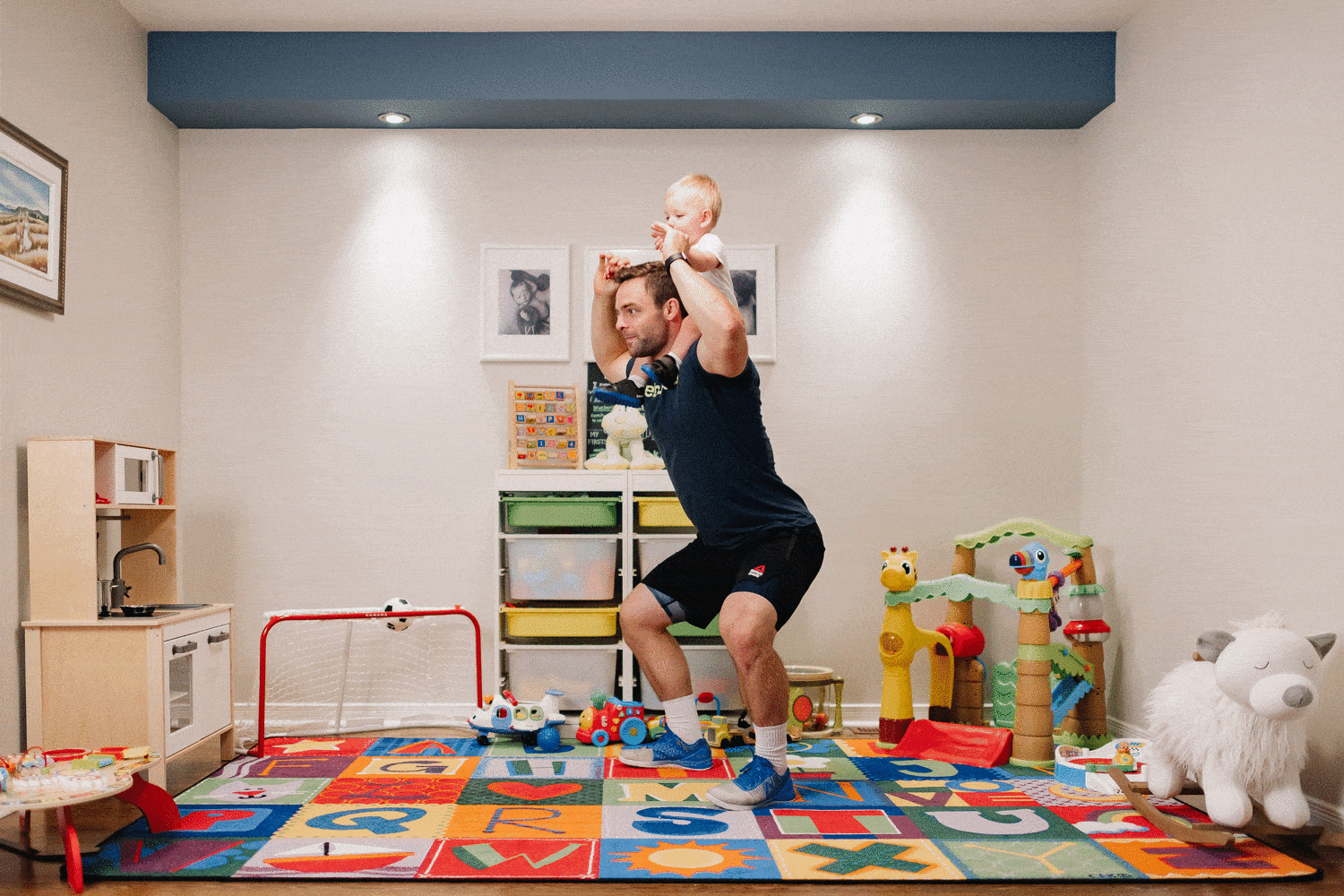 Feet should remain the same position they were in for the front squats, but this time, place your child on your shoulders. Hold your child's hands in your hands, and squat up and down.
The Twist (and Hopefully not Shout)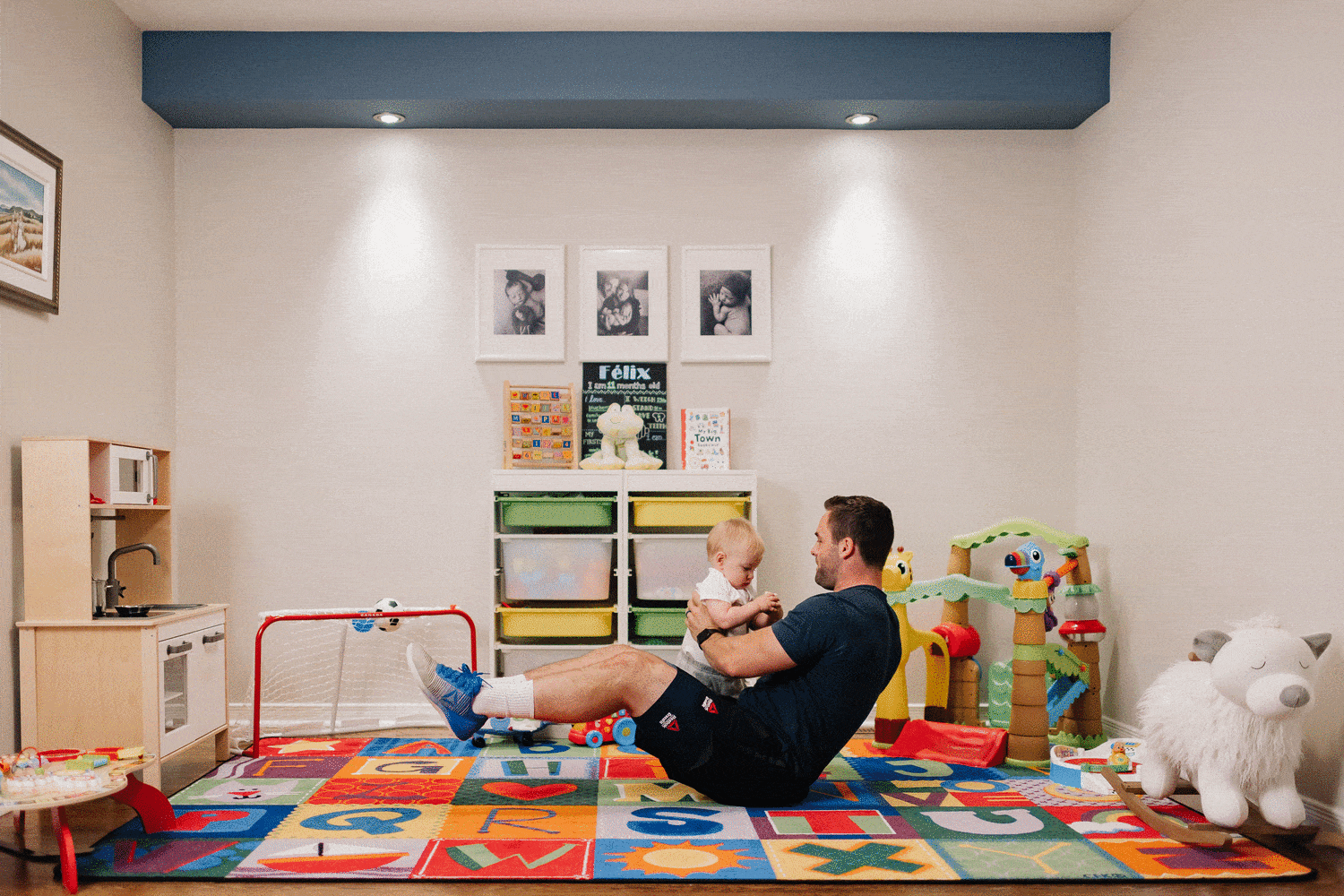 This isn't your average Russian twist! Seated on the floor with legs lifted several inches off the ground, move your child from side to side similar to how you would normally move a medicine ball for this exercise. If performing the movement correctly, you should feel it in your core.
Lunge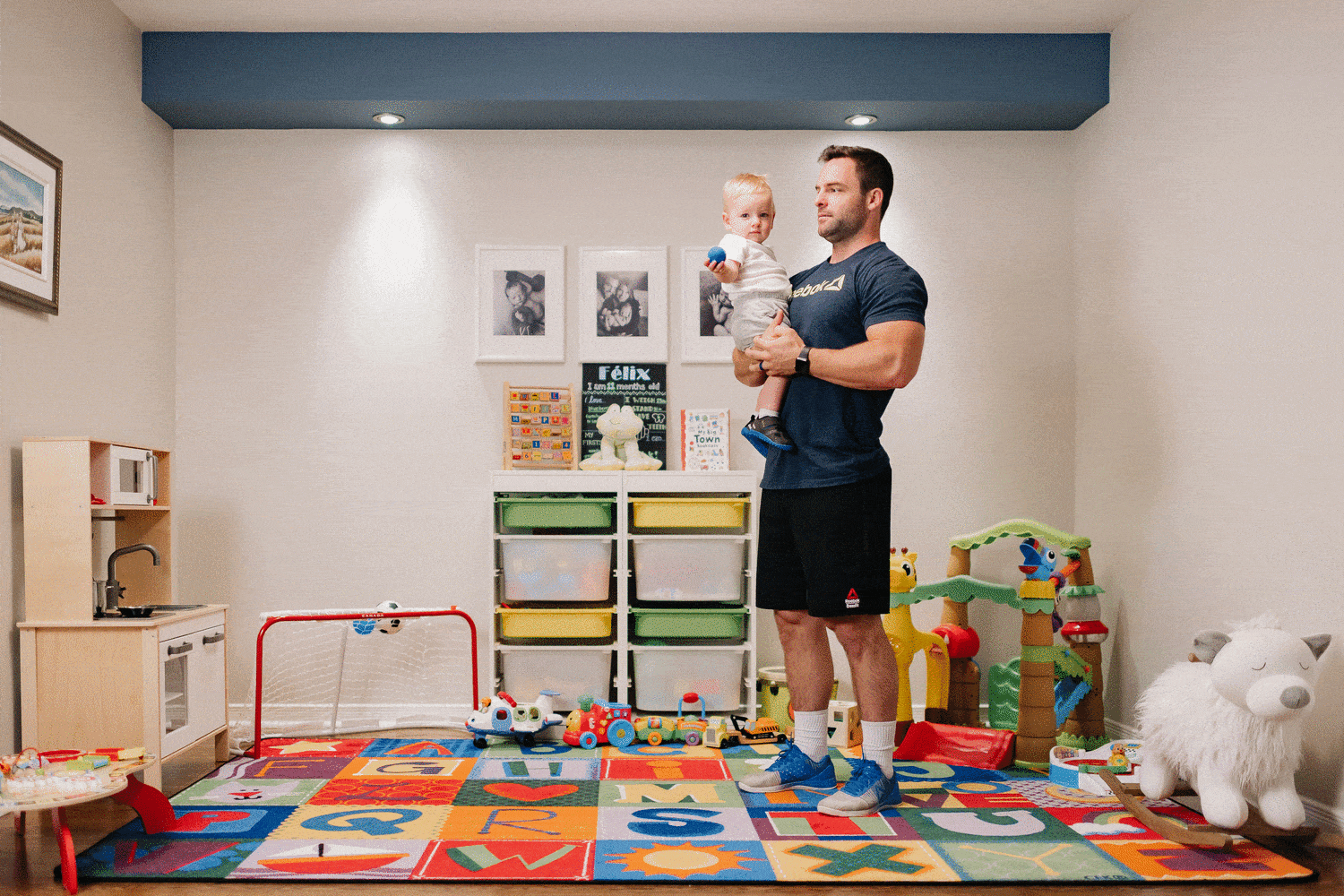 If you hold your child against your hip for most of the day, then you're already comfortable in this position. It's time to up the ante! While the child rests on your side, step one of your legs forward, keeping the chest up. Bend your back leg behind so your knee strikes the ground. Stand back up.
The (Baby) Weighted Sit-up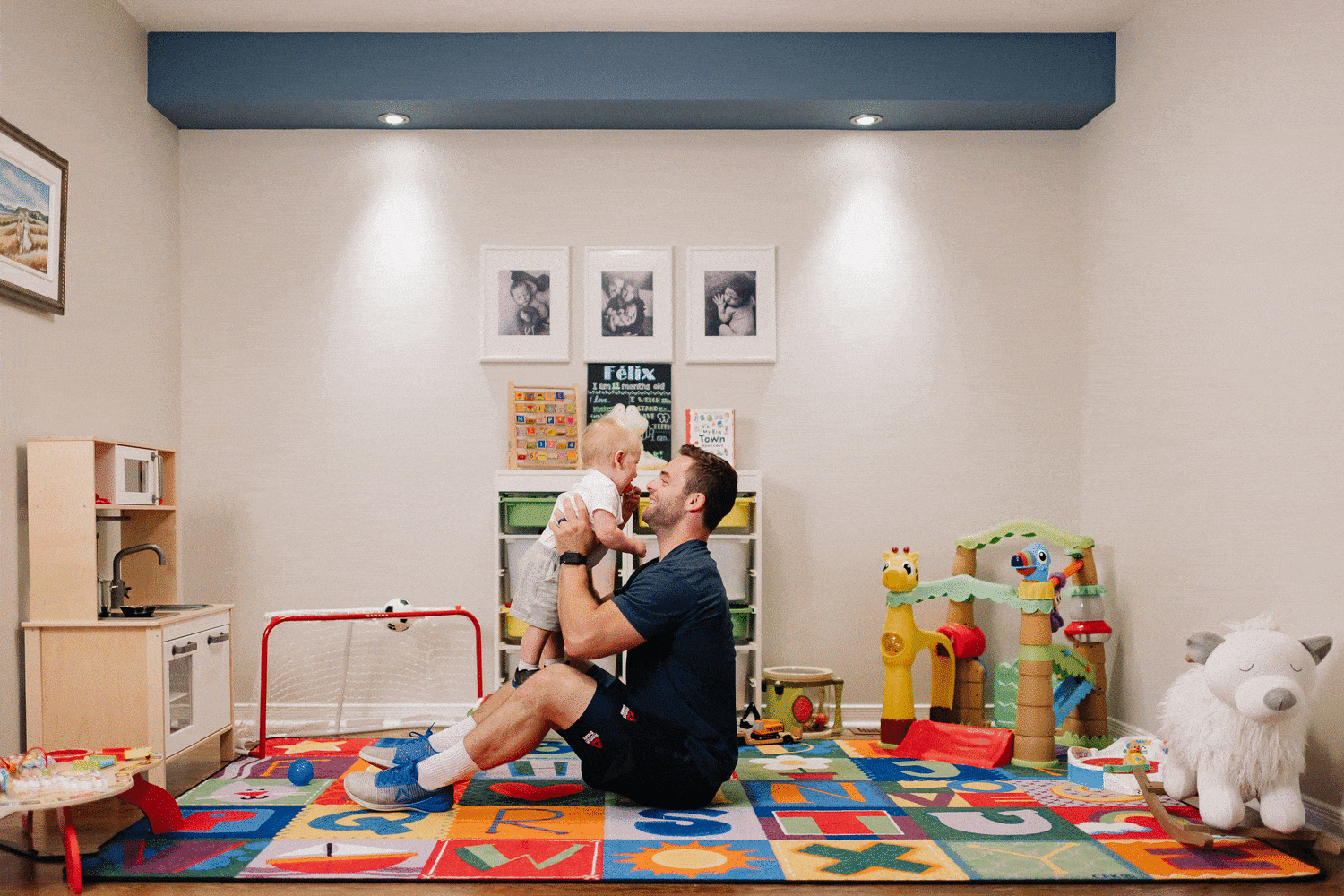 Lying on your back with your knees bent, hold your child a few inches above your chest. Sit upward, moving the child up with you, before immediately moving back down to the starting position.
Thruster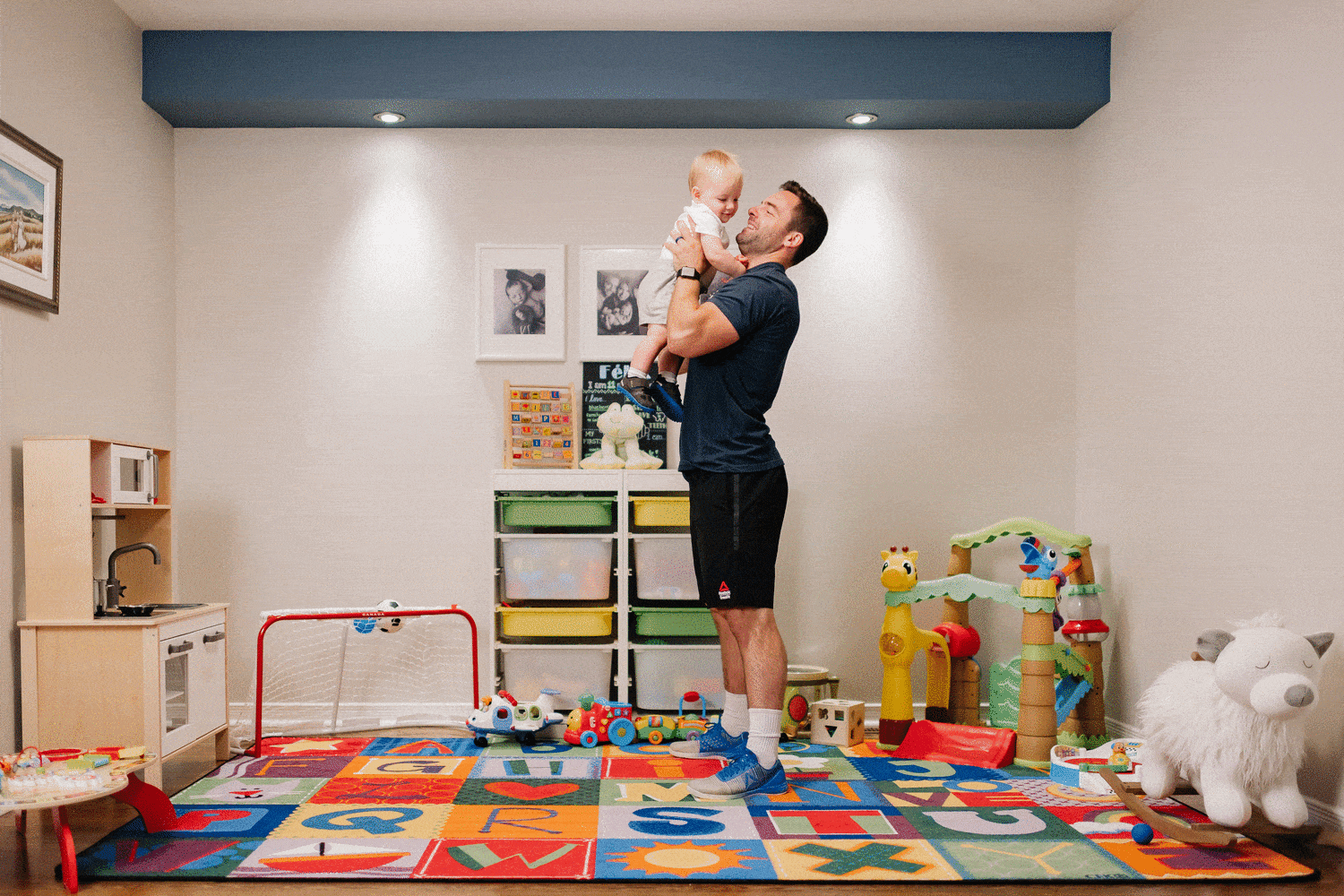 In case the front squat was not difficult enough, the thruster adds an overhead component to it. Holding your child at their armpits, squat down. As you move back up, raise the child overhead so your arms are fully extended.
The Kid Clean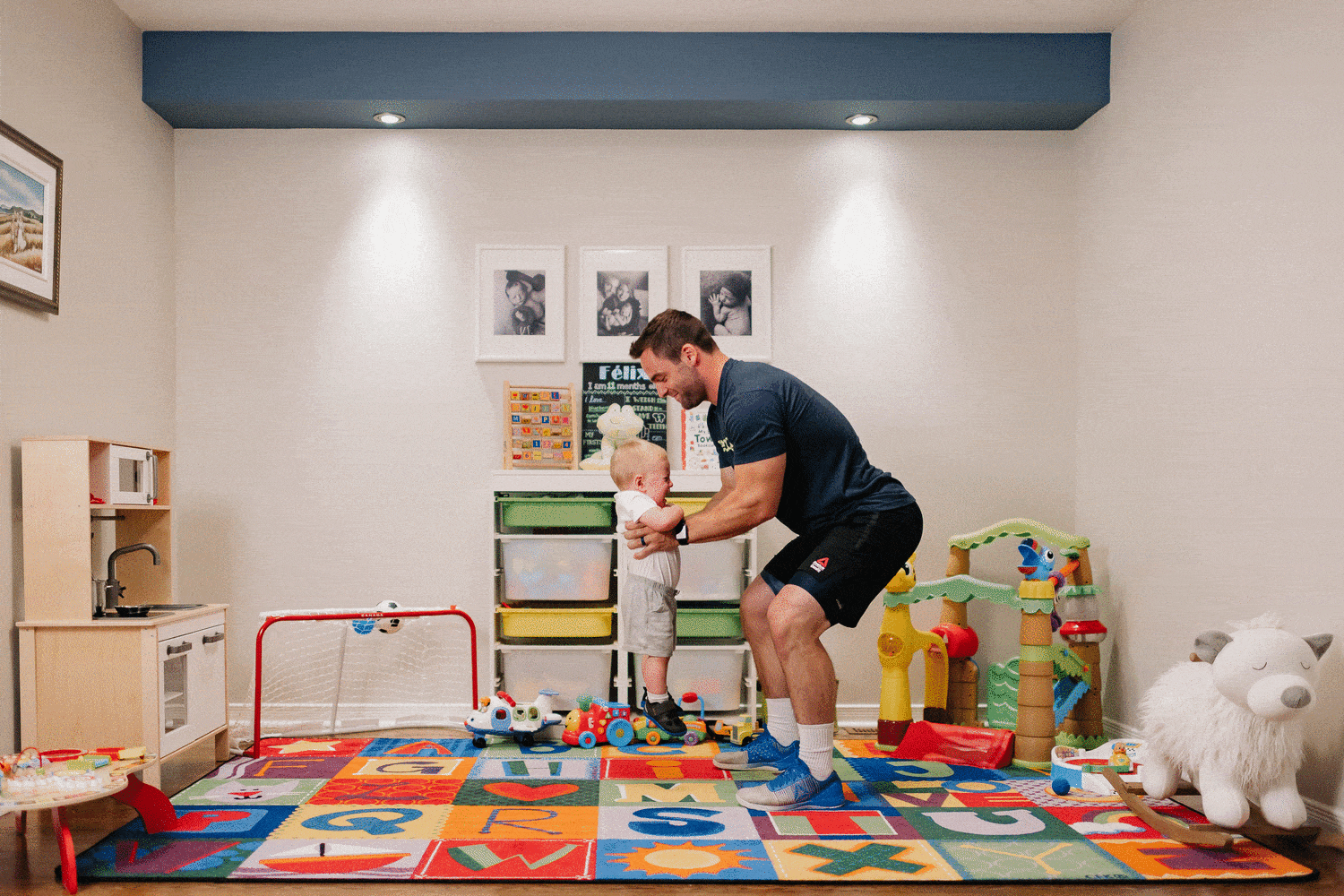 No, this movement is not about cleaning up after your child (although that may come later in the day)! With feet in squat stance, replicate a medicine ball clean by lifting your child up off the ground and immediately into a squat.
Did you give Tremblay's paternity leave workout a go? Tweet @Reebok with a picture of you and your little one working up a sweat.