Ariana Grande's Stylist's 5 Gym Essentials for Every 'Dangerous Woman'
Ariana Grande just finished her international 77-show Dangerous Woman tour. And each of her many tour looks sparked conversation for being innovative and unique.
This comes as no surprise, as Grande has already established herself as a style icon. But the 24-year-old doesn't do it alone.
Image architect Law Roach works closely with Grande to put together the show-stopping outfits she's become known for, including those worn on her recent tour.
"If I had to describe the style of a dangerous women it would have to be fearless," says Roach.
Grande's tour looks may have been one-of-a-kind, but Roach attests that aspiring dangerous women across the world can still take a cue from the pop star's playbook.
"There is nothing sexier than a woman who has no fear, who exhumes confidence. It's all about attitude, persona, personality," he continues.
And just as Roach assists Grande in styling her looks, he is here to help you start building your own gym wardrobe!
Roach has hand-picked five pieces that he's sure will bring out any woman's inner confidence, whether she's running, squatting or dancing her way through a workout.

"No one can go wrong with a cool black legging. Period!," says Roach.
"It's really, really versatile, so every single woman has to have a pair of high-waisted black leggings."
And for those bold women looking to make a statement, Roach recommends opting for a pair with mesh details.
"When you add mesh to it, you up the ante and you get a little bit more fashion for it."
"If you have the pants, you have to have the top," says Roach, holding up a long sleeve shirt that includes mesh paneling details matching the leggings.
"You can't not have the full look," he attests. "So pair them together."

But he warns not to let the mesh scare you away.
"It's really cool and sort of badass at the same time when you have this mesh, sheer component."
"That's functional for working out and also a bit sexy in case you see your gym crush."
"This is kind of retro. It's giving me very much '80s vibes," Roach says, nodding to the grey tank in his hand.

"It's kind of like your boyfriend's cut t-shirt," he continues, alluding to the tank's length and loose silhouette.
"But they added the really feminine detail of these slashes in the front so you can wear a cute sports bra under it."
So it only makes sense that Roach's next selection is a sports bra, right?
"This is a no-brainer," he says about the high-neck black sports bra in his hand.
"Great to work out, feel sexy, feel strong, feel powerful and show off those muscles you have been working at."
But Roach stresses that this bra is great for outside of the gym, too.
"Throw it on with a pair of jeans and a nice leather jacket. Take it from the gym to the streets," he continues. "You kind of get two in one."
Another gym-to-street necessity is a bomber jacket.
"This is a trend we have been seeing for the last, I would say two, three years," says Roach about the stylish jacket.
"It definitely isn't going anywhere. So ladies, if you haven't invested in a cool bomber, do it as soon as possible."
What drew Roach to this specific one is the color.
"It comes in this really beautiful blush pink color that's ultra-feminine, but the silhouette is super masculine," he says. "So you can be a tough badass, sexy chick all at the same time."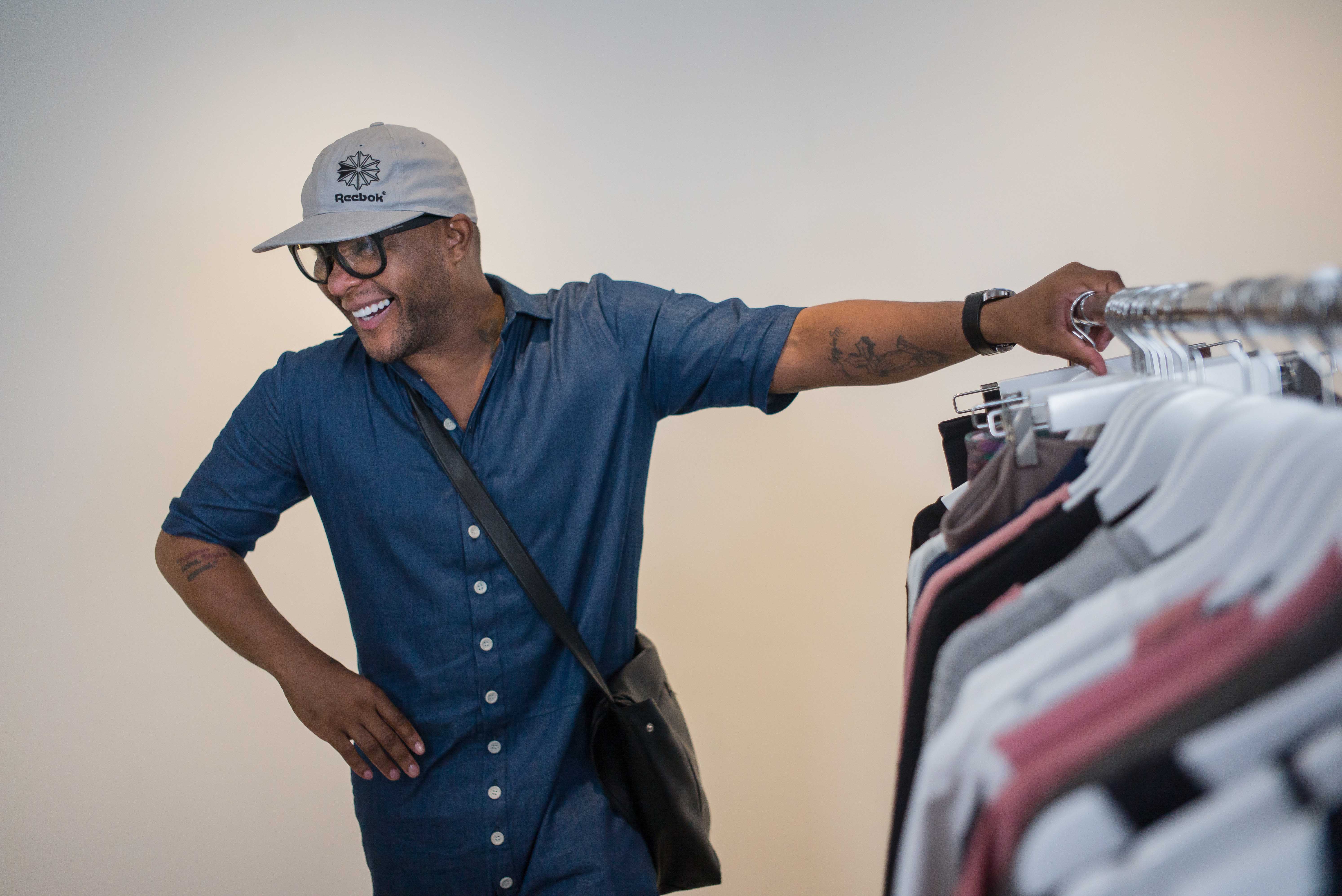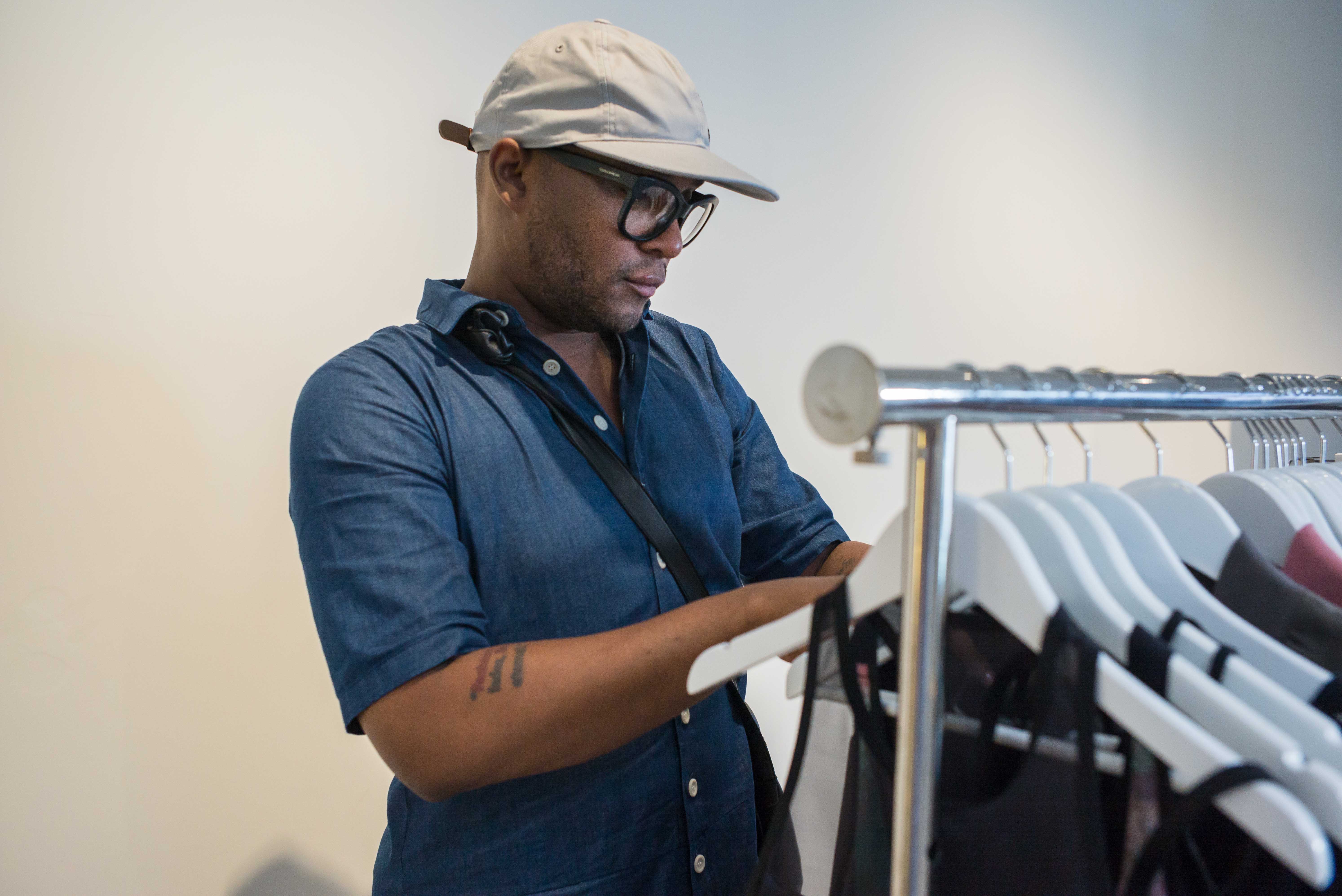 Do these looks have you inspired to revamp your own workout closet? Tweet @Reebok to let us know which of his picks is your favorite.