This or That with Rae Sremmurd
Hip-hop duo Rae Sremmurd are known for their eclectic tastes in music, style and even pets.
Brothers Swae Lee and Slim Jxmmi are constantly surprising their fans with their fearless fashion sense and resistance to conform to anything conventional.
Knowing that things could change at any moment with this unpredictable duo, we checked in to see what trends they're loving this fall and how things are going on tour.
When it comes to the morning routine they stick to what they like. Their go-to for a quick juice fix is a staple for most and was the unanimous choice when pitted against the option of green juice.
"Orange juice," says Slim Jxmmi.
As the freshest faces leading Reebok's Classic Leather campaign, both brothers are also known to rock sneakers while on their tour.
While some may like to keep their sneakers worn in, both brothers agree, to no surprise, there's nothing like showing off a pair of fresh kicks.
"Box fresh, man," says Swae Lee.
Swae Lee and Slim Jxmmi have been known to put a unique twist on the Reebok Classic Leather, styling it with their unusual outfits and often wearing two different colored shoes at the same time. The timeless silhouette mixed with the duo's over-the-top taste led to some pretty sick style moments.
Style takes on a whole new meaning when they're in the mix. Both guys are especially known for adding unexpected style accessories to accompany their already distinct fashion choices.
Safe to say they agree on keeping things interesting when picking out their outfits; they both make it a point to showcase their individuality and swagger at all times. Neither could agree when faced with the challenge of choosing either goggles or shades, though.
"Shades," says Swae Lee.
"Goggles," contradicts Slim Jxmmi.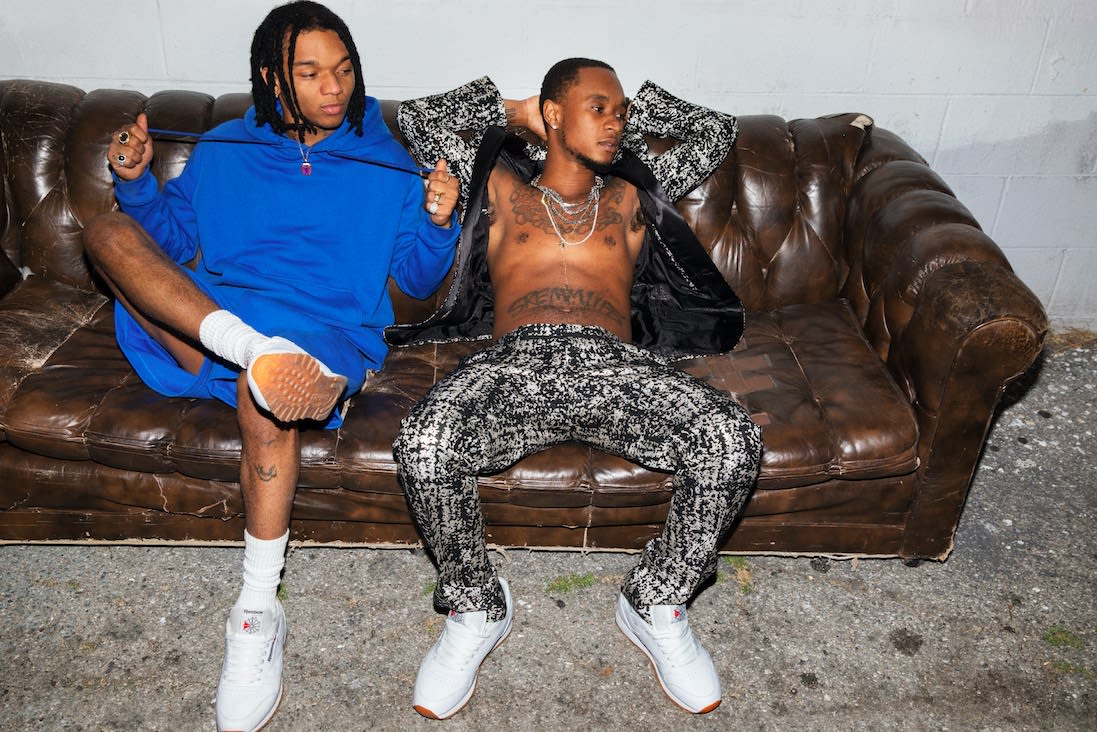 But when given the choice to either wear a bandana or a baseball cap, Swae Lee didn't hesitate to answer for both of them.
"Bandana is fresher, way fresher," he says.
When they're not rocking the latest trends on stage, they're spending a lot of time on the tour bus traveling. So when there's down time, the guys keep it interesting and competitive revealing one of the games they like to play.
"Ping pong," says Slim Jxmmi.
In a previous interview they talked about how their taste in music was shaped from their Southern roots and that they used to test out new tracks at clubs and house parties. So it's not shocking that given the choice between having a night out or just kicking it with their friends, it's the latter.
"House party," says Slim Jxmmi.
The guys are always finding new ways to push the envelope and keep people guessing, never straying from being who they are. From their wild personalities to their bold style and music Rae Sremmurd never strays from keeping it 100.
Check out more of our favorite answers from the duo below.
Reebok: EDM or Symphony?
Swae Lee & Slim Jxmmi: EDM!
Reebok: Burpees or Push Ups?
Swae Lee & Slim Jxmmi: Push Ups
Reebok: Beach or Pool?
Swae Lee & Slim Jxmmi: Pool
Reebok: Diamonds or Gold?
Swae Lee & Slim Jxmmi: Diamonds (in unison!)
How do you like to style the #ClassicLeather? Tweet @ReebokClassics and show us!