Victoria Beckham Is Inspired By The '90s (And Shaq!) For Her Upcoming Reebok Collection
There are a lot of reasons to be inspired by Victoria Beckham—she was the member of a record-shattering girl band in the '90s, she's an incredible fashion designer, her wit is unmatched on social media, and oh yeah, her family is pretty much #goals.
So when she started thinking about her Reebok X Victoria Beckham line, we wanted to get to the bottom of what inspired the woman who inspires so many. And it turns out, the answer surprised us: It was all about the '90s.
So much so that before she launches her first collection in the fall, Beckham decided to come out with a capsule of '90s-inspired gear, featuring none other than basketball legend and Reebok icon Shaquille O'Neal.
The collection—which launches this summer—will feature the kind of apparel you'd find around a basketball gym, like tee shirts and hoodies, all featuring O'Neal's silhouette. "This is a little bit of a teaser with regards of what's to come," Beckham says. "This me really celebrating Shaq and celebrating the '90s and everything that I love—and I think what everybody loves—about Reebok."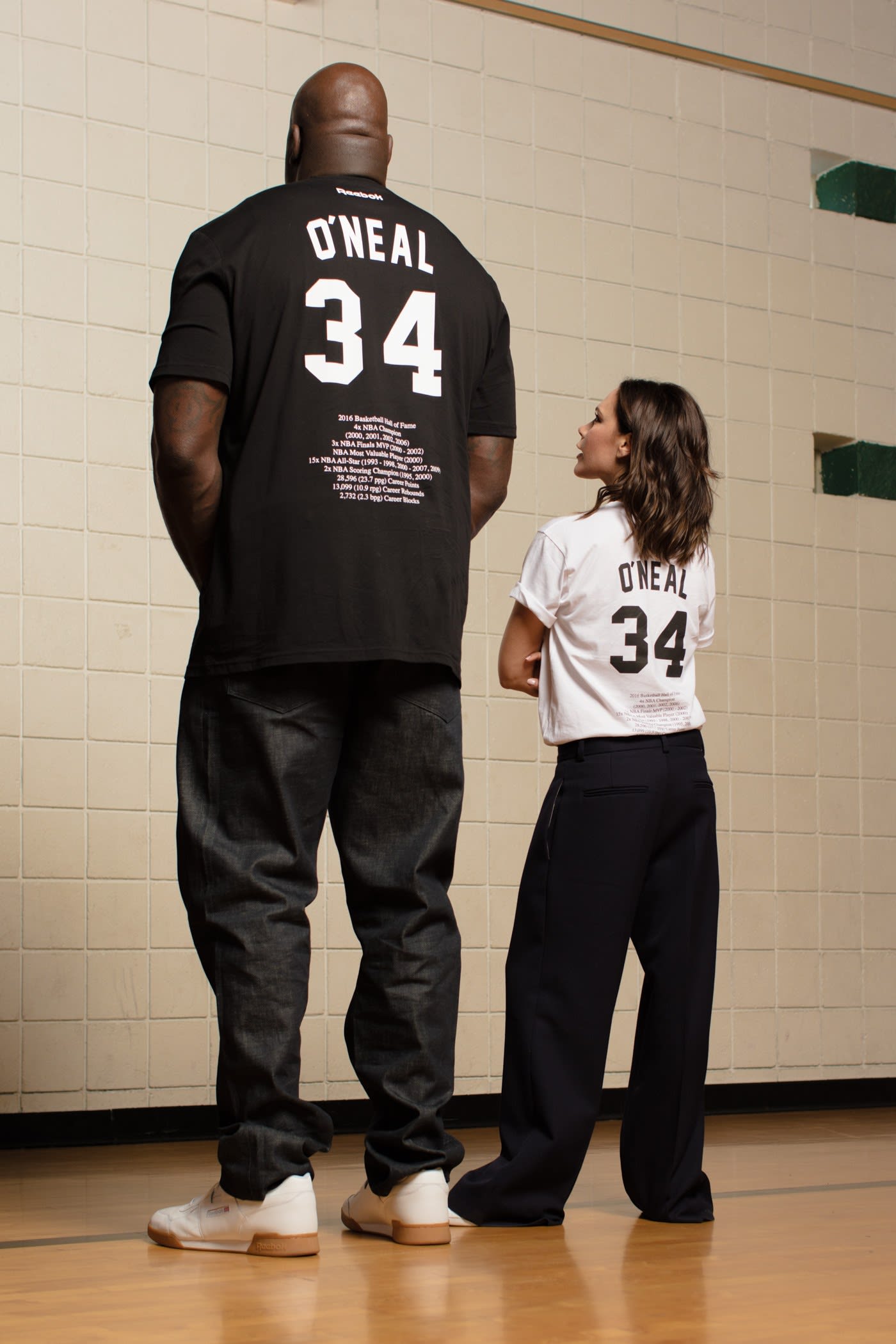 To fete the upcoming launch of the Reebok X Victoria Beckham collection, Reebok took to The House on Sunset in West Hollywood to have a '90s-inspired dinner, complete with an archive exhibition of all of the Reebok gear that has consistently captured Beckham's attention as she works on her line, from the Pump to the Shaq Attaq.
Telling the story of the first time she walked through Reebok's museum-style archive, Beckham says she immediately felt inspired. "It was so exciting. I mean, you literally have to put on white gloves when you go in, and hold the trainers, and you pick up the clothes," she recalls. "I grew up in the '90s and have always loved Reebok, and to actually go and see the shoes and have the opportunity to really look at them and meet the Reebok family was very exciting."
To pay tribute to that heritage, O'Neal and Beckham wore Reebok Classics shoes to the dinner—the Workout and NPC II, respectively, making it unmistakably clear that everything that once lived in the '90s has a place in fashion and style today.
As for the future, Beckham was clear that the upcoming capsule collection is just the beginning, and she'll be focusing much more on creating stylish, functional, technical workout apparel going forward.
For her, the cause is personal.
"As a woman that works out every day, I want the best, and I want a lot. I expect a lot out of my workout clothing."
That need has led her to a passion for workout apparel that people might not guess from the typically polished, streamlined, and feminine aesthetic of her other lines.
"I've wanted to create workout clothes for a long, long time," she says. "I'm going to learn so much, I've never done this before, which is why I'm excited to work with the Reebok team, because they are the experts."
Sign up for updates about Victoria Beckham X Reebok the collection at Reebok.com/VictoriaBeckham