This Is What Athletes Will Wear in the 2018 Reebok CrossFit Games
It's Sunday in Madison, Wisconsin. This time next week we will be entering the final events of the 2018 Reebok CrossFit Games, mere hours away from crowning the Fittest Man and Fittest Woman on Earth.
But today, the Alliant Energy Center is abuzz for a different reason. The individual athletes have arrived to the venue to collect their official 2018 Reebok CrossFit Games competition gear. Age group qualifiers will do the same tomorrow and teams on Tuesday.
While the scene a week from now is sure to be serious, today, the athletes are lively, hugging and greeting their competitors.
"I've been in Madison for a little while now training hard and adjusting to the time difference," says reigning Fittest Woman on Earth Tia-Clair Toomey. "But finally catching up with everyone and receiving all our competition gear; it's starting to feel so real, it's so exciting!"
What exactly does this year's competition gear entail?
Here is a behind-the-scenes look at the products athletes will be wearing on the competition floor over the next week.
But finally catching up with everyone and receiving all our competition gear; it's starting to feel so real, it's so exciting!
Shoes
The tests presented to athletes at the CrossFit Games are extensive. Events have been known to include anything from Olympic weightlifting to gymnastics to running to swimming to cycling.
To ensure competitors are prepared for this array of tests, they are provided with an equally extensive array of footwear.
Each athlete will receive four pairs of sneakers. This 2018 range includes: the Nano 8, as well the Harmony Road for running, the Legacy Lifter for weightlifting, and the Speed Field 2.0, a version of the Speed with a different sole created exclusively for the Games with field events in mind.
"The shoes are where it's at," laughs veteran Games competitor Scott Panchik while trying on his new kicks. "I'm set for another year with these!"
Clothes
If you've watched the Games before, you may have noticed many of the competitors wearing different outfits from one another. All athletes receive the same gear, but they're free to pair pieces from the collection together however they please.
Knowing each individual's apparel preferences differ (some women want leggings while others stick strictly to booty shorts), this gives them the flexibility to wear the pieces that best meet their needs. The only rule: at least one article of clothing must display an athlete's competition number.
"I feel like most people who watch me compete know by now that I'm not a flashy guy," says reigning Third Fittest Man on Earth Pat Vellner as he looks through. "I'm not spending hours picking out my outfits."
"But, there's something special about picking up your Games gear. You see your last name and your affiliate on the shirts and it gets you amped up. This is what we've been working all year for."
There's something special about picking up your Games gear. You see your last name and your affiliate on the shirts and it gets you amped up.
For the second year in a row, women's tanks and men's tees are made of ACTIVCHILL fabric. ACTIVCHILL is a Speedwick technology that draws sweat away from the body and has a cool touch. Translation: it keeps athletes cool and comfortable during outdoor events in the heat.
And for women, the 2018 sports bra selection is the best one yet. In addition to the regular skinny strap bras, each woman will also receive a strappy high neck bra (which not only looks cute but is perfect for forgoing neck bruises if heavy cleans or front squats are on the menu) and multiple colors of the ever-popular Micro Bra.
"The Micro Bra is my all-time favorite sports bra," says Jen Smith who qualified out of the Central Regional. "I think a lot of the other women would say the same."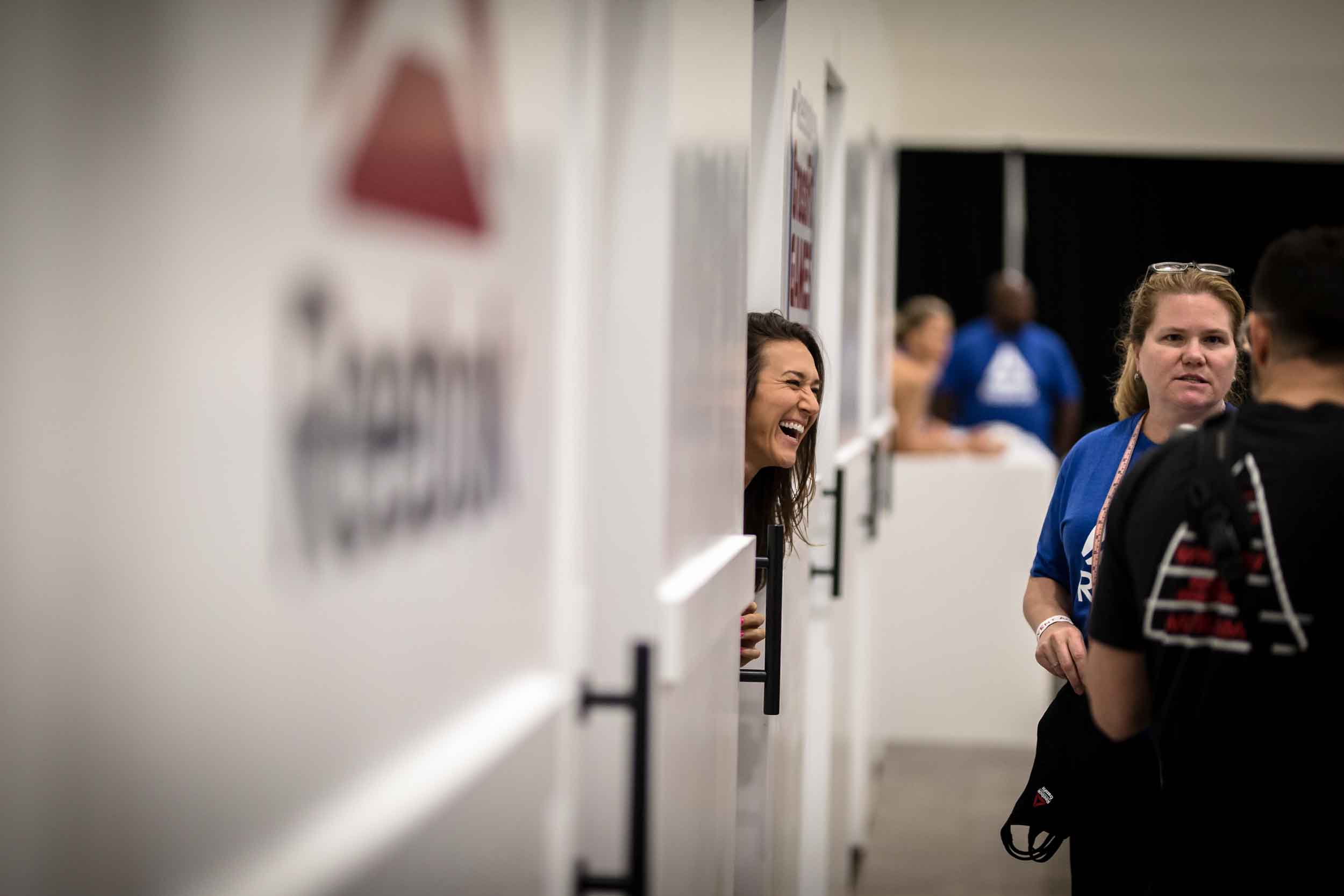 Color Palette
While favorite silhouettes and shoes return to the Games year after year, each year the competition gear does take on a new color palette.
For 2018, the lead color is Mendota Blue.
This color was, in fact, inspired by the Games location itself. While visiting Madison for last year's Games, the Reebok design team caught notice of how beautiful Madison's surrounding lakes looked when light traveled across them. When it came time to select colors for 2018, these blue and pink hues remained top of mind so the designers set out to recreate them on fabric.
"The blues and pinks are going to stand out great on the competition floor," says Maddie Sturt, who will be competing in her third Games. "We're going to look great!"
Print
See the heal of the Games Pack Nano? While the shoe itself is white, you may notice that the heal cap includes a hint of grey. That grey and white pattern is formally known as Stone Camo, and it's a print that was specifically designed for the 2018 Games.
The creation process for the print is about as CrossFit as it gets. Weight plates – yes, the same kind we load up our barbells with – were cast in concrete and then destroyed. The fragments were photographed and reassembled to create this pattern.
Within the Games collection, the Stone Camo print not only adorns Nano's, but it can also be seen on a pair of men's shorts, women's leggings, women's shorts and a dual-gender shirt.
Military Appreciation Kit
Because of CrossFit's history with military personnel, each year, Games athletes are also given one outfit in traditional military colors—green, sand stone and black. The outfit serves as a reminder of those who made the ultimate sacrifice.
Historically, athletes have been able to wear this military inspired outfit anytime throughout the week. This year, that has changed. All athletes will be asked to wear this outfit for a particular event.
Director of the CrossFit Games Dave Castro, who is a U.S. Navy Seal himself, has yet to announce what that event will be. Our assumption is that we could see a hero workout programmed.
Leader Kit
Miss an hour of the action but instantly want know which athletes are in the lead when you tune back in?
Meet: the leader kit.
Entering each event, the male and female athletes in first place overall are given a white shirt and red bottoms. Only the points leaders receive these pieces and there are no other pieces in the Games collection that use these same colors. This makes it simple for viewers in Madison and at home alike to instantly recognize the points leader among the field.
These white leader jerseys, which prominently display "leader" across the front, are created in real-time on site to also include the athlete's name.
The entire CrossFit Games collection is available to the public on Reebok.com and Store.CrossFit.com . Be sure to tune in this week to watch the Games.