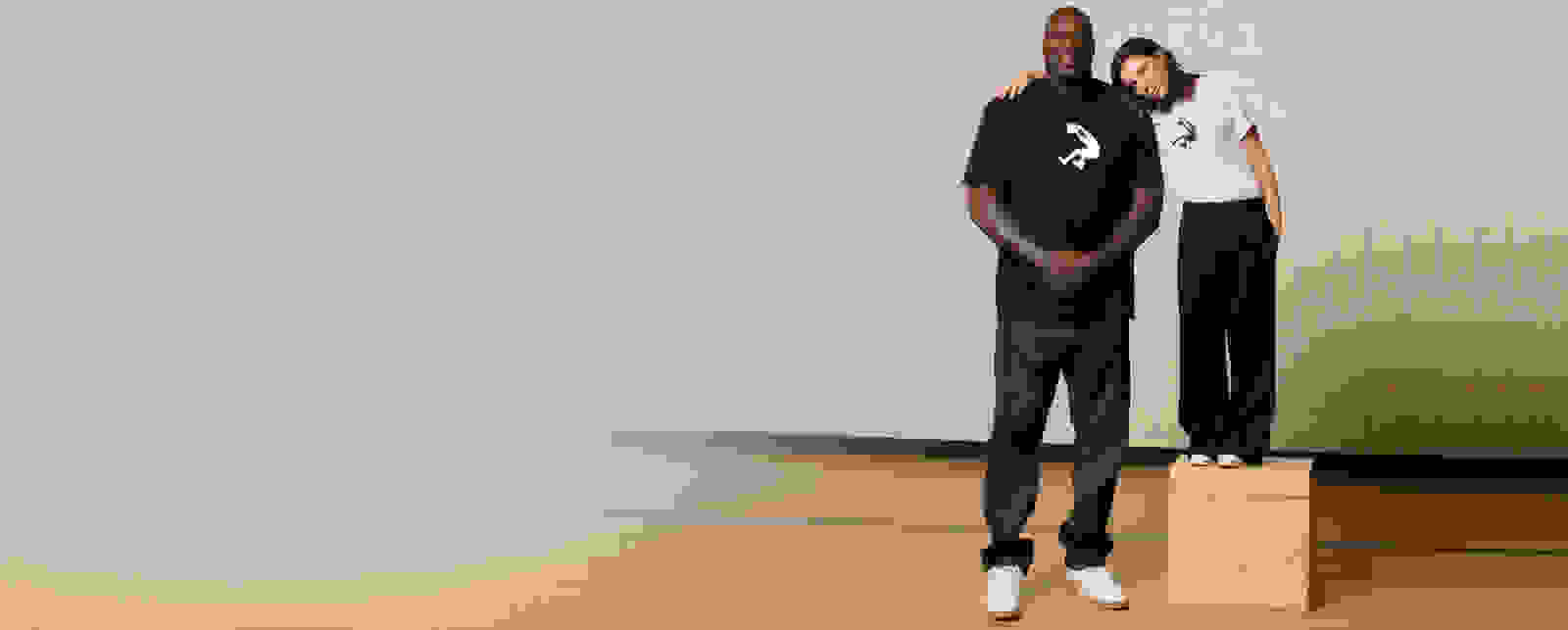 5 Simple Ways To Make A White Tee Shirt Look Incredibly Stylish
If you type the words "classic wardrobe" into your browser, chances are that hundreds of articles will pop up telling you exactly what you need to build a foolproof collection of clothing.
And there's one item that's on every single one of those lists: a perfect white tee shirt.
If there's anyone who can show us the value of a white tee, it's our forever style icon, designer Victoria Beckham. It's not surprising it's such a workhorse in her wardrobe. A white tee pairs just as easily with a wide leg pant as it will with a leather skirt. Slide it underneath a blazer, or layer it under your moto jacket, and no matter what, it looks chic.
There's a reason for that, Beckham says. It's understated, and goes with just about everything. "No one likes to look like they've tried too hard," she says. "A white tee is the classic essential."
It's no wonder that she's designed her own Reebok merch collection of tee shirts, sweatshirts, and socks inspired by '90s basketball—she can't get enough of them in her closet!
And when you're as stylish as Victoria Beckham, you don't exactly wear your white tees with your favorite leggings and call it a day—there's still a lot of thought and styling that goes into making it work as hard as it can in your wardrobe. Here, she's spilling her top five tips.
1. Think a white tee shirt isn't dressy enough to wear during your 9-5? Beckham disagrees. "Make it work-appropriate with sleek, wide leg trousers," she says. "Wear the tee tucked in and complete the look with some classic trainers."
2. Give it some personality, and don't just settle for a fit you don't love. "Play around with styling tricks," says Beckham. "Give the sleeves a roll, or try a full or a half tuck."
You'll notice that Beckham rarely wears a tee without slightly rolling the sleeves—and there's a reason why! It adds a personal flair, and makes the fit a bit more customized so the shirt isn't swallowing you up. This is key, she says. "What's great abut a classic white tee is that it's a timeless piece that anyone can inject their own personality into," she says. "It's about doing what works for you."
3. Wear it with classic white trainers. Of course, you can pair it with a heel or a bootie, but there's nothing like a simple sneakers with a simple white tee.
Lean into its casual feel.
4. Just because you can dress it up, doesn't mean you have to. To keep things less dressy, Beckham opts for her favorite denim, and her must have accessory. "For a casual look, I like to wear mine with a good pair of boyfriend jeans and finish off the look with sunglasses," she says. "They hide a multitude of sins."
5. Her best tip is all about knowing what you like, and not settling for anything else. "Know that being yourself is your best accessory," she says. "Don't do anything too dramatic, just do what works for you." That's some advice that extends to the rest of your closet, too.
To see Victoria Beckham's merch collection, go to https://www.reebok.com/us/reebok_victoria_beckham, and see it at #ReebokXVictoriaBeckham