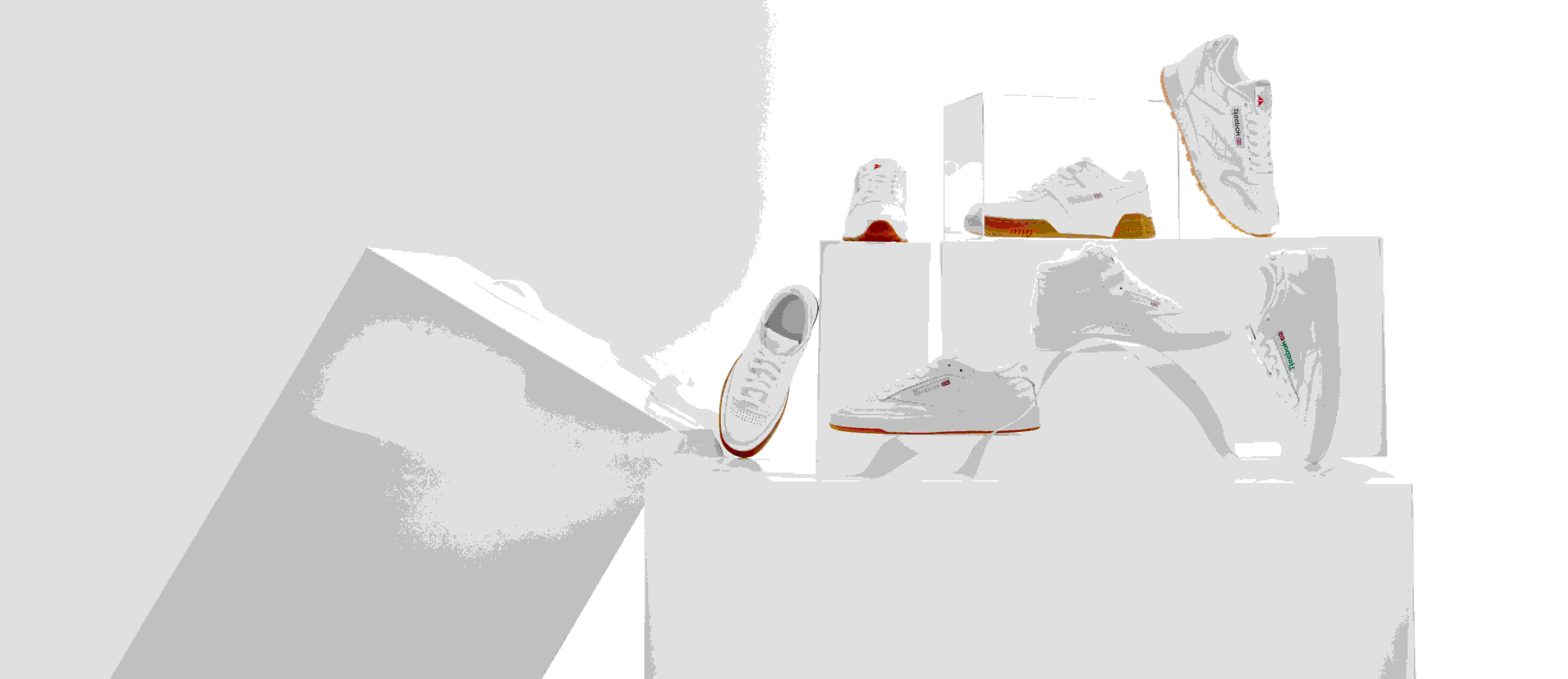 The Best White Sneakers for Women in 2020
All the top white sneaker choices in one easy guide so you can pick your favorite!
An essential staple in any woman's closet is a fresh pair of white sneakers. But the perfect pair can be hard to choose. So you ask yourself the big questions like, where am I wearing them? Whether you're heading to a party in the city, a music festival in the desert, or a girls weekend just about anywhere, your needs might be slightly different. Then there's the question of the entire outfit—if you're planning a skirt or shorts, you might opt for something different than what you would choose if you were wearing high waisted jeans.
Regardless of what you're doing, classic white sneakers go with just about everything and can be worn nearly anywhere (seriously, we've even seen them on the red carpet and at weddings).
That versatility is both a blessing and a curse. We love options, but we also want a little bit of guidance, which is why we've rounded up a list of our top 7 women's white shoes so you have all your top considerations in one place. So peruse away, go with your gut and pick the pair that best suits your personal style. You can't go wrong; these kicks are timeless.
These sneakers never go out of style. Originally released in 1983, this silhouette's popularity has kept it at the top of the charts and has sparked numerous different variations of the original that continue to this day. The soft garment leather and gum bottom sole set it just enough apart from the competition. From celebrity sightings at festivals to models right off the runway, the Classic Leather has been worn by all and is the easiest go-to white sneaker.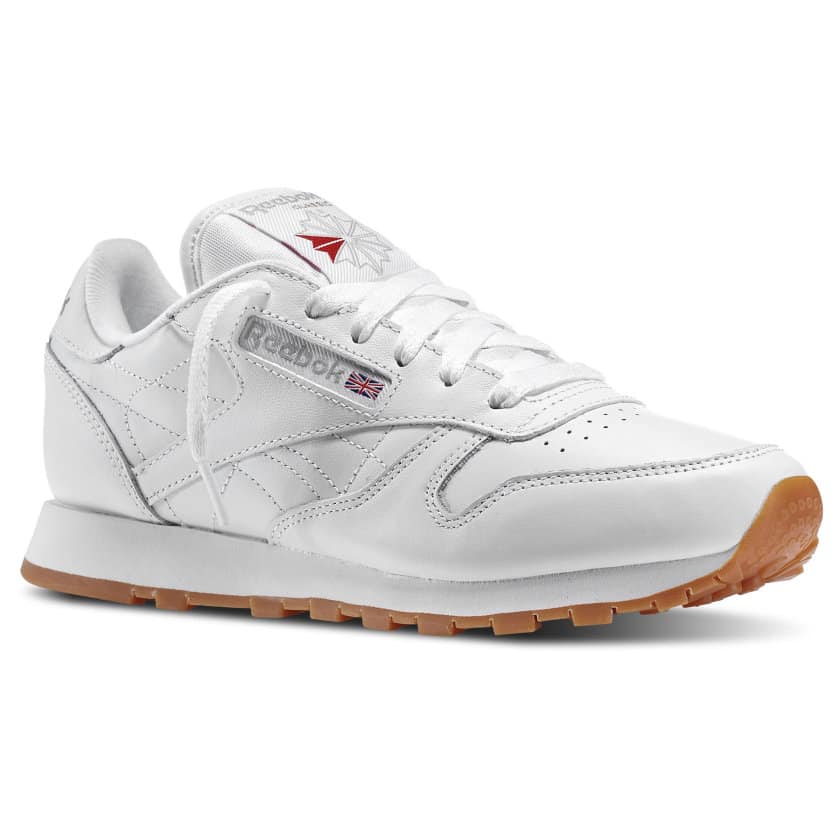 Classic Leather, $75; Reebok.com
A bit sleeker than the Classic Leather the Club C is another white sneaker franchise winner for Reebok that kills the style game. Inspired by Reebok's tennis shoes, the Club C has always received a lot of love. This version has more of a throwback trendy look with an off-white wash, pop of green and terry cloth liner. It's been released in multiple colorways throughout the years but the vintage model remains an instant classic.

Club C Vintage 85, $75; Reebok.com
Comfortable yet fashionable: that's the Classic Nylon. The white sneaker as we know it first appeared in 1991. It's a play off of the Classic Leather silhouette but with a suede and nylon upper. With a mix of white and grey layering throughout, this silhouette adds slight twist to the all-white sneaker trend.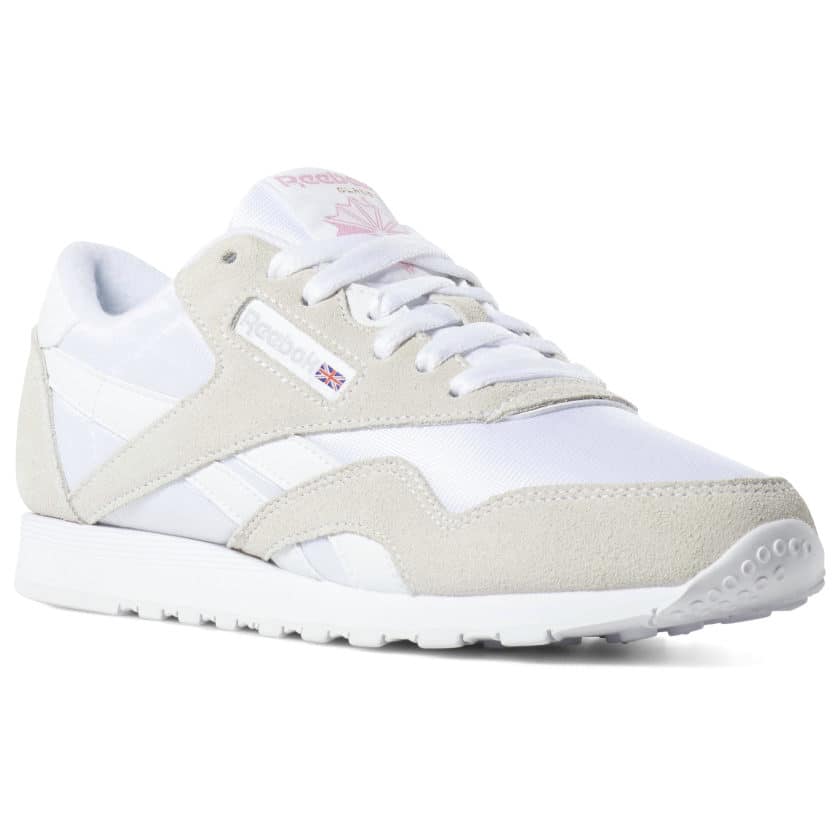 Classic Nylon, $60; Reebok.com
Released in 1984, the Workout started as one of the first fitness shoes for men. But no more! These white sneakers are for everyone who is looking to boost their sneaker style. The sneaker became known for its iconic "H-strap" and panels at the toe. It's authentic and clean and you need it in your closet. Period.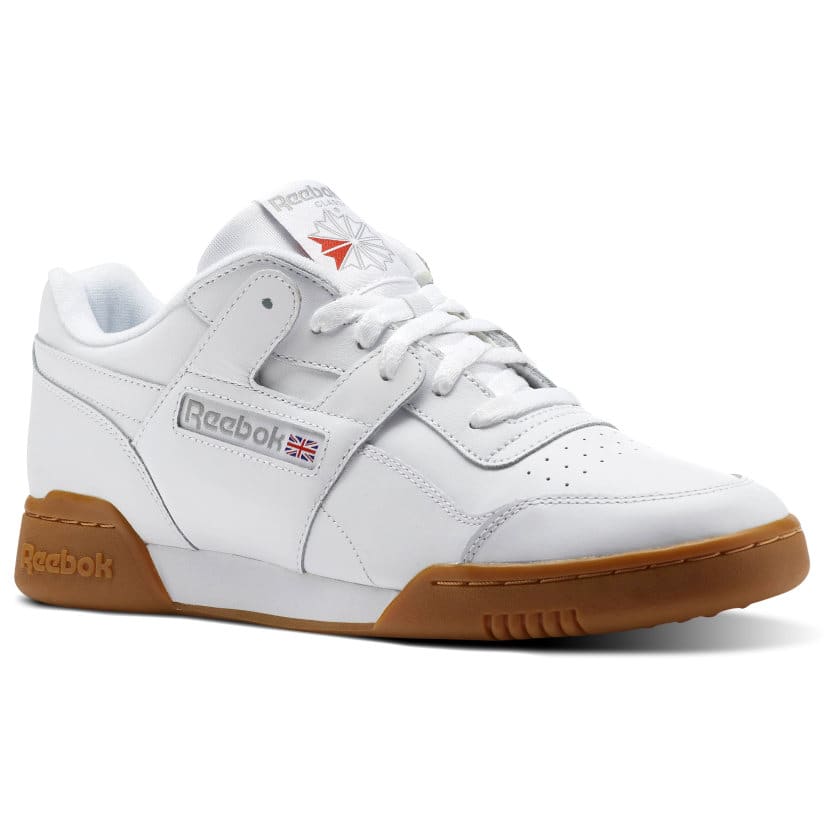 Workout Plus, $80; Reebok.com
Released in 1982 as the first athletic shoe made for women the Freestyle broke boundaries in the sneaker world. Originally around during the aerobics craze the Freestyle gave women the permission to sweat it out. Not only was it popular for working out but this sneaker transcended the gym and was worn on the red carpet becoming a street style icon in the late 80s and early 90s. Popularly referred to as the 54'11 (in reference to its OG sale price), the Freestyle Hi remains a sought-after sneaker for style seekers today. This groundbreaking white sneaker is a must-have for the woman who wants to make a statement.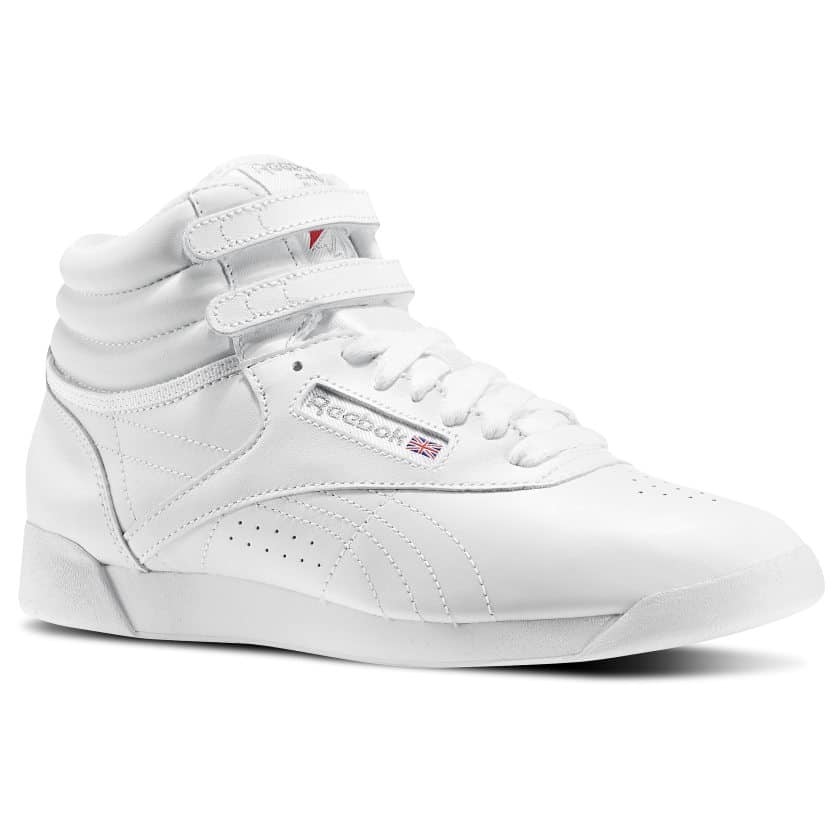 Freestyle Hi, $75; Reebok.com
Iconic doesn't even begin to describe the legacy of this shoe. Revolutionary technology and Boost cushioning are combined to create the Instapump Fury Boost. As white sneakers go, it doesn't get trendier than this sneaker. They're a modern style and give you that personalized fit you've been looking for. Get ready to make all your friends jealous with this pair.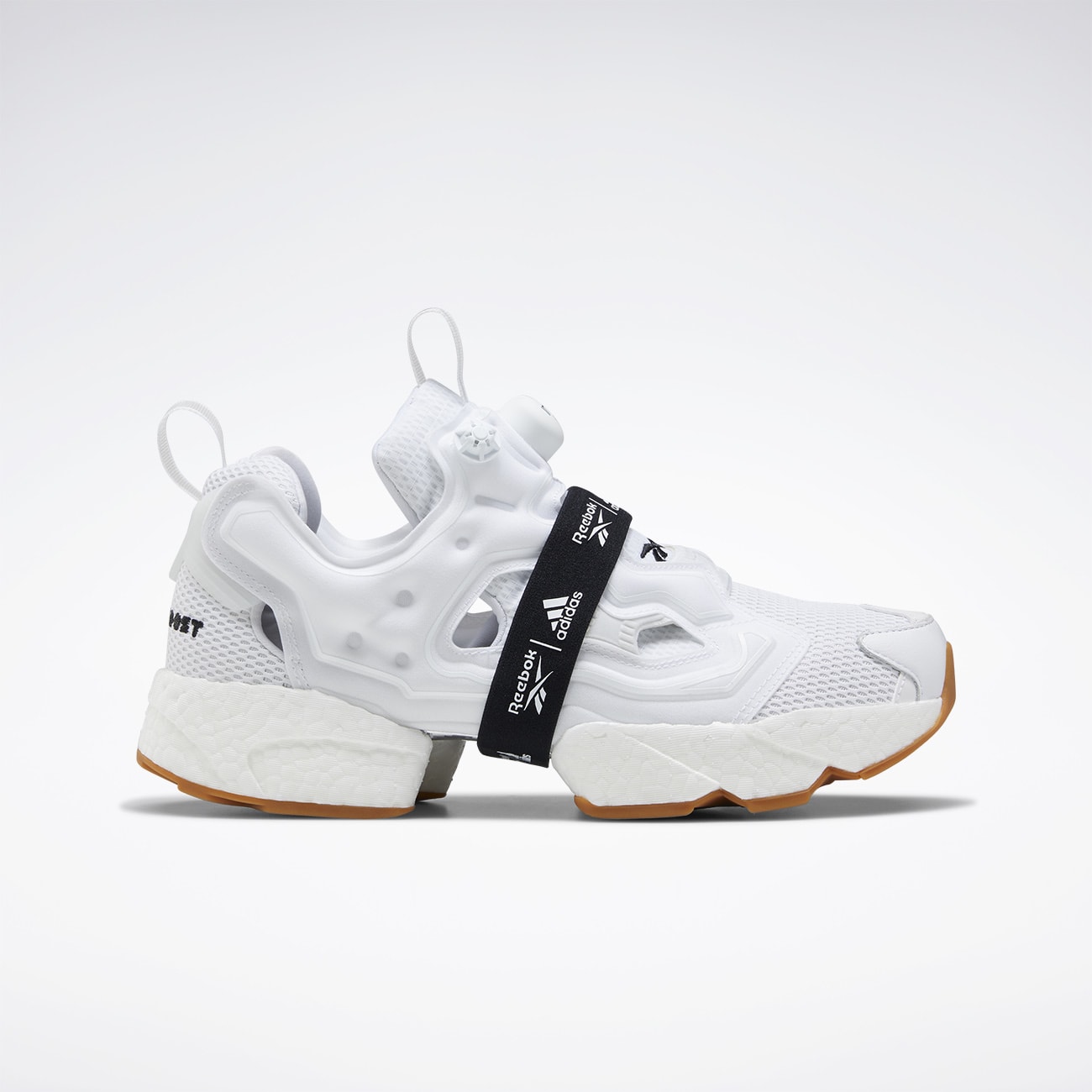 Instapump Fury Boost, $200; Reebok.com
A sophisticated and completely whited out silhouette for the woman who wants a little more cushion in her step. The Princess was released in 1984 and is a super smooth and clean shoe with subtle perforations and stitching that doesn't take too much away from an outfit. These white sneakers will give you the support to make you feel like royalty; trust us.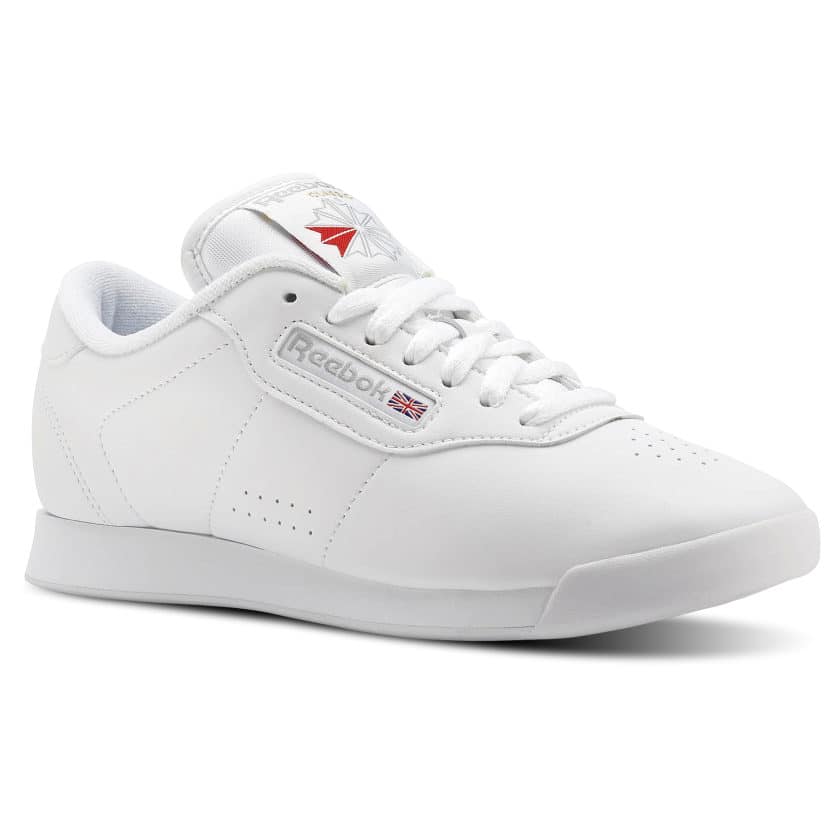 Princess, $50; Reebok.com
Need even more options? Shop all sneakers for women here and select the color white on the left.