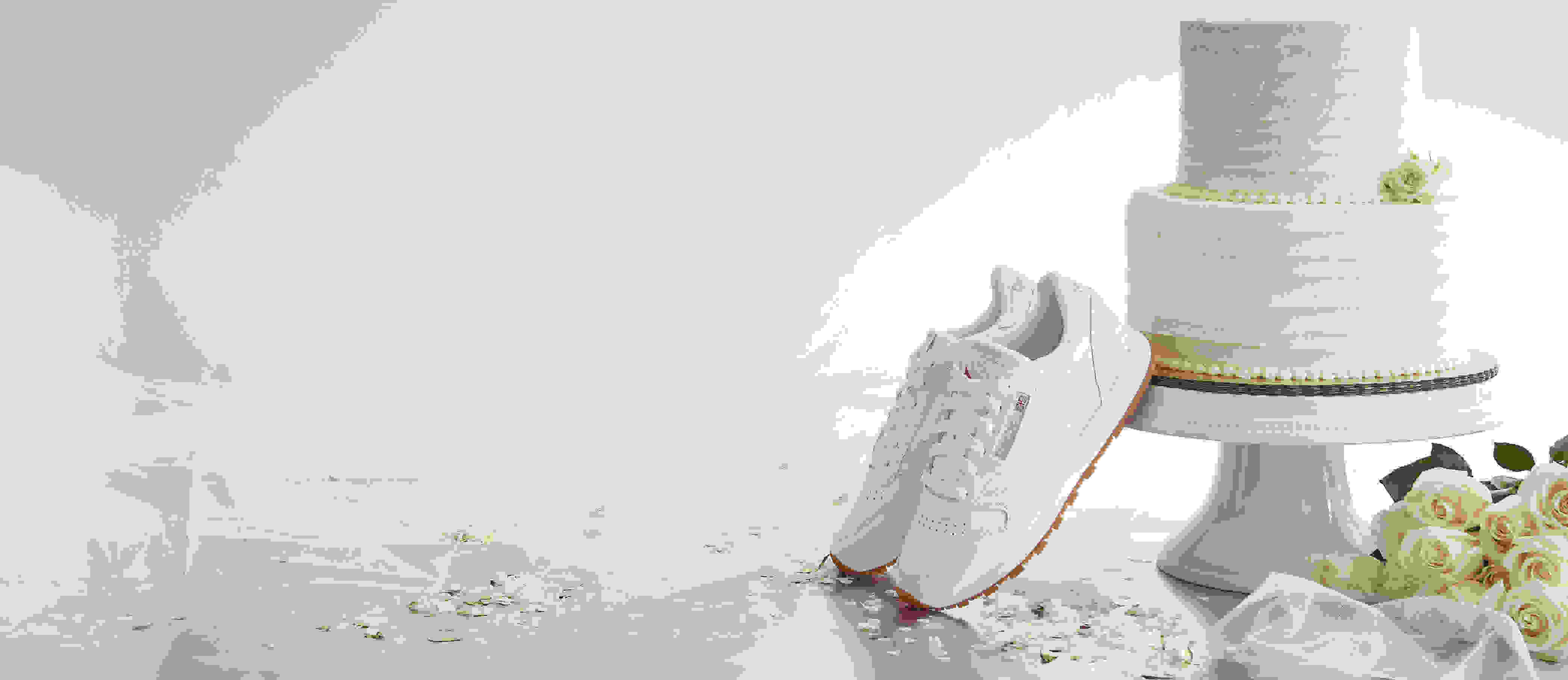 The Best Wedding Sneakers for Brides
Getting ready for the big day? We have the perfect white bridal wedding sneakers you need to finish off your look.
Attention brides! If you're looking for comfortable kicks for your big day look no further. We understand it's been a stressful time from cake tastings to picking flowers and bridesmaid dresses—not to mention your own dress—so let us take "finding shoes" off your list.
There was a time when wearing wedding sneakers with your wedding gown would have been a total bridal faux pas, but these days it's almost necessary. From that walk down the aisle to your entrance at the reception and the first dance you want shoes you can really move in.
So for those brides who just can't deal with the heels, we're here for you. We've curated a list of all our top classic white wedding sneakers for your big day. Even if you've already purchased your perfect pair of pumps, we recommend having a comfortable pair of kicks for when you're inevitably going to be breaking it down at the reception.
Cotton and Corn Sneakers
So here's the thing; who doesn't love sustainable design? We didn't assign this wedding sneaker a specific dress because honestly, they're so versatile they'll pretty much go with anything you choose. Plus we love that this shoe has been made with things that grow! A 100% cotton upper and a biobased sole derived from corn delivers comfort and durability. This shoe is the first ever 75% USDA certified bio-based shoe so you can feel extra good about what you're wearing on your big day. Not to mention it's really cute!
Classic Leather Sneakers
The Classic Leather is just that: a classic. If you're looking for timeless and effortless wedding sneakers to match you're A-line dress, you'll want this pair. This sneaker was originally released in 1983 and its staying power continues to this day. The soft leather upper gives you a lot of comfort with a molded sockliner for added durability. Your first dance needs these wedding sneakers.
Classic Leather Double Sneakers
Now who better than an international super model to give you fashion advice? These sneakers were inspired by supermodel Gigi Hadid and they make a pretty bold statement. A great pair to wear with an empire style dress that will definitely give you a few inches! They have a slight pop of color in the window box that sets them apart from the rest and the ripple sole gives a chunky, chic look. These wedding sneakers will definitely give a little flair to your day.
Club C 85 Sneakers
Fresh white kicks that are simple to match the simplistic style of a sheath or column silhouette dress. The Club C is so easy to wear and will blend in with the look while still remaining stylish. Introduced in the 80s as a tennis sneaker, this silhouette it took off as a trend and has stayed strong to this day. This pair of wedding sneakers have an EVA midsole that will keep your feet cushioned and a durable outsole that keeps the look lasting.
Workout Lo Plus Sneakers
The Workout goes back to 1984 and is known for its iconic "H-strap" on the sides of the sneaker and this version has a slight pop of color which can be fun. That's why it's a perfect wedding sneaker for a mermaid or trumpet silhouette, you're making just enough of a statement with both your dress and your kicks. The flare at the bottom of a mermaid or trumpet dress goes well with this low-cut pair of trendy, clean sneakers. It also has a padded removable sockliner for comfort and durable rubber outsole so you can hit the dance floor all night.
Aztrek Sneakers
Originally released in 1993, the Aztrek is the 90s retro wedding sneaker. It's the chunky dad sneaker but in all white it's perfect for a trendier perhaps non-traditional dress. We know there are some edgy brides out there and this sneaker is calling your name. So if you're looking to go a little outside the box on your big day and show off at the post-reception after party the Aztrek is the wedding sneaker for you.
Freestyle Hi Sneakers
If your dress is on the shorter side the Freestyle Hi is the perfect wedding sneaker for you. The Freestyle was created back in 1982, another classic, that was the first athletic shoe made for women. It started in the gym and then to the streets, becoming a street style icon. This groundbreaking sneaker practically screams women's empowerment. So, if you want to make a literal statement these are your wedding sneakers.
Princess Sneakers
We're thinking a tiara, potentially gloves, a bustle in the back and the bigger the dress the better. The Princess is the perfect wedding sneaker if royalty is the vibe you're going for. It's a sophisticated silhouette that was released back in 1984. The subtle perforations and stitching keep the sneaker pretty clean and cushioned so that they can support you, but your dress can remain the main attraction.
Classic Nylon Sneakers
Who says you have to wear a dress on your big day? This is a bit of a sportier yet still fashionable silhouette that you can totally wear with a dress but we love it with a clean pantsuit. The Classic Nylon as we know it first came on the scene in 1991, another version of the Classic Leather it's just as classic. The low-cut design is sleek and keeps it sophisticated. The suede and nylon upper gives comfort and breathability plus a padded EVA foam sockliner for additional lightweight comfort.