Take a BTS Peek At Cardi B's Unexpected Nail Design
The star's nail artist Jenny Bui shares the secrets behind the unforgettable design.
There's nothing more satisfying than walking into a salon for some fresh new glam. You can sit down in the chair feeling uninspired, and leave with all the confidence of Cardi B on her best day. And that transformative culture is the backdrop for Reebok's latest Sport The Unexpected video, starring Cardi B herself.
Sure, there are a lot of things in the video that are typical of the salon experience, like patrons getting primped and pampered and exchanging gossip and advice, naturally. But in this particular salon, there are some elements that are decidedly unexpected—including Cardi's blinged out manicure, and everything that she's able to do with it (spoiler alert: tie her Reebok Club C without moving a muscle).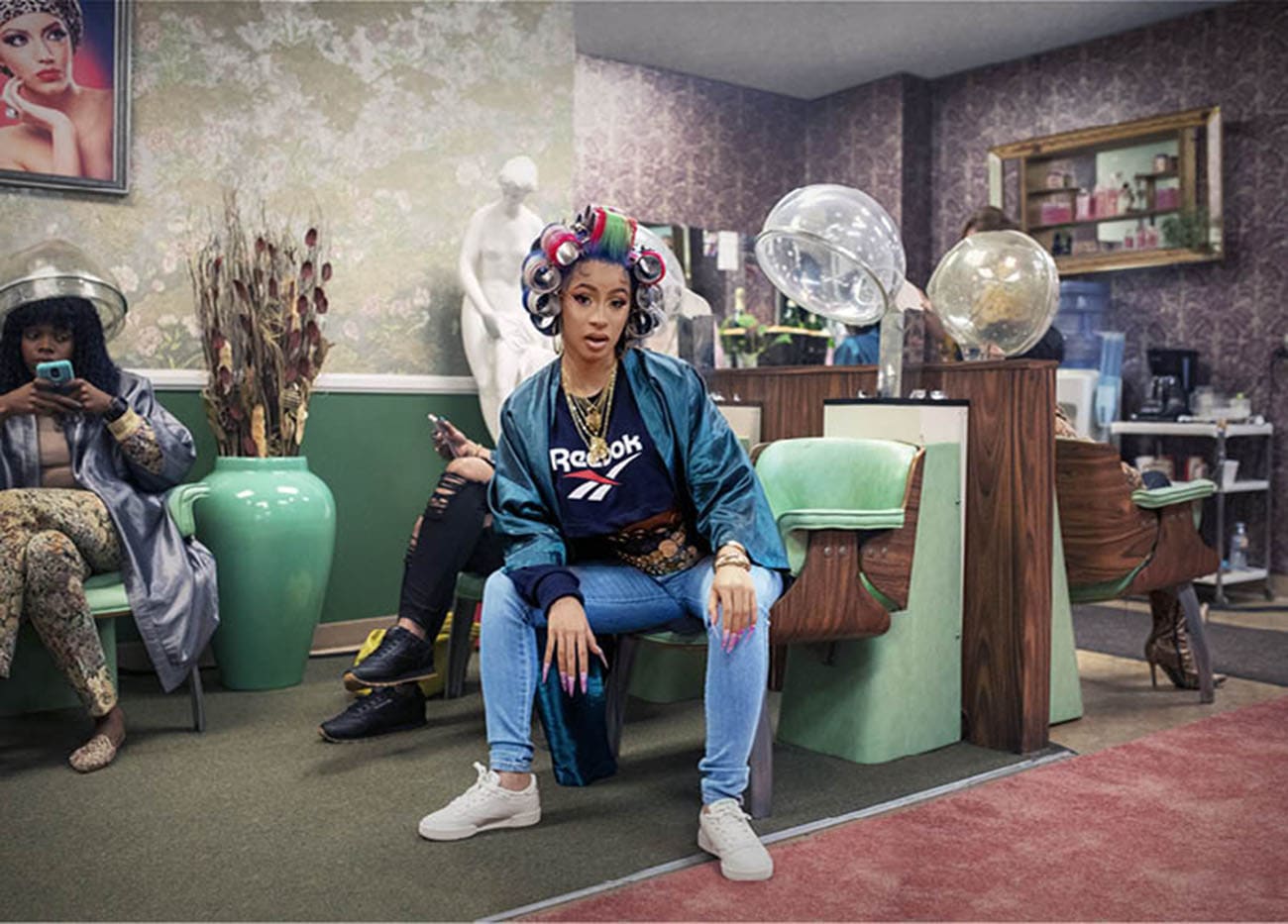 Since Cardi's manicure steals the show, we had to sit down with the designer herself, Jenny Bui (also known as the queen of bling, fittingly), to ask her about the inspiration for the elaborate design. The answer was surprisingly simple. "My inspiration was the Reebok shoe," she says.
And when you have a classic, goes-with-everything shoe like the Club C, that leaves a long runway for a nail design that's over the top and eye-catching. "People love to show their nails off as a statement, and when creating a nail design, I focus on the important elements, like colors and textures that will stand out," she says. Those textures often include bling, which is at the forefront of Cardi's design in this video, and core to the designs Bui creates. "I love bling—that's why they call me the queen of bling. If I could do one design for the rest of my life it would be full out crystals on all the nails."
When it comes to identifying a nail concept that the client loves and Bui feels creatively fulfilled by, the artist admits that it's all about trust. "A lot of the time, my clients say I can do whatever I want. This gives me the freedom to be as creative as I can," says Bui. Of course, the length of the nails can also have a major impact on what she's capable of (no wonder the design in this video is so epic...). "I love when clients want really long nails," says Bui. "It gives me a bigger canvas to work on."
While the finished product of a nail appointment is the goal everyone is working towards, the process of getting there shouldn't be underestimated. Sitting in the salon in a comfy-cute outfit, chatting to everyone is an essential part of the experience, as Cardi illustrates in this video.
Bui says that that culture is a real thing, and that relationships are forged in the salon chair. "My clients are almost like family to me because they trust me, and tell me what's going on in their lives," she says. "I feel very honored that so many people trust me to do their nails and with their personal life." Plus, it informs the kind of designs an artist and client collaborate on. "I get to know who a person is, and it gives me a better idea of what kind of style they want," she says.
At the end of the day, nails are a reflection of personal style, just like hair and outfits. Whether a manicure is inspired by a sneaker or a favorite color, the most important thing is how it makes you feel. For Bui, that's why the bling in this design is so important. "I hope bling never goes out of style. It's like having jewelry on, and it gives people confidence." Until we get an appointment with the queen of bling herself, we'll take Cardi's word for it.
Check out the video here.