How To Make A Workout Plan
You don't have to go it alone at the gym. Two trainers share their go-to routines for whatever your gym goals might be.
Getting yourself to the gym is the hard part. Thinking about what to do when you get there, though, is the last thing on your mind. You could hit a yoga class, spend forty-five minutes on a treadmill, or even listen to a podcast on a stretching mat, and it would all be better than nothing, right? Yes, but that doesn't mean that you shouldn't be armed with a plan that will maximize the precious time you're spending. According to trainers, planning for your time at the gym and your workouts can be the biggest way that you can set yourself up for success. "Not only is the gym intimidating, but going in without a workout plan can be downright scary all on its own. Most people will walk around aimlessly until they give up and just jump on any machine," says Alysia Souto, a personal trainer. That's why you need a plan.
Creating a workout plan that you'll actually stick with doesn't require shelling out tons of money for fancy classes or one on one sessions. In fact, the most important thing is evaluating what your resources are, and making the most of them. So before you set out to create any sort of plan, take stock of your schedule, and what's possible. "Be realistic with yourself about the time and resources you have," says Matt Bennett, a personal trainer. The most effective plan is one that you can truly commit to. "Consistency is key when it comes to making progress," he says.
While you're evaluating, it helps to decide what your goals to make sure that you're focusing on the right things, and to help keep you motivated. We're not talking about setting a goal to run a marathon right of the bat here, either (although if that's a dream, we've got a plan for that too…). Your goal could be to lose ten pounds, to run a 5k, or just to feel like you're putting your health and wellness first. "It doesn't matter how big or small it seems, work towards something," Bennett says. "Find a concrete goal that you can be able to see a difference in, whether it's running three miles without stopping or eating more vegetables and walking more every day."
Read on for our trainer-approved workout plans for strength, wellness, weight loss, and building endurance.
Your Workout Plan For: Strength and Wellness
Here, you'll be focusing on three strong days of strength and conditioning workouts, and adding in rest and cardio in between.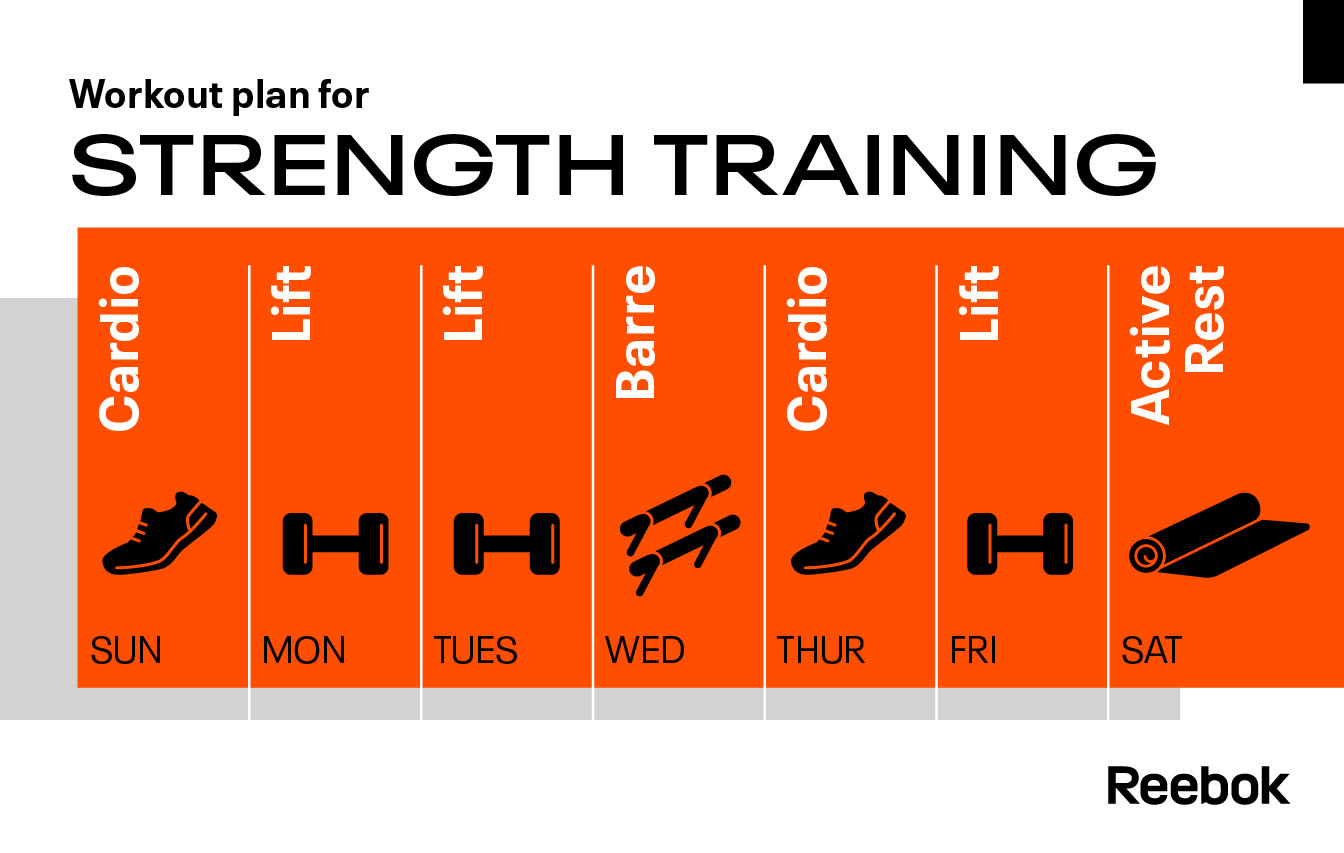 Monday
Kettlebell squats 3x15
Dumbbell chest press 3x10
Dumbbell shoulder press 3x10
Assisted pull-ups 3x10
Adduction/abduction 3x12
4 Rounds of:
10 calorie row 10x
Wall ball squat 15x
Jump ropes 100x
Tuesday
Trapbar deadlift 3x10
Kettlebell incline bench row 3x10
Dumbbell bicep curl 3x10
Lateral pulldown/Single arm 3x8-10
Dips 3x12
Hamstring curls 3x12
3 Rounds of:
1 minute plank
Squat wall ball 20x
10 calorie row 10x
Wednesday
Take a low impact class like barre or Pilates
Thursday
Go for a run or take a spin class
Friday
Dumbbell squats 3x15
Kettlebell lunges 3x12
Dumbbell bench hip thrusters 3x10
Captains chair 3x10
Plank 3x10
Decline bench 3x10
3 Rounds of:
Battle ropes
Planks
Saturday
Take a yoga class or go for a walk
Sunday
Go for a run or to a spin class.
Your Workout Plan For: Weight loss
"Significant weight loss doesn't happen instantly," says Bennett. To facilitate, your workout plan should be hyper focused. "Aim for 3-4 sets of 8-12 reps with 30 seconds or less of rest in between. Use supersets or circuits to keep you moving the whole time." See our plan below.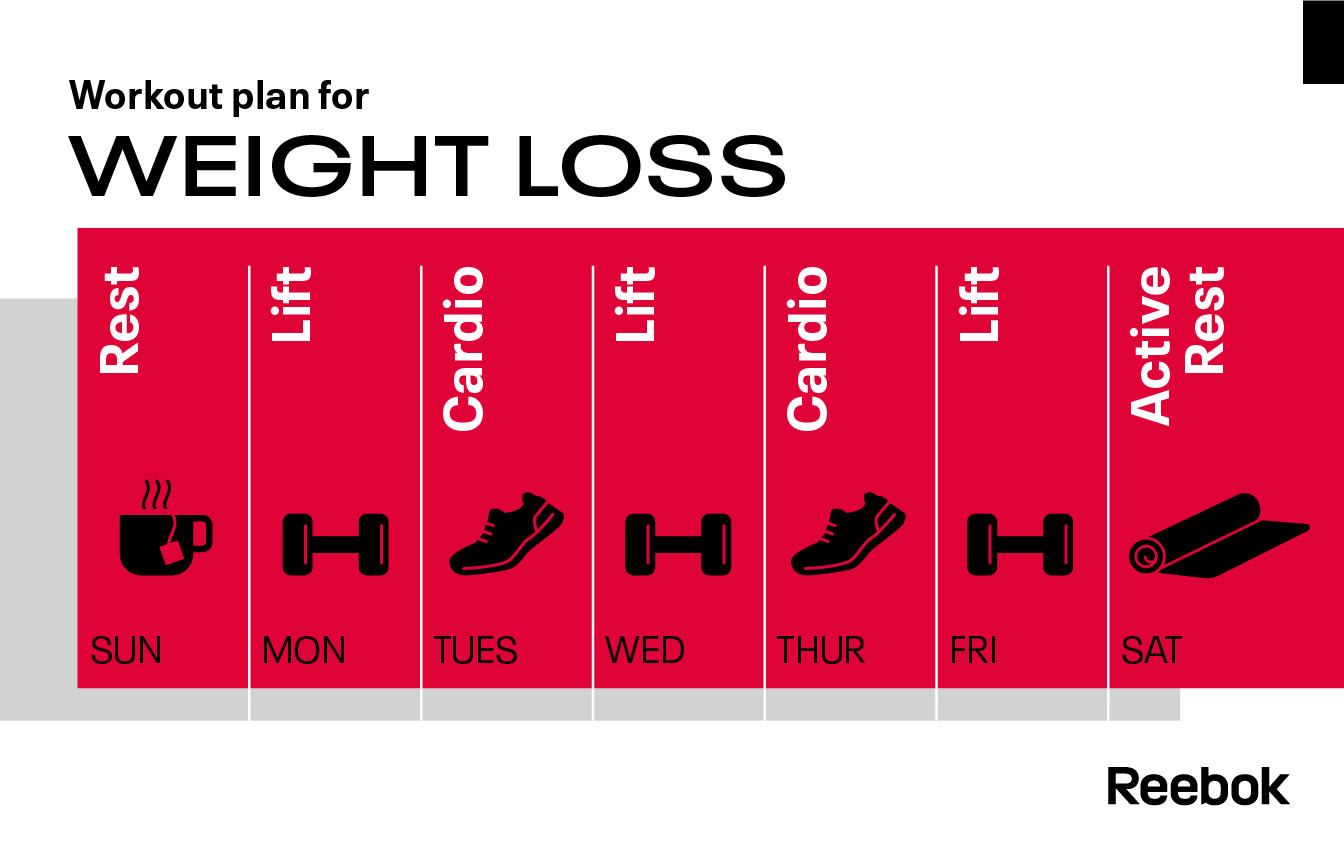 Monday
Circuit One:
Rollouts 3x10
Kettlebell deadlift 3x10
1/2 kneeling overhead press 3x10
Cardio 3x30s
Circuit Two:
Leg lifts 3x20
Lunges 3x20
Facepulls 3x12
Cardio 3x30s
Tuesday
Go for a run or take a spin class.
Wednesday
Circuit One:
High to low plank 3x20
Goblet squat 3x10
Dumbbell row 3x10
Cardio 3x30s
Circuit Two:
Cable chops 3x20
Single leg bridge 3x10
Pushups 3x10
Cardio 3x30s
Thursday
Spend 30 minutes on the treadmill
Friday
Circuit One:
Shoulder taps 3x20
Dumbell bench press 3x10
Lat pulldown 3x10
Cardio 3x30s
Circuit Two:
Anti rotation press 3x10
Lateral band walk 3x20
Stepups 3x20
Cardio 3x30s
Saturday
Take an active rest day—go for a walk or try a yoga class
Sunday
Rest
Your Workout Plan For: Endurance
According to Bennett, the majority of your workout plan for building endurance should be focused on the activity you're working on, whether that's running, biking, or swimming. Strategically lifting weights, though, can help take you to the next level. "Adding two days of full body strength training to your routine will make a difference in helping you get faster, and strengthening the muscles in your legs, back, and shoulders will help propel you, while the ones in your core to help you stabilize and generate force." See our plan below.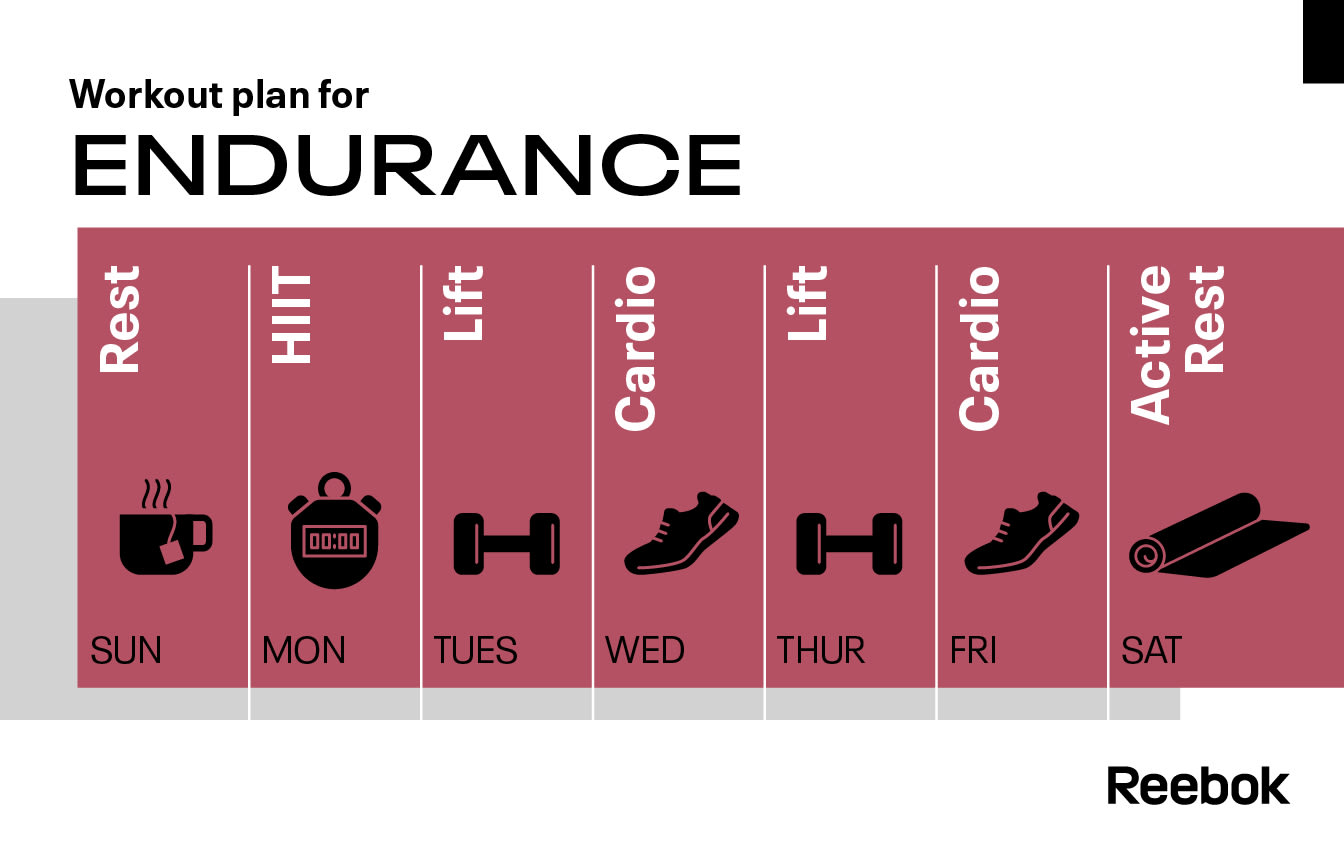 Monday
Do a HIIT workout for at least 30 minutes.
Tuesday
Circuit One:
Foam roll
Band walks
Dynamic warmup
Circuit Two:
Rotational medicine ball throw 3x6
Ab rollout 3x15
Leg lowering 3x20
Circuit Three:
Deadlift 5x5
Overhead press 5x5
Split stance cable chop 5x10
Circuit Four:
Split squat 3x12
Plank rows 3x12
Shoulder taps 3x20
Wednesday
Do an interval workout according to your training plan
Thursday
Circuit One:
Foam roll
Band walks
Dynamic warmup
Circuit Two:
Lateral bounds 3x3
Plank 3x30s
Toe touch squats 3x10
Circuit Three:
Front squat 5x5
Chinups (assisted) 5x5
Cable rotations 5x10
Pushup to rotation 3x20
Leg lifts 3x20
Friday
Do long distance cardio working up to event distance (but never the same distance as your event!)
Saturday
Take a yoga class or go for a walk
Sunday
Rest