How One Twitter DM Changed A Fitness Journey Forever
For three years the Reebok social media team has been corresponding and encouraging Dave Hayes on his mission to change his life and now he's telling us what it all meant to him.
The first time Reebok's social media team was contacted by Dave Hayes it was in 2017 after the Reebok CrossFit Games. He had watched the games in awe of the athletes and became motivated to take control of his life through fitness.
As a fan of Reebok from childhood Hayes reached out to
@Reebok
on Twitter to ask for some gear to help him fit in at the gym (if you don't ask, you never know right?). Little did Dave or the Reebok team know, this initial conversation would be the start of a three-year long (and ongoing) relationship that would help change his life forever.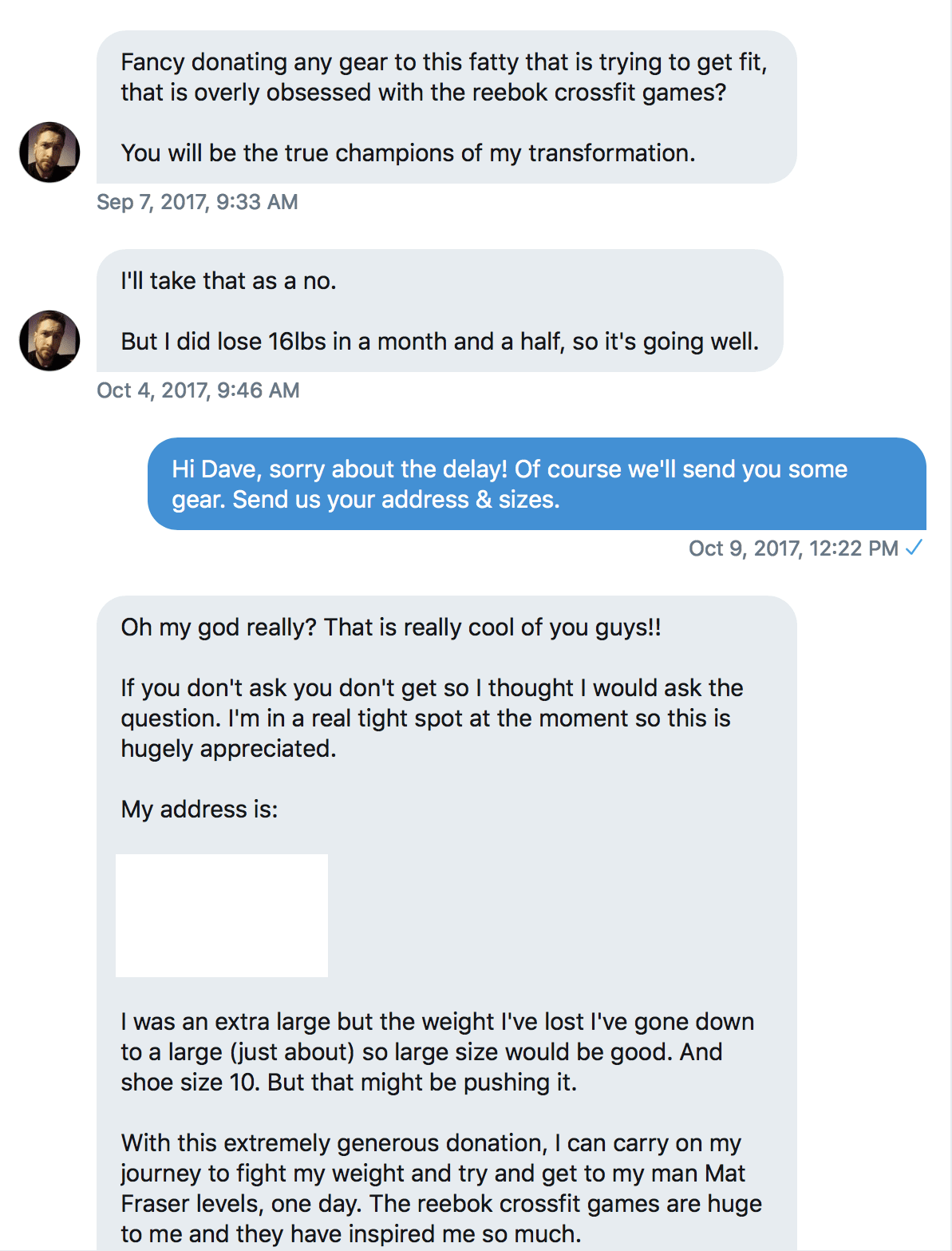 "I was really excited when I had a response and the team wanted to help me on my journey," said Hayes. "For such a huge company to help someone out like they did, it was extremely generous and very motivating."
Putting out a request into the vast wasteland that is social media was a risk, but it paid off. As a brand that believes fitness has the power to change lives, Reebok's team was inspired by Hayes's message and sent some gear his way to jumpstart his new lifestyle.
"At the time of wanting to start this journey, I was in a bad place with my mental health. I was eating at an alarming rate and was the heaviest weight I have been, around 240lbs. For a shorter guy, it was a lot of timber to hold. I knew I needed a change, for myself. I wanted to change my lifestyle to improve both my mental and physical health."
And as a thank you to the Reebok team Hayes started sending progress updates so they could see the impact one small gesture had on him.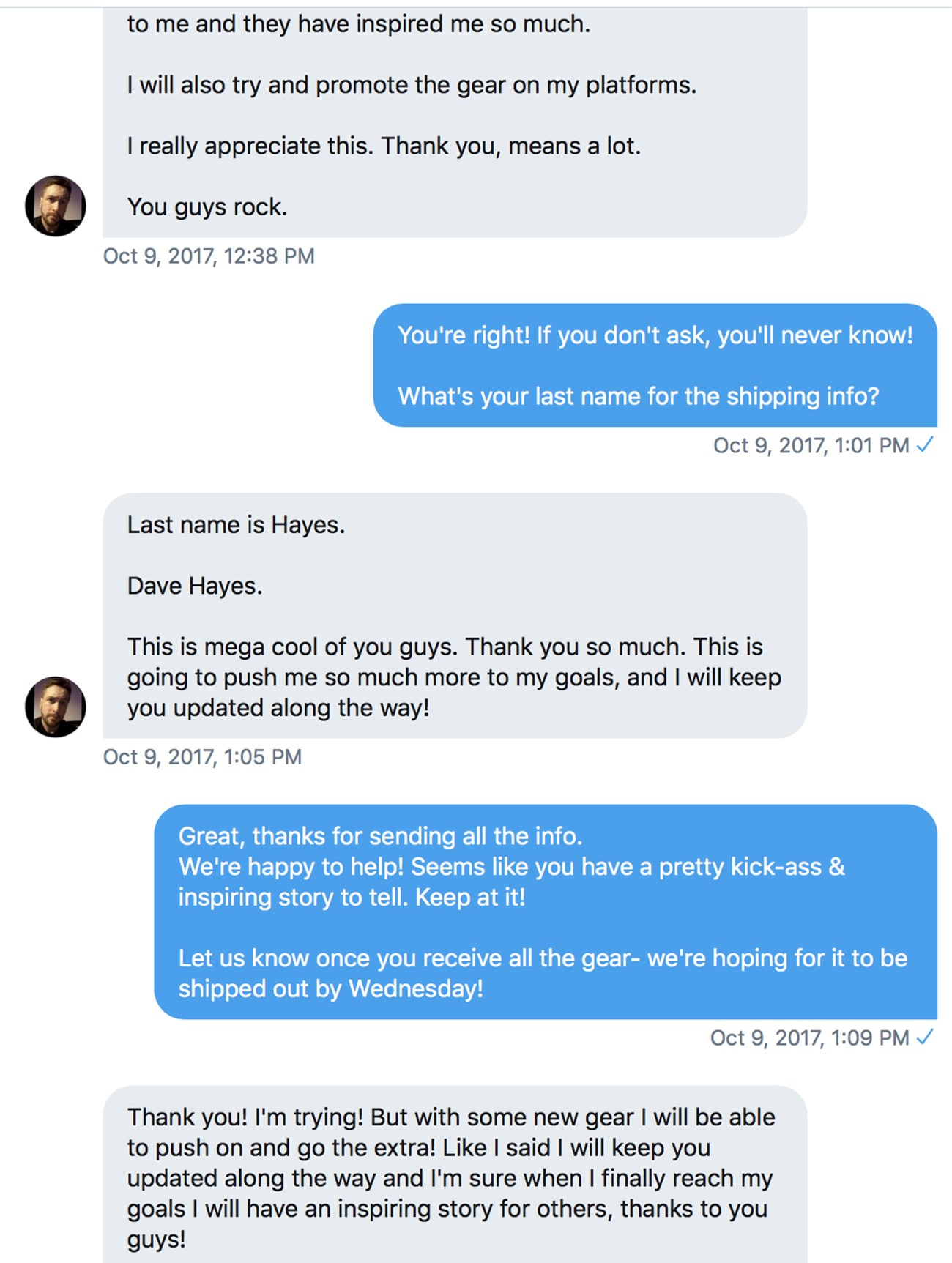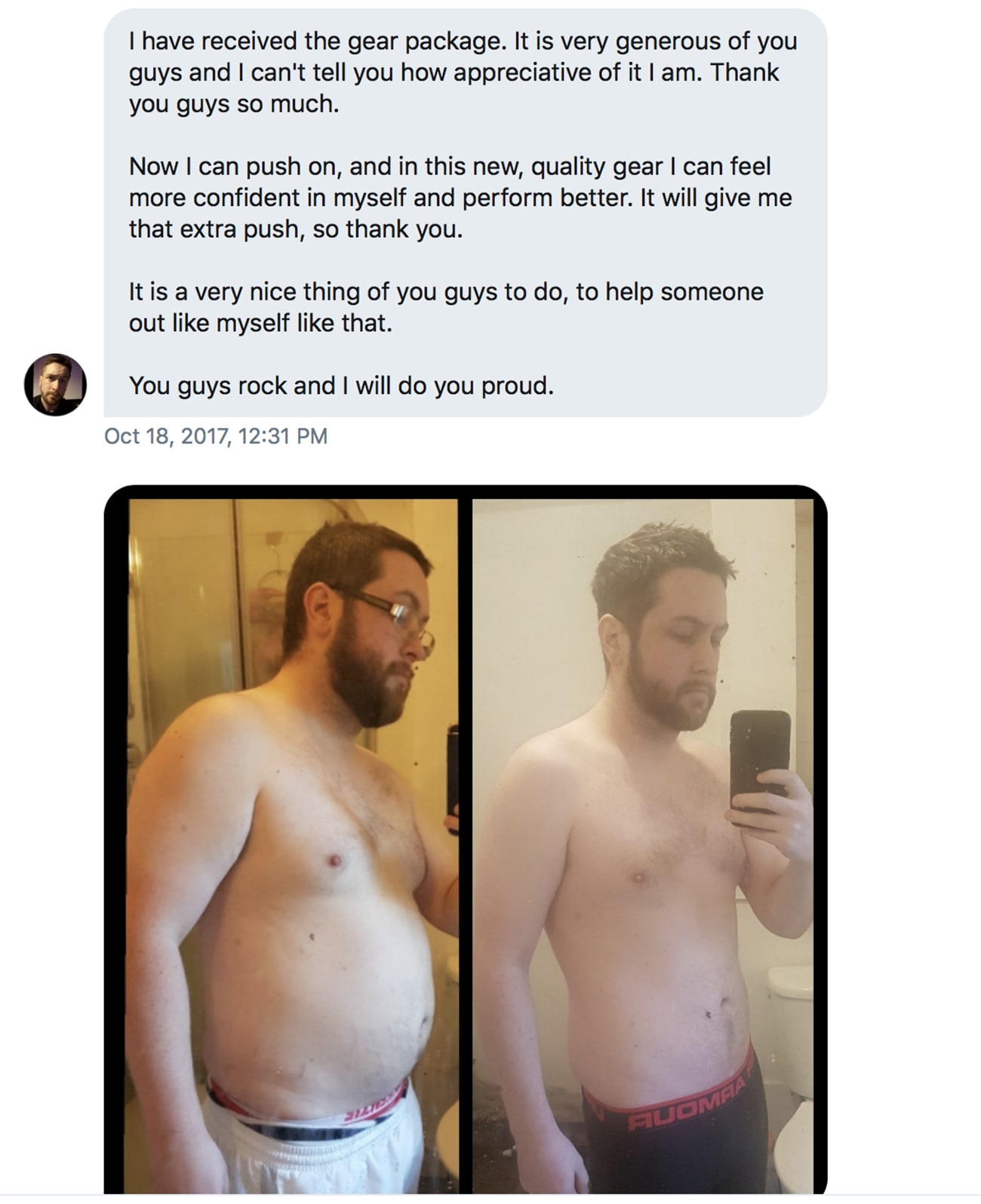 "I felt I wanted to keep everyone updated as they had the belief in me and gave me such great support. I didn't have much to give back apart from the updates of my progress and felt like it was the least I could do. In a way I felt I owed it to them. The updates were always met by overwhelming positivity and support, which gave me the motivation to keep going."
But as some time passed, Hayes, like most of us, went off the fitness path and the small progress he had made seemed to disappear.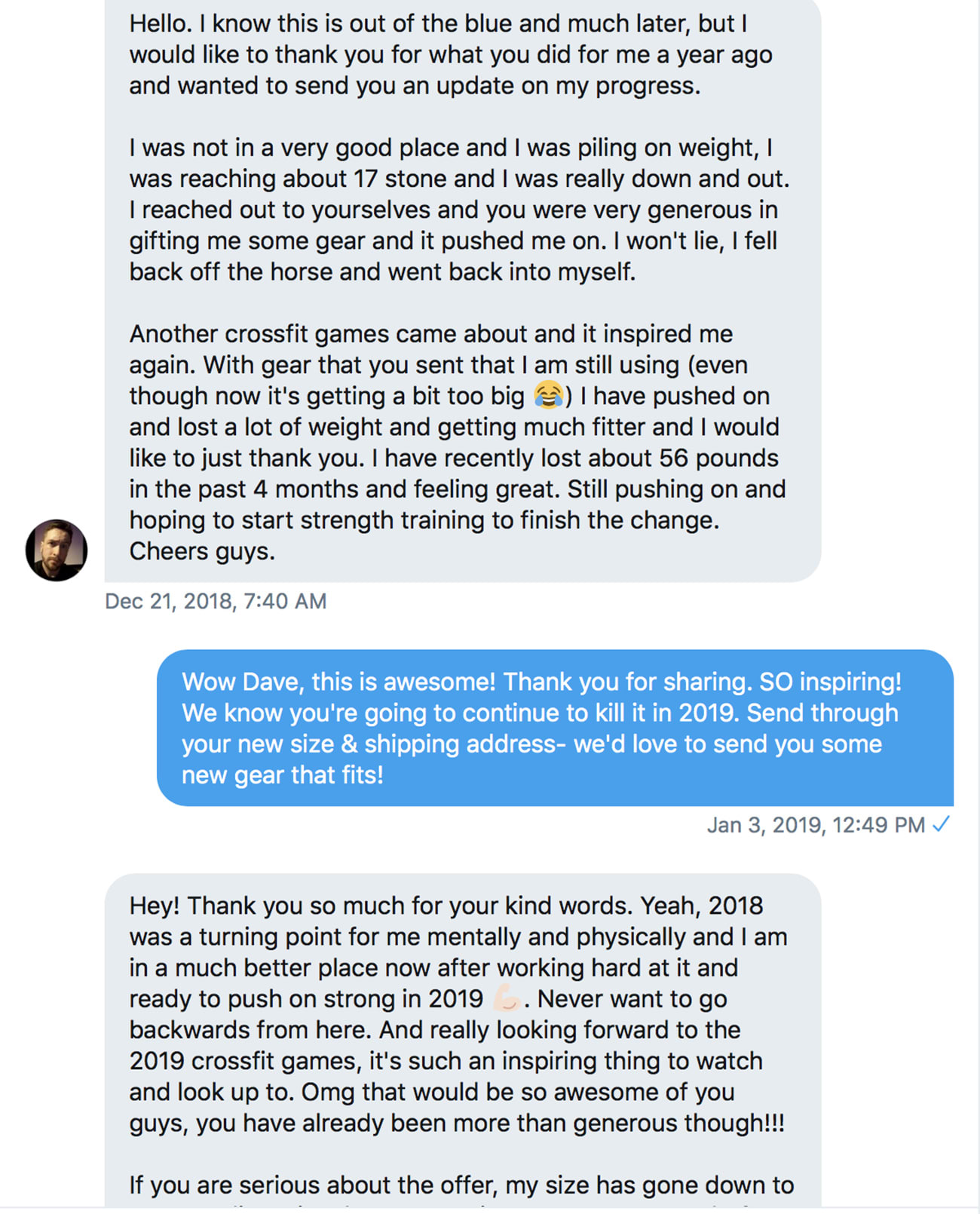 "I won't lie, I did push on for a bit after my first interaction with the Reebok team, but I was still in a bad place and my mentality just wasn't right for it. I fell off the horse a month or two after and went right back to the way I was before."
It wasn't until the following year when the 2018 Reebok CrossFit Games were streamed, and Hayes got bit by the fitness bug yet again, that things changed. But this time, he was committed to sticking it out.
"The turning point for me was that 2018 Reebok CrossFit Games. I was just about to start a new job after not working for a year, I hated what I saw in the mirror and my mental health was taking over. I knew it was the time for change. I set myself a goal and committed everything to it. My thinking was, if I just fully commit myself for a year, just throw myself at it, it can change everything for me. And it has. I have completely changed my lifestyle to fully focus on my goal and now fitness is becoming a passion of mine. To come this far is a great feeling and I'm very proud of myself. The difference between now and a year ago is crazy."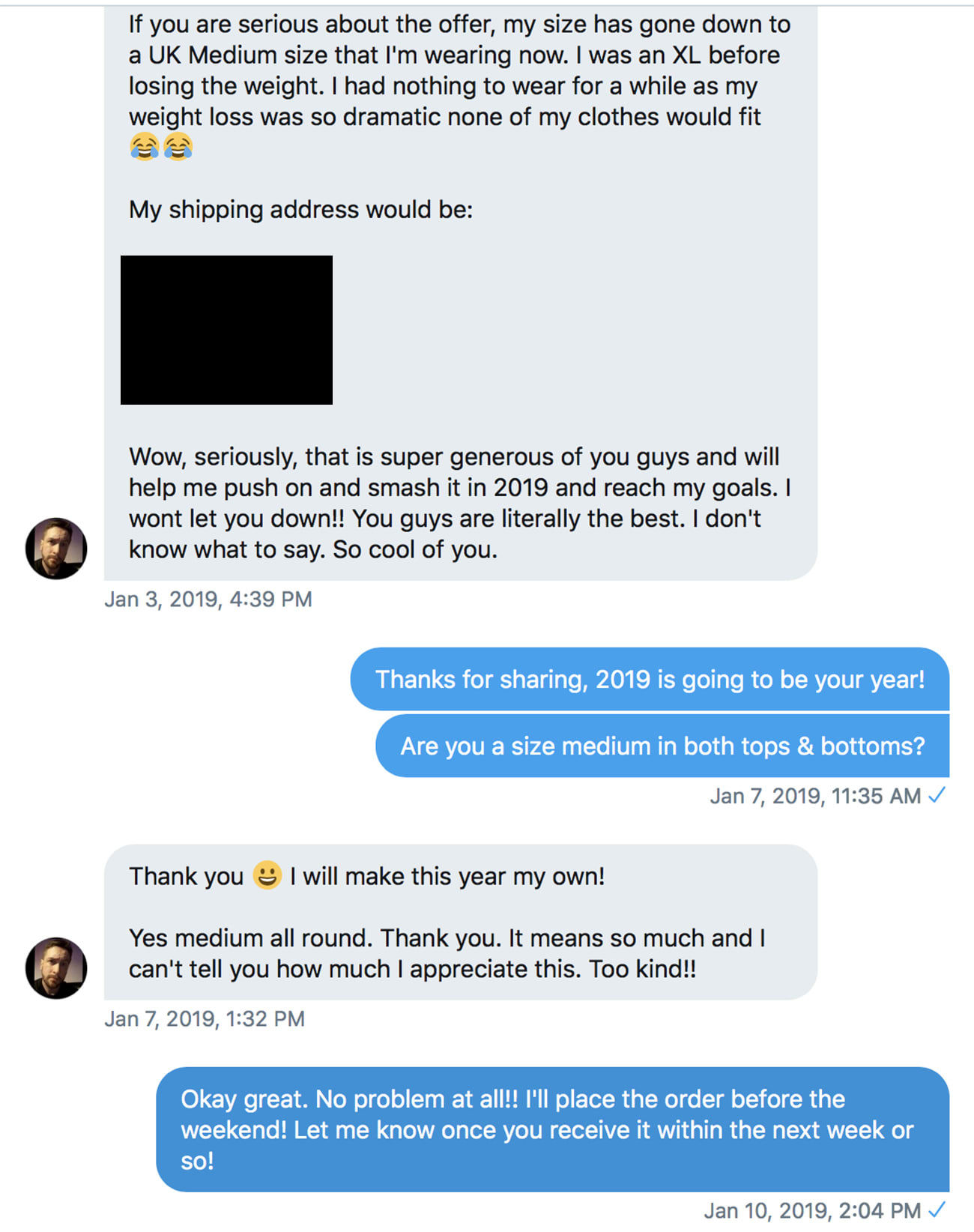 With his head on straight it only seemed appropriate to reach back out to the Reebok team that had given him his first push towards reaching his fitness goals.
"After I had gone through a positive change, I felt it was right to give the Reebok team an update on my progress and the response was absolutely amazing. I was motivated and hungrier than ever to reach my goals and I have not let up since."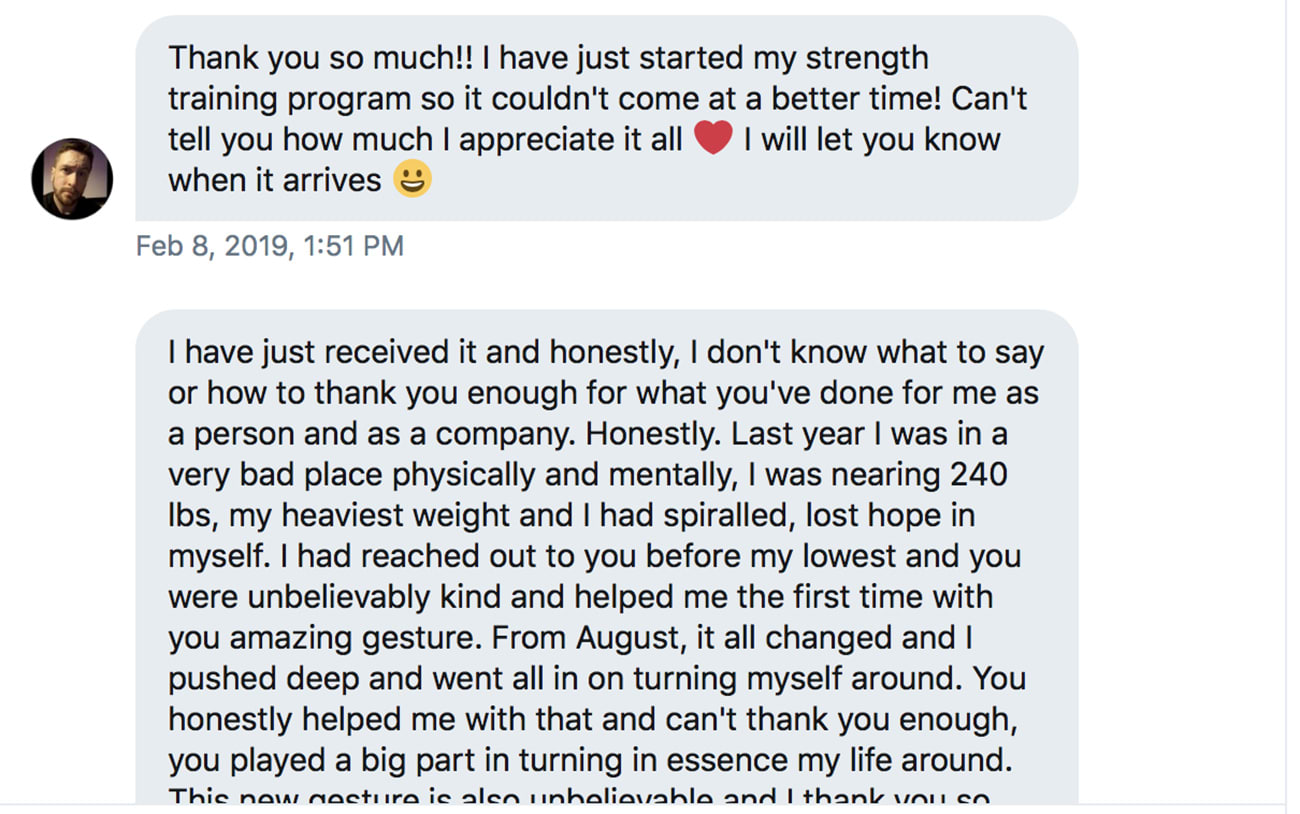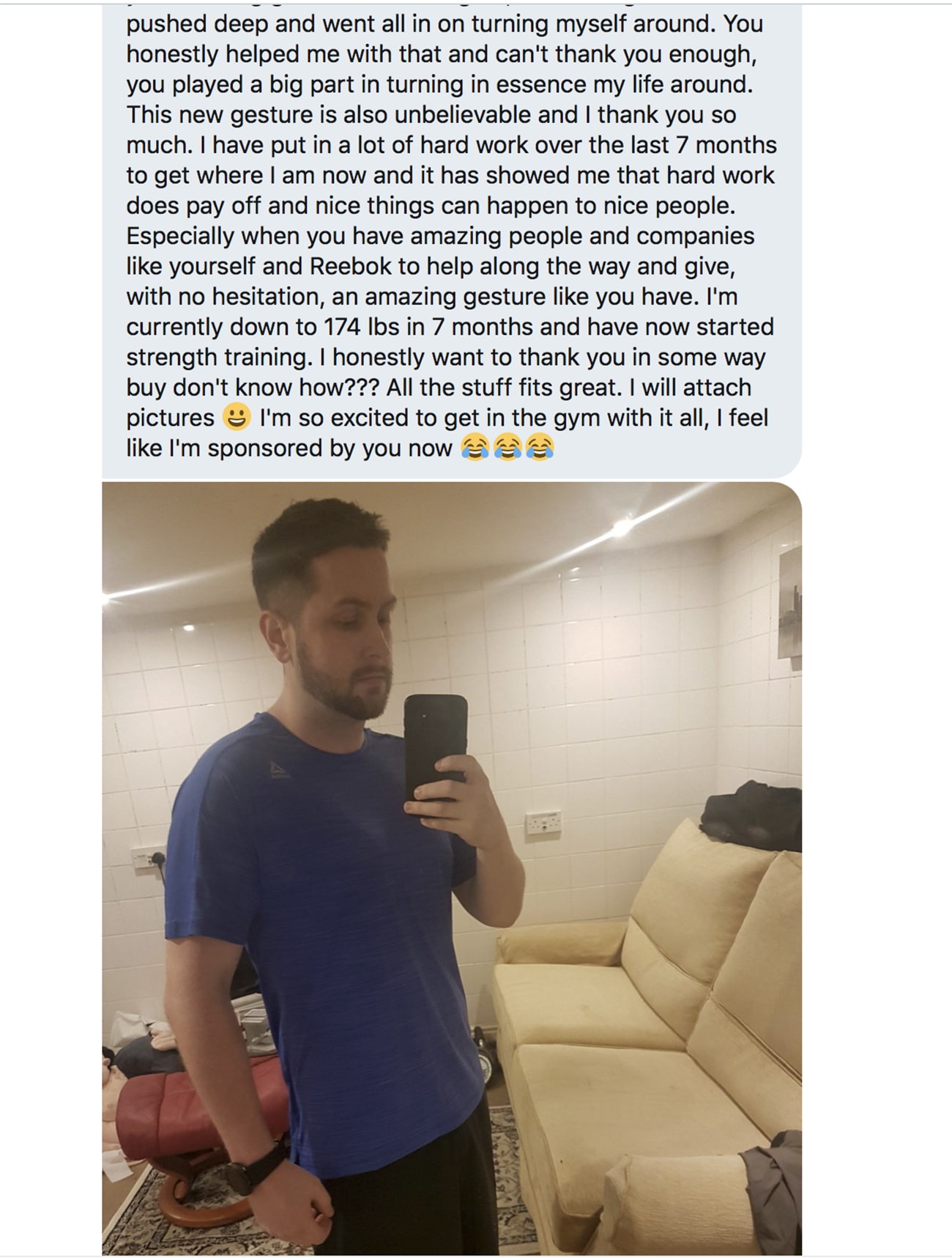 After more encouraging words were shared and fresh gear was sent from the Reebok team, Hayes felt he had people rooting for him and he wasn't going to let them or himself down.
"Knowing I still have the team behind me after all this time is honestly amazing. The generosity and support shown has helped push me on. My friends and family are also huge supporters of my journey and I owe a lot to them too, they are all incredible."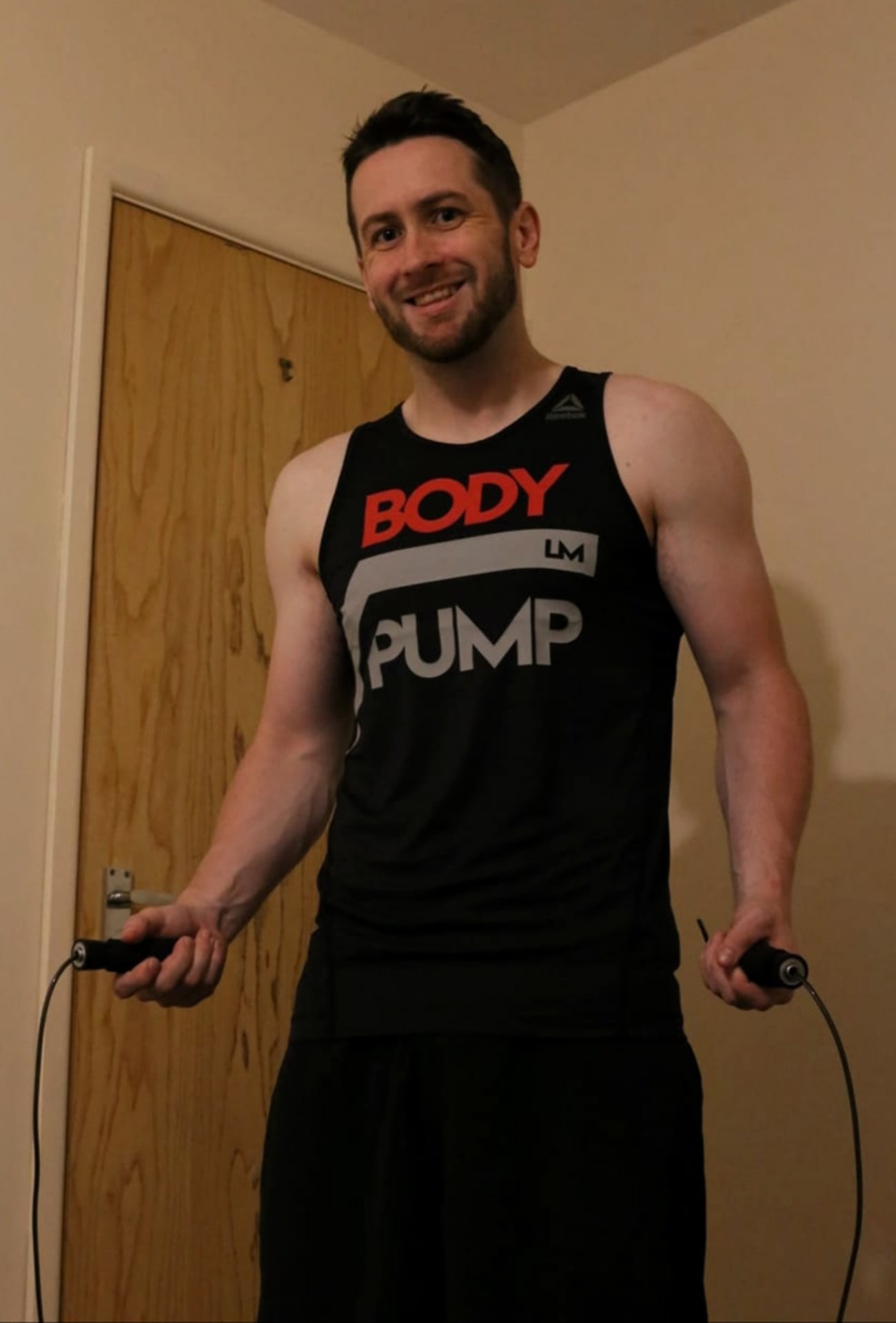 Now, in 2019 Hayes has continued with his fitness and never looked back. As for how this journey has changed him so far? He says it's changed everything, a full overhaul. He's even planning to turn one of the rooms in his flat into a home gym making the lifestyle transformation almost complete.
"I have never felt better and I am in the shape of my life. I am continuing to work out, at the moment six days a week and I am always trying to improve my nutrition and eat well. I still have a way to go to reach my ideal goal, but now it is a lifestyle so I will never go back to my old ways."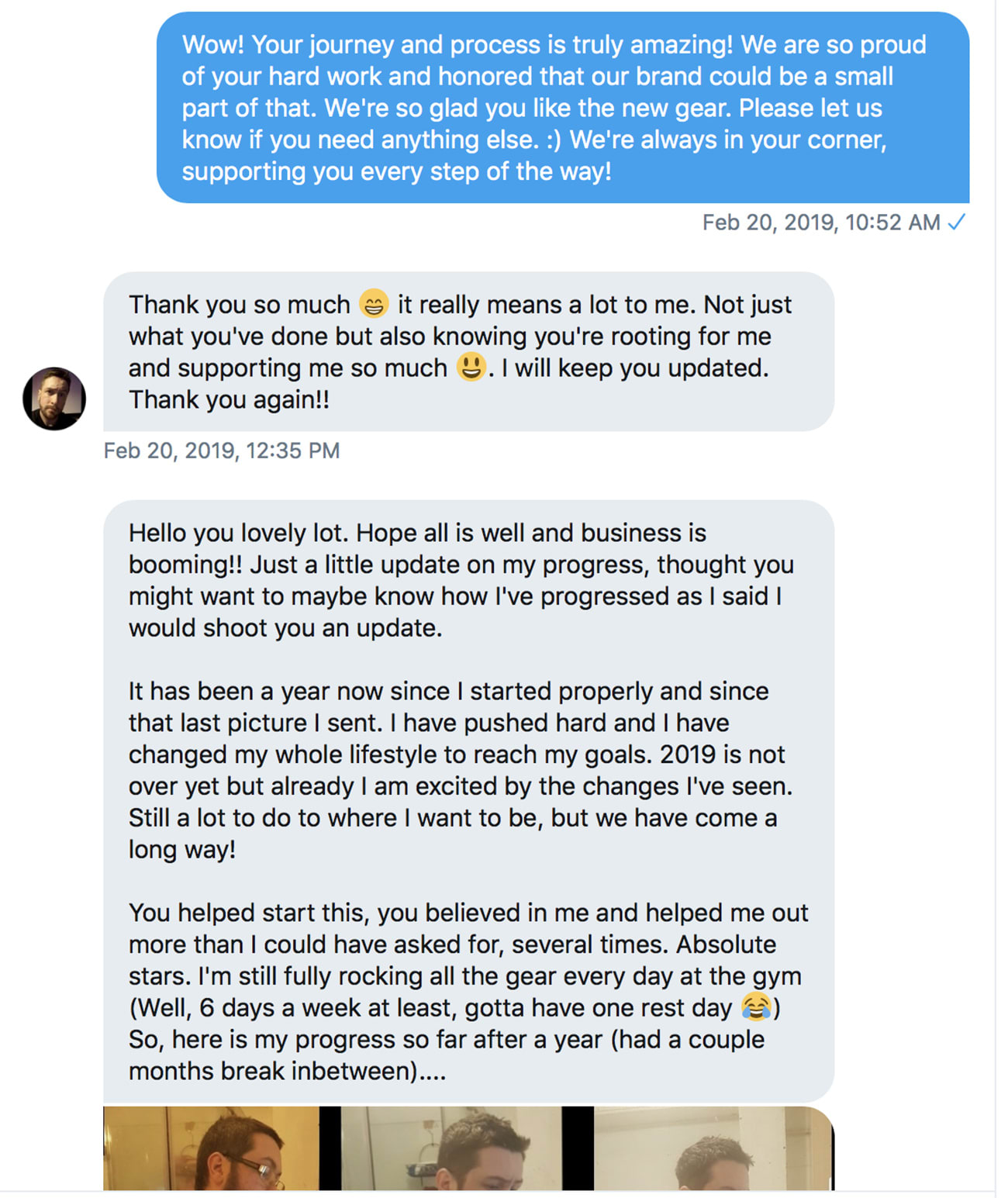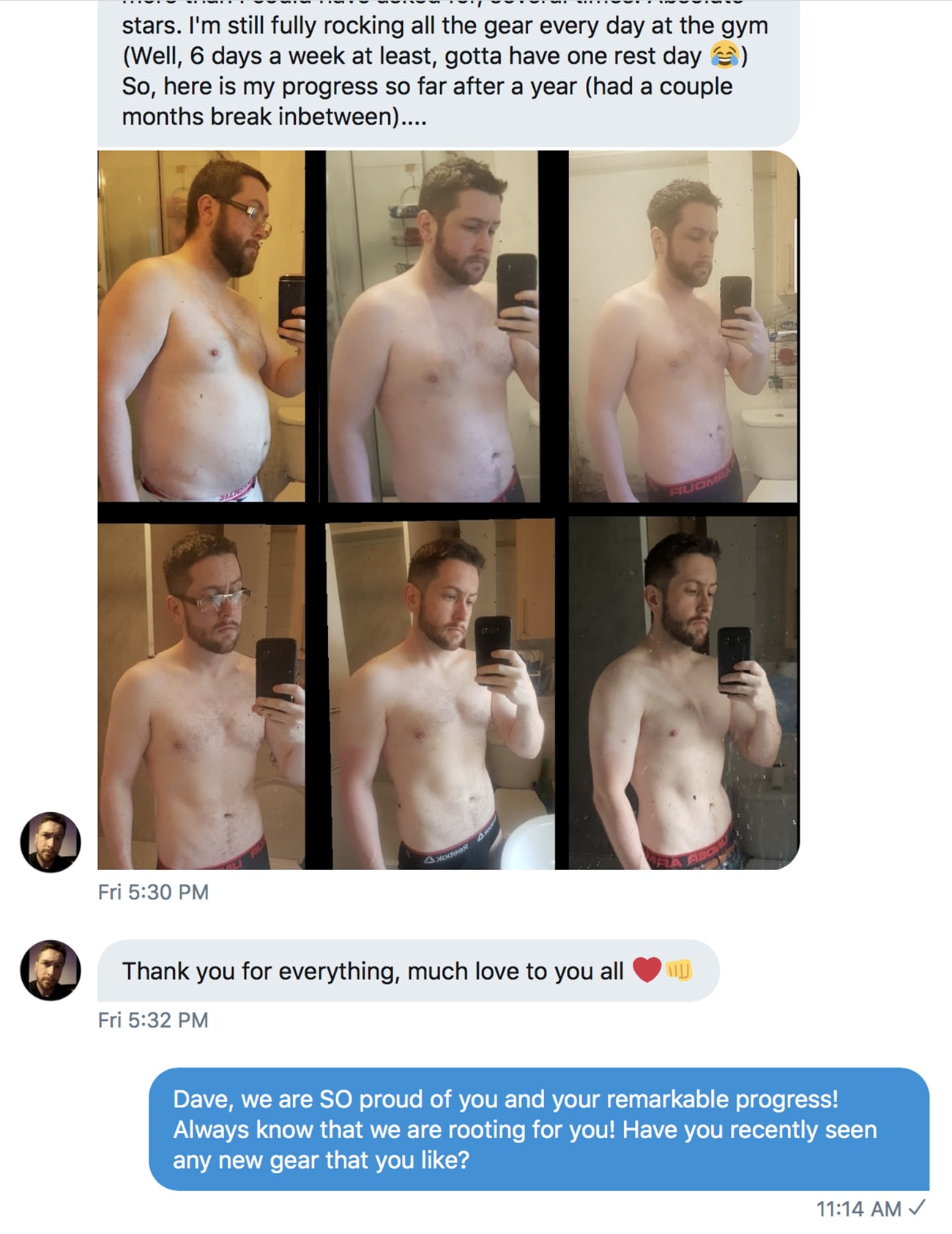 The support the Reebok team gave to Hayes allowed him to push through those difficult spots we can all relate to. The toughest times are when you feel like your goals are too far from your reach and you just need that spark to keep you going. Who knew that Hayes, who lives in Cardiff, England, would receive his motivation from people over 3000 miles away At Reebok's HQ in Boston.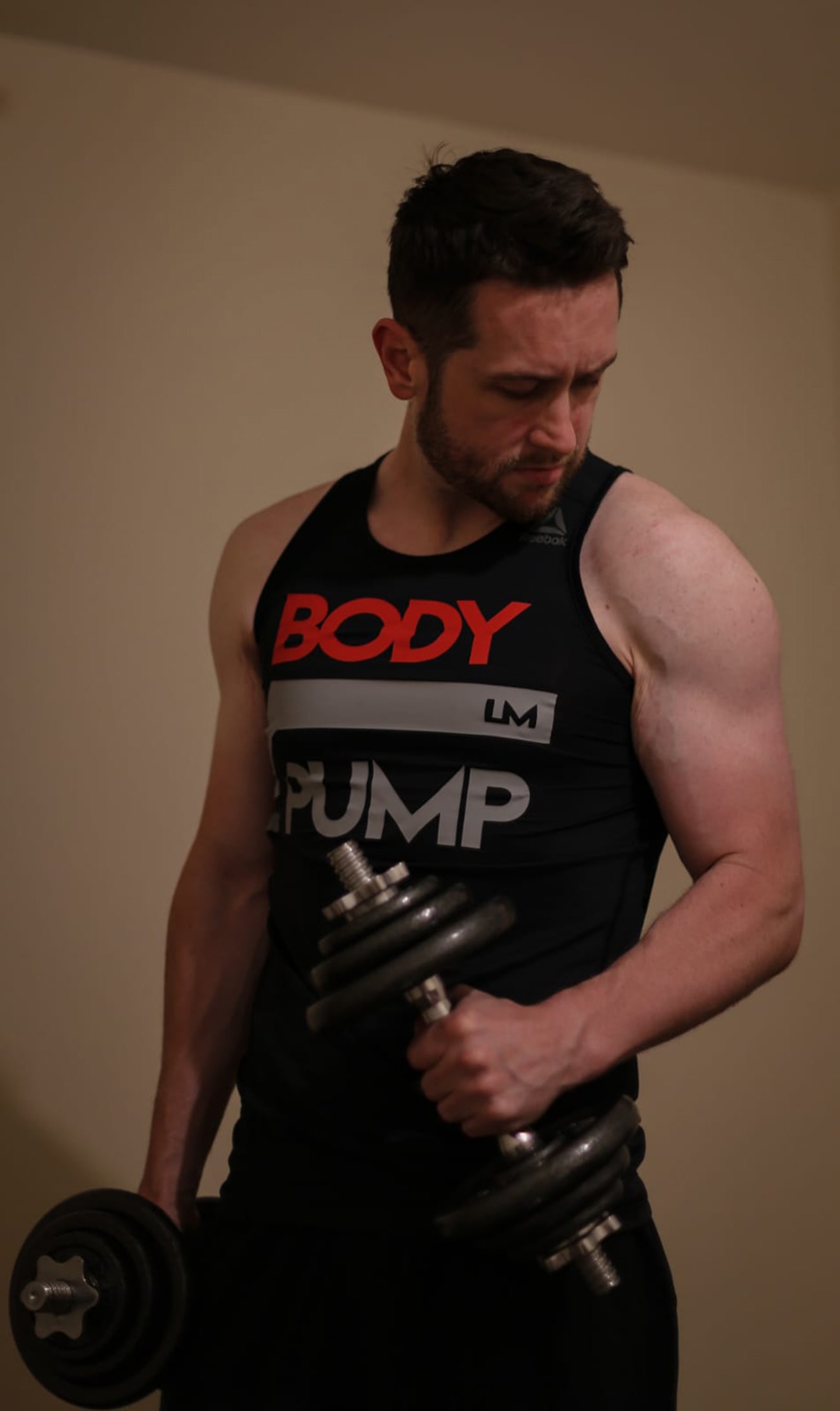 "Reebok had replied to me and helped me out in my time of need. I don't think at the time I thought I would get any response whatsoever, never mind the kind of response I got. The team helped me with gear and an overwhelming amount of support which pushed me on. To be that unhappy with yourself, the way you look and feel, but be able to walk into a gym and feel like you fit in with the right gear, it made me more comfortable from the beginning. Sometimes it's the little things that can make the biggest difference."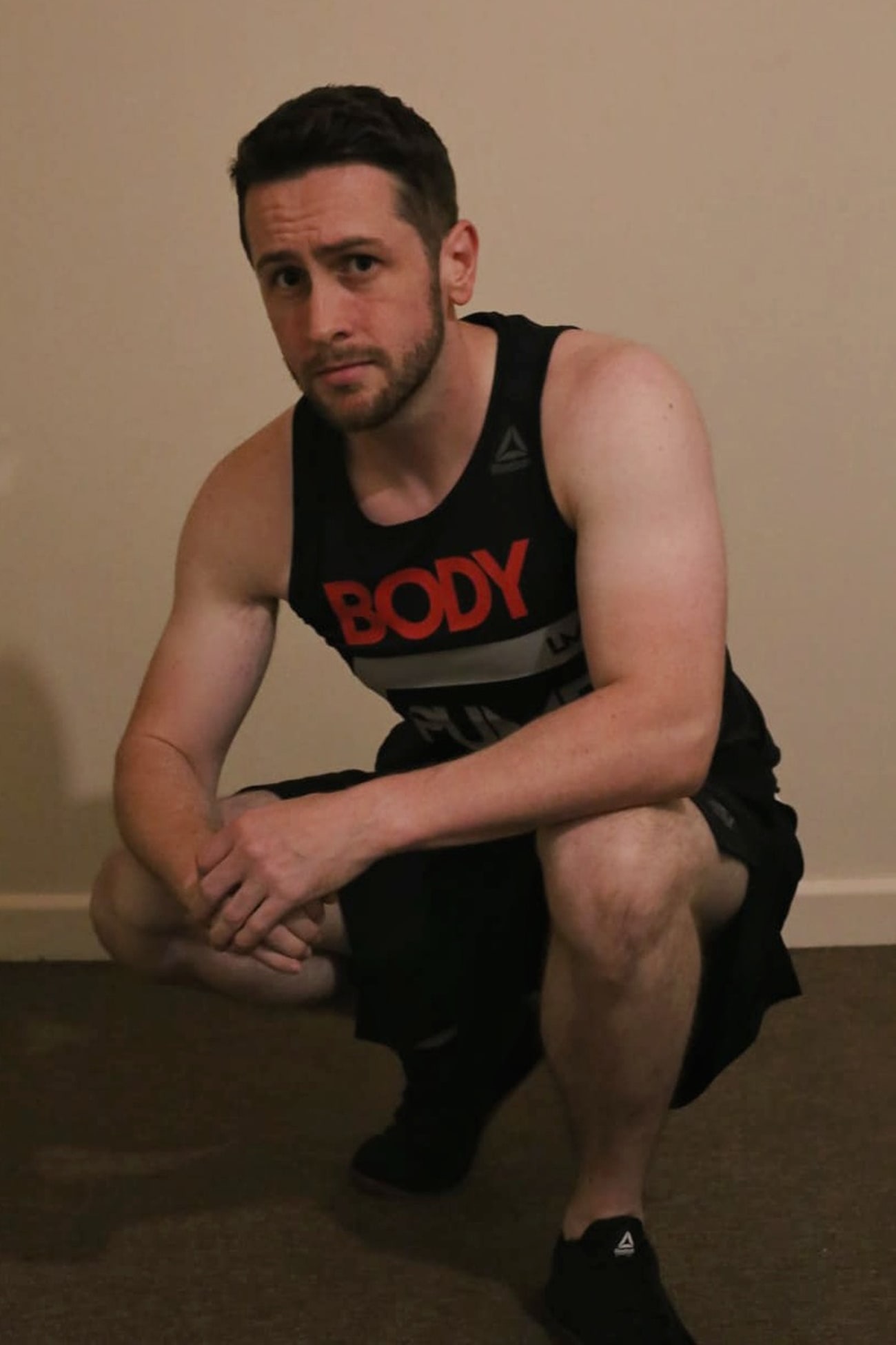 The team was able to show Hayes that having people in your corner cheering you on can sometimes be all you need.
"For such a huge brand to believe in me and show that kind of consistent generosity and support to someone that they have never met or affiliated with is truly special. Reebok have played a big part in turning my life around, and I can never thank them all enough."