We Gave Santa Some New Kicks This Season
The hardest workers of the season are swapping leather boots for leather sneakers so they can take on their visits in style and comfort.
The goal of the holiday season is to experience as much joy and as little stress as possible. But the truth is, for some people—the ones volunteering to wrap presents for children in need, delivering overnighted packages until 10pm, and clocking in for retail shifts—the most wonderful time of the year is also a ton of work. And in December, no one works harder than Santa. From greeting families in malls for twelve hours at a time, to making house calls and visiting elderly homes, there's no shortage of appearances and obligations. It's enough to make a guy want to hang it up and retire early—unless he's prepared well.
This year, Reebok decided to intervene, and make the whole gig a little bit more comfortable by letting Santa swap his big black boots for a pair of cool black sneakers. They're just as classic (not to mention more stylish), and a whole lot more wearable for hours on end. To show them off, some of the hardest-working Santas in the business spilled their tricks for staying fit for the season and keeping healthy during the long days, as well as the most important lessons they've learned while wearing the red suit. Read on for their makeover, and get inspired below.


Santa Alan Spencer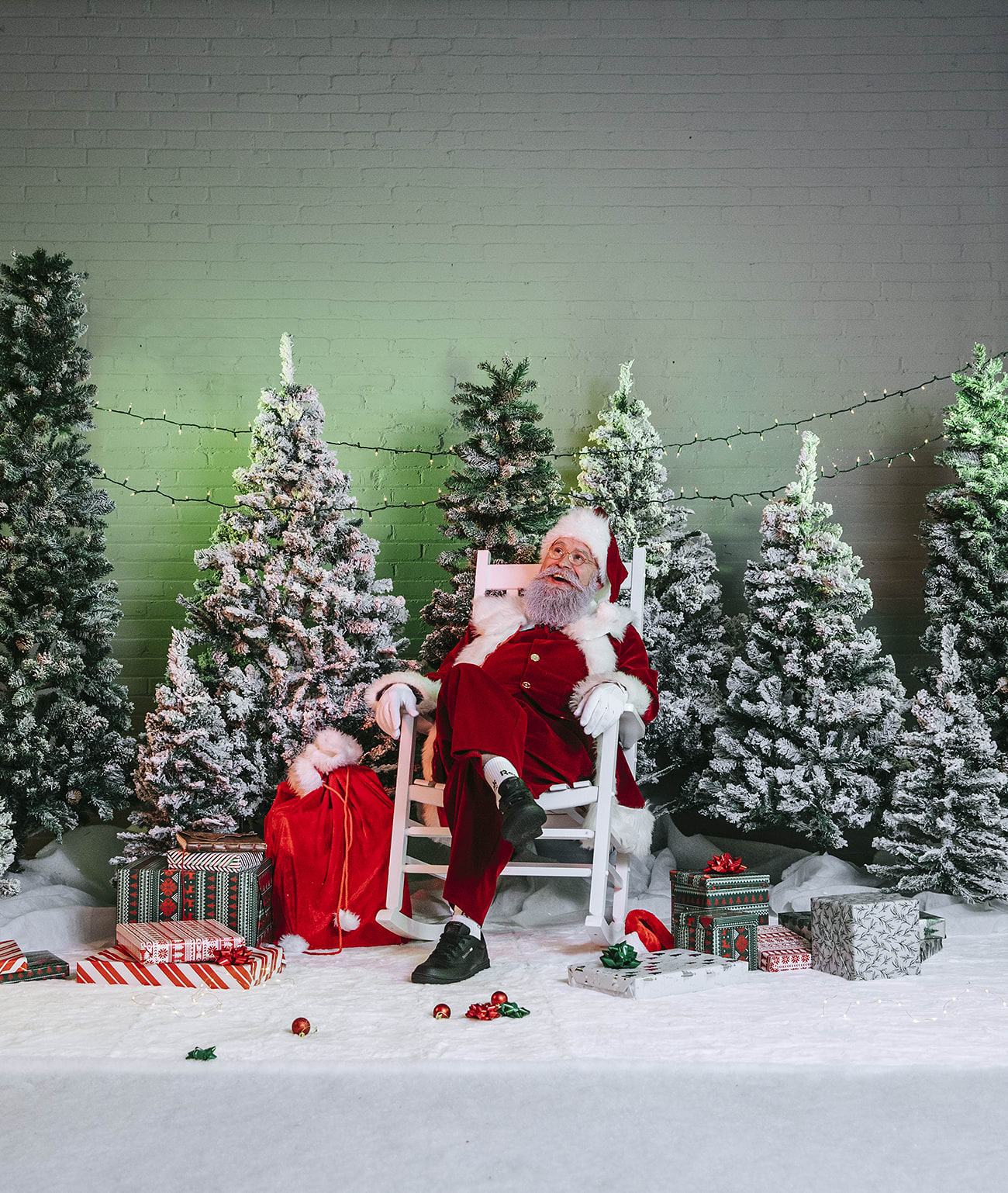 Alan Spencer's first foray into the world of Kris Kringle was throwing on a red suit for a dozen nieces and nephews on Christmas Eve. It didn't take long for him to fall in love with the power that playing Santa holds. "I'm a lawyer, and I love that work, but it's not this kind of fun," he says. "I played Santa for a few charity events a few years ago, and I fell in love with it. If I'm dressed like this, you could take the grumpiest, burliest dude and smile at him, and he'll smile back. It's the coolest kind of superpower that you could have."
He began taking on as many gigs as he could get, starting in October and extending through December 25th. He's done everything from playing a retail store's Santa, hosting brunch as Santa at country clubs, or volunteering to visit homebound children. His favorite, he says, is any experience where he can spend a lot of time with a child. "At a store, it's often just a few seconds while they snap a picture," he says. "But for parties or visits, you spend a good amount of time with the kids, and you get to give them a positive experience with Santa that they'll take with them for their whole lives. You're a part of that happy memory."
Santa is happiness and joy and generosity, and you have to project that when you're in the suit. There's a responsibility when you dress like this.
To prepare himself for the onslaught of work that hits in the last month of the year, Alan spent 2019 hitting the CrossFit gym and getting into shape, losing 18 pounds in the process. The work of Santa is unsurprisingly physical, so Alan made his life much more physical and healthy to accommodate. "You have to get into a full squat to talk to kids," he says. "It's exhausting." So now, he does a WOD six days a week, and supplements all his exercise with lots of protein, water, vitamins, and a zinc spray to keep his throat feeling good through all the talking and caroling he does all day.
While his lifestyle has changed according to his seasonal persona, Alan still keeps his alter ego a secret from his colleagues, friends, and his own two kids, who are nine and thirteen and still holding onto the magic of Santa. But the effects of his double life are undeniable in the best way possible. "Santa is happiness and joy and generosity, and you have to project that when you're in the suit. There's a responsibility when you dress like this," he says. "If a child sees you doing something not Santa-like, it could ruin something for them, so you get used to being that guy. It teaches you to be more patient, not sweat the little things, and that there are more important things than the problems you're going through."


Santa Geo Ray
Geo Ray became Santa in 2006 in an unlikely spot: his neighborhood bar. "The owner was doing a party for all the local kids, and he wanted to have Santas of different races to represent the diversity of the community," he says. Previously, Geo Ray had owned a Santa suit so that he could give his own kids a glimpse of a Santa who looked more like them than most mass-media produced representations. "Since I'd played Santa for my kids and neighbors, I got the job."
Two hundred kids would come through, and they would choose the Santa they wanted to visit, receive a gift, and their parents would have the chance to take a picture. "In the beginning of the day, the kids would gravitate towards the Santa who looked the most like them, but then one bright kid realized he could visit all the Santas, and get three gifts," he says. "They were smarter than we were."
Even though Santa Geo Ray could profit off of his Santa-likeness, he prefers to stick to mostly volunteer or organic opportunities. "When I put my beard and hat on, I really get into the spirit," he says. "You feel like you can truly understand the spirit of giving. It makes me a better person, and probably brings me as much happiness as the people I visit."
That's a happiness he still brings into his own home, with his two children and seven grandchildren. "One night we were all gathered around the TV watching a movie together, and my seven-year-old granddaughter came down the stairs yelling, 'I knew it! I knew it! I told you Grampy was Santa!' while wearing my red Santa coat," he says. "Everybody just cracked up. It was this amazing spontaneous moment."


Jolly Santa Rick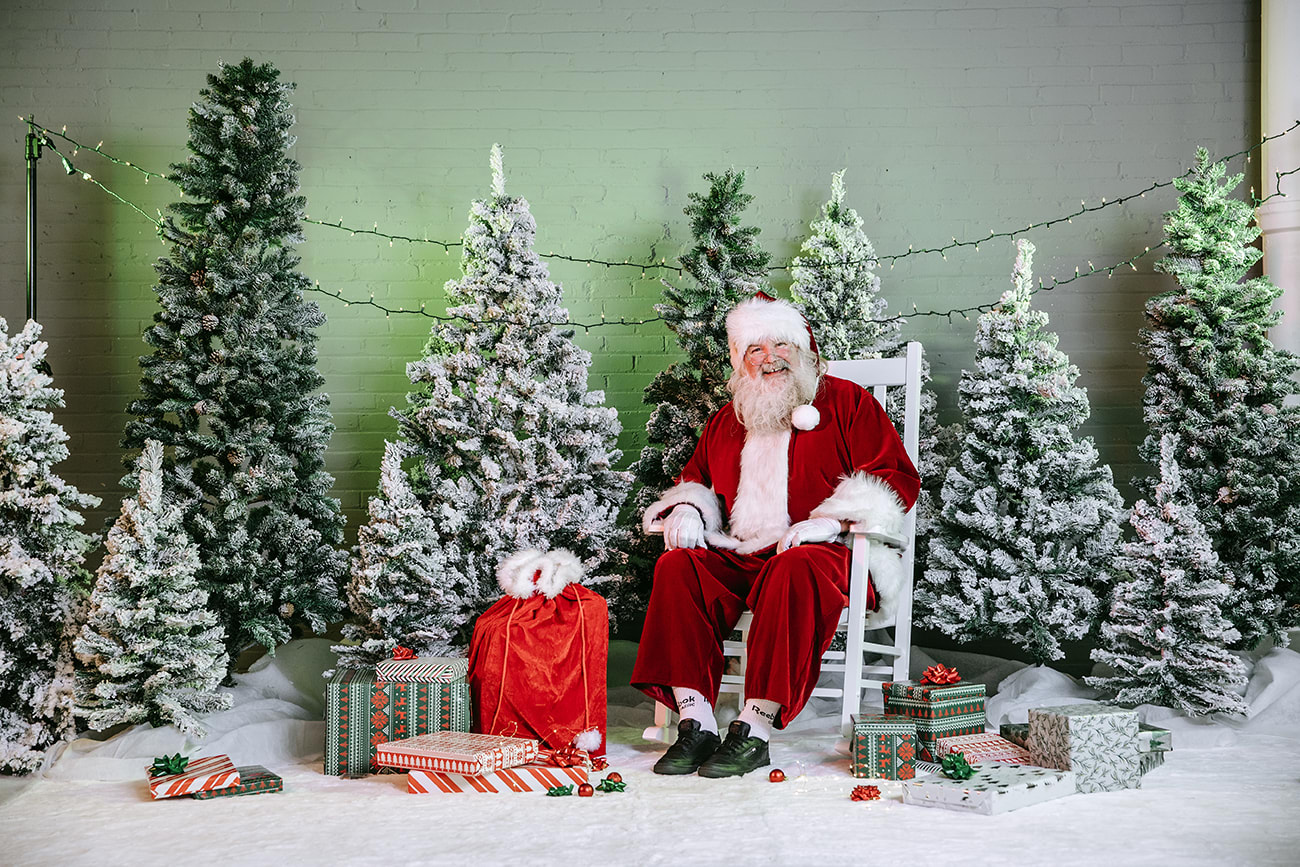 Jolly Santa Rick was born to be Santa. "I absolutely love Christmas," he says. His first Santa-affiliated memories involve his mother dressing up as Mrs. Claus to hand out presents, and to this day, he puts five Christmas trees in his house. Once his platinum blond beard turned white at a young age, he decided to lean into his Santa resemblance, and started taking volunteer opportunities at charity functions and school functions, receiving letters from children to deliver to the North Pole. In the last three years, he's been spending his holiday season representing Santa professionally at parades, home visits, and at assisting living facilities, which he says can be the most rewarding experiences.
"Nothing is more cherished than Christmas memories of the past," he says. "A lot of elderly people might be in a state where they can't even remember their children's names, but they'll remember a Christmas song when you start singing it. It sparks memories, and everybody takes joy in that."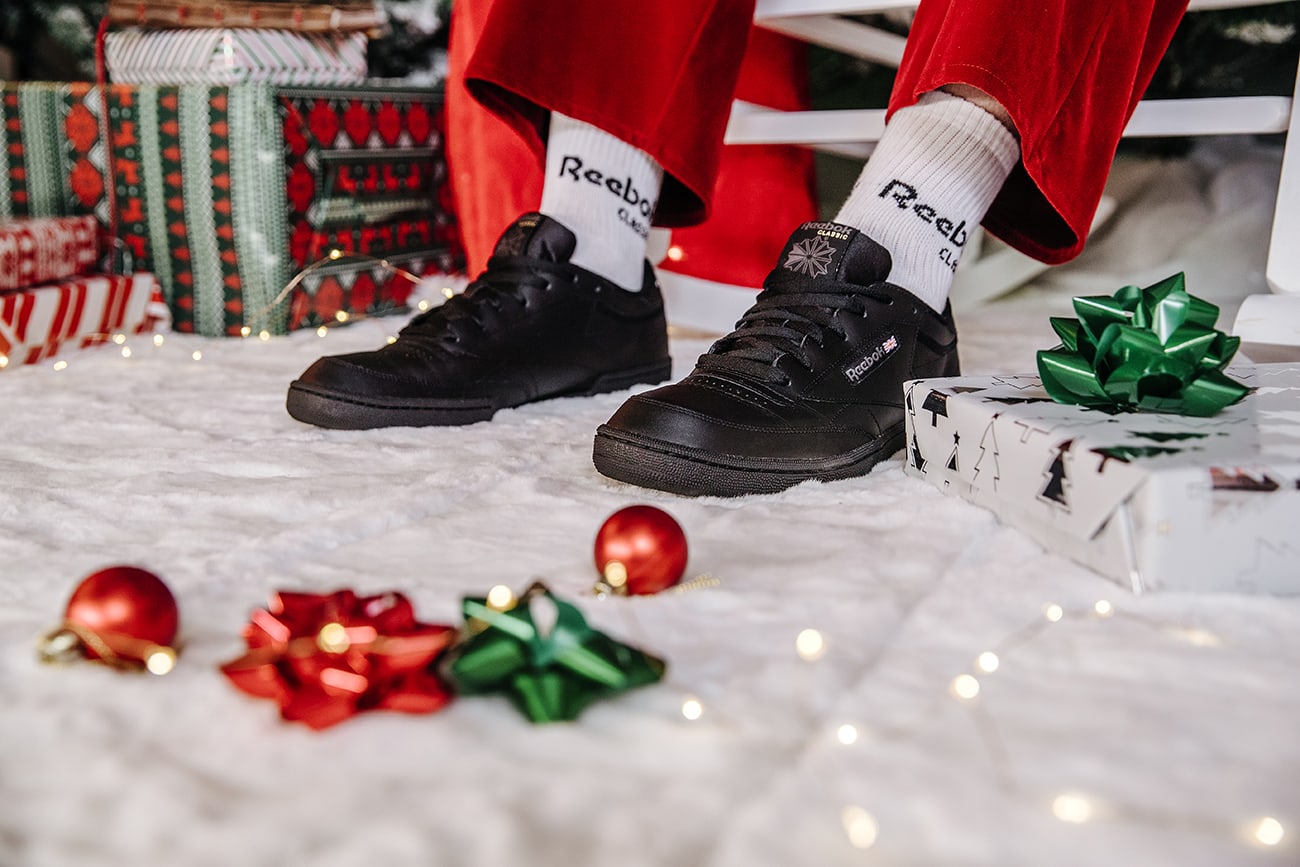 One thing that Santa Rick has always known is that if you want to be a good Santa, you have to be physically fit enough to get down on the floor, get up quickly, and move around a crowded room with ease. "There might be a chair for me to sit on while I greet children, but I'd rather get on the floor with them and tell them stories about reindeer, and let them touch my beard and the fur on my suit." To make sure that he's prepared for the long days and nonstop movement, he spends a few days a week at the gym on the elliptical and lifting weights, and then come game time, he makes sure to fuel his body as well as he can. "It's a long day during the holiday. It's hard to say no to people, and you try to squeeze more than you probably should into a day, so you have to make sure you drink a lot of water and bring energy bars and protein bars," he says, noting that he has to pack well for his workdays. "I can't very well walk into a store dressed like this, so I have to have everything I need when I start the day."
Life isn't always easy and you aren't always given wonderful things, but my job is to at least give kids hope and a good memory to take with them.
His favorite part of the gig is fielding the tough questions from the most difficult audiences: children. "I get a lot of, 'You should know my name,' as soon as child approaches, or 'What's my address?' he says. "You have to get creative. I give their address in longitude and latitude and say, 'That's your roof address! That's the address I use in my sleigh.'" The most rewarding interactions, though, are the ones where the children may take even more from their relationships with Santa than just a candy cane and a Christmas wish. "I've seen some tragic situations where you're called upon to give a child a happy moment in a time of sadness," he says. "Life isn't always easy and you aren't always given wonderful things, but my job is to at least give kids hope and a good memory to take with them."


Saint Nick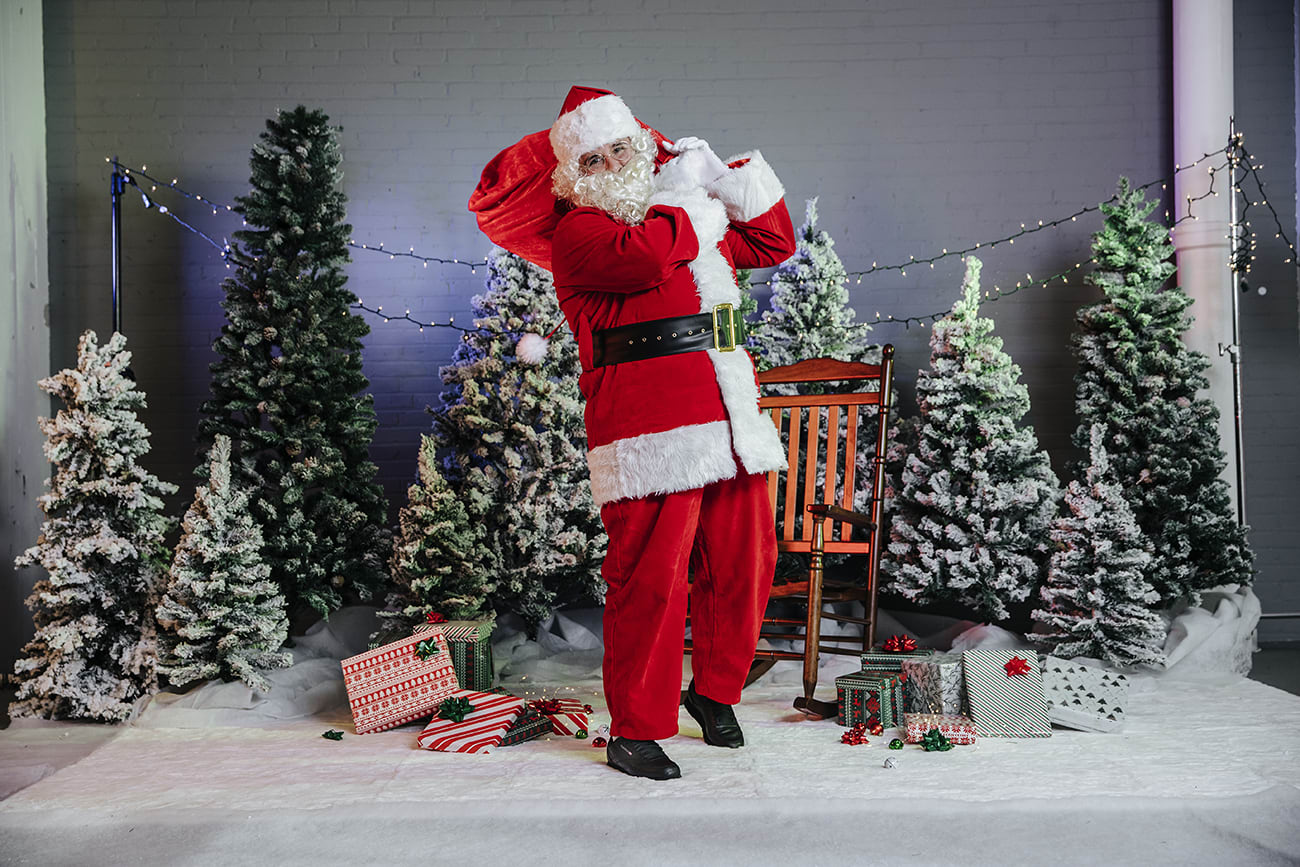 Saint Nick may be on the younger end of the Santa spectrum, but he's been doing this for over a decade. He got thrown into the gig while deployed as a Navy Seal in Iraq. The platoon needed someone to don the suit and beard so that everyone could send photos home, and he was the man for the job.
"I was the new guy, and I've never been small. I always carried a bit more weight, whether it was a radio pack or a machine gun," he says. So when it came time to think about who would get the responsibility of sitting with 200-300 pound men on their lap for a photo to send home, Saint Nick was the guy. No matter how in shape he was at the time, nothing could prepare him for the grueling work of Santa. "Having a 300 pound guy not only sit on your lap, but also laughing and giggling, was like, 'Man, my legs aren't built for this…'" To keep up with it, he relied on squats, lunges, and burpees, but now that he's retired from the military, he says, he doesn't lift quite as much as he used to. "I spend more time warming up and cooling down than actually working out," he laughs.
Now that he's home for good, Saint Nick revels in the opportunities to play Santa at fundraisers to benefit gold star families, giving kids the opportunity to connect with Santa in Christmases when their own parents might not be present to celebrate. "It's very humbling to be able to give them that joy." Still, Saint Nick's favorite memory in the red suit was one Christmas when he was called upon to actually hand out his platoon's Christmas packages from their families.
"Being in charge of the mail is a big job when you're deployed, because you have a lot of guys expecting things and anxiously awaiting their packages," he says. That year, Saint Nick collected them all so that he could hand them out as Santa Christmas morning, and took a lot of abuse from more senior members of the team on why they hadn't received them. When it came time to hand them out, things didn't exactly go smoothly.
"We did an operation on Christmas Eve, and were all sleeping on Christmas morning when we got back," he says. "I knocked on the door of one of my buddy's rooms and started with a quiet, 'Ho, ho, ho.' He jumped out of bed, didn't look at me, grabbed me, and put me on the ground. A buddy walked in and was like, 'Hey, you're trying to kill Santa Claus!' There was big laughter then." Saint Nick says that opportunity to feel a little bit of normalcy was never taken for granted.
"There's not a lot in a deployment that can surprise you in a good way. You sometimes think you're being put through the worst, but then you look around and see those people to your left and right who are going through it all with you. There's no point in being miserable about it, so you try to make it as fun as you can."