The Answer Meets The Beard: The Reebok Question James Harden Release is Here
Allen Iverson and James Harden talk about their upcoming Reebok Question collaboration, their drive to win, and their unique style.
Allen Iverson and James Harden are kindred spirits. They are two of the most talked about basketball players of their time. They are the definition of hardworking guards that carry their teams and draw fans to the arena: Multiple scoring titles, signature moves that break opponents' ankles, unique style (both on and off the court), and an amazing competitive nature. This led to each of them landing deals and signature shoes with two iconic sneaker brands: Iverson with Reebok and Harden with adidas. Harden's first pro shoe with adidas dropped back in 2016, 20 years after Allen Iverson's first shoe, the Reebok Question, made its debut. And now, these two basketball legends have come together to release a
unique Harden edition of Iverson's Question
. In honor of this epic collaboration, Iverson and Harden got together on a video call to talk about the shoe and their mutual love of the game. Check out what they both had to say during their virtual chat.
A HISTORIC COLLABORATION
The collaboration between Harden and Iverson isn't just about shoes. It's about bringing together two of the game's most dominant guards from different eras and giving them the opportunity to connect with each other.
Harden: I was excited to work with AI because you don't often get the opportunity to sit down and spend time with a legend, off the court. Going back to watching him on the court, knowing his competitive nature, everything he went through, and how he did it his way, that's another reason why I was excited because I'm on that same path right now. The collaboration makes sense because it gives a lot of people the opportunity to see what AI did in his era, and how he was unapologetic and did stuff his way. And then me doing my version of that right now, it's kind of the passing of the torch.
Iverson: James, I'm one of your biggest fans. Some teams you even watch when they play against an opponent with the worst record in the league, because you know you're going to see something. You grab your popcorn and you don't get up until halftime. That's what you get when James is playing.
The result of the mutual respect between these two players is a special edition of the Reebok Question, inspired by the 'Pioneer' colorway of the adidas Harden Vol. 1. The 'OG Meets OG' Question takes on the same colors as Harden's first shoe, including the contrasting white leather toe. Unique detail is the round detail on the back of the midsole, which normally would show Iverson's jersey number, 3. For this release it's been replaced by Harden's 'H' logo, taken from the tongue of the Harden Vol. 1.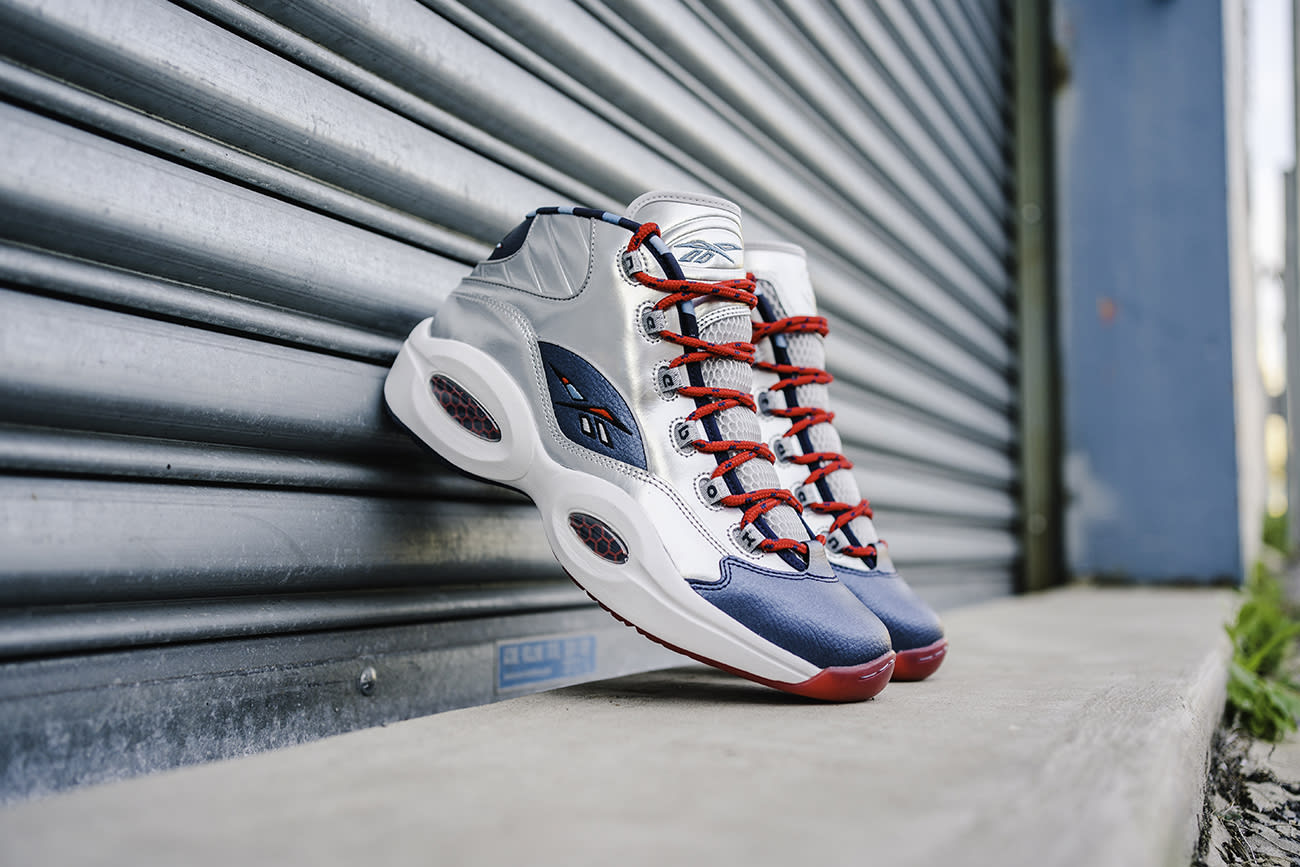 MUTUAL RESPECT
When you get Iverson and Harden in the same room, the thing that immediately comes to surface is the amount of respect between the two. Both guys are fans of each other. When Harden was growing up, he watched Iverson dominate the league, while Iverson saw Harden enter the league while he was on his way out and kept following him ever since. Both players are inspired by what the other brings to the game.
Harden: AI, he didn't care about things people said, no negative energy, none of that. I'm pretty sure a lot of that came his way, but he didn't care, he just went out there and gave you 40 (points) every single night. That's how I am right now, that how I go about my business. I might dress a certain way, you might not like my step back, you might not like my moves, I don't care. Look at the score sheet, I will give you 40. Whatever little kid is watching that, that's what I want them to take away from that.
Iverson: That's exactly how James plays. People think he's cocky or arrogant but he's just confident in himself. Every time he steps onto the basketball court, he feels like the best basketball player on the court. Why wouldn't he feel like that? God gave him that gift. That's why he feels like that. He goes out there, he does the things he's always dreamed of doing. Now the opportunity is out there, every season he's going out there for one goal.
BRINGING SWAG AND STYLE ON AND OFF THE COURT
While they're universally praised for their work ethic and winner's mentality on the court, both Harden and Iverson know what it's like to have people talking about their off-court style. They both set trends with their outfits before and after the game, which have triggered a wide array of responses. Many believe that Iverson's style of dressing led to the installment of an official dress code for players in 2005, while Harden is known as one of the players responsible for the current tunnel fits craze, where what the players are wearing off the court is just as much discussed as their game on the court.
Harden: Some people are scared that people talk about what they're wearing, but I don't care. And that's why AI was the trendsetter. He was the only one that wore a durag with a big tee, and people had to catch up to that vibe. That's when you know you're confident and comfortable with yourself.
Iverson: That's it, that's it right there. You're comfortable in your own skin. I'm not trying to be nobody else. This is me; this is who I am. It ain't for you to like it, as long as I like it. We all got different personalities and come from different backgrounds, so why have a dress code where everybody has to dress the same? When I went to the basketball court when I was young, I didn't wear a suit to the playground. When I was young, the only time I thought you were supposed to wear a suit was when you go to a funeral or to church. You dress the way that makes you happy.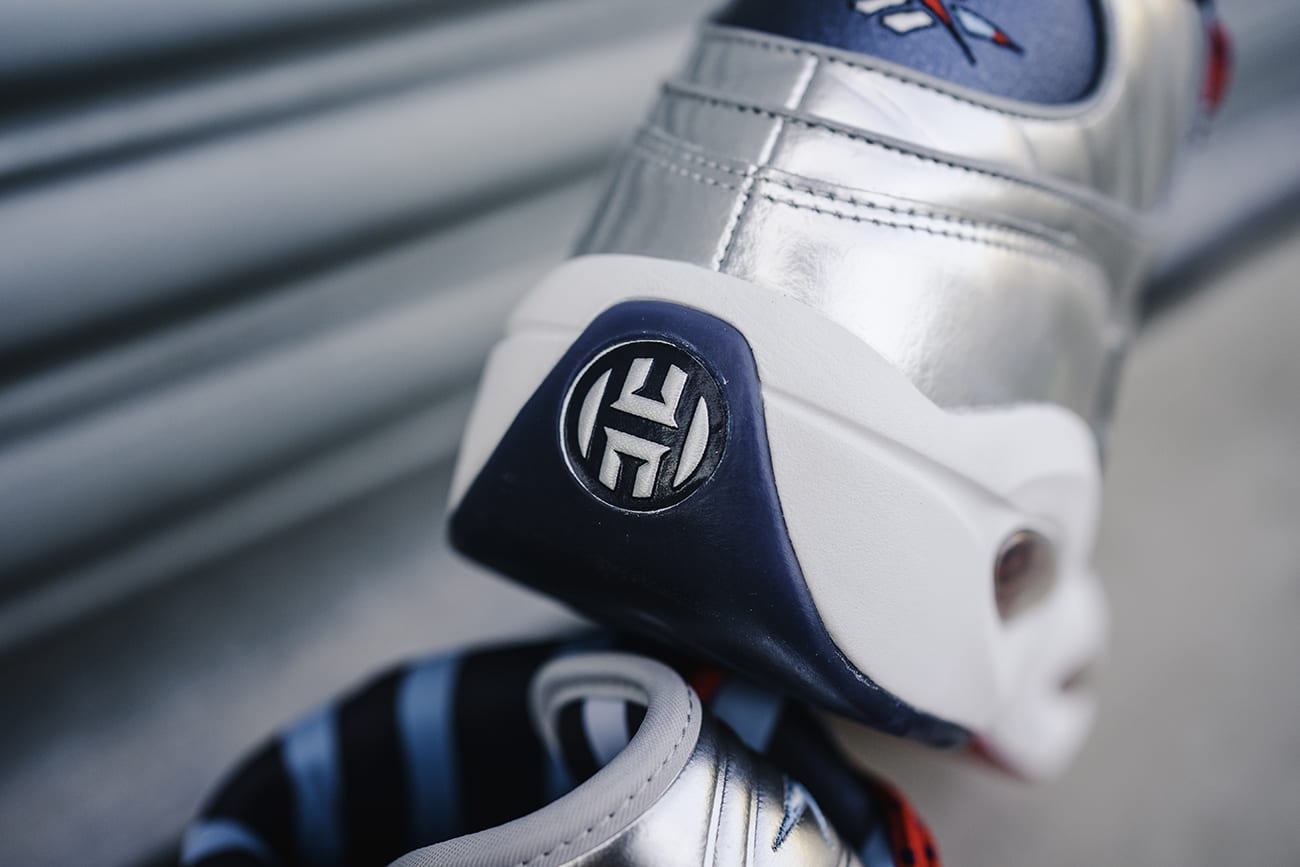 COMPETITIVE BY NATURE
While both Iverson and Harden are known for their on-court domination and have multiple awards on their shelves, neither of them has been able to win the ultimate goal: a championship. This never negatively impacted their game though, instead they used their thirst for the title to motivate themselves even more to step it up every season.
Iverson: I think a lot of people on the outside, looking in, really don't understand it like we do. You have all these things going on for you in life, you're able to do a lot of things for your family, and you're living a good life. You're popular, a lot of people want to meet you, a lot of people want to be around you, basically the world is yours. But the only thing you want in return is to win, that's it. You literally do anything that you possibly can out there on the basketball court to win.
Harden: Not winning is painful. You have to start all over. But as a competitor, like we both are, we're ready to get back the next day. We've both been underdogs. We always had to face people that had the upper hand on us. But that won't stop us, we're still going to drive, we're still going to push it. That's what I'm going through right now. My work isn't going to stop, my competitive nature isn't going to stop, and I'm just keep trying to figure it out.
HARDEN X IVERSON QUESTION
This project is a celebration of both Iverson and Harden that bridges the gap between two defining eras of basketball. It's so big that it brought two brands, Reebok and adidas, together in their love of the game. When asked what fans will appreciate most about this collaboration, Harden was clear: "The fact that it's real. What you see from us is what you get." This collaboration is bigger than the game, bigger than just style; it's about honoring those that paved the way, and those who continue to blaze the trail. Iverson and Harden are two players that never back down, both on and off the court. But they are also two men who are outspoken, dominating, and always innovating.