Reebok's Vote Shoe is the new "I Voted" Sticker
Young people could be the game changers in this year's election. Here's your crash course on the importance of voting and how you can get a shoe created to show off your voter pride.
Who will represent you? If you exercise your right to vote, you get to decide. You have a right to choose who fights for you and ensures your voice is heard and accounted for. It starts with you.
From protests across the nation combatting racial inequality to a global pandemic, 2020 has brought about significant cultural changes. The past year has become a catalyst for young people to step up and speak out. They're using their voices to express how they feel about the current state of things, and they're pretty damn loud about it. This is a group that is unafraid to get into the trenches and make noise about the causes they care about. They're also a generation that is ready to make an impact.
Previous generations fought hard to advance the U.S. to become a strong and prosperous nation, where leaders were put in office by those who made a conscious decision to ensure change – by voting. In 1920, strong and outspoken women held signs and stormed down streets demanding the right to vote. In 1965, minority leaders and activists stared down violence and marched for civil and voting rights, leading to the Voting Rights Act and the abolishment of the Jim Crow laws. While the system still has gaping changes that need to be made, these monumental moments in history are the reason younger generations can take action and be as bold as they are now.
There's a lot to think about before you vote, and young people could have a huge influence on this year's upcoming election. Reebok is giving you a chance to share your voting pride with others. Check out the below for more on why your vote matters and how you too can make a difference.
Why Your Vote Matters
With less than 80 days until Election Day in the U.S, you could be the one to change everything if you cast your vote. In 2020,
one-in-ten eligible voters
will be members of Gen Z (ages 18-23); that's up 4% from 2016, when most were too young to hit the ballot box. This November, one study found Millennials (ages 24-39) and Gen Zers
will make up 37%
of the electorate. That percentage could provide enough of a swing to influence and shape outcomes.
Rock The Vote
is a nonpartisan nonprofit that has been dedicated to building the political power of young people for 30 years. They say young people hold the power. "In November, Generation Z will be voting in a presidential election for the first time. Combine Gen Z with Millennials, and these two generations hold an enormous amount of power, with the ability to determine the direction of our nation and our communities," a Rock The Vote spokesperson says. "With young people taking to the streets leading the fight for racial justice, now is the moment to ensure the public and their government hears their voices."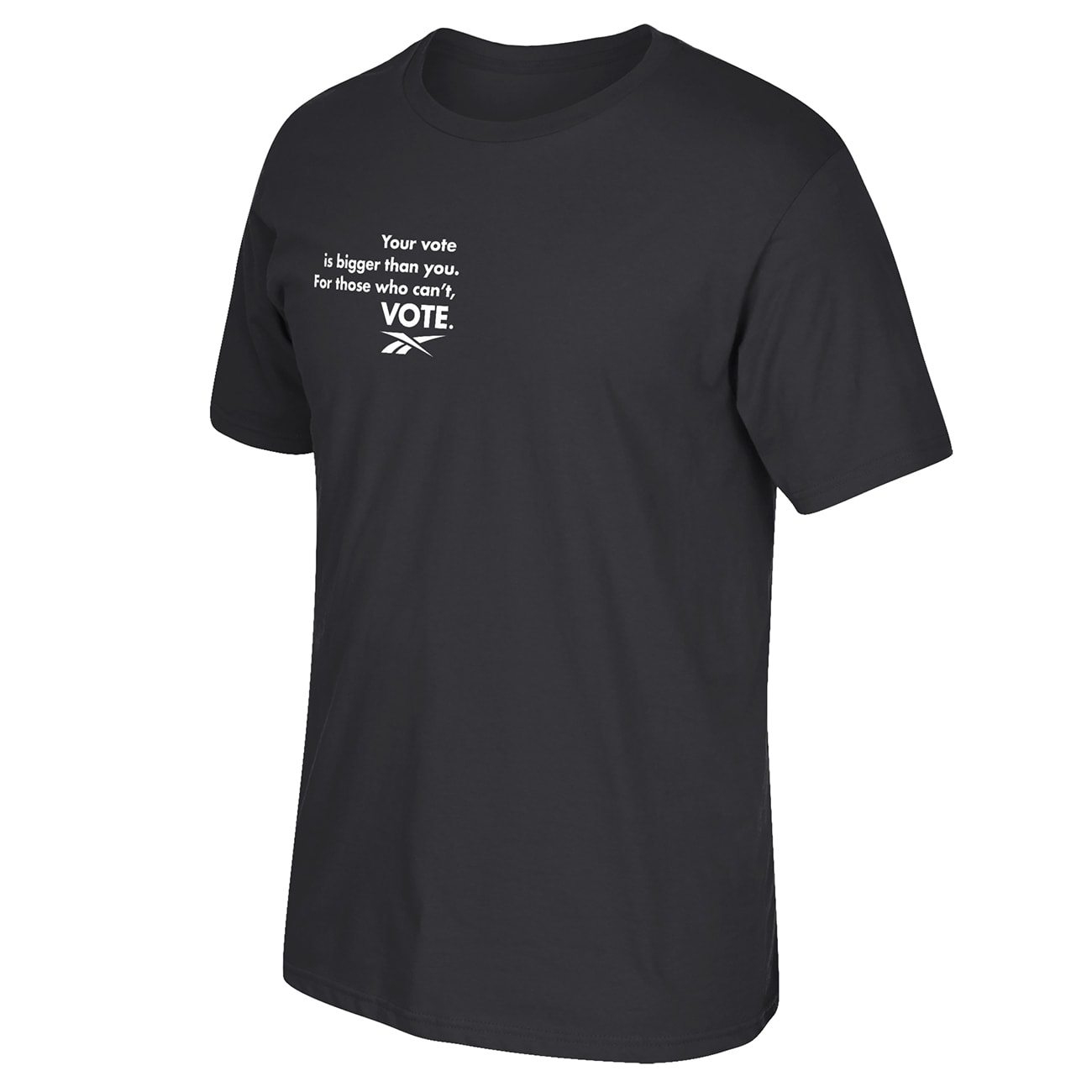 While elections need everyone's participation, women seem to be making the biggest impact. In the
November 2018 election
, women continued to vote at higher rates than men, just as they have in every midterm election since 1998. In the 2018 midterm election, 38% of women 18-29 years old voted and 33% of men of the same age group voted. This same year a
record number of women
were elected to the House of Representatives. When you show up and mobilize, you can make a difference. Shout out to the women who are making moves.
Especially now, more than ever, every vote is needed for necessary change to happen. "It is as important as it's ever been to encourage massive voter turnout to overcome voter suppression tactics we see all over the country," a Rock The Vote spokesperson says. Unfortunately, the
changes made in 2013 to the Voting Rights Act of 1965
set things way back. Several provisions that were meant to protect voters from states with a history of racially motivated voter suppression were deemed unconstitutional. "As a result, we've seen states able to shut down polling sites, purge voter lists, and put strict voter ID and proof of residency requirements into place without any kind of oversight. Over the last decade more than 25 states have implemented voting restrictions," says a Rock The Vote spokesperson. Using your right to vote can stop these practices and restore what's been taken away.
While older generations are typically still more apt to go out and vote, moves are being made within the younger age group to be more proactive in their future.
Voter turnout
among 18- to 29-year-olds went from 20% in the 2014 midterms to 36% in 2018—the largest percentage point increase of any age group. Gen Zers are also
more racially and ethnically diverse
than any previous generation and are expected to become the most well-educated generation yet. They know what they want and they're not asking for it, they're demanding it.
Not registered to vote yet? Fill out Rock The Vote's simple form to get it done.
Reebok's First Pitch Program
Part of the fun of voting is getting the coveted "I Voted" sticker and wearing it proudly throughout the day. The sticker shows your squad that you took time out of your day to do your civic duty. Now, Reebok's new Kickstarter program,
First Pitch
, is giving you the opportunity to share that you voted through your footwear. First Pitch is Reebok's new waste-minimizing digital platform that puts you in charge to create shoes for underserved communities. Reebok is leaving it up to the consumer to decide if they should make a shoe or scrap it. How does it work? Check it out.
• A proposed sneaker idea is released to the public and a commitment window opens
• Act fast! Depending on the sneaker, the commitment window will remain open anywhere from 72 hours to 30 days.
• You decide if you want the shoe made or not
• First buyer gets it for $1, second for $2, etc., until it hits the retail price
• If the shoe gets made, it will ship approximately nine weeks after.
• Goal: Sell 500 pairs. If not, the shoe is out, and Reebok starts over with a new idea
The "Vote" shoe is the second sneaker of many to be pitched, and Reebok wants to know what you think. "The First Pitch program is laying the foundation for what I hope will be a zero-waste process for creating product," says John-Erik Forsberg, Global Design and Graphics Director at Reebok, who designed the shoe. He says First Pitch could be an innovative way of creating for the industry moving forward. "Many companies dabble in customization, but few have tried to move to a 'creation-on-demand' program. We have a closer link to the end consumer and are designing with only them in mind."
Sustainability is also an important topic when it comes to elections. According to Rock The Vote, your vote can determine outcomes for the future. "Young people care deeply about our environment and the health of our planet. More than any other time in history, the results of this election could determine not only the course of our nation but of our world, with respect to the fight against climate change. It's important that all of us – individuals, companies, elected officials – are doing everything in our power to create a more sustainable future for generations to come, including voting in federal and local elections."
Behind the Design
Forsberg says the "Vote Shoe" was a way to be part of the cultural conversation happening in the country right now. "The shoe was important to me because of what is going on all around us. Taking part in an election is a way to make your voice heard and make it mean something." The project also serves as a reminder that not all countries in the world have the right to vote. But in the U.S., at the early age of 18, you can start having a say in what happens in the country. "At the very least, it is a way to be involved in what happens in the place you live," says Forsberg. "It is a way to feel empowered with decisions that are made, or it gives you a platform with which to disagree with those decisions."

The final concept of the shoe was created to allow people to express themselves – regardless of who they support politically. "The shoe was designed to be unifying in its message to get out and vote. I wanted people to show their pride in being a part of the process and also be able to fly their party colors if they wanted to, or keep it neutral." The shoe is meant to be a symbol that you voted, and you want everyone to know it. From taking inspiration from vintage voting memorabilia to incorporating landmark historical text, nothing was left out of this design. A full breakdown of the shoe's details is below.
• The color palette of the shoe is inspired by sun-bleached election pins to give a retro flavor of old voting paraphernalia.
• The donkey/elephant hybrid on the tongue and sole is meant to symbolize both Democrats (donkey) and Republicans (elephant) – a unique interpretation of most of the American electorate.
• The text on the back tongue is from Article 21 of The Universal Declaration of Human Rights:
o The will of the people shall be the basis of the authority of government; this will shall be expressed in periodic and genuine elections which shall be by universal and equal suffrage and shall be held by secret vote or by equivalent free voting procedures.
• The word "Vote" is also printed underneath the tongue of the shoe.
• You have three lace options: red, white and blue so you can show party affiliation or not.
• Reebok's traditional British Union Jack flag logo was swapped with an American flag in the window box.
What to Know Before You Vote
As Election Day quickly approaches on November 3rd, the onus is on everyone to actively participate. For some Gen Zers, it could be their first time voting or voting in a new place. Regardless of where you stand, it's important to
know your options
and make sure you've planned accordingly.
Given the state of the world with the current pandemic, voting will look differently this year. Polling stations will need to take into account social distancing guidelines and masks will likely be required. Your polling station may have even changed given the new restrictions, so make sure to look up where you're supposed to go if you're voting in-person.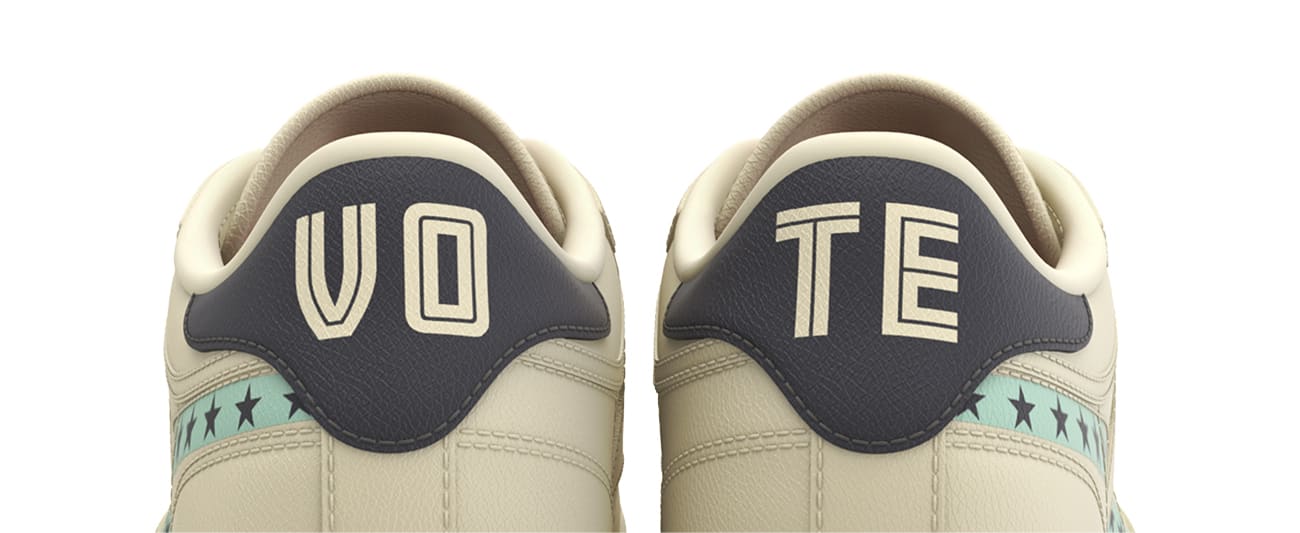 If you're trying to avoid people and lines, luckily there are alternative methods like voting by mail or early voting. But, you have to get yourself in the system early. "In order to be eligible for some of the options states are implementing to reduce the spread of COVID-19 – such as vote by mail – eligible voters need to be registered at their current address well ahead of election day," a Rock The Vote spokesperson says. Since a lot of colleges have different plans around returning to campuses in the fall, you may even be filling out an absentee ballot. There are a lot of different options available, and you can explore them all when you
register to vote
.
Already registered? According to Rock The Vote it's still a good move to check your status. "More than 17 million people have been purged from the voter rolls in recent years, often with no notice or rationale - and disproportionately affecting BIPOC communities. It's imperative for voters to check their registration status early to ensure it's active and up to date." This goes for newly registered voters too. Due to the changing times, things can get easily missed or lost in translation, so you have to keep track. "With DMVs closed and on-site registration drives on hold due to COVID-19, millions of voter registrations are not being collected or updated, including those of first-time voters."
Unsure of your voter registration status? Rock The Vote has an easy way to look it up using the form below.
How To Make an Impact
Continual activism is just one of the many ways you can remain engaged in the voting process and encourage others to participate. Rock The Vote has a few ways young people and their communities can get involved in the fight for voting rights. One of them is a
pledge you can take to get three friends to vote
and they also have an ambassador program you can join. "Since young people are powerful influencers for their friends, families, and communities at large, the
Ambassador program
helps Gen Z and Millennials deploy relational organizing tactics to leverage their personal networks to create record-breaking turnout in 2020." Educating yourself and others is another great way to make your mark on this election.
Companies are also getting pressure to take a more active role in the voting conversation. "Public demand for companies to be socially responsible and become active leaders in celebrating democracy is higher than ever before," a Rock The Vote spokesperson says. "From
registration
to education to mobilization, companies have a responsibility to ensure their employees and customers are registered, engaged, and have
everything they need
to vote this November and beyond." For Reebok, creating an option for people to not only wear the "Vote" shoe but to be the ones that put it into production was a powerful position to be in. Forsberg says the shoe symbolizes why your vote counts. "You are given the chance to change the way things are going with your vote. No matter what side of the political line you stand on, no matter where you live or who you hang out with, your vote counts just as much as anyone else's. You have just as much say as the next person."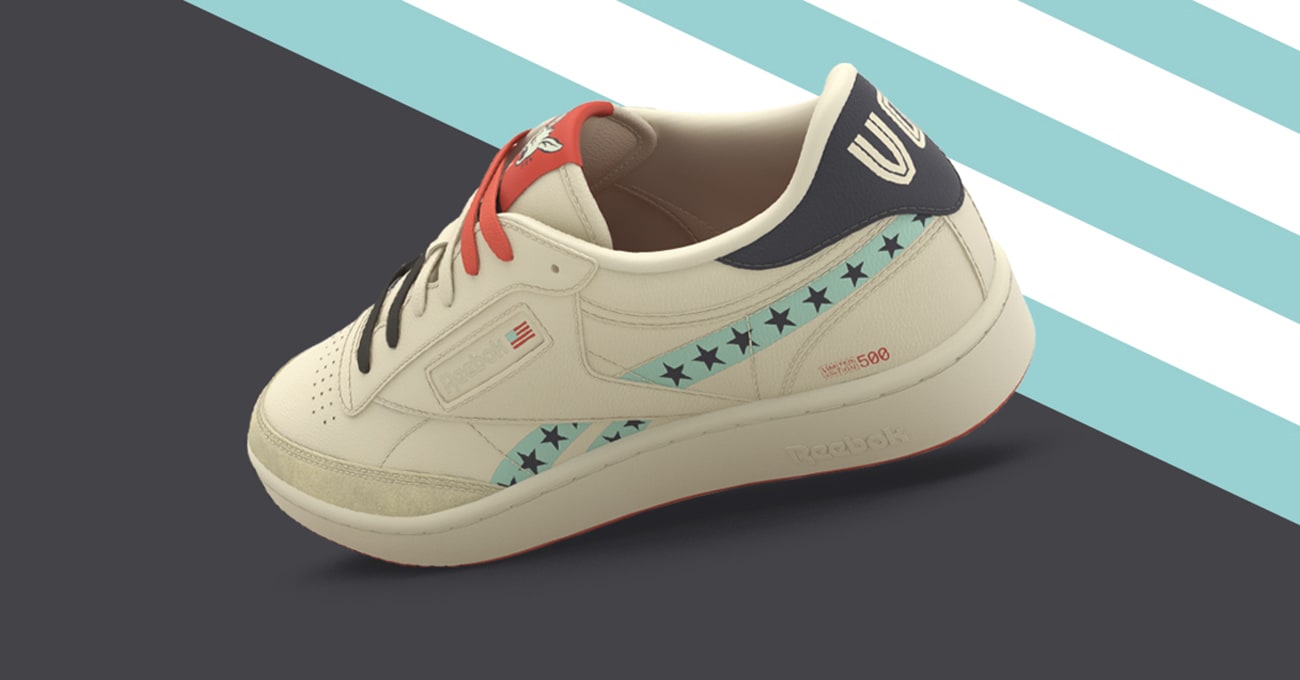 All of these actions: registering, voting and mobilizing, add up to building a better government and a better system. A Rock The Vote spokesperson says the late Congressman John Lewis' final message to young people says it all, "The vote is the most powerful nonviolent change agent you have in a democratic society. You must use it because it is not guaranteed."
If you want to show off your voter pride and find out what pitches are coming up next, bookmark Reebok's
First Pitch page
and rock the sneakers (and your vote) on November 3rd.