Reebok's Legion of Fury Characters Bring the Instapump Fury Sneaker to Life
Get an inside peek into the untold story of the Instapump Fury characters and how they've been reimagined. OG Reebok designer E. Scott Morris talks about his inspiration and designer Joe Carson shares how he's building on that legacy.
You're a sneakerhead. You wait in winding lines around the block to get your hands on the latest release. You carefully plan out when and where you'll wear them, and you've likely dropped serious cash on a few. Any hardcore sneaker collector understands the worth of a must-cop sneaker and the effort that goes into creating them. That's why you can appreciate the story of the
Instapump Fury
. But whether you're a sneakerhead or just a fan who considers the Instapump Fury the "popular ugly shoe", this sneaker has a legacy that extends beyond the sneaker world.
The iconic silhouette's innovative PUMP technology and unique aesthetic transformed the shoe from a 90's basketball game-changer to a streetwear must-have. To this day, the Instapump Fury is a coveted sneaker for collectors that are always eagerly awaiting to cop the next drop. But, within this
legendary silhouette's origin story
is another story that's never been told: the detailed story of the Instapump characters. Former Reebok designer E. Scott Morris created original cartoon characters inspired by Reebok designers Steven Smith and Trish Ng's iconic models of the sneaker. Now Reebok is taking Morris' design elements and bringing them to life.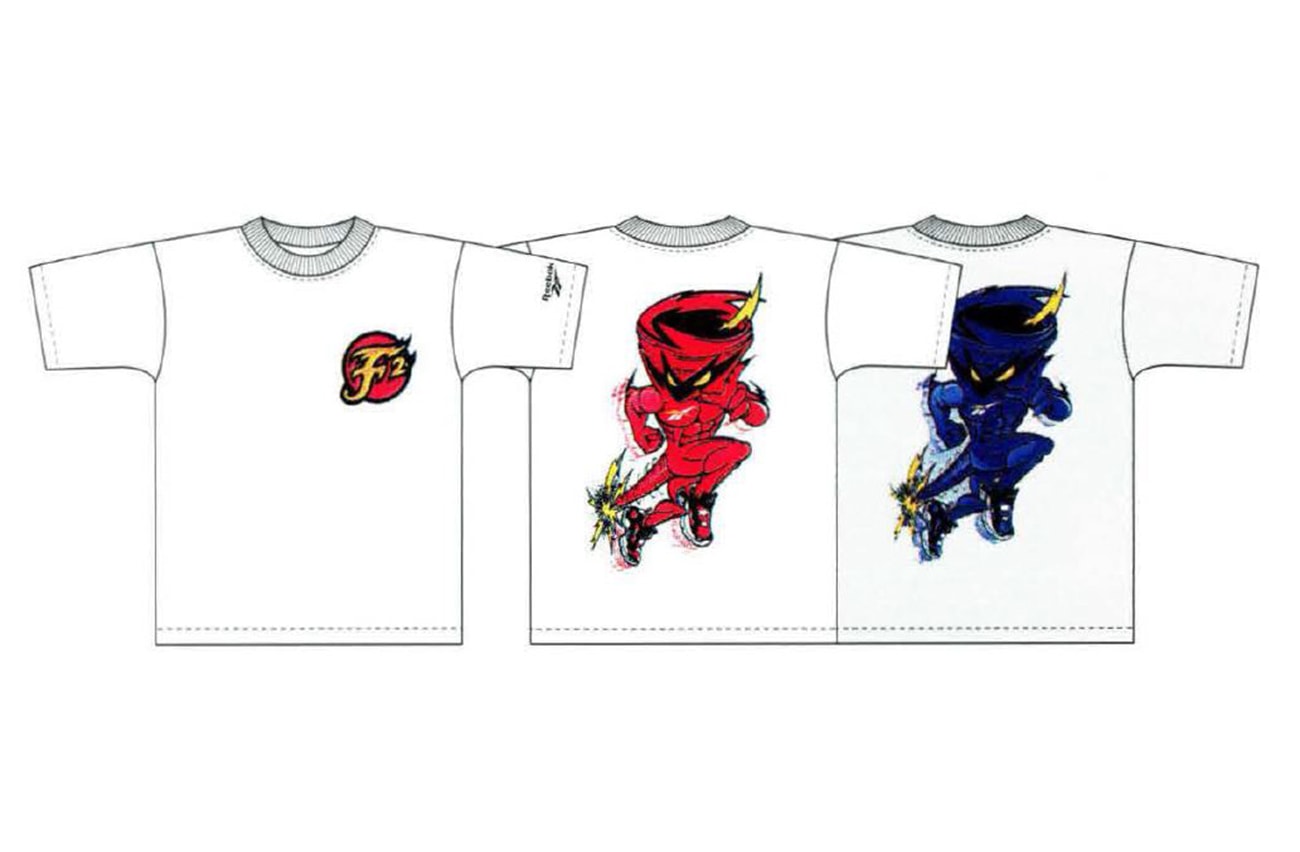 Photo Credit: Reebok Archive
Most Instapump fans will recognize these characters from t-shirts back in the day. The original two cartoons, Jal. A Pinyo and Torre Nado (now re-named JP Blaze and Ayanna Air), have been reimagined along with three new characters. The characters were turned into Instapump Fury colorways that represent weather elements; an homage to the way the Instapump Fury has always defied the elements with its technology and design.
The new characters, Rayne Sheetz, Rock C. Rush and Wynn D. Skies, along with JP Blaze and Ayanna Air, form the Legion of Fury. "The inspiration for this project started with E. Scott's OG sketches and an old 1993 Reebok campaign called 'Planet Reebok'," says Reebok designer Joe Carson, who led the project. With almost a comic book concept in mind, Carson created the characters to have personalities and superpowers to match the elements of the shoes they represent. "These five characters were reimagined into Planet Reebok mascots that represented extreme weather conditions around the world. This Fury squad would defy the elements and use Reebok's PUMP technology in different ways to protect them from their environments."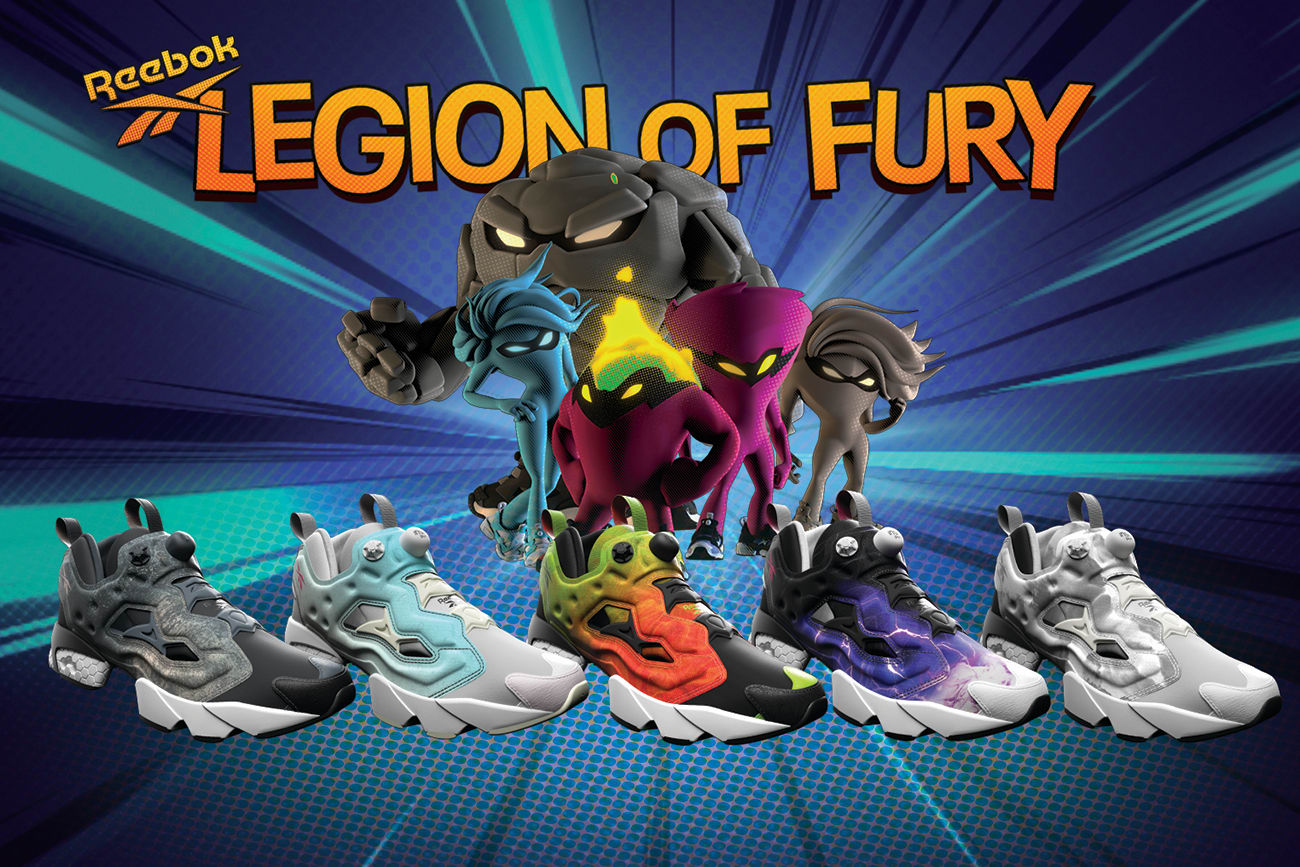 While the new team of characters is futuristic, the original characters were well ahead of their time when they were created in the 90's. The origins of the designs all started after E. Scott Morris went out to eat with designer Steven Smith and Smith had something too spicy for his liking. Morris says Smith typically uses anger to fuel his creativity, so when this moment sparked it, he started sketching a shoe. "It was like this little sketch that just got bigger and bigger and tougher and meaner and I'm like, 'Oh the shoe is so bad.'" Morris was so excited, he knew there needed to be a mascot for it. "Jal. A Pinyo was the idea after he went to that Mexican restaurant and I said, 'You've got to do a running chili pepper man.' So, I drew it on paper, not digital, and handed it over." Morris says it was fun building the character from scratch. "I always said what made him so cool is that the space in between the top of the green and the red is just black with little yellow eyes. It's like he's peering at you. I think it's cute but it's like, you can tell he's kind of mad. And I just thought, 'Oh this is so much fun.'"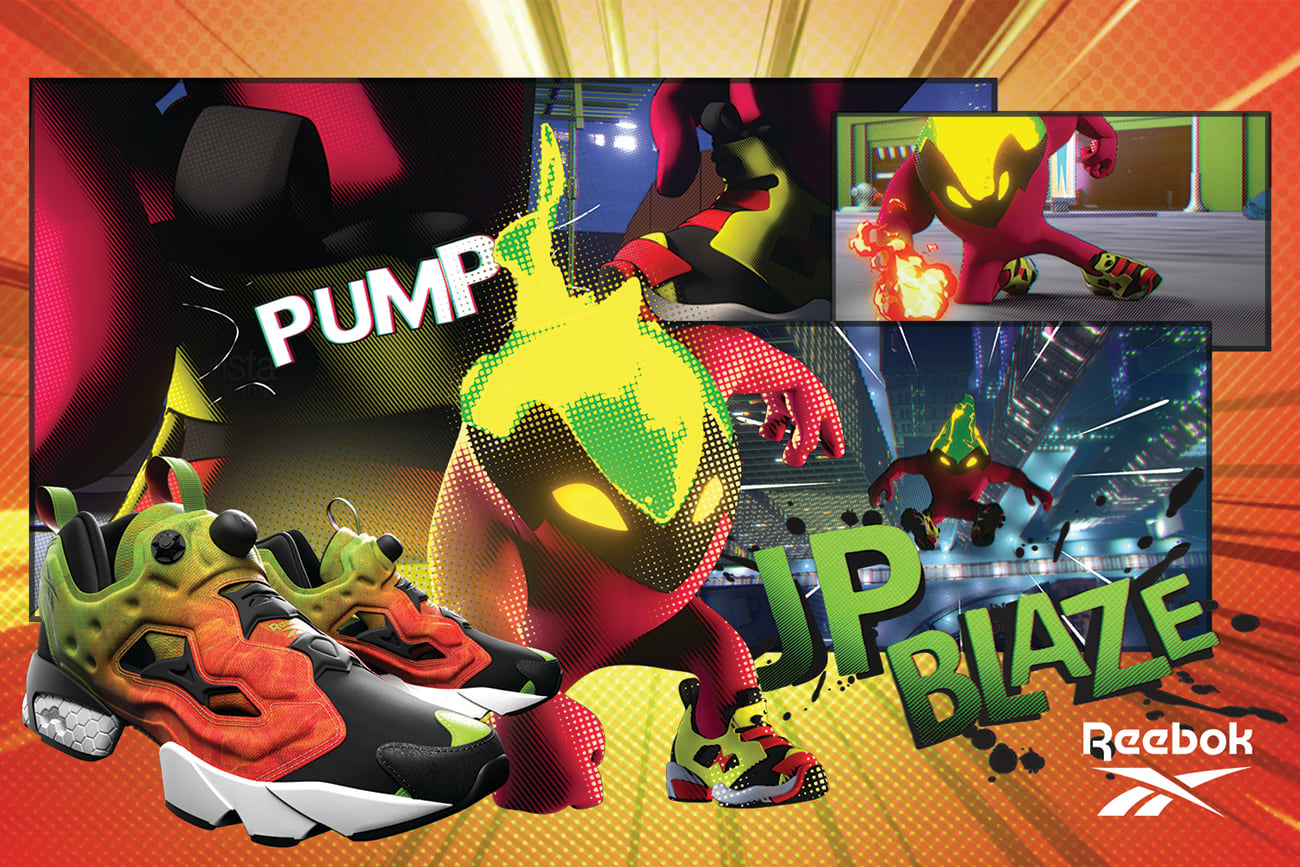 Once the Instapump Fury 2 was created, Morris knew that another mascot was needed. "I thought, 'Well gosh, we did a chili pepper so we can't do that again.' What do you have? Nothing is worse than a tornado." From there, Torre Nado was born; another character that appeared cute but had an air of crazy. "I just thought about this whirlwind: a little bit of lightning, some stuff blowing around, debris, and him kind of doing the finger. In Japan, Harajuku, you go there and you're always going to see a cute character with some crazy thing in his hand. He's got a big sword, but he's got this happy face. Then you ask yourself, 'Does that work?' It doesn't matter. The character is fun.'" Morris' designs have become symbolic with the Instapump Fury silhouette and still are to this day.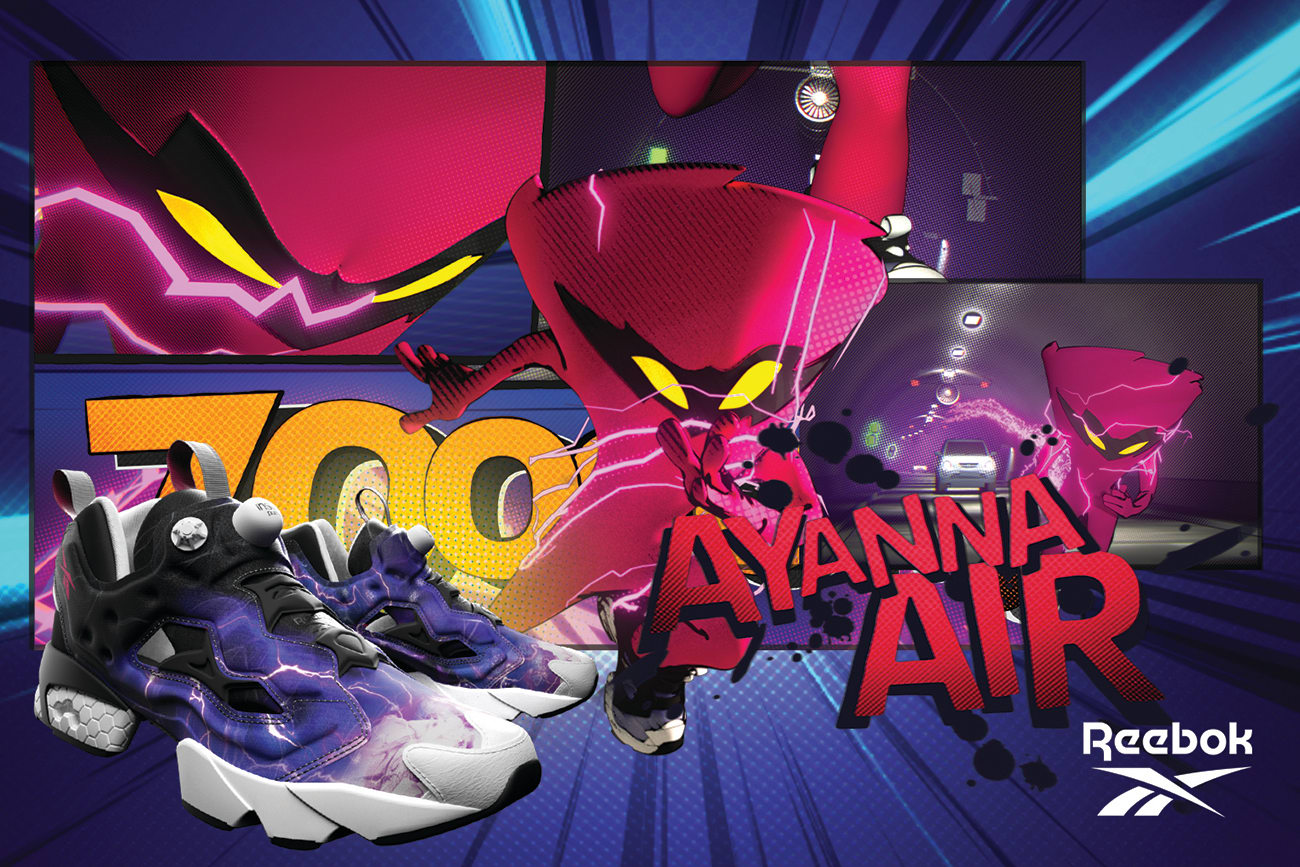 Now, both of Morris' characters have been reinvented to join the Legion of Fury. Carson says having the opportunity to work on a creative project that had such notable names attached was a special experience as a designer. "E. Scott Morris and Steven Smith are two of my favorite Reebok designers of all time. So being able to follow in their footsteps and build off of their original ideas and legacy is an honor." He says the sneaker is a legacy in itself. "The Instapump Fury was a true experiment. It was the exaggeration of visible technology and polarizing aesthetics that was way ahead of its time. It was the start of combining performance with lifestyle and has inspired today's products and consumers to take on far more futuristic aesthetics."
For Carson, building on Reebok's heritage and success with the Instapump Fury is a way to build upon the legacy. "I think the Fury franchise could be the frontrunner of not only Reebok innovation and aesthetics, but one of the frontrunners of the entire footwear industry, competing with top level brands and taking us one step closer to the future." The Instapump Fury story continues to be built on and told in new ways. The Legion of Fury characters are another step in solidifying Instapump Fury's place in sneaker history.