Healthy Hood Chicago: Where Fitness Meets Community
Five-dollar exercise classes, a community garden and accessible COVID testing are just a few ways this gym is thinking outside of the box.
In the heart of Chicago's Pilsen neighborhood, a garden grows on the side of an old church. In the summer months, the plot of land bursts with kale, lettuce, basil and tomatoes. Inside the church, a large multipurpose room is outfitted with brightly colored murals from local artists; mismatched, donated fitness equipment is placed around the perimeter. Scattered flyers on the walls reveal calls for baby supplies, old "get out the vote" initiatives and reminders to get the flu vaccine. Pilsen residents of all ages and races mill about outside, chatting easily and complimenting each other's
brightly colored kicks
as they wait for the socially distanced $5
cardio boxing class
to start.
At
Healthy Hood Chicago
, the world may be upside-down, but this fitness center is rising up to serve the needs of its community in real time.
On a Mission
Healthy Hood was born from a partnership with Youth Health Service Corps, a child-focused health initiative that aims to eradicate the five most common and fatal diseases in communities of color, explains Healthy Hood's Chief Strategy Officer Estelle Lozano. "There is a life expectancy gap in Chicago between affluent communities and poor communities," says Lozano, citing research that shows a roughly 20-year difference in how long people in the wealthiest and underserved communities live.
Lozano's cousin, Tanya Lozano, co-founder and CEO of Healthy Hood, was working with the Youth Health Service Corps program when she began thinking about what could be done to reduce this gap. Preventive care seemed like the obvious first step. At the time, Tanya was also working as fitness and dance instructor who practically lived in her signature
high-tops
and
stylish workout leggings
, so offering exercise classes first was a natural fit. The private facilities she taught at, though, were inaccessible and unaffordable to many in her community.
To address the issue, she decided to create her own gym, Healthy Hood, geared toward those in need. She recruited other instructors she'd befriended who understood and supported the initiative. The cost per class: $5. "Five dollars a class, no questions asked," Lozano explains. "Whoever you are, you can come enjoy the class without feeling like you're getting a handout. It's an exercise in dignity—everyone should have access to fitness, and it should be affordable."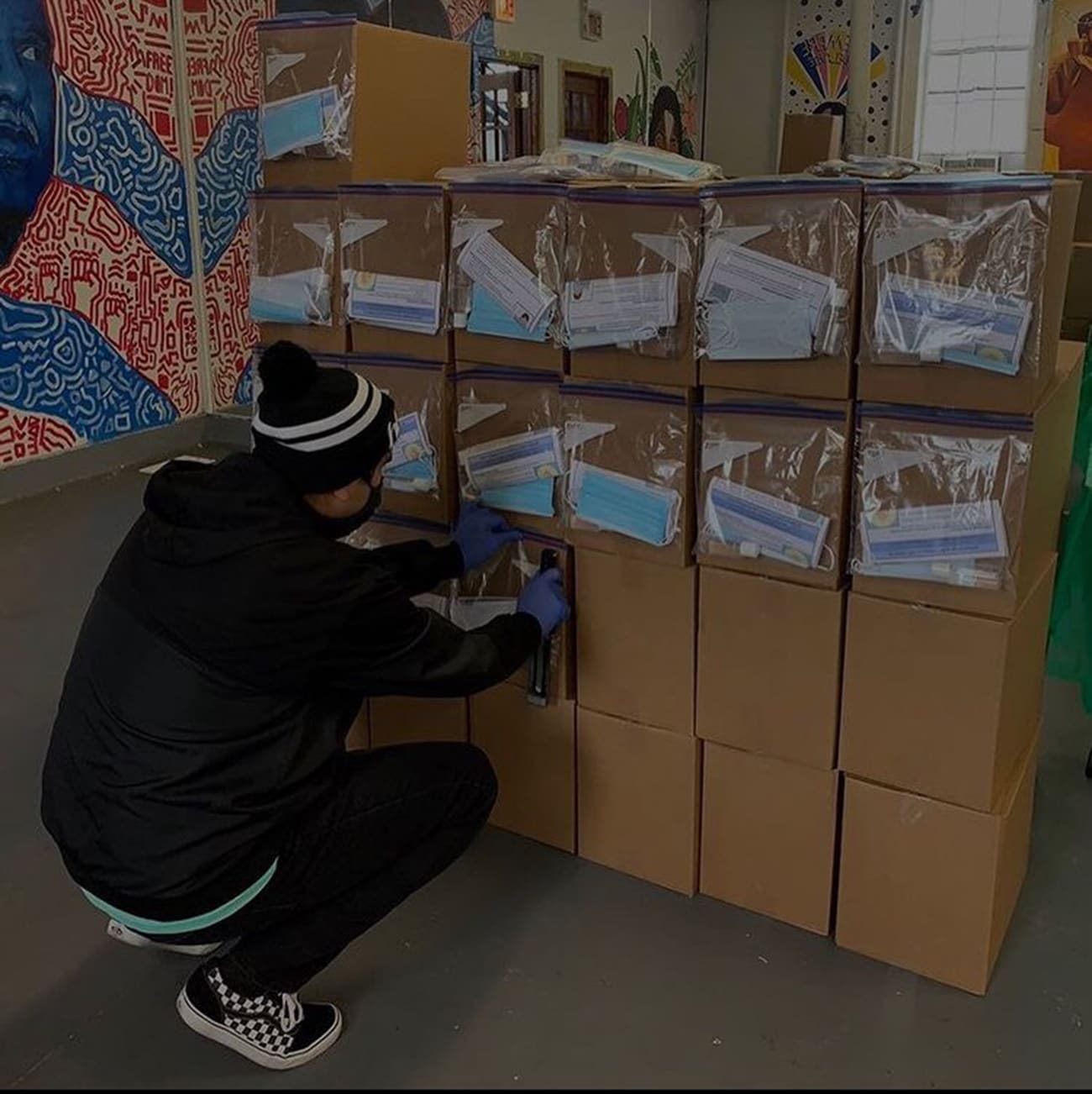 Taking the Next Steps
While its roots are in fitness, Healthy Hood currently offers much more than a place to sweat. These days, tutoring, career-building workshops, on-site COVID testing, and free hot meals are all in a week's work for the team, in addition to the regular cycle of virtual HIIT, yoga, and
dance classes
. "As we grew, we understood it's not one single thing that contributes to a lower life expectancy, it's a holistic effect and we needed a holistic approach to address it," says Lozano. "We built our program to target health, but also socioeconomic status, stress, nutrition, lifestyle changes and poor mental health."
For example, their
Get Yo' Mind Right
program focuses on mental health wellness and brings professionals to communities for free. By connecting people to group therapy or one-on-one sessions, it encourages them to open up about mental health issues. At the same time, the program makes an effort to address the social implications of identifying as someone with mental illness: The stigma disappears when more people understand what mental illness really means.
Testing, Testing
When the global pandemic emerged on the scene last spring, Healthy Hood was ready to roll. "COVID hit our communities—Black and brown working-class communities—the hardest," says Lozano. "There was a huge need in our community for life-saving resources at first, because most of our people are employed as essential workers. We were left with people risking their lives to go to work without proper protection, and people out of work who couldn't feed their families."
The club quickly created a network called We Got Us, a COVID-19 community response initiative network. They pooled their resources with other local organizations for food, groceries, hot meals and personal protective equipment, which were then passed out to the community through no-contact delivery by volunteers.
The efforts only grew from there. Healthy Hood added "Community Survival Days"—socially distanced outdoor events where community members could register to vote, fill out the census, get tested for COVID, pick up hot meals and gather groceries for the week. In addition, as Chicago protested the killing of George Floyd, Healthy Hood
encouraged community activism
and organized cleanups for Black- and brown-owned businesses in the neighborhood.
Focusing on the Positive
In the three years since its launch, Healthy Hood has made an impact across the community. "There's a bigger awareness of health now—on caring about nutrition and getting active," says Lozano. "People are paying more attention than they were 10 years ago." But as far as she's concerned, Healthy Hood is just getting started.
"We're continuing to retool and reorganize our resources," she says. "We're dedicated to helping our communities. It comes back to our mission: to lower that life expectancy gap." An event like COVID, she says, shines the light on Black and brown communities and makes Healthy Hood feel all the more relevant. "I don't know what the next couple of months will bring," she muses. "Every day is a struggle, but also a new opportunity to make things a little bit better."
Related Links:
Related Products: