How to Wear Leggings in the Winter
The do's and don'ts you need to know.
When we think about the way we used to dress, it's a reminder that the past year hasn't been all that bad. Remember the stiffness of denim? The waistbands? The zippers?! If there's one thing we've learned during the pandemic, it's that leggings are the only pants we're interested in wearing—from here on out. There's something about that stretchy second skin that makes us feel all soft, yet secure. And we're not the only ones.
In a
2018 study
, the global athleisure market size was valued at $300 billion. Experts attribute that colossal number to not only a rising interest in fitness, but also to how these pieces fit into someone's overall lifestyle. Athleisure isn't just about what you wear to the gym. The key word there is "leisure." So when it comes to lounging, perhaps no piece of exercise apparel is as versatile as the almighty legging.
Wearing leggings to workout is pretty straightforward: Just slip 'em on and go. But for the hours when we're not working up a sweat, how do we style
leggings
so that they look modern and put-together, especially in the winter?
The Perfect Work From Home Ensemble
In this current work-from-home moment, a winter leggings outfit feels like the perfect wardrobe go-to. Falling somewhere between pajamas and workwear, it strikes a nice balance between comfort and contour, without feeling sloppy. "Since most people spend the majority of their time
at home
right now, it can be very tempting to just stay in your pajamas or throw on a pair of sweats and call it a day," says personal stylist and blogger
Yael Steren
. "Even though
leggings
aren't dressy per se, wearing them can help you achieve a more proactive mindset than a pair of sweats. It's important to help differentiate your work time from your personal time."
That being said, once the pandemic dies down and some of us return to the IRL office, it will become important to re-evaluate our sartorial choices. "Although cozy, winter leggings shouldn't be worn as a business trouser," says celebrity fashion stylist and consultant
Brendan Cannon
. "It's easy to look in the mirror and think that black leggings seem professional. They're not. Save your leggings for exercise, errands and lounging."
The Do's & Don'ts of Wearing Leggings in the Winter
"Leggings have really transformed into a versatile,
comfortable
wardrobe staple over the past ten years," says Cannon. But with so much change in such a short period of time, the rules around how to wear leggings are still a little confusing. This is semi-unchartered athleisure territory.
As Cannon mentioned, you really shouldn't be wearing black leggings in an office setting (assuming your office is formal). Steren recommends avoiding black leggings beneath skirts or dresses that might be better paired with opaque tights. "Look to pair a winter leggings outfit with a cropped sweatshirt or short, chunky sweater," she says. "A shorter top and higher-rise legging will actually make you look taller and thinner."
Another tip to look more svelte in the winter months? Instead of buying cropped leggings, opt for full-length versions that will extend your leg line (and keep you extra warm when tucked into a pair of boots).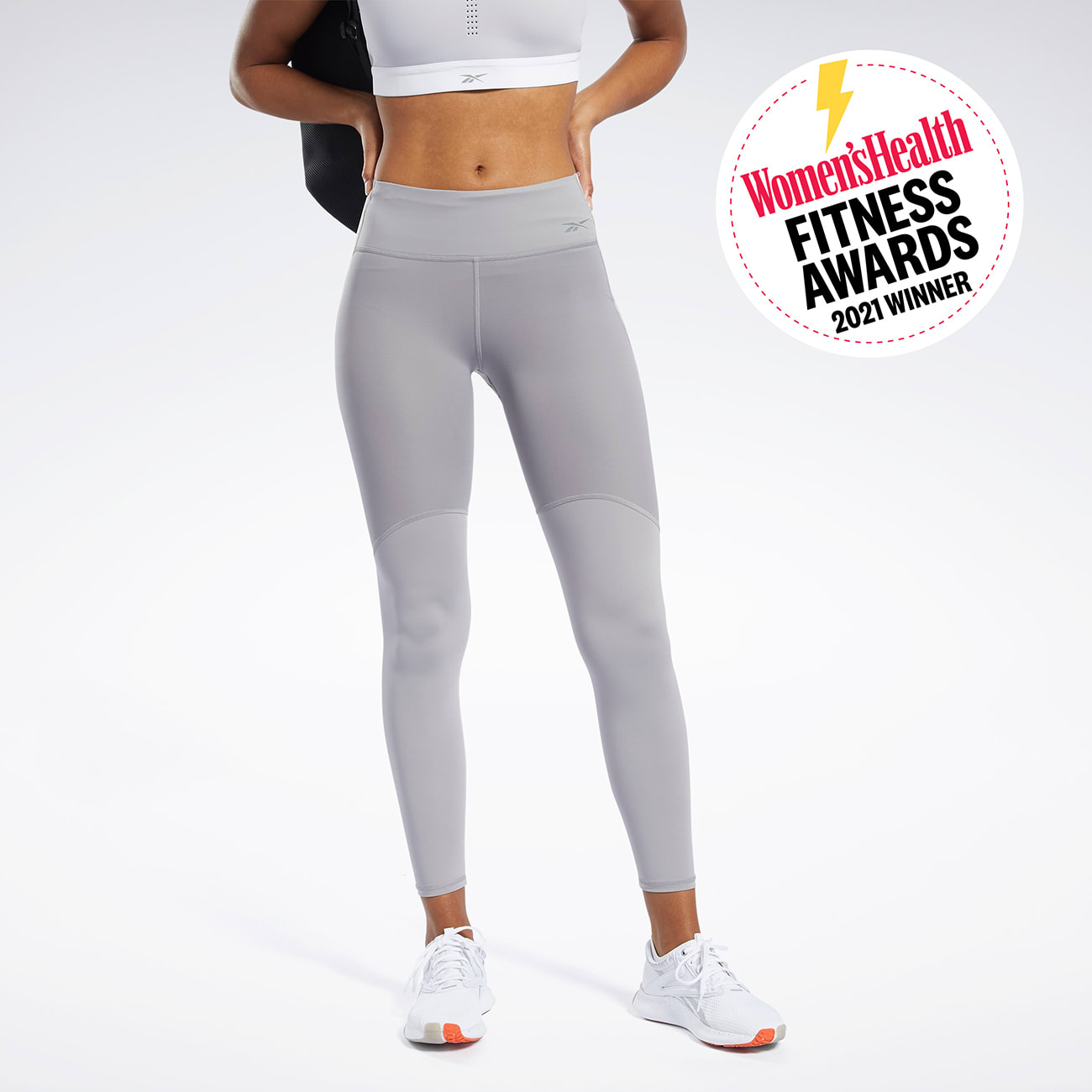 Flattery Will Get You Everywhere
Leggings are a comfy wardrobe staple that can easily elevate both your look and your performance. But, with an endless array of options, finding a pair that don't roll down or get stretched out can be a herculean task – you want a pair that moves with you. If you are hopeful that the perfect pair of leggings do in fact exist, try these
Pure Move Motion Sense™
leggings, with targeted support that adapts to your movement. The fabric firms up during those high-impact box jumps and relaxes during a calming, low-impact yoga session. Not convinced? Women's Health named them the
Best Workout Leggings
winner in their 2021 Fitness Awards. Designed to complement your shape, these leggings do the work for you, with flexible support and a wide, high-rise waist that offers full coverage and a flattering fit.
Pro tip: Remove these from the wash promptly and hang dry for long-lasting wear.
Build Your Winter Leggings Wardrobe
If your current leggings drawer is full of stretched-out fabric and pairs that don't fit anymore, it's time to do a winter clean-out. The beginning of the year is the perfect time to take stock of what you have and what you need. As a general rule of thumb, if you haven't worn a pair of leggings in the last six months, it's best to throw them away or donate to a shelter if they're in good shape.
The best place to start? Neutrals. "The perfect wardrobe contains six or seven black or neutral leggings," says Cannon. "This will give you a legging for every day of the week and still be versatile enough to pair with almost any outfit."
To build a versatile winter leggings foundation, Cannon recommends starting with a
pair
that has sweat-wicking fabric and a
high-rise waistband
that holds you in. From there, add in fun leggings in brighter colors or interesting graphics. Bonus point for any legging that can pull double-duty as a workout and lounge legging.
Especially in the winter,
styling tips
for leggings are endless. Match the color of your leggings to your winter jacket for a monochromatic look that feels very of the moment. Extend the shelf-life of your summer shorts by styling winter leggings beneath and tucking into a combat boot. We could go on and on, but we'd rather see how you style it. Show us your winter leggings outfits by tagging us @reebok on Instagram.