Defining a Creative Space with Ego Ella May
The Reebok Club C Legacy sneaker has dropped and Ego Ella May shares why finding space to be creative is the first step in defining your work as an artist.
When you listen to
Ego Ella May's
music you are transported. With the steady beat of drums and her smooth, unique vocals, you get lost in the personal stories on each track. She has her own way of bringing neo-soul and contemporary jazz music to life and bringing you along for the ride. But before her music can move us,
May
has to get herself into her own creative zone to bring the music to life first. As an award-winning artist who writes music from the heart, May has figured out that one of the most important things to have when creating is a safe space. She's also learned the importance of staying true to who you are.
The world is a chaotic place right now and finding shelter through the storm, especially as an artist, is key for creativity to flow. May says her space allows her to be herself. "It's a space full of trust! Trust that I can be myself around others, and trust that whatever needs to come out of me in order to create will come." Like May, Reebok believes having a place that provides you with a sense of calm is necessary to create your legacy. This is the inspiration behind Reebok's newly released
Club C Legacy
sneaker and is the foundation the shoe was built on. The shoe celebrates those who embrace peaceful moments and take time to recharge to protect their passions.
Read on for what May shared about safe spaces, her motivation and why staying present is her priority.
The Importance of Creating Space
We all need a place where we can breathe and reset. For South London native May, there are a few places she feels at home. "My bedroom (which is also where I record vocals on my songs), or my newly discovered roof terrace. I also like to go to an area near me called Merton Abbey Mills, which is a little village of shops, eateries, and greenery leading to Morden Hall Park." After releasing her debut album last year, she has a clear creative process. "I focus on creating a calm environment for myself daily by waking up in good time, meditating, practicing yoga, eating well and making sure I get my thoughts down onto paper (as opposed to stuck in my head)."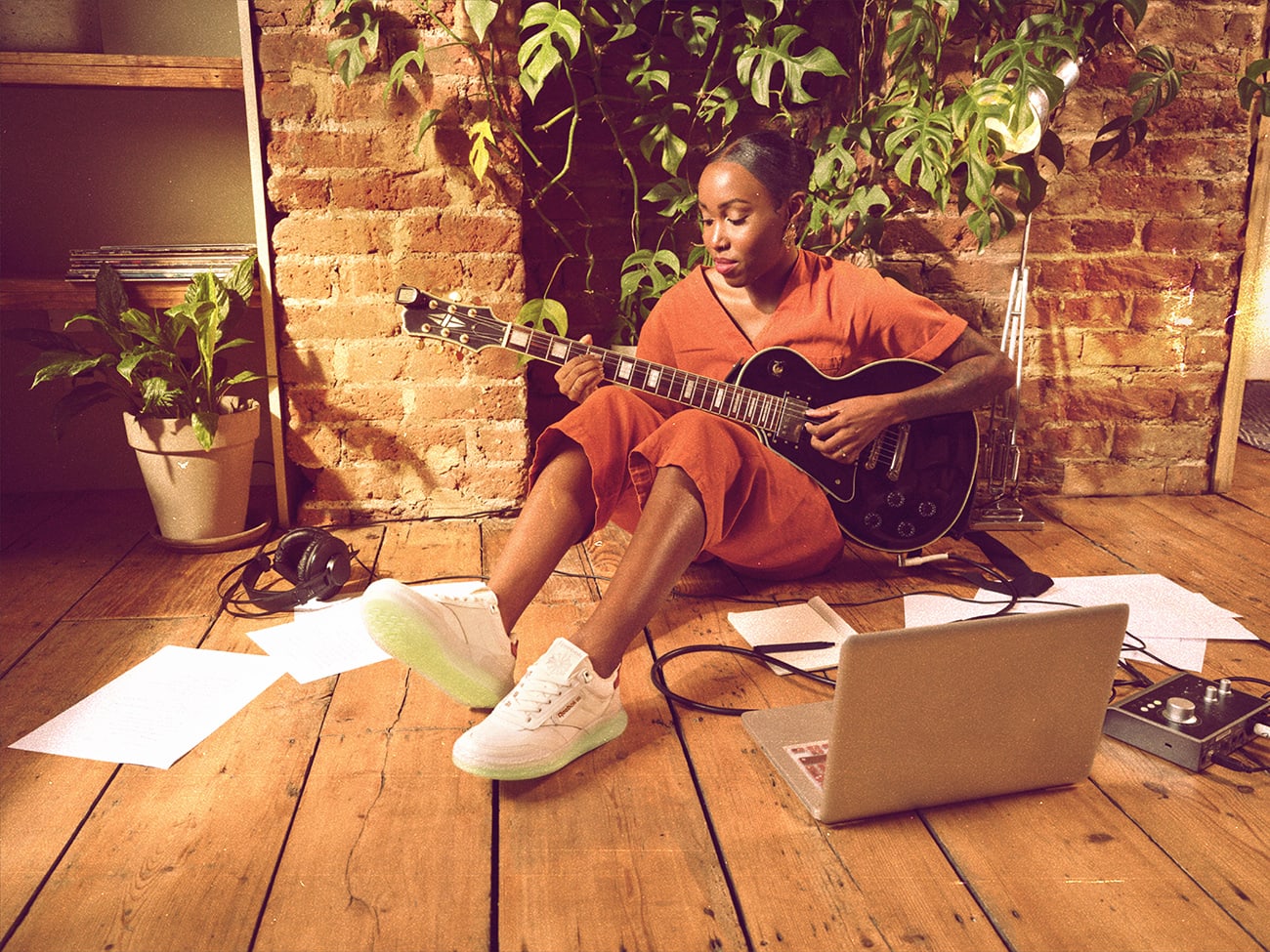 The down time is crucial for May, not just as an artist but as a person. "I recharge by spending time alone, because as an introvert, I get my energy back by being in solitude. I read, listen to music, do some yoga, have a bath, watch something light-hearted in bed, that kind of stuff." We can all relate to needing a good laugh or some "me time" at the end of a long day. While many people are spending a lot of time alone these days, it's about what you do with that time that makes it impactful. Make time for yourself in a space that makes you feel inspired.
Remember Your Worth
Finding a place you feel comfortable creating in is just one piece of the puzzle. May says you need to remember who you are. "When I am finding it stressful to create, I try to not put too much pressure on myself and remember it's not my music that makes me great, it's my willingness to keep growing and learning as a human being."
For May, part of remaining calm and channeling creativity is taking breaks. "I try to remember that my worth isn't just in being a musician, and that always helps to remind me that life is bigger than my music. I keep calm by being gentle with myself and prioritizing my mental health above everything else," she says. So, while self-care is a best practice, you really have to own it. "I like to think of self-care as being accountable for yourself. Knowing that it's your responsibility to pick yourself up when you are down and do your best with what you know now." And sometimes you have to check yourself. "Sometimes self-care is a really ugly process of being disciplined with yourself when you would rather not be, choosing friendships that edify you, saying NO, etc. It's about learning the ways to love yourself, and in turn loving others better because of that."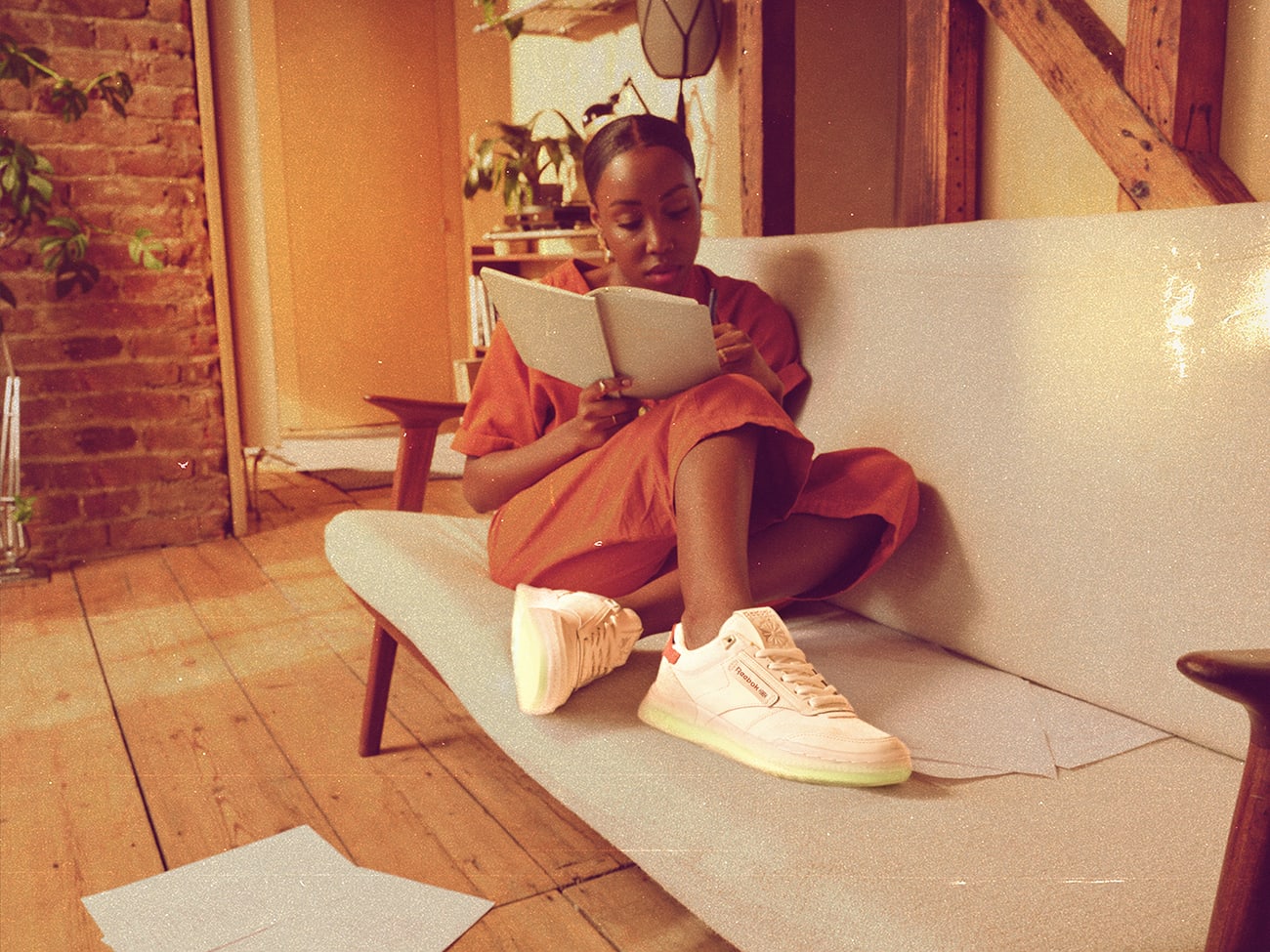 Trust What You Know
May is committed to taking inspiration from her own life experiences and sharing it with others. Vulnerability is ingrained into her musical process. She is inspired by those who bear it all through their work and that in turn inspires her music. "I live a life where I can be creative by making music, but I can also live a creative life in the sense that no two days are the same and I am able to create a life I am inspired by. What drives me is kindness and compassion and being in service to others through my creativity."
May has honed her instincts as an artist and found her safe place to work and create. While it sounds as if she's already starting an iconic legacy within the industry, she says that likely won't be something that's ever top of mind. "Creating a legacy isn't that important to me as it just creates unnecessary pressure (just speaking for myself). It's not something I really concern myself with; I just work on staying present and living in the NOW." No matter where May's career takes her, the foundation she's built will be what carries her work to new heights.