Keeping Community Close Through the Game
Basketball inspires a community: Local Hoops and the Question Mid Iverson Four tell the story.
Streetball is flooded with memorable stories of jaw-dropping dunks and crossovers that turned (or even broke) ankles, and because anyone can play, these stories live on block to block, through numerous communities. These games are a way of life: when a win crowns you king of the block and a resounding heckle can make or break your rep, basketball becomes so much more than a sport. "Basketball is therapy, it allows you to take your mind off the stressful things going on in life. It's also the perfect place to spark up a conversation or a relationship with someone you never would have otherwise," says Jon Harary, founder of
Local Hoops
. "You can go to any court and get a game going with random people; it's the perfect social activity."
Local Hoops
is on a mission to inspire and spread love of basketball through authentic stories while raising the bar for equality on and off the court. "We are building an authentic global community around the game, telling stories about people who work in basketball and connecting people across the globe who love basketball through our
Hoop Map
. We're also working with local artists to give back to the community through print programs, and recently donated laptops to the students on the Bed Stuy basketball team to better prepare them for their upcoming college careers. We are leveraging basketball as a vehicle to build equity in education."
I always dreamed of playing like Allen Iverson. Nothing brought me closer to that dream than lacing up a fresh pair of his shoes...
Always authentic and loyal to the community he came from, when it came to conquering the concrete and owning the street, there was no grittier player than Allen Iverson. His iconic ankle-breaking crossovers and league dress code-altering style changed the game. Harary reflects on how AI's one-of-a-kind game affected him. "Growing up watching AI was incredible. He had his own style of play and dictated the pace of the game. He had that legendary crossover and ability to score the ball at will and had that off-the-court swagger like no other. AI gave me a feeling of creativity – he was always uniquely himself and that's what made him special. He didn't care what you thought or what you said. He just played his game and left it all on the court."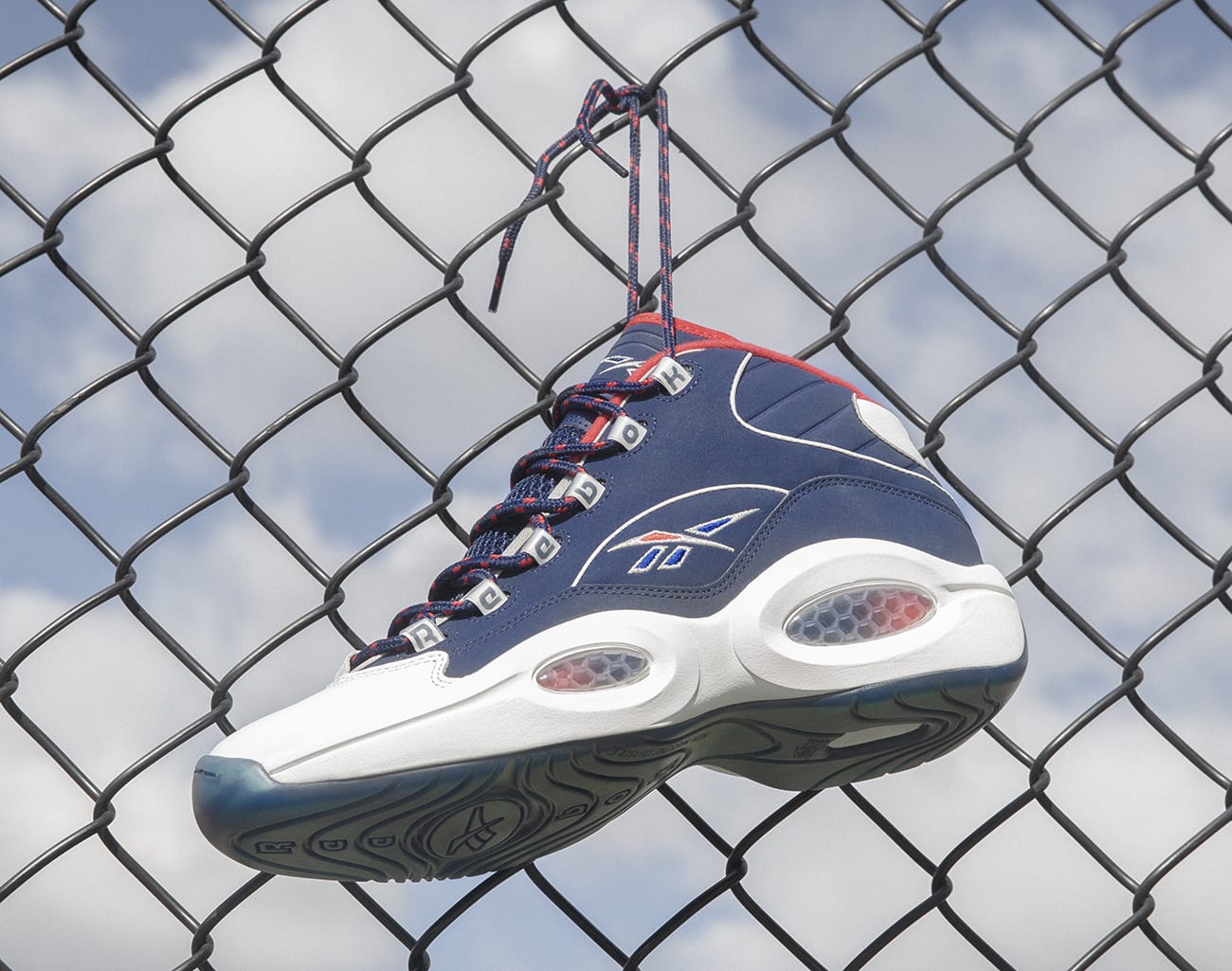 This story of basketball, the way the street would tell it, is brought to life in the new
Question Mid Iverson Four
. The iconic shoe brings all the rawness of Allen Iverson's signature street style, mixed with a clean, coveted silhouette. And the grit and style of AI lives on through those that give it everything they've got on the pavement.
Fueled by the energy of the game, the role of a fresh pair of basketball kicks spans street cred, style and even emotion. "Basketball shoes often represent emotional ties to players," Harary says. "What you wear on the court often says a lot about who your favorite players are or who you are trying to replicate your game after. I always dreamed of playing like Allen Iverson. Nothing brought me closer to that dream than lacing up a fresh pair of his shoes."
Anyone is welcome to play...Just remember, 'No blood, No foul'.
When access to play is a barrier, the community of players are the ones who build the game from the ground up. Harary weighs in on the grit of his hometown's storied courts, and the community they foster. "New York is the Mecca of streetball. When you step onto a court in NYC you can feel the energy, it is contagious. You can find pickup games every few blocks with all different levels of competition. Anyone is welcome to play, all you have to do is have 5 ready and call next. Just remember, 'No blood No foul'". And it's not just the kids that have game. "At West 4th St. (aka The Cage), you have all types of people hooping in the middle of the workday, from construction workers to businessmen in suits. Basketball in NYC is like no other place in the world."
With each lace up and pickup game the torch is passed, and a ball can change everything. "Basketball can be played by anyone, anywhere in the world. It is a universal language that is growing rapidly and brings people together from all walks of life," says Harary. "Basketball is the one sport where you can find a D1 athlete and someone that didn't make their high school team on the same court, and that's what makes it so special."
Access to games and courts gives players a shot to establish a social connection and have a wider purpose that impacts the community. Because with your community behind you, there's no limit to where your game lives.