These Skateboarders Dodge Traffic and Avoid Deadly Cliffs to Grow Their Sport in Kenya
Abuga Aroni and his fellow downhill skaters are becoming legends as they push their rides over 50 mph in the toughest corners of this African country.
Abuga Aroni went to school to study aviation technology—he wanted to be a pilot. But when he realized it wasn't the career for him, he found another way to fly: Careening downhill on a skateboard at speeds pushing 55 mph.
"You're feeling the wheels gripping the road through the board—all the little cracks, bumps, and pebbles," he says. "You're so in the moment."
But these aren't the streets of Leeds, where he learned to ride as a university student in England. This is Nairobi, Kenya, where snarling traffic on pothole-laden roads overrun with buses can turn a few miles of driving into a multi-hour trip. According to the World Health Organization, as many as 15,000 Kenyans are killed on the country's roads each year as delivery trucks make blind passes around curves, unpredictable motorcycles weave through cars and pedestrians dart across the busiest highways.
An explosion of new construction in Kenya has smoothed out some of the worst tarmac, giving 25-year-old Aroni new, slicker options for
lacing up
and riding down the country's hills. Using a skateboard about five inches longer than the traditional size that's designed purely for downhill acceleration, Aroni pushes his wheels to highway speeds, even though the new blacktop can be treacherous.
"There's one road that's a shear cliff that drops off the side. If you mess up as a skater, you're going to fall off," he says. Over the side of that drop, you'll often see overturned trucks and small motorcycles called "boda bodas" that have taken the plunge. The motor vehicles barely look out for each other, says Aroni. The idea of looking out for skaters doesn't even cross their mind—"they'll come right at you," he adds.
One bike didn't just come right at him, it ran him over. Rounding a hairpin turn, Aroni slowed, as you'd expect. But the bike that was taking the curve in the opposite direction didn't, and instead it rolled over his body as he slid to avoid a crash.
"He used my upper body as a ramp," he says. Fortunately, downhill skaters wear more than just
hoodies
and jeans. They're strapped up in knee and elbow pads, and even the type of plastic body armor seen on dirt bikers. Thanks to all that gear, Aroni survived the incident without major damage—and says the risks are still worth taking. "It's a feeling of lightness," he says. "A feeling of freedom."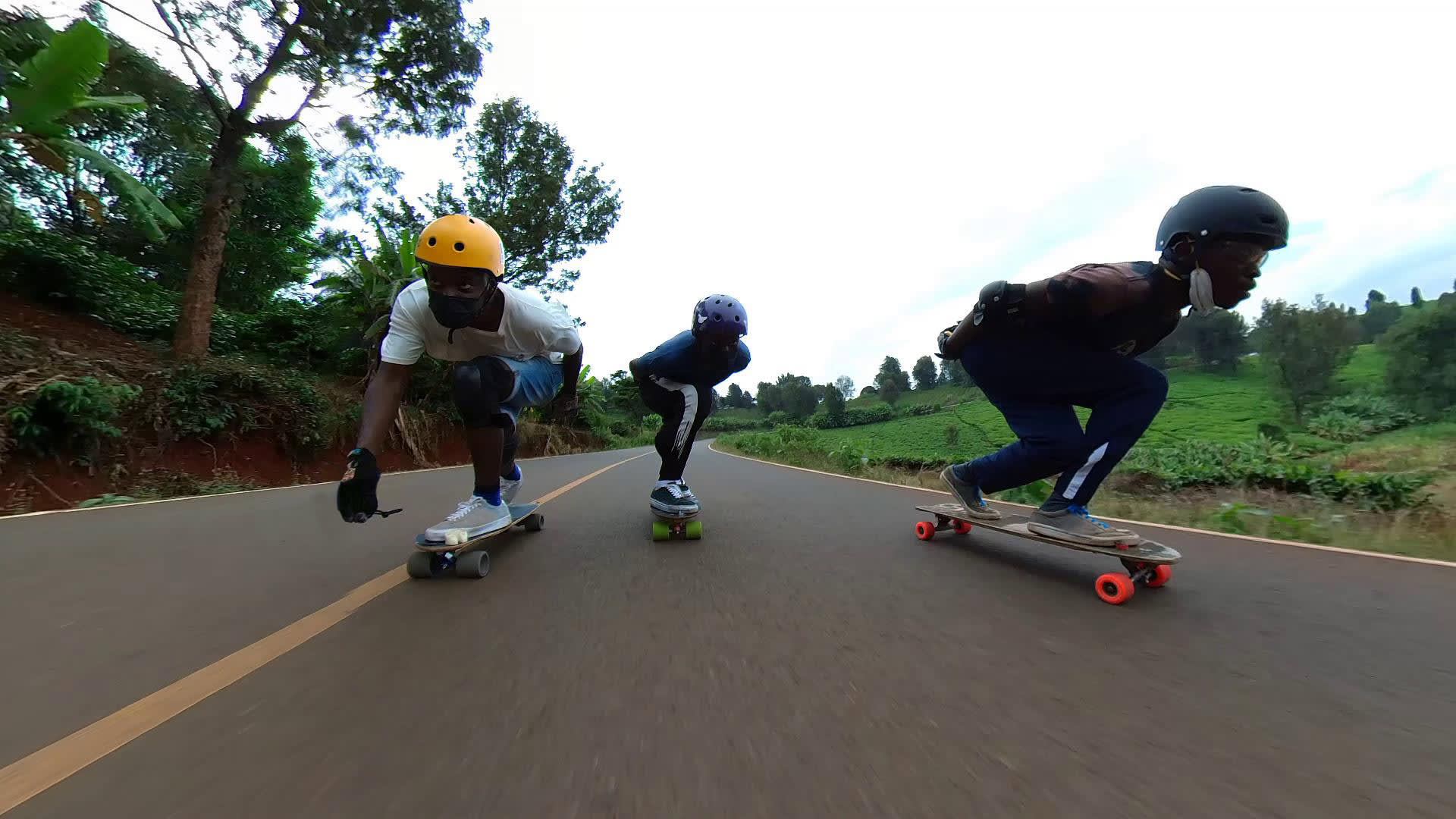 Taking the Message Home
Like so many athletes, Aroni found his passion
learning to skateboard in college, and he wanted to share it with the community he grew up with. After he graduated in England, he returned home to Kenya, where he found himself the only longboard skateboarder around. In 2017, Aroni launched Downhill254, a Facebook community and group for Kenyan longboarding. He started
taking inspiring photos of his rides
and sharing clips of himself
in graphic tees
flying down hills on Instagram, and soon enough developed a following of fellow Kenyans looking to try the sport.
"I followed him on Instagram—we met, and he showed me a few things. That's how I got into it and I love it," says Emmanuel Chayu, a fellow downhiller. The 25-year-old had already tried his hand at "normal" skateboarding, but found the high speeds of the longer board an appealing escape from the screens of his day job as a software engineer. "It's like meditating. Nothing else is going on. You're focused on not falling. You're focused on the slide. For that moment you're skating, there's nothing else."
A handful of other skaters joined, too. Aroni connected with one aspiring longboarder, Blaise, who couldn't afford a board and built his own from the scraps of an old door. "It sucks to be so passionate about something and not be able to exercise it" because of finances, Aroni says. Downhill254 has helped alleviate some of that stress, thanks to relationships Aroni has developed with skate suppliers overseas.
Building a Community
Bit by bit, Aroni has turned his passion into a career: He is now a full-time skater thanks to earnings from his YouTube channel. Moreover, "I've got a community that respects me and a hobby that challenges me and makes me look forward to tomorrow," he says. The community has made skating safer, too: Downhill254 members can spot for each other at curves to avoid the types of motorcycle accidents Nairobi is famous for.
The teamwork goes beyond road-spotting: "It's created lasting bonds and helped me gain some friends," says Chayu, who hopes the sport continues to grow. "It's more fun when you're skating with a crew." Aroni agrees, noting that longboarding has provided a unique opportunity to
use sports to connect
. Whether it's downhill skating or another sport that inspires you, the ability for technology to unite people with a common passion is powerful, he says.
"No matter where you are in the world, you can feel included and feel like you're part of something," he says. "Even if you're in the remotest part of a country, you can go on the internet and get advice from experienced people. And that's what's really important: Not only having fun, but feeling like you're part of a bigger movement."
Related Links:
Related Products: