Meet the Women Bringing Inclusive Fitness to Brooklyn
From Pilates sessions to Carnival-inspired dance classes, the latest workout trends have one thing in common: They belong to everybody.
Growing up in the East New York neighborhood of Brooklyn, Ife Obi didn't see many people eating healthy or exercising—her community just didn't have the access. It wasn't until she started working in the corporate world, overseeing marketing for a successful entertainment brand, that she realized she needed an outlet to relieve stress. That's when she turned to fitness studios as an escape from her heavy workload.
Fast forward a few years and Obi started practicing Pilates to deal with a herniated disc; she found she enjoyed the classes so much, she got certified to teach herself. "I started teaching at studios in the city thinking if people saw an image of me, as a Black woman doing Pilates, then more people would come out to where I was," she says. But instead, the reaction was quizzical: One person even told Obi she'd never seen a Black person do Pilates before.
That's when Obi decided it was time to open the doors and bring
fitness to her own community
. She launched
The Fit In
, a Pilates studio, in the Brooklyn neighborhood of Bedford-Stuyvesant, better known as Bed-Stuy.
Meanwhile, Krista Martins, also based in Brooklyn, grew up in a Caribbean household where she spent hours dancing and attending Carnival every year—her favorite event. "I'm someone with a rolling to-do list in my brain at all times, but when I'm at Carnival, it's the only time my brain shuts off," she says. "I'd always wanted to find a way to capture that feeling of total freedom and share it with the masses."
She did that in 2013 when she founded
Wukkout
, a dance-based workout set to the beat of Soca music—the Caribbean sounds you'd hear at Carnival. In her classes, Martins leads a group clad in
T-shirts
,
sports bras
, and
leggings
through upbeat choreography that promotes interaction with others. "I encourage people to move around the room and to dance with one another," Martins says.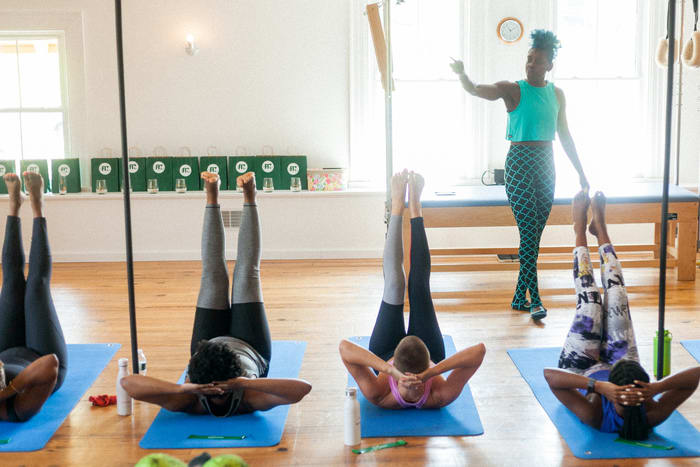 The Power of Community
Obi and Martins first met when Martins attended classes at Obi's The Fit In. Thanks to the welcoming, community-driven atmosphere at the studio, they became fast friends.
The duo found common ground in their drive to not only teach their favorite fitness modalities, but to create a space for women—particularly women of color—to be themselves and feel welcome in a workout that encourages movement of
all bodies
and fitness levels. "You are a name, you are a whole person. And that's what we focus on," Obi says. "We provide an element of support—building community, building rapport and making people who have been historically marginalized in wellness feel more comfortable focusing on their wellness."
Martins has a similar mission. "This goes back to Carnival, where everyone's in teeny tiny costumes—all body types, shapes, sizes—and everyone embraces it," she explains. "For me, I'm not really thin and I never felt like I was taken seriously in certain fitness classes because I don't have a six pack or whatnot. I never wanted anyone to feel like that in my class." Wukkout is not about burning calories or having a no-pain-no-gain mentality, she adds: "I created Wukkout to be a place where you can come as you are, be who you are, and we absolutely will work on your health."
Exercise as Preventative Medicine
Of course, it's not only community and friendship that connect Obi and Martins to each other and their students. Their workouts are also meant to help people find a workout they enjoy—a method of movement that keeps them coming back, just because it feels good.
"I want you to know that you're going to be accepted for how you look and how you're dancing and how you're moving," Martins says to her class. "We're grateful that you showed up and that you're committed to your body, working on keeping yourself healthy and moving your body every day." Martins stresses that Wukkout, or any form of fitness, is important for warding off conditions like heart disease and one of her goals is to help educate people on exercise and its health benefits.
Obi also promotes the message of gaining health through movement. Being able to chase kids, run up and down stairs and carry heavy groceries are far more meaningful than looking good in a
summer bikini
. You can also sidestep injuries and lower your risk of hypertension and diabetes—all reasons Obi is so passionate about The Fit In.
Spreading Access to Inclusive Fitness
Since opening her first studio in March 2018, Obi has launched two additional locations that feature Pilates equipment-based workouts as well as barre. She also offers on-demand classes at an affordable price. "I need to help people as much as I can because we've gone so long without help," Obi says. "It's a steep mountain to climb, but I'm trying to chip away, layer by layer and person by person, to try to help my community as much as I can."
In addition to in-person classes throughout Brooklyn and other New York City neighborhoods, Wukkout also offers on-demand classes. Martins offers teacher trainings, too, which allows her to share her Caribbean-style dances and music with others who then help expand the Wukkout community. "Initially Wukkout was born from a place of wanting to share my culture," Martins says. "Now it's about taking this community and joy and spreading it."
This summer, The Fit In and Wukkout teamed up for outdoor classes near the beach in Coney Island, Brooklyn, providing a fun Pilates- and dance-fused workout to anyone who showed up. It helped the women further their mission of creating community, promoting a healthy lifestyle, and making sure people feel welcome to move their bodies in a way they can maintain for life. Class goers, say Obi and Martins, quickly become family—and they'll continue to work hard to take care of every member.
Related Links:
Related Products: