GET FREE SHIPPING WITH REEBOK UNLOCKED

ZORD'S POWERING UP!
Go, Go, Power Rangers...It's Morphin Time!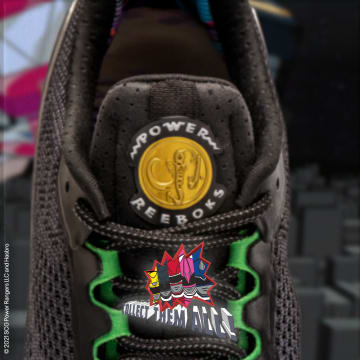 REEBOK X POWER RANGERS
Morph your workout with Zach, the clever and brave Black Ranger. Teleport into Dinozord mastodon Nano XI! Comes with awesome tusk heel clips and Zord lock lace system.
REEBOK X POWER RANGERS
It's Morphin Time at Reebok. Our newest full-family collection showcases six Power Rangers shoes: Red Ranger, Black Ranger, Blue Ranger, Pink Ranger, Yellow Ranger and Megazord. The Power Rangers shoe collection kicks off with the Zig Kinetica II Red Ranger. The Zig Kinetica II perfectly showcases the Red Ranger's impressive athleticism and power. It dons a jagged toe box, honoring the Tyrannosaurus Zord's teeth, and silver Zord accents along the midsole. 
Our Nano X1 Black Ranger, Power Rangers shoe showcases the Black Ranger's sleek look, agility and speed. Our most versatile training shoe allows a wide range of physical activities in style. The heel tab on this Power Rangers shoe references the Black Ranger's signature 90s fashion sense. The Blue Ranger's Power Rangers shoe doesn't need to be in the forefront to make an impact. The Club C Legacy Blue Ranger pays homage to the Blue Ranger's work through the translucent sole, an aspect often shrouded by the outsole. It also features a white collar and heel blocking from the Triceratops Zord's crown.
The Freestyle Hi Pink Ranger Power Rangers shoe is the first workout women-only shoe. It perfectly represents the Pink Ranger, known for individual empowerment and investing in others. This Power Rangers shoe has pink stripes along the upper to honor the Pterodactyl Zord, and a green broken heart inside the strap, alluding to the Pink Ranger's relationship with the Green Ranger. Known for its adaptability, the Club C Yellow Ranger Power Rangers shoe matches the Yellow Ranger's versatility. In addition to Zord markings, this Power Rangers shoe plays tribute to the Yellow Ranger actress Thuy Trang with a wing logo underneath the tongue. 
The final Power Rangers shoe of the collection is the Question Mid Megazord. This Power Rangers shoe features a black and yellow logo on the tongue and V-printed eyelets, emulating Zord eyes and teeth. The right shoe also dons an M for Megazord.