GET FREE SHIPPING WITH REEBOK UNLOCKED

REEBOK VS PRINCE
Endless color for the long summer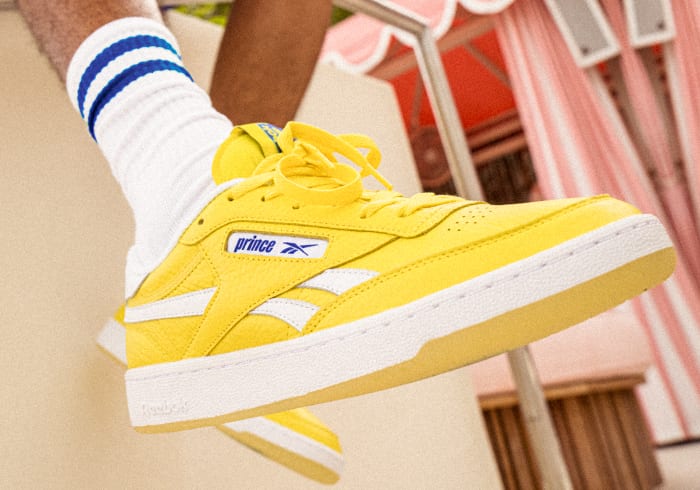 REEBOK vs PRINCE IS HERE
Inspired by sun-kissed NYC clay courts and Miami rooftops comes a limited edition drop.
Reebok vs. Prince. Endless color. Blissful energy. A range of sneakers and apparel that brings the heat to any look.
REEBOK X PRINCE SHOES
Sunny days only in this limited-edition collaboration from two of the biggest names in tennis. Lace up a hot drop of endless color in Prince tennis shoes. Inspired by NYC clay courts, pastel tones from tennis style in the 90s and sun-kissed Miami streets, these Prince shoes are all about summer style. Because wherever your Prince tennis shoes take you, sunshine and good vibes will follow. Blissed-out color and unstoppable attitude come together in a collection that takes the game anywhere you go.
Each bright style in the Prince tennis shoes collection connects back to the sporty summertime inspiration. The pair of yellow Reebok x Prince shoes references rays of sunlight bouncing off the pavement. The color of shimmering pools calmly and clearly reflecting the sky comes through in the aqua colored Prince tennis shoes. And the two pairs of white Prince shoes nod to white rooftops across the city, a crisp backdrop for vibrant details that pop.
So, take the moment in Reebok x Prince shoes and see where it leads. But no matter what, Prince tennis shoes bring the heat wherever you're headed. If you want to experience life in full color, serve up your greatest look in Prince shoes and apparel, because a full outfit can't be beat. Add some Reebok x Prince shorts, a jacket and a shirt for the real deal head to toe. Now get out, play your game, soak up the sun and step into a world of color. This is style, served.