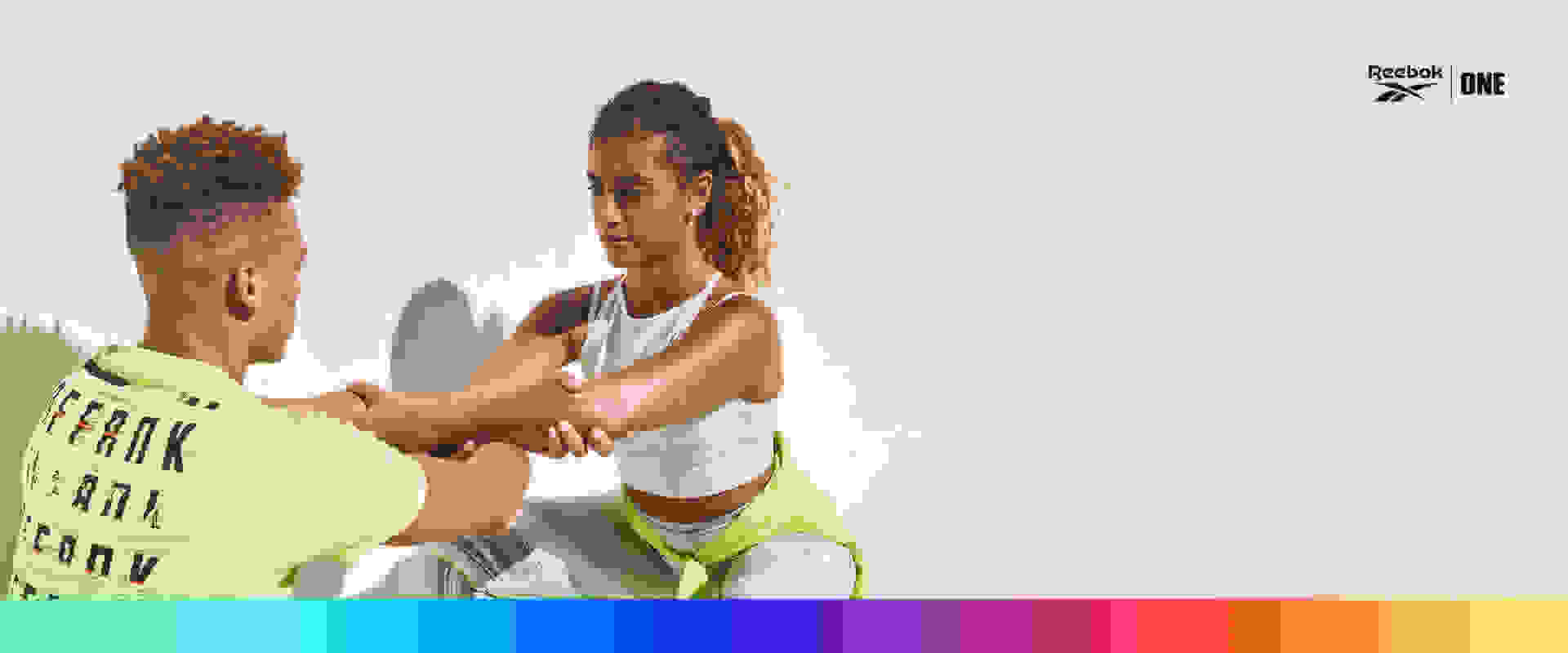 GET REWARDED
To those who never stop doing—ReebokONE, a program that empowers instructors to be their very best so they can help others to unleash their limitless potential.
UNLOCK YOUR BENEFITS
Thank you trainers for always showing up and motivating others to honor their bodies. From birthday surprises to monthly product bundles to on-demand training sessions and more, reward yourself through ReebokONE. Power up and unlock more premium status rewards with every interaction and purchase made—with us, you won't go unnoticed.
25% LIFETIME DISCOUNT
We believe instructors are the heartbeat of the fitness community. Join the ReebokONE instructor loyalty program and you'll immediately be eligible to receive your always-on 25% discount towards all purchases.
TRAINER BUNDLE
Take advantage of our quarterly trainer offer. Get a pair of shoes, a top and a bottom for $99 and be ready for the season. Visit the locker room assortment, add 3 eligible items to your cart and use code LOCKERROOM at checkout.
HOW TO EARN POINTS
- Collecting points is simple; the more you interact, the more you earn: 
- Sign-up & Profile Completion: 110 points 
- Make a purchase online or in-store: 10 points for every $1 
- Rate and review a product: 100 points 
- Always stay signed in to level up & track your progress
0 - 999 POINTS
Enjoy the following benefits, just by signing up:
- 25% ALWAYS-ON DISCOUNT
ReebokONE trainers get a lifetime discount, for the things you'll always need.
- FREE SHIPPING & RETURNS
Don't hesitate to try something new. With free shipping and streamlined returns, if you're not feeling it, we've got you.
- BIRTHDAY GIFT
It's your special day and we want to help you celebrate in style with a birthday gift.
- VIP CUSTOMER SERVICE
No one wants to talk to a bot—or listen to endless hold music. Connect to a VIP customer phone line to get you what you need, quick. Call toll free 855-970-1743.      
1,000 - 2,999 POINTS
You've pushed ahead and built on your success. Keep all your initial rewards while unlocking a new, more premium status.
- CAREER DEVELOPMENT
We believe instructors have the power to change lives—so we want you to never stop moving forward. Let's up your game with discounts on internationally recognized training certifications.
- SURPRISE REWARDS
Adding some shine to that weekly grind. Enjoy rewards that appear at unexpected times.
- EARLY ACCESS TO PRODUCTS
Get your hands on the most sought after goods online before anyone else.
3,000 - 5,999 POINTS
You've proven to have serious skill—Premier status shows respect for what you've done. 
- QUARTERLY WORKSHOPS
These 90-minute sessions connect you with other instructors and give program-specific training with the latest research.
- TRAINING & WELLNESS PROGRAMS
Greatness doesn't come from sameness. Access exclusive products, wellness guides and experiences to keep you driving forward as a leader in the wellness lifestyle.
- PARTNER REWARDS  
Staying fit and healthy has never been easier with access to free training plans and workout videos from our leading partners.
6,000+ POINTS
The ultimate personal best. All your hard work grants you rewards that many pursue but only a few can achieve.
- HYPE PRODUCT ACCESS 
Get your hands on limited edition Reebok apparel and footwear.
- TRAINING ON-DEMAND 
Don't settle. With one month free access to 600+ workouts are at your fingertips, updated weekly—from cardio, to core conditioning to HIIT and more.   
- FREE FITNESS CERTIFICATIONS  
Find your greatness. Change Lives. Create a fitter planet and become a group fitness instructor.
- FREE PERSONALIZATION 
Represent who you are, your PRs or your team by adding names, numbers, and more on selected footwear and apparel.
- ALL-ACCESS PASS 
Whether it's a pop-up, a concert series, an exclusive product-release or partner event, you're always on the list.