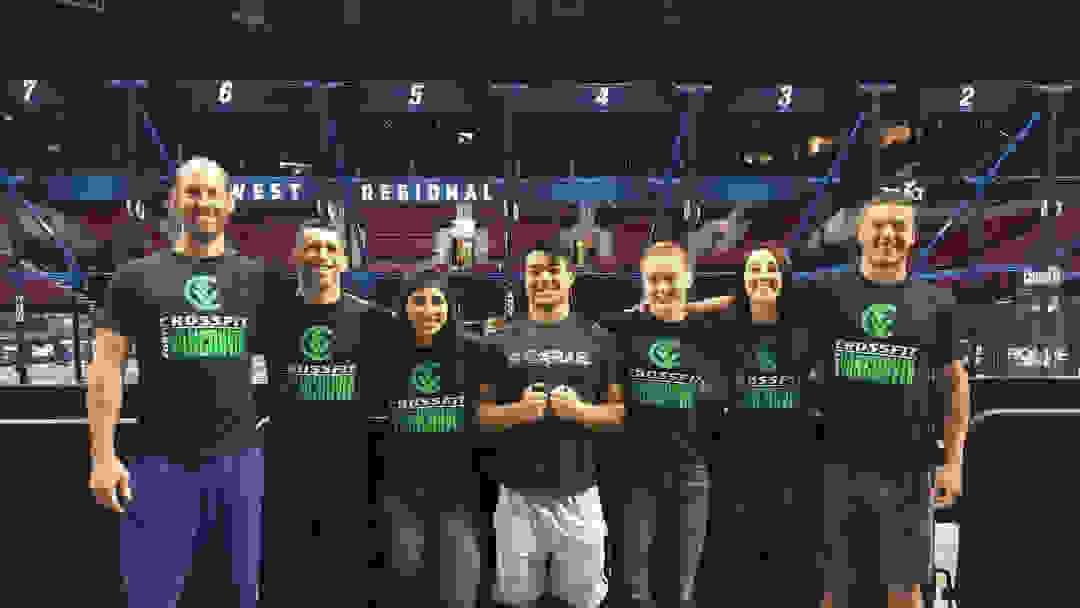 The CrossFit Box That Everyone in the Community Should be Able to Name
Can you name a CrossFit box heading to the Games for the eighth consecutive year?
Those of us in the CrossFit community can easily list athletes who have been around since day one – Chris Spealler, Becca Voigt, Ben Smith, Jason Khalipa. And if asked for names of past CrossFit Games champions, we can rattle of the likes of Annie Thorisdottir, Sam Briggs, and Froning, Froning, Froning, Froning at the drop of a coin.
Iconic venues in the sport? The Ranch in Aromas and the original box in Santa Cruz come to mind without a second thought.
There is a name, however, that has been making history for the past eight years that doesn't seem to make its way into our minds or the conversation as often as these others.
But it should.
For eight consecutive years, CrossFit Fort Vancouver has qualified for the CrossFit Games, and they don't plan on going a summer without a trip to Carson, California any time soon.
CrossFit Fort Vancouver lies tucked away among a maze of blue warehouses. If it weren't for athletes piling out of the bay door on a 400m run or a few massive tires leaning up against the side of the sheet metal paneling, most would miss the place altogether.
It's a grassroots, get-down-to-business, genuine representation of CrossFit in its purest form.
Warning: don't let the secluded nature of this box fool you.
The gym is home to a conglomerate of athletes who made a serious splash at this year's West Regional.
CrossFit Fort Vancouver boasted a total of 14 athletes who competed in the competition this year alone. Add up those from the seven years prior and you're totaling over 30.
With so many years of consecutive dominance, why isn't this box top of mind within the community?
It's because you'll only find these stats if you happen to be digging through the Games leaderboard archives. You won't catch anyone from CrossFit Fort Vancouver openly boasting about them.
Why?
Because through the years, they've continued to stress that community comes at the forefront. Competition success is just a side effect of that.
"The gym is our extended family," says box owner Adam Neiffer. "The community is there to support one another and be just a little bit better than they were before. That's always remained the main focus. "
That was particularly evident in May when their team took the Regionals competition floor at Portland's Moda Center. The sheer number of individuals who turned up to show their support for their box's athletes was a clear representation of the genuineness
With that in tow, it shouldn't come as a surprise that family is at the foundation. Neiffer and his wife Lauren work hand in hand to make CrossFit Fort Vancouver the best box it can possibly be for their athletes.
Since 2009, Adam has run the show on the floor while Lauren has led behind the scenes to make the gym run smoothly year-round. Under their leadership, CrossFit Fort Vancouver has flourished into a community of more than 200 athletes.
Yet, in this family of 200 hidden 15 minutes north of Portland, one has to wonder what kind of magic it takes for a gym to become so darn fit.
The athletes on this year's team don't swear by a secret program. They don't all follow a miracle diet and they aren't a super-team of former individual Games athletes.
So what gives?
"It goes right back to that community," Neiffer insists, who has competed on the team for all eight years. "Those of us competing in the arena are just a reflection of the hard work that everyone in our gym puts in on a daily basis. We are inspired by seeing people come in every day and do their best simply because they can and they want to get better."
"When we're competing, we're competing for all of them."
So this year, when one of CrossFit Fort Vancouver's strongest athletes, Bryan Weed, went down with a back injury just days before Regionals, the whole gym rallied around the team as the tallest athlete on the floor, Jeremiah Doyle, seamlessly stepped in and gave his all.
Despite having little time to prepare and adjust their strategy, the depth and caliber of athletes at CrossFit Fort Vancouver shined through as the team crushed workout after workout on their way to punching their ticket to Carson with a third place finish.
"Lots of things have changed over the years, but at the same time, it's amazing how much has remained the same," Neiffer reflects.
And hey, why change what's already working?