Learn Agility Drills From the Fastest Feet in the World
It takes Luis Badillo Jr. just four seconds to run through a 15-foot agility ladder, his legs whirring beneath him in a jaw-dropping display of speed and athleticism.
Known to have the fastest feet in the world, the speedster has famously coached NBA, NFL and soccer stars to improve their speed and agility, and now he's sharing his best coaching tips with you.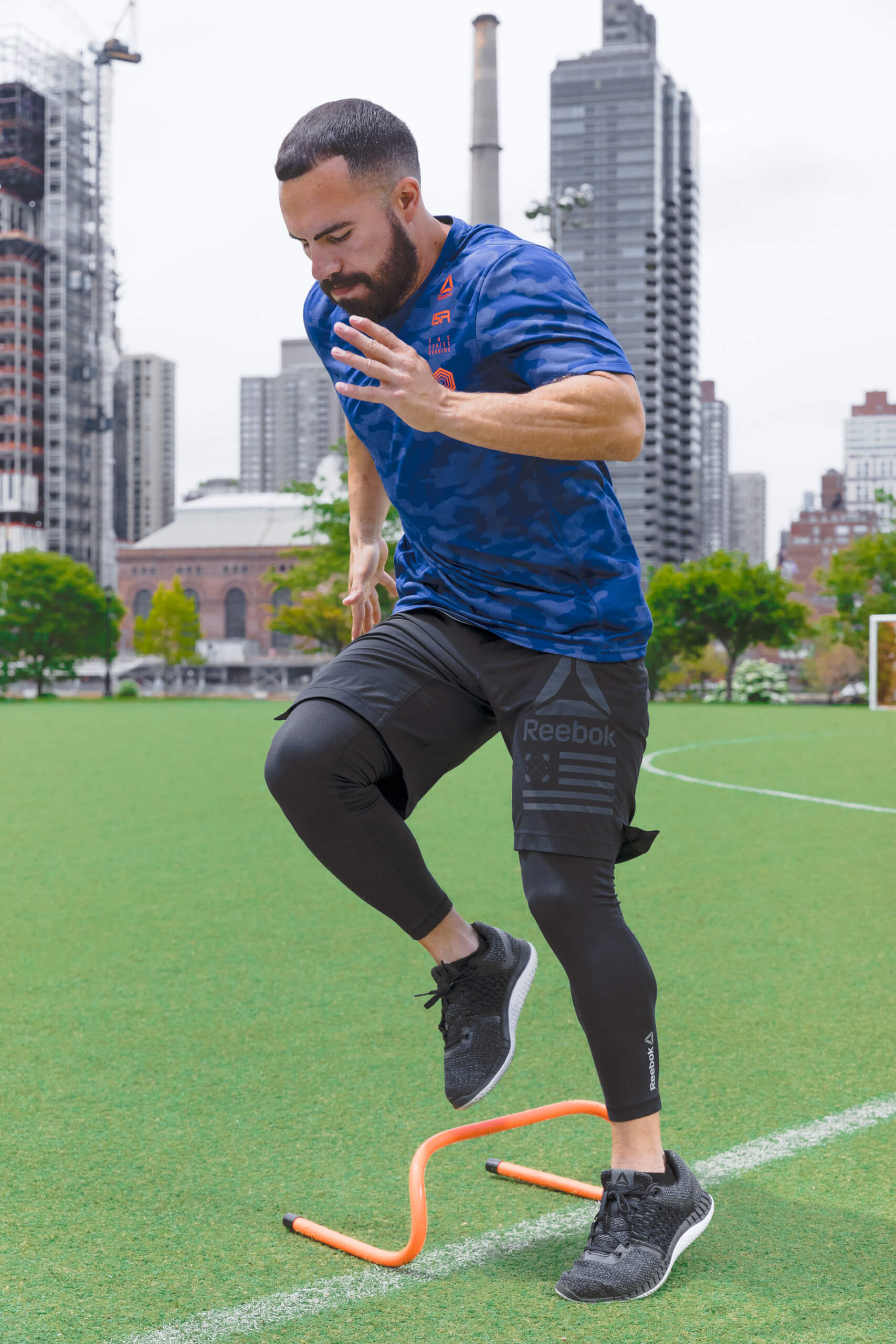 Badillo hasn't always been a speed demon. In fact, he started doing speed and agility drills to get in shape. Bored with the gym, the Miami-based athlete moved his workouts to local parks, using his environment to dictate agility courses.
"The gym is everywhere," he says. "I got bored with the traditional trappings of a normal gym, where I couldn't express my creativity, so I took my workout outside."
While Badillo awes his 324,000 Instagram followers with his own speed achievements, it is coaching others that has continually driven him to improve his own skills.
"When I get a call or email or text from my athlete telling me that they beat a defender, or they made a move that they couldn't do before I started coaching them, that's why I do this," he says.
"Helping athletes get better is ultimately what I am trying to do. I am trying to help people become quicker, more agile and build a close relationship with footwork skills."
For these drills, use a lightweight running shoe like Print Run Ultraknit, that are light enough for speed but still have the grip required to change direction quickly.
"Lightweight shoes are important so I can move quickly and they don't weigh me down," says Badillo. "I also need traction for stability and versatility to perform all different types of drills."
Test out your own speed with these exclusive coaching tips from Badillo:
1. Ladder Drill
The ladder drill helps you achieve coordination and rhythm.
To perform the drill, step both feet inside the ladder and then both feet outside the ladder. Repeat in the next box, moving through the boxes with two feet in and then two feet out until you complete the entire ladder.
"Don't step out too wide because it will slow you down," says Badillo. "Instead, keep your feet as close to shoulder width as possible."
Additionally, staying on the balls of your feet and focusing your energy on your feet and hands will help you speed through the ladder.
2. Low Hurdle Drill
The low hurdle drill helps increase explosiveness off the ground. Stand on one side and step over the hurdle one foot at a time, going back and forth as fast as you can.
"Using your hands is really important in the low hurdle drill," says Badillo. "You really have to pump them to get off the ground as quickly as possible."
Most hurdles are 6 to 9 inches tall – the higher the hurdle, the more you have to pump your arms.
Additionally, keep your feet as low to the hurdle as possible so you don't waste time with high steps.
3. Agility Combination Drill
This drill puts it all together. Use a ladder, cones and hurdle to build a longer and more complicated agility drill that should take 15-20 seconds to complete.
No matter how you set up the course, stay on the balls of your feet and take short, small steps.
"This is for more advanced athletes, after you've mastered the previous drills," says Badillo. "This drill focuses on forcing the athlete to execute as quickly as possible in any direction – forward, backward and side-to-side."
This drill works just about everything, including explosiveness, endurance, rhythm coordination and reaction. When you practice it enough, you'll be able to react intuitively rather than think through every step as you move through the course.
Adding these drills to your fitness routine will help you become a more agile, faster and versatile athlete.
Did you put Badillo's coaching tips to the test? Let us know by tweeting @Reebok!