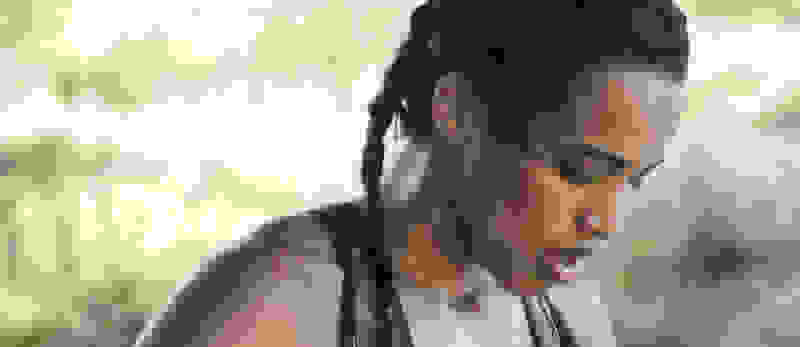 The Unexpected Way I Amped Up My Fitness Routine—That Had Nothing To Do With The Gym!
When working out with a trainer started to feel like second nature, one writer kicked things up a notch, without ever leaving the house.
I'm someone who started her true fitness journey about nine months ago. While I always "worked out" occasionally, I wasn't making it a habit in my daily life. To be honest, I had really fallen off the fit-wagon while everyone around me was killing the gym game. But last year, I bit the bullet and got a trainer, and have been working myself back into a routine ever since.
Everything was great for the first six months, but once January hit, I fell into a common problem: a gym slump (shout out to New England winters). Getting up when it's still dark and leaving my nice warm bed to face the freeze sounded anything but appealing. So, I decided to test out a workout regimen at home.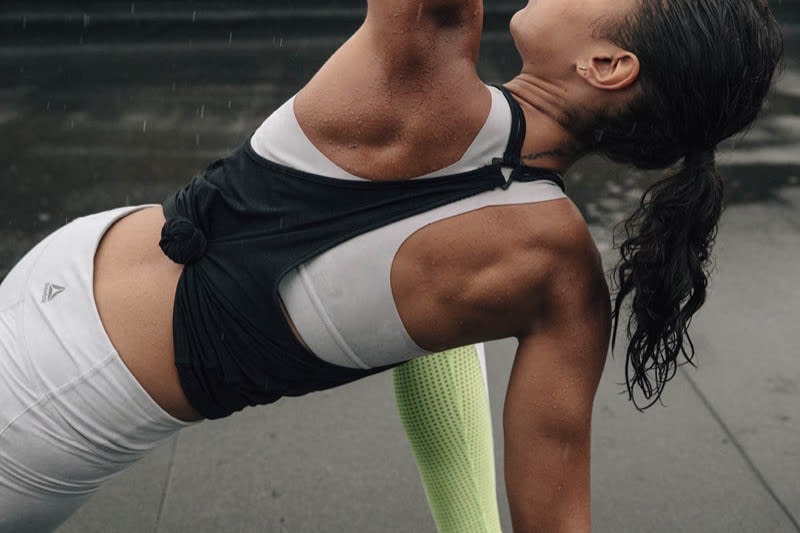 Now, there are so many ways to workout at home. You can completely do your own thing, there are programs on your TV, online, social media or you can use an app on your phone. In my case, I tested out the at-home workout phone app
Aaptiv
. It's an audio-only app that has multiple types of workouts with all different types of trainers.
One perk I anticipated was being able to sleep in a bit more (winter is hibernation time, after all). What I hadn't prepared for, though, was feeling like working out at home really has its own set of benefits, and the gym isn't always the be all, end all. After a month of trying it, here's what I learned—and what I might do differently next time.
It's a confidence boost!
Confession time: most of what kept me from the gym in the first place were the nerves that came with working out in front of other people. Even though I've gotten more comfortable with the gym recently, working out at home was such a nice change of pace. I didn't have to worry about anyone seeing me sweat (even though I'm usually pretty damn proud when I do), I can take my time when I want, and I wasn't embarrassed or second guessing that I may not be doing something completely perfect.
Working out at home actually made me more confident with myself and now that the nice weather is on its way, I'm less afraid to step inside a gym and just do my thing.
Pro tip: If camaraderie at the gym is what you love, invite a friend or significant other to do an at-home workout with you on a weekend or challenge them to do it on the same day. Make it something fun to do together. There's a way to make this work even if you're a people person.
I focused on my form
Without so many people around me like at a gym, I was able to really focus on the way I was working out and my form. As I mentioned, Aaptiv is audio-only, which allows you to really focus on what you're doing and not worry about looking up at someone all the time mid-move. It's also not as hard to follow as I thought it would be. I paid strong attention to the music selections assigned to the workouts so that I knew what I'd be getting into.
Pro tip: I had been working with a trainer before, so I knew the proper form for most movements. If you aren't sure definitely look it up beforehand so you don't get hurt.
My schedule didn't stress me out anymore
I have a long commute—and like you, a busy life—so my schedule and routine are my best friends. So leaving my workouts up to me without a trainer making me accountable made me nervous in the beginning. But Aaptiv has an accountability tracker in it that gives you that added boost when you are on a good streak. Not to mention I told my friends and co-workers all about my workouts so the more it comes up in conversation, the more accountable you'll feel. Just knowing it's all on you gives you the motivation to keep going.
Now I may not have worked out every morning or every night but I made sure to at least get a workout in at some point at least four times a week. This kept me on a less strict routine, but it still worked. My days became more about needing and looking forward to that jolt of endorphins and energy and less about being worried about making it to the gym on time and leaving in a hurry to catch my train to work. I gained independence in the process.
Pro tip: If your schedule is unpredictable and busy, Aaptiv has a variety of workouts most within the 10-20 minute range which is totally doable. And trust me; shorter workouts can be just as effective. You don't have to go all out to see and feel results.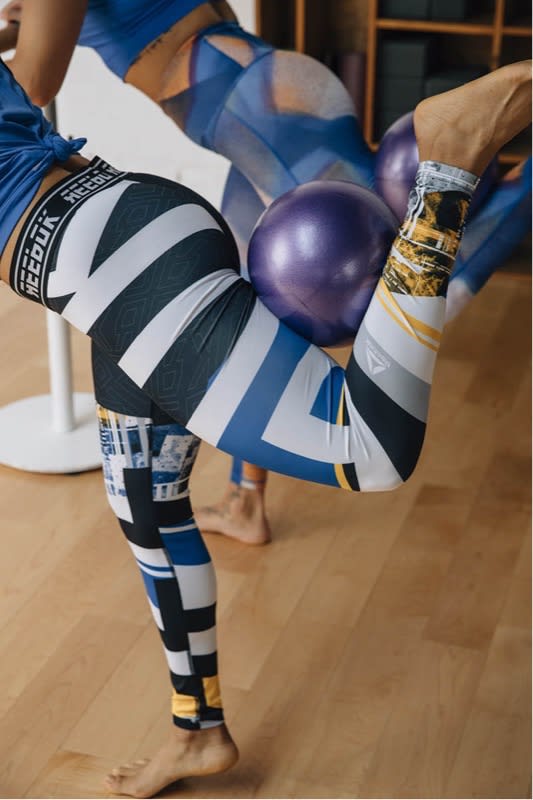 Your living room is really all you need
No more waiting for a machine to be free or trying to "work in" with someone for me. My living room—and at one point a hotel room while I was on vacation—became my own space. I have minimal equipment, a yoga mat, and a selection of free weights and bands, and that's all I use. Occasionally I'll lean against a chair or a couch depending on the move (Aaptiv will tell you what's required ahead of time) but for the most part I'm set with what I have.
Pro tip: Test out the space to make sure it will work for your needs. I had to rearrange some furniture so just work on finding a space that's big enough for what you want to do.
Switching up your workouts is key
While working out at home clearly has its benefits, it can get a little stale and boring if you let it. I highly recommend changing up your workouts on the regular because it you don't your motivation will definitely diminish.
You should also trust your gut. If you do decide to use an app like Aaptiv, there are usually beginner, intermediate and advanced options.
Pro tip: Don't be a hero, because they are not playing around with these levels. I'd start at a more basic level than you think you are and go from there that way you can work towards your next level. Take control and set goals for yourself so that you can keep advancing and moving forward.
Reebok Unlocked is a loyalty program for those who never stop doing. Learn more and sign up
here
.