A Day In My (Sustainable) Life
The workout, sneakers and healthy food that get me going.
I care deeply about helping people slow down, simplify, and create space to access more joy and fulfillment in their daily lives. As the creator behind
Om & The City
, I write and
create video content
about intentional living. I am a certified mindfulness, meditation, and yoga teacher, which led me to the path I am on today. Naturally, sustainability is a big part of mindfulness with understanding how our actions (or inactions) affect our planet and its people.
Aside from Om & The City, I am also the founder of two passion projects -
The Homebodies
, a low-waste shop featuring small-batch makers, and
Trubelly
, a consciously curated food app soon-to-launch in Austin. When I'm not running three brands, I enjoy taking care of my plants, cooking Korean food and running around the lake with my two rescue pups. Needless to say, I like to stay active all while sporting comfortable, sustainable sneakers that take me where I want to go.
6:00 am: I wake up, drink water, and meditate to get centered for the day ahead. I ask myself, "what do I need today?" and do my best to listen to the answers. How I feel determines what kind of movement I'd like to do that day. Whether it's a HIIT workout, juicy yoga flow, or a spin class, I treasure my quiet mornings before my dogs and husband wake up.
7:00am: After my workout, I get cleaned up, which is usually just me switching out one activewear look for another, if I'm being honest. I make my morning matcha at home (absolutely clutch) and run through my calendar and to-do list for the day while I sip my matcha slowly.
8:00am:
I grab my
Reebok Forever Floatride GROW shoes
that are made with at least 50% plant-based materials (major plus) and take the dogs out for a walk or to the dog park. As most dog parents will know, tuckered out dogs makes for a more productive day.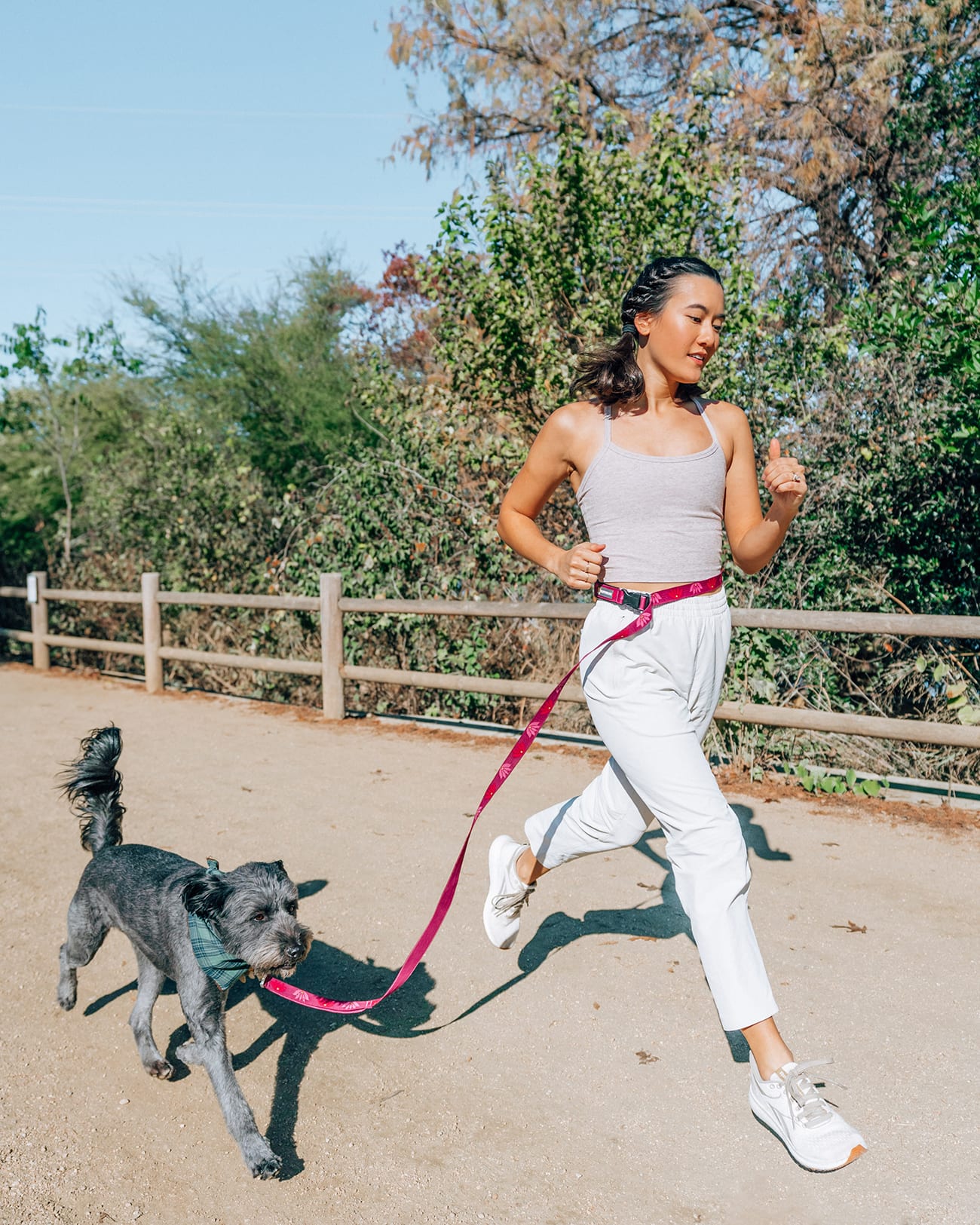 9:00am:
I am back home at my desk ready to work. I have themed worked days, so depending on the day I'm either solely batch-responding to emails, joining meetings with my team, and doing more admin tasks or I'm writing, filming, and editing content for my blog and YouTube channel. Currently, I am in the midst of leading the
Calm & Collected New Year challenge
to encourage my community to reflect on 2020 and find a sense of purpose and direction heading into 2021.
Noon:
I am the most productive and refreshed when I take lots of breaks. In the afternoon after I make lunch at home, I like to meet up with a friend at a coffee shop for some co-working outside. I lace up my
Forever Floatride GROW shoes
, grab my laptop, and scooter to a local spot in my neighborhood. With our central location and sunny ATX weather, we rarely drive our car, so I am lucky to be able to commute via bike or electric scooter to most places I frequent. It helps us save money while also reducing our carbon footprint – win-win.
3pm: This is my favorite time of day. We call it "disco hour", because the sun hits my disco ball planter in my office and it makes the entire room light up and feels so magical. I use that to fuel me through the rest of my day. At this point, I'm usually switching gears to The Homebodies, and fulfilling orders and shipping orders out of my guest room (realities of a bootstrapped online shop!) Everything we use to package our goods is plastic-free and is made of recycled materials that can be either backyard composted or recycled. As a baby biz, we're very proud of the attention and care that went into finding our sustainable packaging.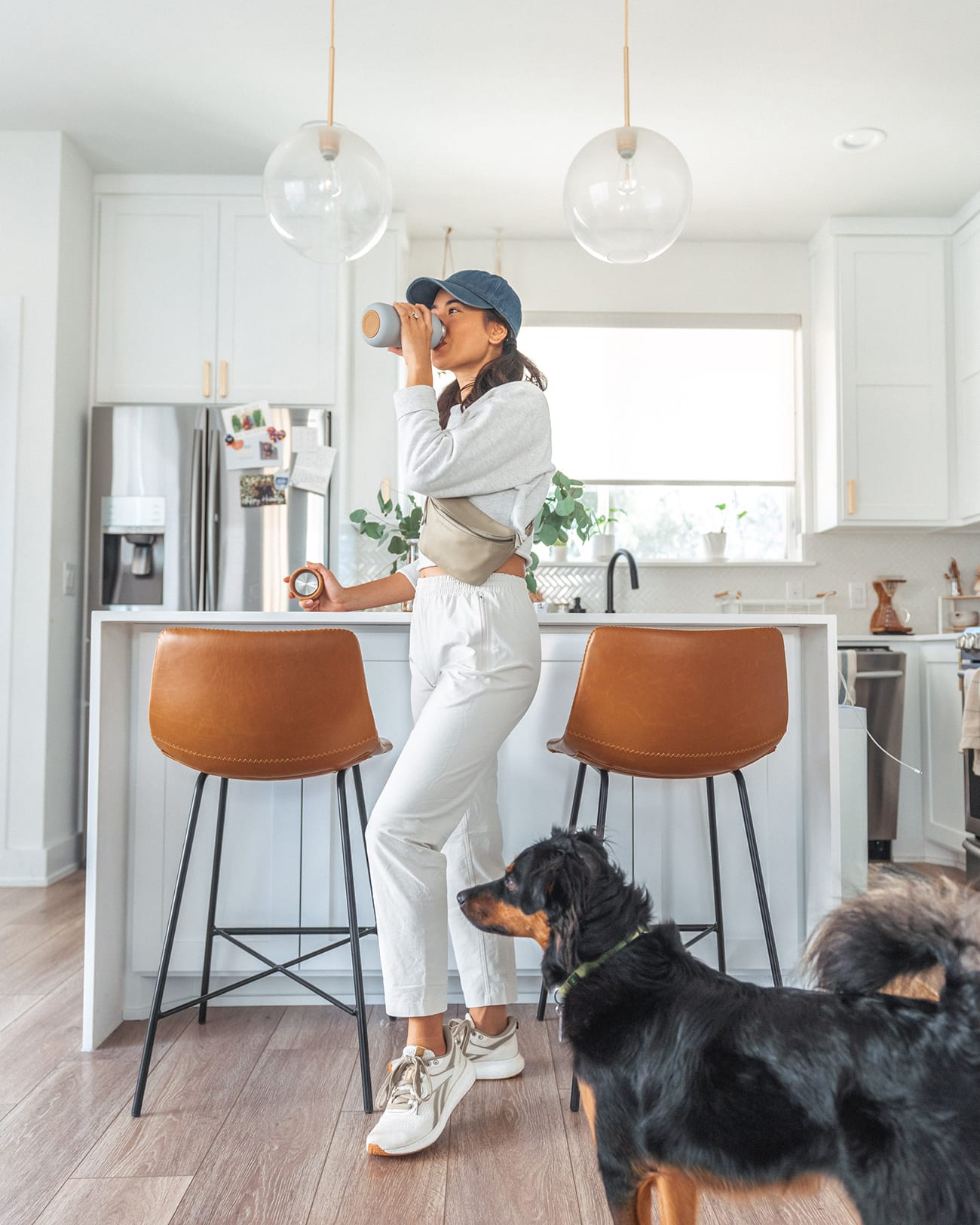 6pm:
It's dinner time! I'm half Korean, so I find myself making a lot of Korean dishes these days which brings my soul a lot of comfort during quarantine. We do our best to support our local farms, so most of our food comes from Farmhouse Delivery, which delivers produce and meat that is sourced from farms that are beyond organic and focus on regenerative farming practices. While it's a privilege to be able to afford this, we also consider it our responsibility to vote with our dollars if we have the ability to do so. We also have our
own backyard garden
, which happened to go viral on
social media
. We grab a lot of our greens from there like bok choy and kale, as well as herbs and scallions. We did grow a TON of zucchini and squash and some more impressive things, but that season is over for now.
9pm
: Since being on my feet a lot, I am glad to have comfy and breathable shoes like my
Forever Floatride GROW
. Now, it's time to wind down for the evening. I used to be so good about reading before bed, but during quarantine, I just wanted to turn my brain off. So, these days I switch between reading insightful, "change your life" kind of books to binging a series of romantic K-dramas that make me squeal like a teenage girl. Balance at its finest, my friends.