REEBOK KIDS DREAM BIG
It's time to let your kid's style shine, whether it's at recess or around the neighborhood.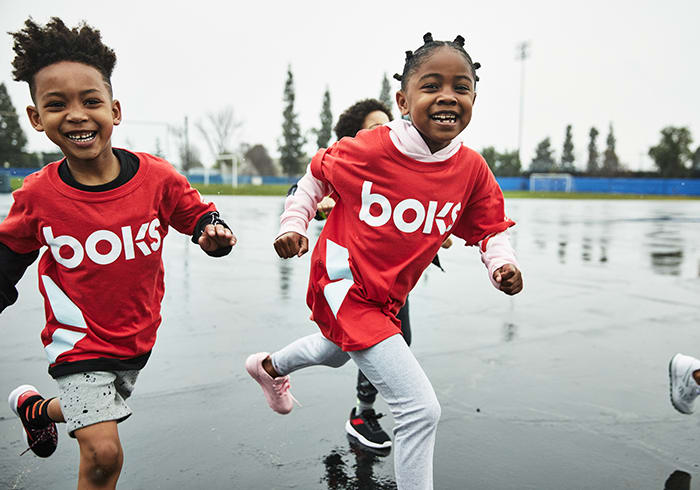 ACTIVE KIDS = ACTIVE MINDS
Since 2010, Reebok has sponsored the BOKS program to bring free physical activity curriculums at no cost to communities. Our 2030 ambition is to move 10 million kids with 100 million workouts. In the US, 5% of all Reebok Kids footwear purchases made on Reebok.com will be donated to BOKS.
Learn More
LOOKS & THOUGHTS ARE FOR SHARING
Show off your kids' Reebok style by posting a pic and tagging @reebok in your caption for a chance to be featured in our online gallery. Then, rate and review your purchase to share your opinion with others.
Kids' Sneakers
From school to play, children go hard on their kids' sneakers. So, when you're looking for shoes for kids, you need to find kids' sneakers that are durable, comfortable and of course, look good. For the young athletes and little style icons, Reebok has shoes for kids of all ages—toddlers, preschoolers and grade school children. Outfit them in high-performing and classic kids' sneakers whether they're taking their first steps or tearing it up during sports practice.
Reebok knows that getting the right fit for kids' sneakers can be tricky—children grow out of their boys' shoes and girls' shoes so fast. We recommend sizing a half size to a full size up in shoes for kids so they can grow into them and get more wear out of their performance kids' sneakers and classic kids' sneakers.
If you're looking for shoes for kids that follow school uniform rules, Reebok's classic kids' sneakers come in white and black. For more fashion-focused kids and lovers of color, find bright retro basketball and classic shoes for kids that stand out. If kids are active, outfit them in performance shoes for kids. Reebok's iconic adult styles, Zig Kinetica, Nano, Club C and Classic Leather come in kids' sneakers styles in addition to exclusive kids' sneakers styles. Bring on running, training, exploring and any other kind of physical activity in Reebok's boys' shoes and girls' shoes.
Boys' Shoes
Find boys' shoes that bring the energy in Reebok's collection of shoes for kids. Reebok's boys' shoes for toddlers, preschoolers and grade schoolers are made to stand up to activity on the playground, on vacation and at practice. Big feet or small, Reeboks' boys' shoes can handle all his energy inside and outside. Classic boys' shoes and performance boys' shoes don't mess around: Reebok's shoes for kids take on everyday wear. When it comes to back-to-school, you want to get one or two pairs of boys' shoes you know will last the year and will match all outfits. Whether he's wearing jeans and a t-shirt, khakis and a polo or a trendy tracksuit, Reebok's boys' shoes bring the swagger and total comfort to his feet.
Girls' Shoes
Reebok's girls' shoes are all style and performance. Whether she's into fashion, sports or both, Reebok's collection of girls' shoes has so many pairs match her vibe. Performance girls' shoes are made for the kids who live to run, train and do studio fitness. On the style side, classic girls' shoes come range from bold color to classic white for everyday wear. Whether she likes wearing dresses or joggers, there are girls' shoes in Reebok's collection of shoes for kids to match all her outfits. Made to take on recess, family trips, physical education, camp and more, Reebok's girls' shoes are durable enough to hold up through the whole year. Girls' shoes take a beating because kids are so active, but Reebok's high-quality shoes for kids are designed to last.