UNLEASH THE ANIMAL
Big. Wild. Bold. The Reebok x National Geographic collection highlights some of the world's wildest.
Sign up and step into the wild with Reebok x National Geographic
Reebok x National Geographic takes you safely into the wild with a new collection featuring species from around the world.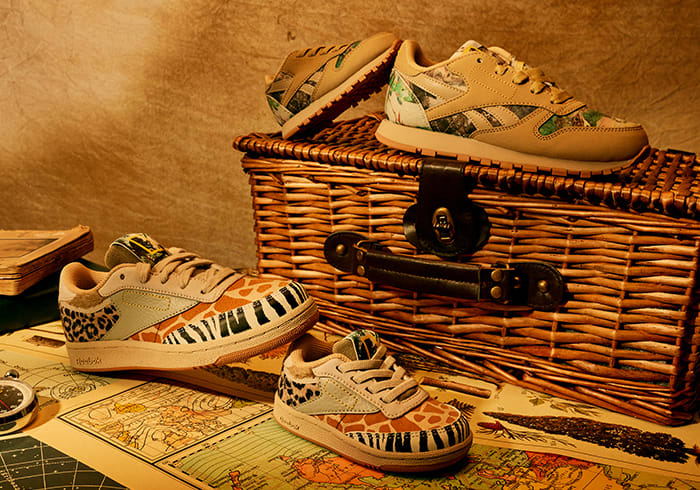 On The Endangered List
Take a walk on the wild side with the Reebok x National Geographic collection. Featuring bold patterns and textures, you'll be the leader of the pack.
REEBOK X NATIONAL GEOGRAPHIC
When we think of exploration, we think of National Geographic. They've been able to take people on journeys across the world without even leaving their homes. That, and their mantra of supporting changemakers, is what drove us to create this collaboration and release our National Geographic shoe collection. The role of this National Geographic partnership is to be a cultural touchpoint to help drive authenticity. By supporting key stories that will help explore and elevate our inline product, we'll create bold product expressions and deep, relevant storytelling. 
Inspired by nature and various natural environments, we've put these unique, National Geographic shoes on the feet of actual National Geographic explorers and photographers. We're here to provide the tools to enable exploration. This product accompanies you on your journey whether it's a journey driven by creativity, curiosity, or performance.
The National Geographic collection showcases a handful of different styles for all genders and kids. We're giving you the chance to step through the portal and explore the unknown in a pair of Club C, Club C Legacy, Classic Leather, Classic Leather Legacy, Nano X1 or Floatride shoes. Each National Geographic shoe reflects the environments that inspired them (under water, Sahara, jungle, volcanoes).
In addition to that, National Geographic's signature yellow border will be featured on each shoe with glow in the dark material. This yellow border offers a journey to explore the farthest reaches of the earth and beyond. It's not just a border. It's a portal to a world unknown.