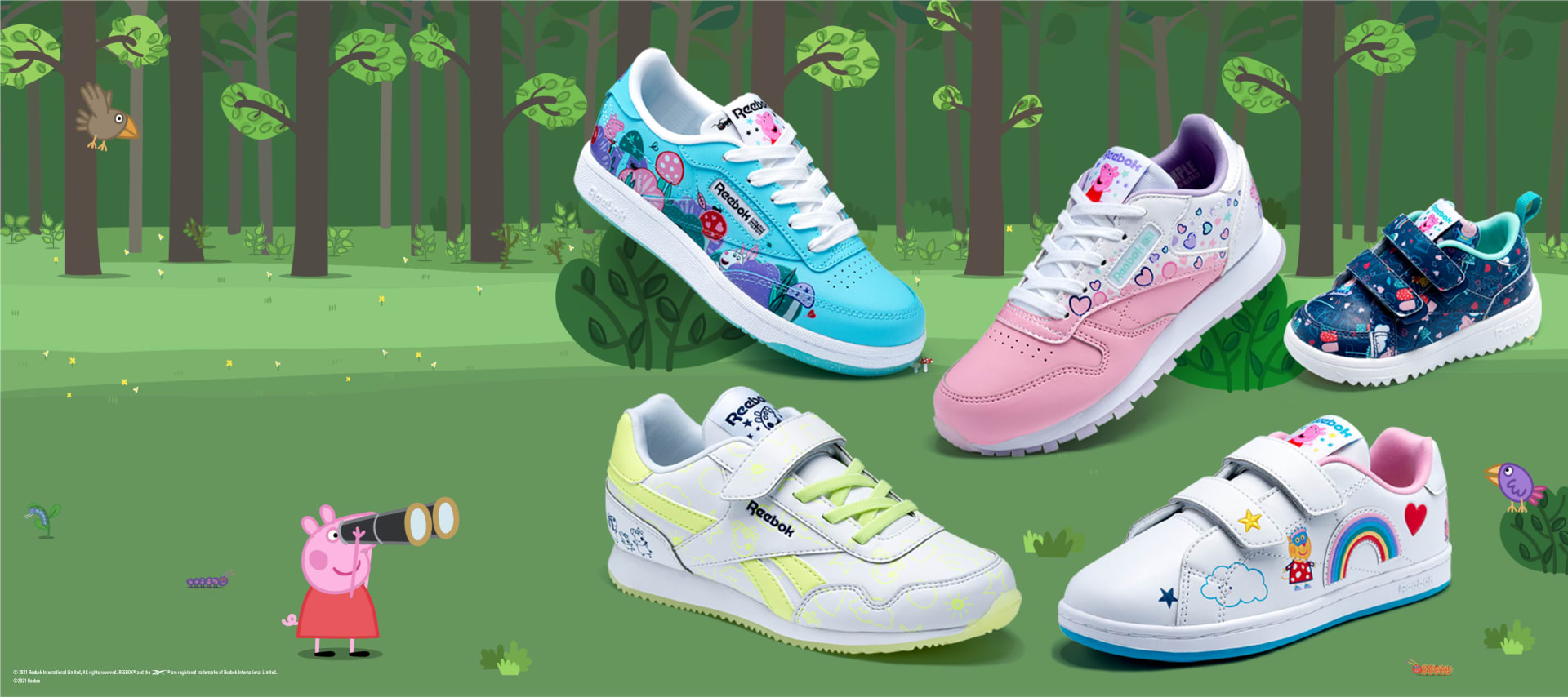 REEBOK X PEPPA PIG
Little piggies unite!
REEBOK X PEPPA PIG SHOES
Reebok x Peppa Pig is taking over your feet with new shoes for every Peppa Pig fan out there. Each Peppa Pig shoe features bright colors and playful designs from the show. Are your kids still learning how to tie their shoe laces? No worries, we've got them covered with Peppa Pig shoes featuring hook-and-loop straps and slip-ons. No matter the adventure, bring your Peppa Pig shoes along every step of the way. Every Peppa Pig shoe features a cushioned removeable sock liner, so that your new favorite pair of shoes can be cleaned. Especially after some muddy puddle jumping. 
We've got more than just Peppa Pig shoes, her younger brother George has a pair of kicks designed after his favorite dinosaur. Tromp around just like Mr. Dinosaur on any and all your adventures. Who is Peppa's favorite companion? Teddy. Grab a pair of Peppa Pig shoes with Teddy on the Velcro strap, and bring him along to play when you visit friends or spend time with grandma and grandpa. These specific Peppa Pig shoes have some Teddy fur along the top liner to keep your feet warm and cozy. You can show off your new Peppa Pig shoes to your schoolmates (whether that's in-person or online) with bright pinks, yellows, and greens. You'll be the talk of neighborhood with Peppa Pig on your feet. Since Peppa Pig couldn't decide which of her three favorite shoes to design, she just chose to design them all. This way, you can pick between three different Peppa Pig shoes to wear to school, running errands, or playing with friends. No matter which you choose, remember your pleasantries and to jump in every muddy puddle you come across.