High Impact Sports Bras
[6]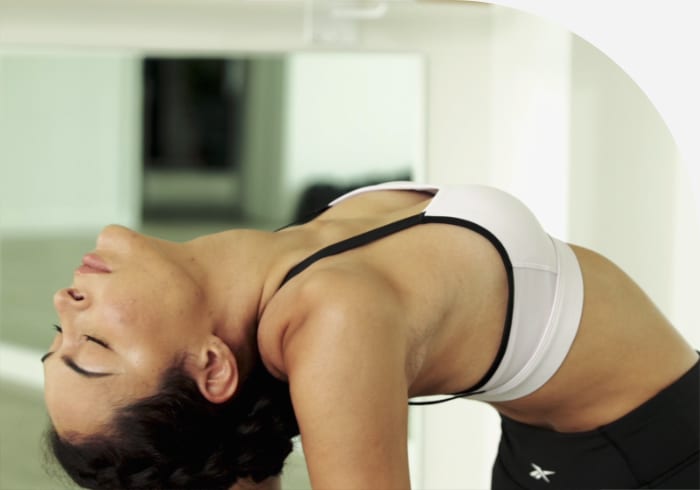 HOW TO FIND THE PERFECT SPORTS BRA
First, consider your cup size. The level of support you need is more related to your cup size and the density of your breast tissue than your workout impact level. Then, measure yourself and check the size charts to find your size (you might need to try a few). Finally, look at the amount of elastane or spandex to make sure you have enough (but not too much) stretch.
Learn More
High Impact Sports Bras
To say you're active is an understatement. Your motion is relentless. And you need a high impact sports bra to stand up to all of your workouts. Whether you love running, combat, HIIT, or other high impact workout, your high impact sports bra should keep the ladies in place no matter what.
High impact sports bras offer the maximum level of support for your highest intensity workouts. When getting your sweat on, the last thing you want to think about is a bra that doesn't support your movement the way you need, leading to bouncing or chafing—no thank you. Find the freedom to move, sweat and stay focused to the end in Reebok's high impact sports bras. Many of our high impact sports bras are made with moisture-wicking fabrics to help you stay cool and dry, as well as feature mesh panels for breathability when things heat up. Reflectivity details keep you safe and visible your Reebok high impact sports bra after the sun sets. Soft molded or removable cups offer additional coverage so you can feel confident and secure in our sports bras for high impact workouts. Other favorite features of Reebok's high impact sports bras include wide bottom bands for stability and adjustable straps and back closure for a custom fit. Getting in a good sweat is just as important as sustainability, which is why some of our high impact sports bras are made with recycled polyester.
Prepare to jump, run, punch and lift to your highest potential in Reebok's sports bras for high impact workouts. Our high impact sports bras are up for any and every challenge.
Reebok PureMove Sports Bra
If you're looking for an award-winning high impact sports bra, Reebok's PureMove bra is the way to go. The first high impact sports bra of its kind, PureMove features Motion Sense Technology that reacts to your movement. Infused with shear-thickening fluid, this high impact sports bra naturally stiffens when you're in motion and releases when you're hanging out. That means the PureMove high impact sports bra gives you support during the workout and comfort when you're resting—talk about the best of both worlds for your bust. This revolutionary high impact sports bra is made with a distraction-free design for a barely-there fit and premium materials, so you only have to focus on hitting your goals.
Medium Impact Sports Bras and Low Impact Sports Bras
Different sports require different kinds of sports bra support. Medium impact sports bras are best for spin, dance and gym workouts.Low impact sports bras are ideal for yoga, Pilates and walking. Whatever your workout, Reebok has a sports bra to support your every move.