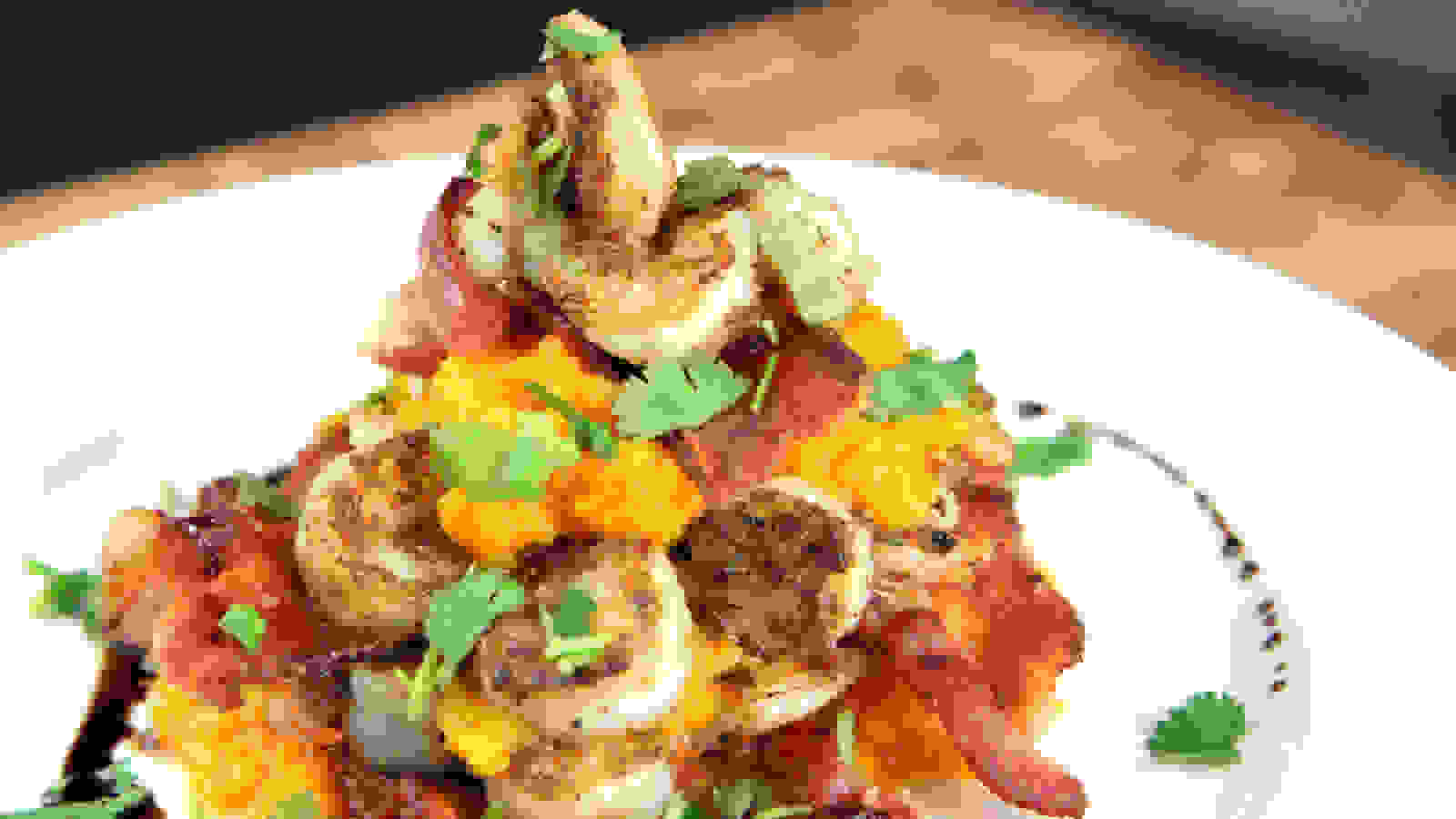 Don't go bacon my heart - A Valentine's Day recipe for (fitness) lovers
What's better on Valentine's Day than a private romantic meal with your better half? Not much. But if your soulmate also happens to be your swole mate, you might be apprehensive about what you should or shouldn't eat. Have no fear.
Nick Massie—better known as Paleo Nick from PaleoNick.com—is a celebrated chef who incorporates the concepts of the Paleo and Zone diets into his recipes. A CrossFit athlete since 2008, Nick has become a well-known and popular member of the community, has over 30 videos in the CrossFit Journal, and runs a food booth at The Reebok CrossFit Games. Ahead of Valentine's Day this year, he's devised a special original recipe for his fellow fitness enthusiasts, called the Shrimp And Bacon Triple Decker Love Stack.
"It's bacon, shrimp and butternut squash," he explains. "I usually always have some butternut squash puree or cooked butternut in my fridge, so I boiled up the puree and just started stacking it up."
Makin' Bacon (Without Feeling Guilty in the Morning)
Yes, this recipe has an indulgent name, and yes, bacon is a vice within the CrossFit community, but there's no need to fret. Nick used his culinary expertise to ensure you won't need to race to the gym immediately after eating to work it all off. Instead, you can sit back and enjoy the evening without fear of undoing all the hard work you've put in.
"Bacon is a contentious subject to some. We're supposed to eat lean meat," he admits. "But the shrimp is lean—do your best to get wild shrimp if you can find it—and while the bacon is an indulgence, there are only a few pieces in the recipe. Sure, we've got some fatty proteins here but it's a balanced recipe, with the shrimp's lean protein and the squash balancing out the carbs."
Paleo Nick's Triple Decker Love Stack Recipe

Ingredients:
1lb wild shrimp, peeled and de-veined.
1o slices of thick-sliced smoked bacon.
3 cups of butternut squash puree or 1 small butternut squash, roasted, peeled and seeded.
Drizzle of balsamic vinegar.
Fresh cilantro.
Kosher salt.
Granulated garlic.
Dried thyme.
Instructions:
Cook off the bacon in a cast iron skillet, and save the rendered fat for cooking the shrimp. In a separate pan add some bacon fat, and in a bowl combine the shrimp with two teaspoons of kosher salt, one teaspoon of granulated garlic and a pinch of dried thyme. Toss that to season the shrimp, then add the shrimp to the heated bacon fat in the skillet and cook for approximately 3 minutes on medium high heat. Heat the butternut squash in a saucepan or microwave. To plate, start with a dollop of butternut squash puree. Top that with two slices of bacon, then a layer of shrimp, and continue to build up the layers, alternating the direction of the bacon each time. For the top layer, break up one slice of bacon and stack four shrimps on top. Drizzle with vinegar, sprinkle the cilantro on top, and as Nick always says, "Keep It Paleo!"