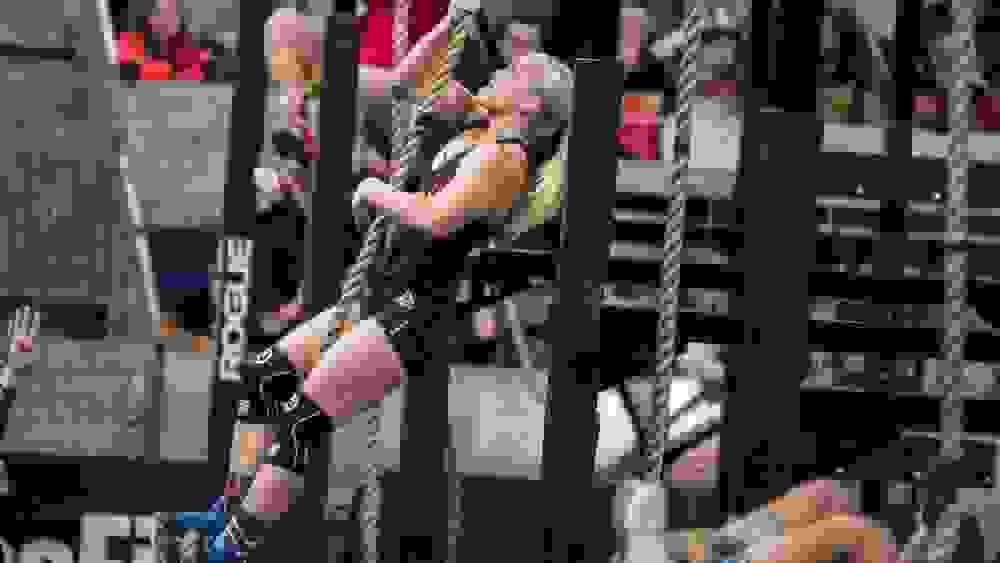 Failed Rope Climbs Taught Katrin Davidsdottir the Importance of Living in the Moment
Last night, the CrossFit community tuned in to watch Katrin Davidsdottir compete in the 16.4 Open announcement. Earlier that day – following her beloved competition morning breakfast – the reigning Fittest Woman on Earth took 10 minutes away from her training and strategizing to help the rest of us Open participants focus on ours.
For the past three weeks, Davidsdottir has been streaming live on Twitter and Periscope from Reebok Headquarters, and she wasn't ready to let this week's trip to Colorado get in the way of making it week four.
Viewers tuned in as Davidsdottir took the live-stream to a higher altitude and threw tips and tricks for the Open our way.
Her advice this week: live in the moment.
As we inch closer to the end of the Open, the leaderboard – and the nerves that can subside after scrutinizing it – can start to take over. Davidsdottir advised viewers not to let it.
"You yourself know your best. You know whether you put in your best effort. And if you did, hell yeah. Block out everything else and don't let your mind get ahead of you or discourage you."
Davidsdottir went on to reference the 2014 CrossFit Regionals – the competition that led her to not advance to that year's Games – when all she could focus on leading up to the competition was how she'd been struggling with rope climbs in practice.
"Sure enough, a legless rope climb workout showed up. I failed my first climb, broke down, and then didn't get another rep from there. In hindsight, I realize that people fail rope climbs all the time. If I hadn't broken down and had pulled myself together forgetting about that first one, I could have made the rest. It's about only thinking about right now, not past workouts and weaknesses and failures."
She adds that it's about only focusing on your current rep, not the previous one or the next one.
Want more tips from last year's winner of the Reebok CrossFit Games? She'll be streaming live for the final week of the Open next Thursday at 10:30 a.m. ET on the Reebok Periscope and Twitter accounts armed with more competition tips and answers to your questions.