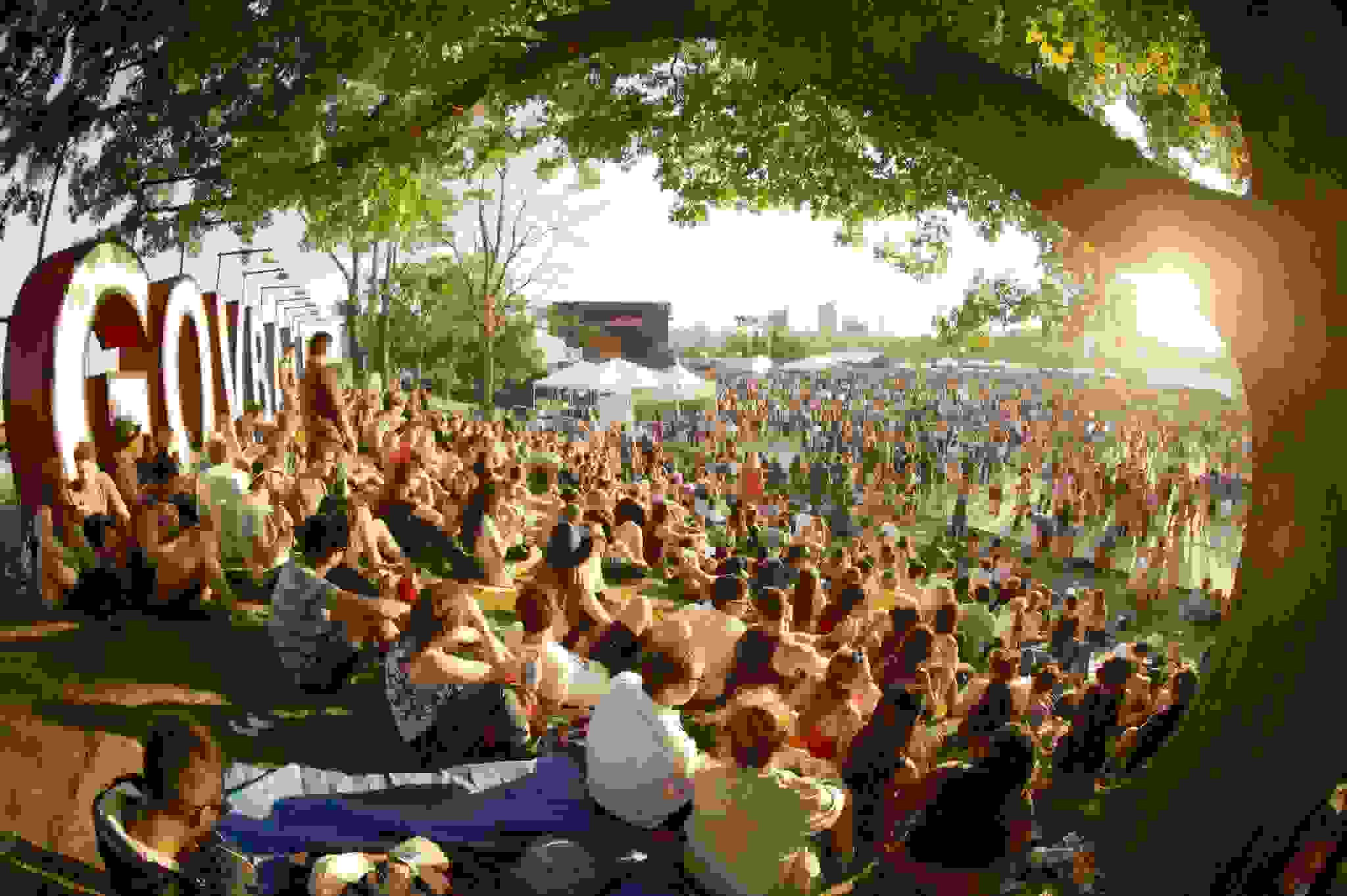 A Healthy Foodie's Guide to Festival Season
Greasy food truck tacos. Nachos drenched in fluorescent cheese. Funnel cake, fried to oblivion. Think of "music festival food" and "health" is probably not part of your definition.
But spending a day or weekend surrounded by your favorite bands doesn't have to mean surrendering completely to junk-food oblivion, nor does it mean you have to only tote protein bars and miss out on all the fun.
We run down the best music festivals for healthy food options and ones that have infused deliciously thrilling culinary programs into the experience itself.
Coachella (April 22-24, Indio, California)
With attendees that include burgeoning starlets and superstars alike, Coachella has really cranked up its food game to offer fresh and delicious options for a crowd that doesn't want to compromise their sophisticated palates while taking in acts like Calvin Harris and Guns N' Roses.
Last year, some highlights included spicy breakfast bowls with fresh avocado and egg, Mexican-inspired grilled corn and fresh-fruit piled acai bowls – not to mention heaps of watermelon that made the perfect refreshing (and guilt-free) snack food in the sun.
Hangout Music Fest (May 20-22, Gulf Shores, Alabama)
This beach-based festival (featuring acts like The Weeknd, Alabama Shakes and Jason Isbell) is the kind of event where a bathing suit is perfectly appropriate attire – so it makes sense that it offers healthy options for a crowd baring so much skin. Smoothies, salads, fruit and fresh seafood straight from the Alabama gulf will be available. And the location also makes the perfect setting for a pre-show workout: Enjoy swimming, kayaking and paddle boarding in the ocean or many of the local scenic running routes.
Governors Ball (June 3-5, Randall's Island Park, New York City)
This festival is in one of the greatest food cities on earth, and the culinary offerings live up to the hype. Governor's Ball, on New York City's Randall's Island, offers delicious fare curated by the trendsetting website Infatuation. Last year's offerings catered to all diets – vegetation, vegan and gluten free – with everything from sushi to low-calorie soft-serve to fresh shrimp and lobster rolls from Maine via Luke's Lobster. This year, expect stellar sustenance to complement the equally stellar lineup, which includes the likes of Kanye West, The Strokes, Beck and Courtney Barnett.
Bonnaroo (June 9-12, Manchester, Tennessee)
When in the middle of Tennessee, hit up the Planet Roo Café, a 100 percent waste-free café for delicious and fresh smoothies, stir-fries and coffee that also doubles as an educational resource where concert goers can learn about sustainable eating.
Another highlight? The BonnaROOTS dinners, which are special, separately ticketed 4-course gourmet meals happening throughout the weekend benefiting OXFAM and Eat for Equity. There, you can sample locally sourced cuisine all coming from less than 100 miles away – and then walk a few steps for Pearl Jam and LCD Soundsystem.
Firefly (June 26-27, Dover, Delaware)
Tucked away in a mystical wooded setting, this A-list festival (featuring the likes of Mumford & Sons, Kings of Leon and the 1975) takes care to make sure it offers a food program that places an emphasis on healthier snacking, including plenty of vegan and vegetarian options.
This year, it's also making an attempt to not only feature the hottest bands, but the hottest food trends – like jackfruit, a satisfying and au courant option that's low in calories but high in taste. Other options this year will include smoothies, roasted vegetable flatbreads and several quinoa bowls as well as new pop-up restaurant concepts featuring local fare along with everything from Indian to German/Bavarian cuisine.
Outside Lands (August 5-7, San Francisco, California)
Quite possibly the leader when it comes to creating a culinary program as compelling as its musical acts, this San Francisco festival heavily recruits local bounty from the Bay Area and beyond. In fact, there's a whole area of the event, dubbed Gastro Magic, dedicated to innovation in food and drink, and the regional purveyors get their own space, too. It's called A Taste of The Bay Area, and the 2015 festival boasted more than 75 vendors offering everything from organic seasonal fruit and vegetables to fresh Hawaiian poke. Outside Lands definitely thinks outside the box when it comes to festival fare.