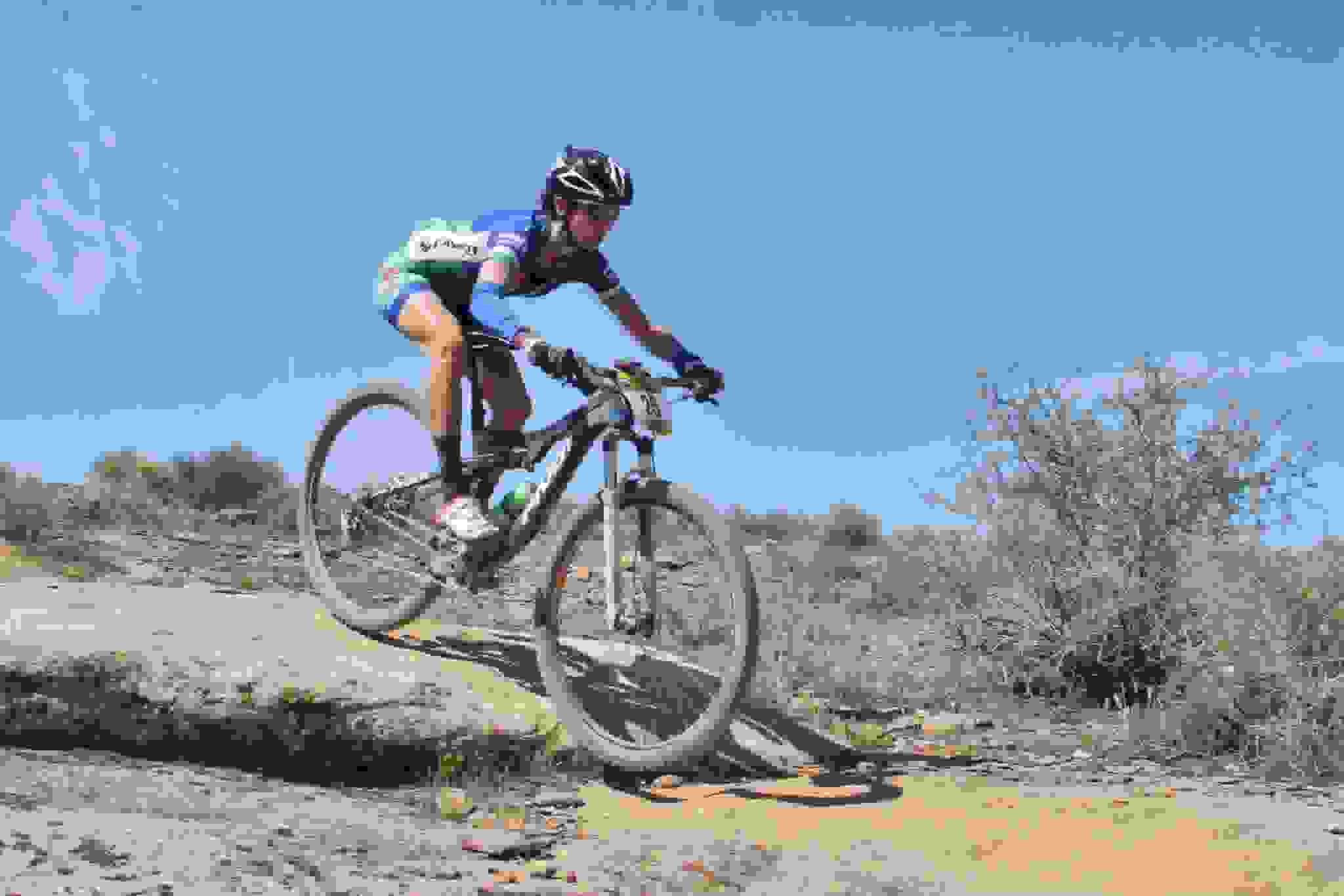 How Pro Mountain Bike Racer, Jen Hanks Used Fitness to Crush Breast Cancer… Twice
Jen Hanks, a two-time breast cancer survivor and professional mountain bike racer, explains how a commitment to physical fitness empowered her to overcome, compete and Be More Human.
It was a brisk summer morning in the remote town of Huilo Huilo located in the Northern Patagonia region of Chile. My husband and I were lined up to compete in a six-day mountain bike stage race through the steep valleys and volcanoes of the Andes Mountains. This wasn't my first mountain bike stage race, I had raced professionally all over the world; this was, however, my first big stage race since crushing breast cancer… twice.
Let me start from the beginning
In 2011 I was a healthy 35-year old; fit, strong, and with no significant risk of developing breast cancer. As an athlete, I had worked hard to move up through the ranks and race at a professional level.
One day, while doing yoga, I was drawn to a small lump on my right breast. I informed my husband and then decided to see a doctor, who sent me for a mammogram and ultrasound. My mammogram came back negative but the ultrasound revealed a small mass consistent with a non-cancerous fibroadenoma. Just to be safe, the radiologist ordered a biopsy the following week.
I was scared, but confident it was nothing. I continued to train, certain that this scare would soon be a distant memory. The following week I underwent a core biopsy where they removed and examined a small portion of the suspicious mass.
January 25th, 2011: I recieved the news that I had breast cancer
Time stopped. I wasn't sure what the next step was but I knew I had to take action. I needed to know exactly what I was dealing with so I turned to Dr. Google and reputable breast cancer websites. I researched Every. Single. Word. of my pathology report.
I also scoured the internet to find stories of athletes who returned to competition after breast cancer. I was searching for inspiration but it was difficult to find. It seemed that no female athletes had made this journey before me. Or if they had, they weren't talking about it.
Over the next few months, I endured two unsuccessful surgeries to remove the cancer, which forced me to make the difficult decision to have a full mastectomy. I wanted to preserve my body as best as possible, but enough was enough.
March 25th: I underwent a Mastectomy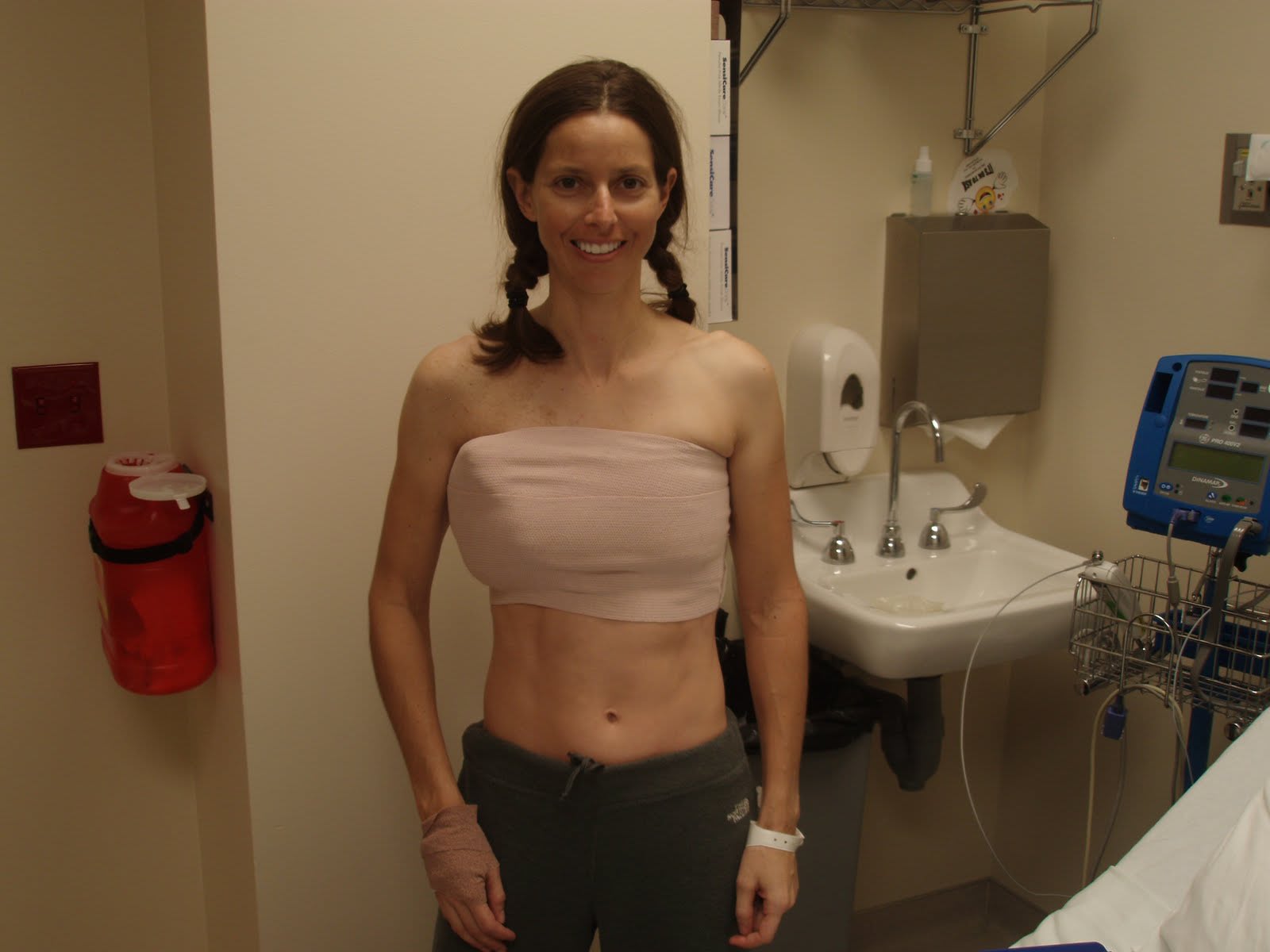 The next day, I was discharged from the hospital and went for a walk around the neighborhood. Even though my future as a racer was in serious question, moving made me feel alive and I continued to go for walks every single day until my final surgical drain was removed on April 5th. Feeling rejuvenated, I got back to the gym and eventually got back on my bike.
April 15th: I rode my bike to my first chemo infusion
I arrived at my appointment energized and ready to take on the world. I vowed to ride my bike to every chemo infusion. Chemo was not easy. There were rough days; luckily, I seemed to tolerate it well. I continued to ride, and lift weights all throughout my treatments.
My medical team couldn't give me reassurance that I would be able to return to competition. I recall one doctor telling me that I would never be able to complete a push up again. They were, however, supportive of my active lifestyle and told me to listen to my body and do what made me happy.
Exercising made me feel better
My goal was to maintain a base fitness level that I would be able to build upon after finishing treatment. I routinely visualized myself racing, which added fuel to my fire. Getting out the door is often the hardest part of a workout and this was magnified during chemo. Some days I felt like it would be impossible to complete an hour on the bike, but I always felt better once I got going!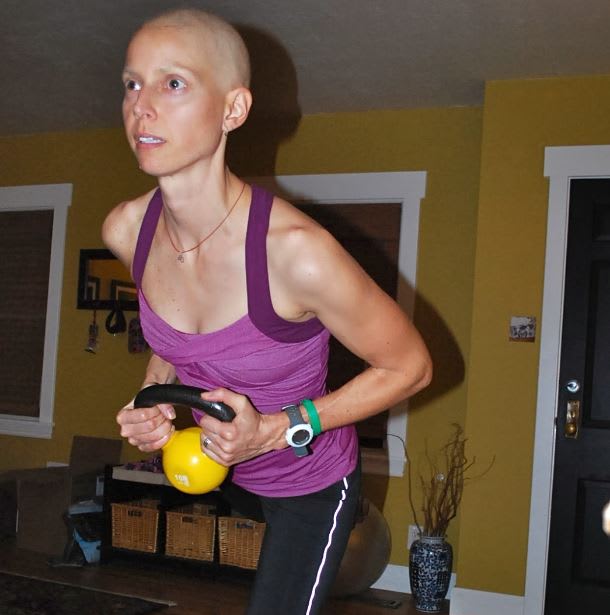 Exercising throughout my treatment helped me both physically and mentally. When I would sweat, I visualized flushing the toxins from chemo from my body and restoring my health. When riding my bike, my thoughts shifted from being a cancer patient to a bike racer, maneuvering the bike through the trail, absorbing the beauty around me. It reminded me I was alive and despite everything I was going through, there were still beautiful moments in life to enjoy.
By the end of 2011, I was back to training full time. The next year and a half were magical. I returned stronger than ever. My cancer story was over.
Cancer is a tricky, sneaky snake
In May 2013, a week after winning a 12-hour race in Colorado, I found myself back in a cancer hospital getting looked at for a small nodule in my armpit. I was told that it was nothing; a 'shotty' lymph-node was the likely culprit. However, this time a core biopsy confirmed the breast cancer was back.
The next week and half were the scariest of my life. I underwent a 'restaging' procedure to determine the extent of the recurrence and if it manifested into Stage IV breast cancer, for which there is no cure. I underwent multiple MRI's and a full body PET/CT scan.
Thankfully, all of my results came back negative, indicating the recurrence was isolated to my armpit. The treatment plan called for an axillary node dissection. Three of the eight lymph nodes removed were cancerous, and after consulting with four oncologists, the decision was made to undergo another three months of chemotherapy with a new, more intense chemo cocktail.
Once again my future as a mountain bike racer was uncertain, but I knw that I wanted to experience the joy of competition one last time. I entered a local race prior to starting chemo. Despite having undergone surgery just a few short weeks before, my fitness was still there and I landed myself on the top step of the podium!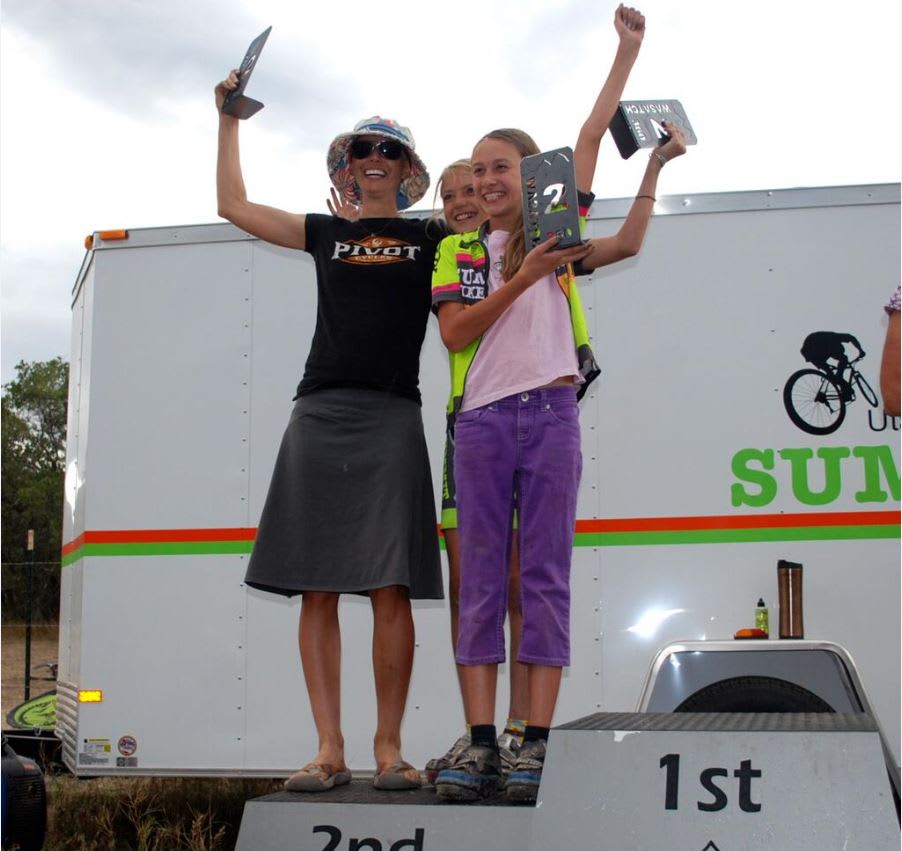 The chemo cocktail was harsher this time around
My body's resilience amazed me and I was better in tune with how hard I could push while undergoing treatment. Once again I rode my bike to every chemo appointment. Treatment was far from over though. This time I needed radiation.
I underwent six weeks of daily radiation, which left me with significant burns that were painful to the touch. I lathered on aloe vera and wore loose fitting clothes and continued to ride my bike every day.
Since my breast cancer was fueled by estrogen, my ovaries - the biggest producers of estrogen in the body - had to go. This put me in immediate menopause and all its glorious symptoms: hot flashes, loss of bone density and mood swings. Yet somehow, despite all the horrible things my body had been through, after the months of treatments had ended I started to feel like myself again.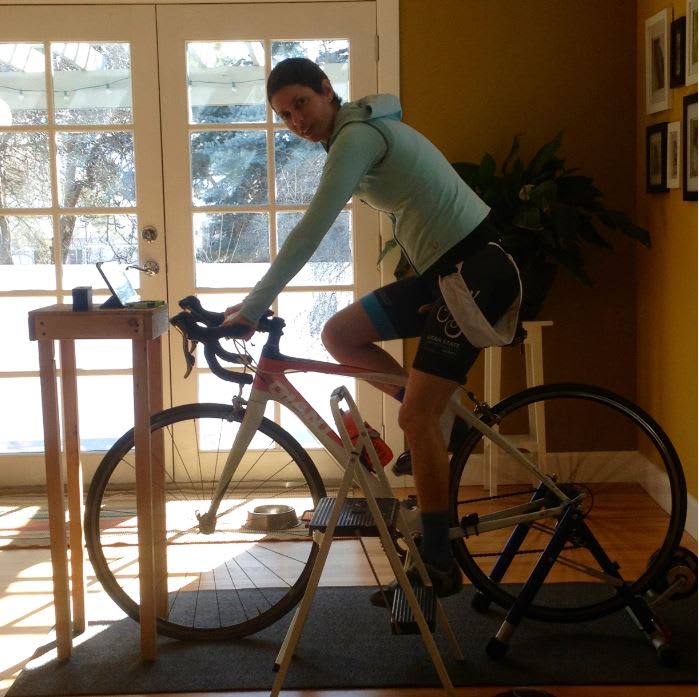 Strong. Determined. Healthy.
A friend of mine started calling me "The Dandelion". He said no matter how many times they chopped me down, dug me up, or poisoned me I just kept coming back.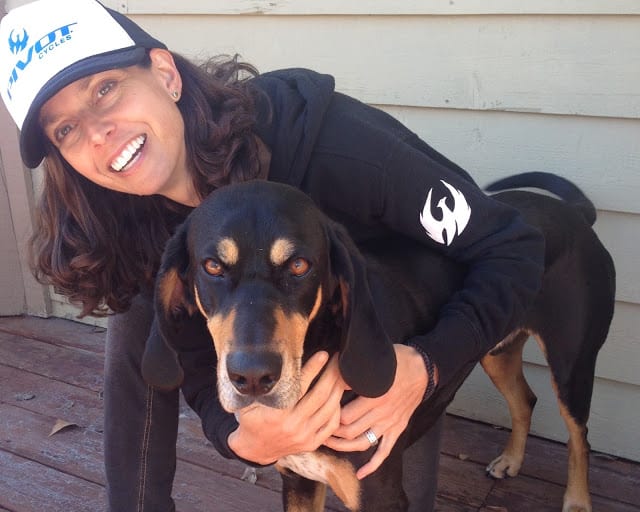 I now know that adversity is an opportunity to grow stronger. Having cancer and overcoming the fear of it returning has taught me that I am stronger than I ever thought possible. Being alive is a gift and nothing makes me feel more alive than moving my body. For me, to "Be More Human" means pushing my body to the limit to feel alive, whether that is a walk around the neighborhood or a 6-day mountain bike stage race.
Which brings me back to that brisk morning in Chile on my 5-year 'cancerversary'. The significance of the day was in the back of my mind, but on that day I was a bike racer, ready to duke it out with an international field for the next six days. That is exactly what we did!
Reebok is a proud sponsor of AVON 39 The Walk to End Breast Cancer and will donate a minimum of $300,000 up to $750,000 through our Pink Ribbon product sales. Learn more about how Reebok is raising funds to crush breast cancer here.