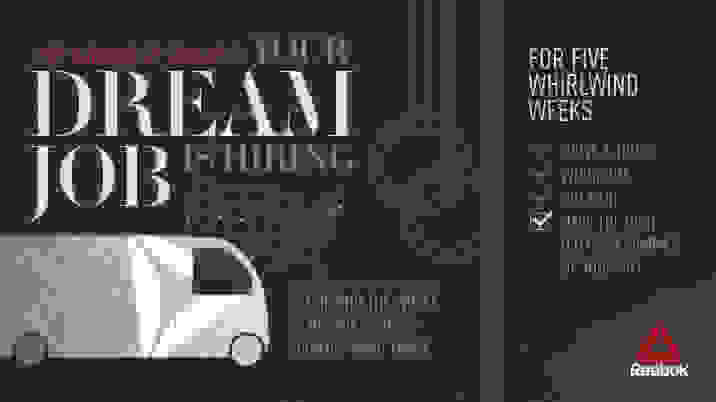 Chalk Up! Your Dream Job is Hiring
There's something about the smell of suntan lotion, the hum of an oversized A/C unit and the end of classes that signals the beginning of everyone's favorite season. And with it comes another beloved staple: the summer job.
But this season's best gig isn't at the top of a lifeguard tower or inside a mascot costume at the local amusement park. Nope. It's behind the wheel of Reebok's cross-country Nano Truck.
Imagine the wind in your hair, sweet Reebok gear on your back and you at the helm of the Nano Truck delivering free shoes and surprises to CrossFit boxes from Boston to California. That's right, we want you to drive a truck, work out and basically have the best (read: fittest) summer ever all while getting paid!
The form of entry for this dream job? A 60-second video of you working out and explaining why we should choose you over everyone else.
Of course, there are some basic requirements. We're looking for someone who's comfortable behind the wheel of an RV, loves CrossFit and isn't afraid to workout at least five times a week. Just like in the box, your attitude counts here, too. We want applicants who are cool to be around, have a can-do attitude and are able to adapt to all sorts of new situations with ease.
Let's be honest, you're driving across the country, and we can't predict what's going to happen.
Did you skip the Ivy Leagues and opt for a certification in the school of common sense with a specialty in the Hard Knocks? Sign up! Not only do you have to have a positive attitude, we're looking for folks who can lift a 50 pound box while simultaneously adding SnapChat filters.
We're kidding. Kind of.
But there are bonus points if you love Twitter, The Gram and a good Snap every now and then.
The cross-country tour lasts five whirlwind weeks and includes stops at CrossFit boxes across the U.S. It all ends at the 2016 Reebok CrossFit Games in July in Carson, Calif.
Last but not least, and Legal told us this part is important, you have to have a clean driving record, the ability to pass a Department of Transportation compliance drug test and enough physical strength to lift 50 lbs. (shouldn't be too hard if you're a regular at the box, right?).
Still interested in this job with Synergy Events driving Reebok's Nano Truck?
Email kelsey.cannon@reebok.com with a 60-second video bio introducing yourself and explaining why you're the best person for this dream job. Make sure to let us know how to find you on social media and include a coach's reference if you have one.
Due date is Tuesday, June 14th.
3, 2, 1, GO!