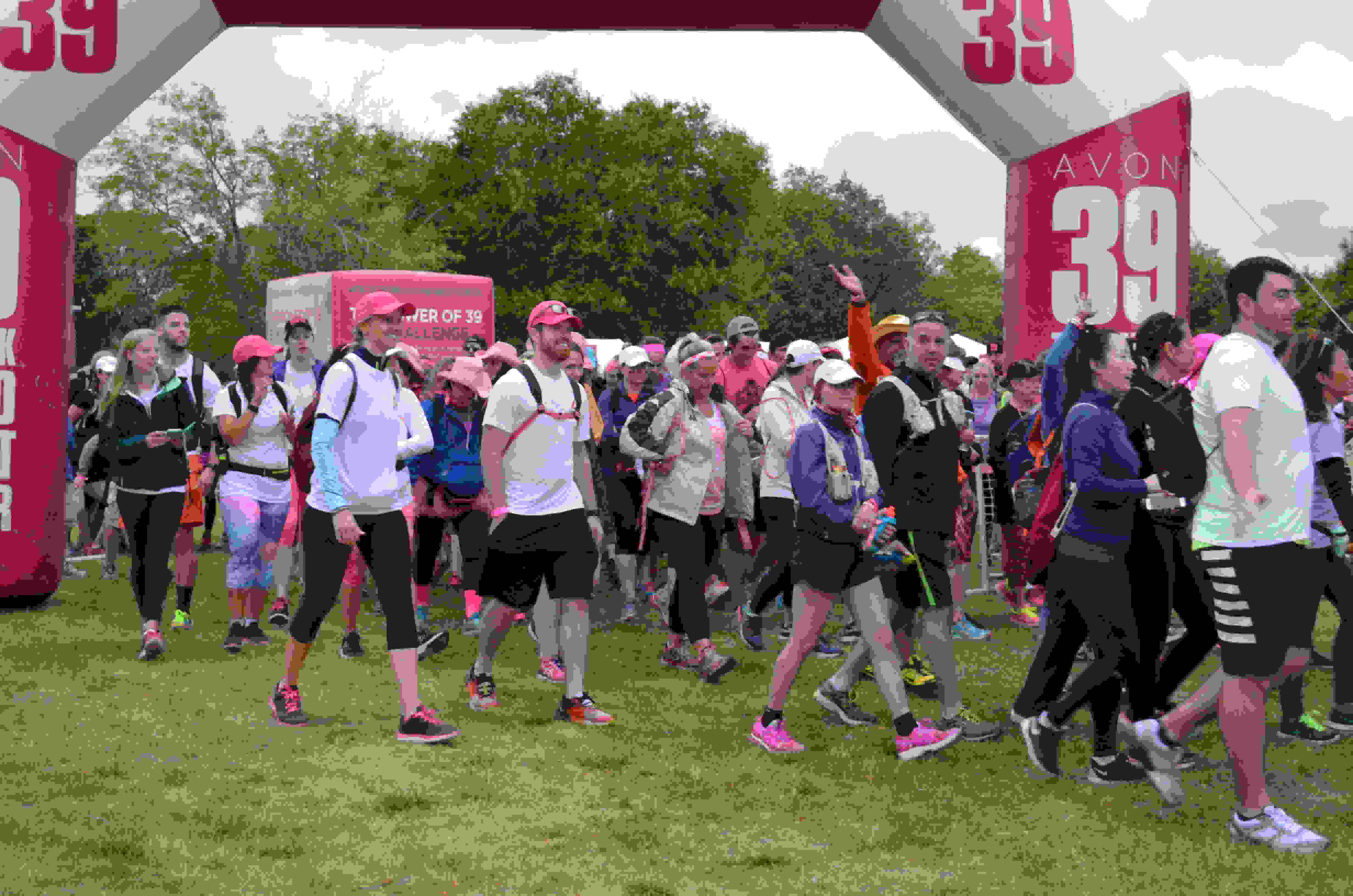 Think You're Tough Enough? Try Walking 39.3 Miles Over 2 Days
Every year, hundreds of walkers descend on Reebok HQ's campus to take a well-deserved break between two legs of a 39.3 mile walk.
These people aren't walking to lose weight, they aren't walking to test out a new shoe ... they're walking to end breast cancer.
This year was a special and unique experience for many, including Team Reebok which consisted of nine employees who were focused and determined to raise money to fight breast cancer, and cross the finish line together.
Not only did the group walk the entire route as a team, but they raised over $38,000 for the AVON Breast Cancer Crusade.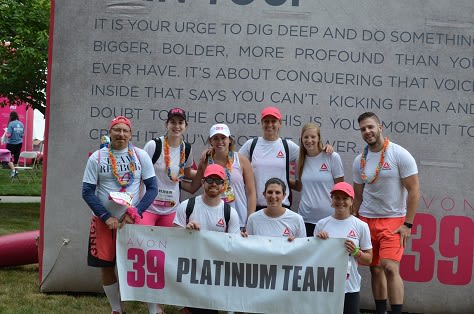 Although these Reebok participants are accustomed to working at a #fitasscompany, many admitted how unexpectedly difficult the trek from Carson Beach to Reebok, and back again, was.
"I certainly underestimated the physical demands of walking 39.3 miles over the course of two days," confessed Jeremy Langton, Partnership Marketing Manager.
"It was much tougher than I anticipated, but the challenges our team faced on the course only made this experience that much more rewarding. "
Diana Ravensbergen, another member of Team Reebok, also described the intensity of what some initally thought would be as an easy feat; "The walk was much harder than I imagined. My body hurt in every way, and there were times I really did not want to finish the first marathon. But what is incredible to me is the mass of people who do this – people of all ages and fitness levels. I couldn't stop because there was a 70-something year old woman passing me. If she could do it, so could I. "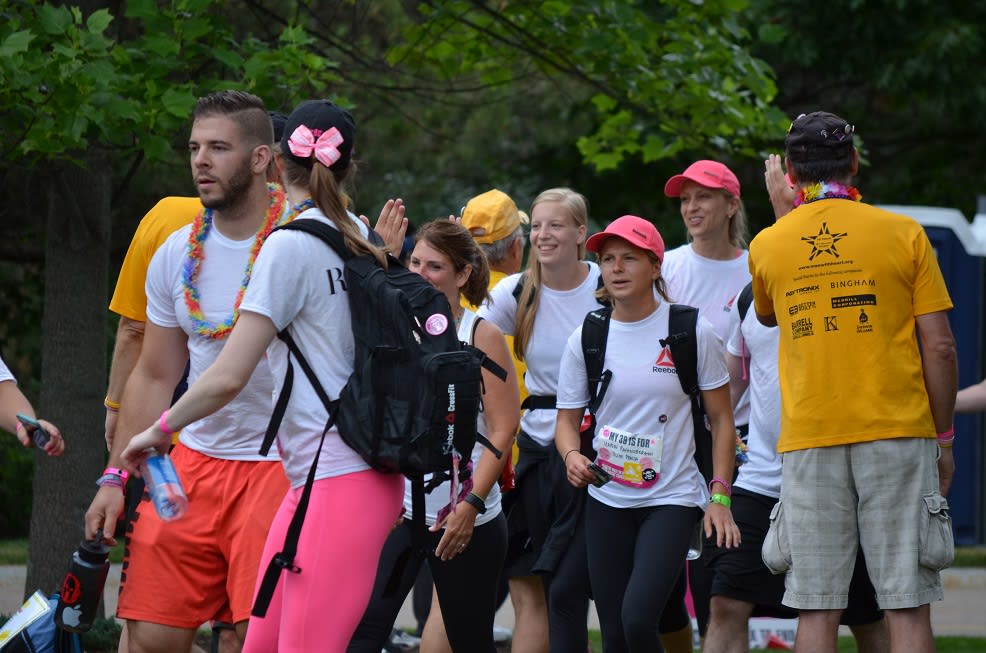 Sentiments from the group were consistent across the board; those who took part in the AVON 39 walk were overwhelmed with a sense of accomplishment from what the weekend brought, and were touched by the stories of those walking alongside them.
"The highlight of my Avon experience was seeing who everyone was walking for," continued Ravensbergen. "Each person filled out a bib that said who they were walking for, and there was so much support rallying behind individuals who have battled or are battling breast cancer.
My favorite was a mother-daughter duo we saw along the way multiple times. The daughter's bib said 'Mom' while mom's bib said 'Me!' It was really heartwarming to see them side by side multiple times throughout the day. I felt inspired by the mother and her determination to finish (covered up by her witty remarks about chucking her spare sneakers and ditching her backpack on day 2)."
It seems that the stories of those walking are the most rewarding and encouraging part of the entire experience.
Jennifer Cornwall, Merchandising Specialist at Reebok, was also moved (both physically and emotionally) by those surrounding her throughout the two days.
"I think the best quote from this weekend would be 'tough is beautiful.' This was one of the best experiences that I have had so far in my life," expressed Cornwall. "Hearing the stories of why people are walking was what made the 39.3 miles worth it.
I never thought I could walk 39 miles in 2 days, but with the motivation around me, and Team Reebok walking together the whole time got me through to the finish line. This was an emotional and powerful experience, and I am so thankful that I had the opportunity to represent Reebok and crush breast bancer. "
This year was even more of unbelievable occasion for one special walker who has been fundraising and participating in the AVON walk for 19 years.
Barbara Jo Kirshbaum, 79, does almost every single walk AVON holds each year, and has walked more than 140 39.3-mile and 60-mile AVON walks.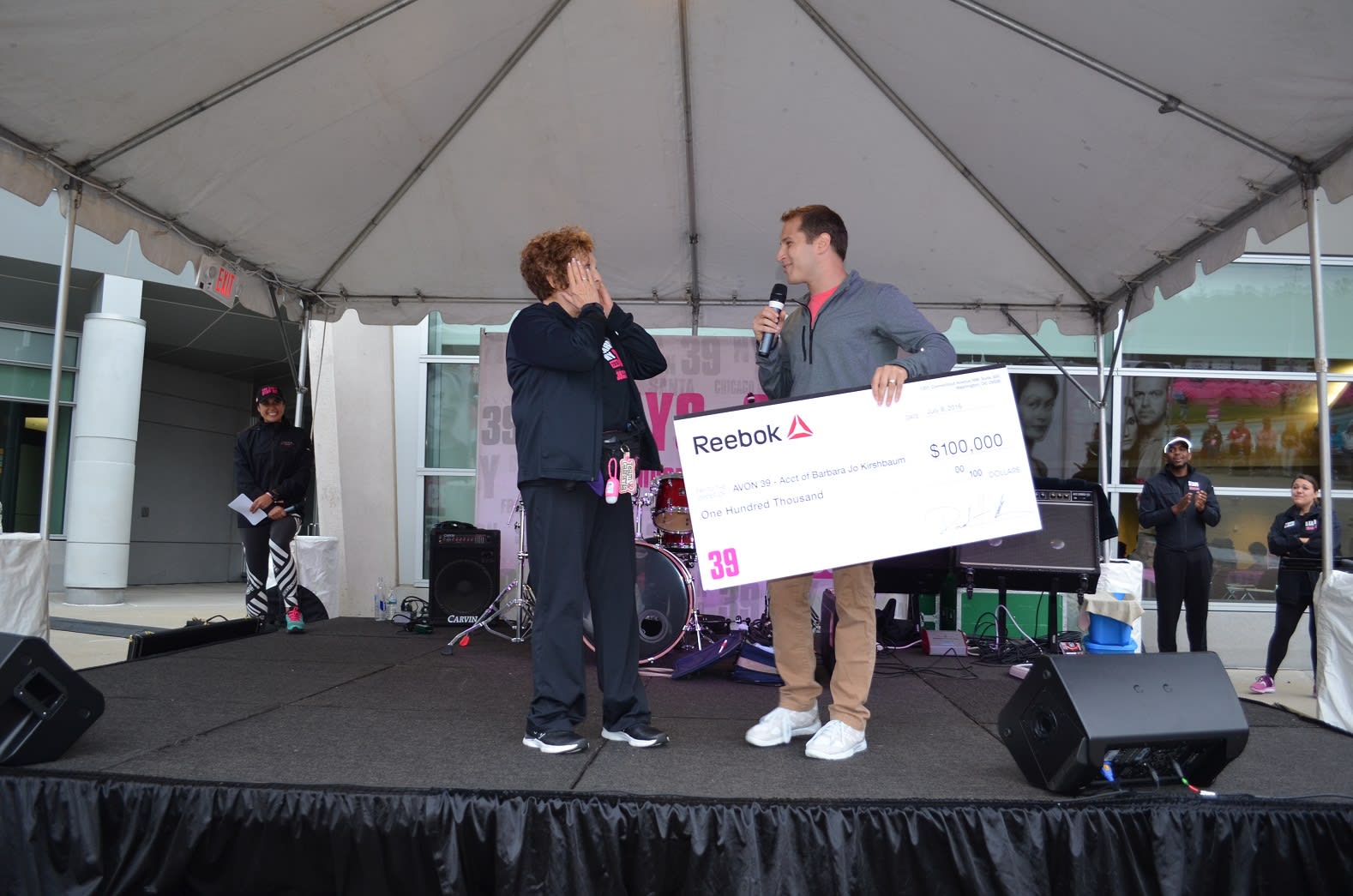 Barbara has astoundingly raised almost $2 million by herself over the course of her life.
She was about $120,000 short of that $2 million goal when David Oksman, Senior Director of US Marketing, called her up on stage Saturday night and announced that Reebok was donating $100,000 to the AVON 39 Walk for Breast Cancer through Barbara Jo's fundraising account.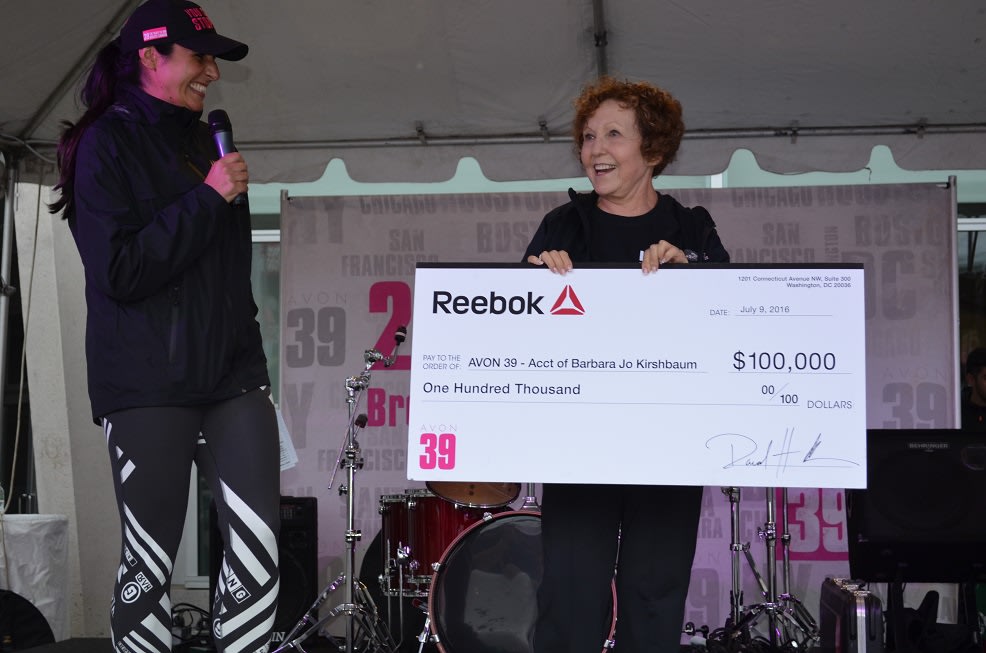 Reebok is truly committed to helping end the fight against breast cancer, and continues to host the AVON walkers on campus each year to show our appreciation for what they do and who they are. What better way to Be More Human, than to selflessly dedicate time and energy into helping fellow friends and family members?
Have you participated in an AVON walk? Show us why you walk by tagging @reebokwomen.