Jamie Eason Fights Cancer, Finds Fitness
Jamie Eason, now Jamie Eason Middleton, wasn't always the super fit, super athlete she is today. No, there was a time when Lean Pockets, Goldfish, and Diet Dr Pepper were her diet staples. She was never overweight, but she wasn't necessarily healthy, either.
"I was always chasing that last five to eight pounds, and had no clue what was best to eat or how to work out," says the model, writer, Reebok Trainer, and Gold's Gym Fitness Institute expert.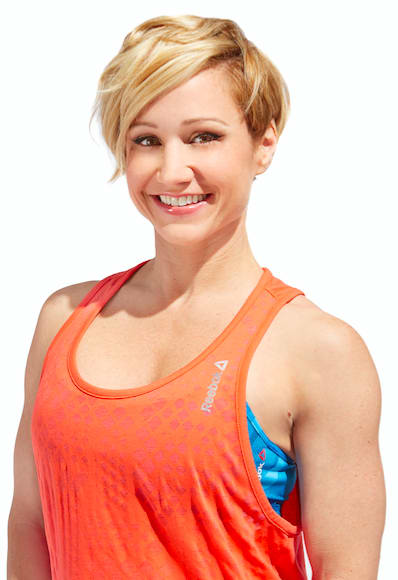 It wasn't until an unexpected diagnosis that Eason began to change her ways.
In 1998 at just 22 years old, Eason learned that she had breast cancer. She had a lumpectomy and treatments of Tamoxifen, a drug used to prevent breast cancer from reoccurring. She spent the next five years working as a technical sales trainer for a home builder, hoping and believing that she was in the clear.
But in 2004, at 28 years old, Eason's breast cancer came back after routine blood work found a recurrence. At that point, they removed more of her breast and treated her with a few rounds of chemo.
"That was my big epiphany moment," Eason says.
"One of my doctors said something really profound to me. He said three things can cause disease: luck of the draw and genetics; something in your environment, like maybe living with a smoker; and finally, what you are putting into your body. I realized that the last one was the only one that I could truly control."
Eason's new-found control has resulted in a strong sense of confident, thanks to her fitness journey.
"Looking at my reflection in the mirror while wearing my Reebok and Avon Breast Cancer Crusade gear serves as a reminder of how strong that I can be and that while my personal battle with it is hopefully over, there is still a huge battle to be won against breast cancer for all women," she says.
Changing Habits & Setting a Goal
Eason's first step to better health was finding a nutritionist to guide her eating habits. She went to the Institute of Eating Management in Houston, and found nutritionist Keith Klein, author of several books and educated in eating for disease prevention.
"My nutritionist wanted me to have a goal," Eason says. "He felt that if we left it open-ended and that I was just trying to eat clean every day, that it wouldn't be quite as effective as having an end goal to stay on track."
That goal ended up being a natural figure competition in Austin, Texas. After six months with the nutritionist, Eason's body fat percentage went from 28 percent down to 15. By her first competition, she was just 10 percent body fat, and easily won the amateur round.
The next night, Eason entered at the pro level, and won the overall in that, too, earning her pro card for the first time out. In the audience was a magazine editor looking for a fitness model for a feature, and they asked if Eason would be interested. Eason took the opportunity and soon discovered a love for fitness modeling.
Eason has shot more than 150 covers over ten years for magazines like Oxygen, Fitness, RX, and many international publications. She used modeling as a way to keep her nutrition and exercise routine on track.
Eventually though, Eason realized that she was prioritizing appearance over her actual health and this awareness led to a turning point in her life. She began to focus on finding a better balance between fitness, health, and her job. She started taking less print modeling jobs and was hired as the first official female spokesmodel for BodyBuilding.com and gained her own fitness column with Oxygen magazine, which she had for three years.
Currently, Eason is one of Reebok's top-level trainers and is an global ambassador for the brand's ever growing network of fitness professionals.
"Eason was handpicked by our Global Team to represent our program," says Andrew Connor, associate manager of Reebok's instructor engagement team.
"She embodies our brand's #BeMoreHuman message and is living proof that fitness can improve quality of life physically, mentally, and socially. She has a unique ability to inspire others through fitness and change people's lives on a much deeper level."
Finding a Balance & Being Proactive
Eason, now mother of two sons, finds balance in knowing that she doesn't have to be in peak shape year round. She still aims to workout everyday and help others to achieve their fitness goals, but uses exercise to stay healthy and confident, rather than aiming for perfection.
"It's really hard to be in your best condition all the time because life happens," Eason says. "The expectation that you put on yourself to do so is unrealistic and can leave you miserable. Chasing perfection is really no way to live, so it's important to maintain a healthy perspective."
As Eason's family grew with a husband and children, her schedule had to change, too. Time to hit the gym isn't always available, but Eason doesn't view that as an barrier; she has set up her house so that she has a place to workout every day.
When she is able to make it to the gym, she relishes it as her time to really zone out and release some stress. Since going to the gym can be a luxury, she prioritizes the muscle groups she needs to work most (like legs) early in the week to make sure she gets those workouts in.
Eason has found balance now, at almost 40 years old, but it took two scary bouts with cancer before she made fitness and health a priority in her life.
Take her advice. "I never imagined at 22 that I would have breast cancer," she says, "but you never know what can happen. Don't wait until something forces you to focus on health. Be proactive about it now."
She continues, "I hope that while someone is shopping this sports apparel that they will consider purchasing from the curated collection and supporting the Avon Breast Cancer Crusade, which takes a comprehensive approach to fighting breast cancer by raising awareness, encouraging screening and early detection as well as access to care, support services and scientific research, all with the goal of finding a cure."
To learn more about Jamie Eason and get her training tips, visit Labrada.com/JamieEason or ShowMetheWeigh.com . Follow her on Twitter at @Jamie_Eason or @JamieEasonMiddleton for Instagram.