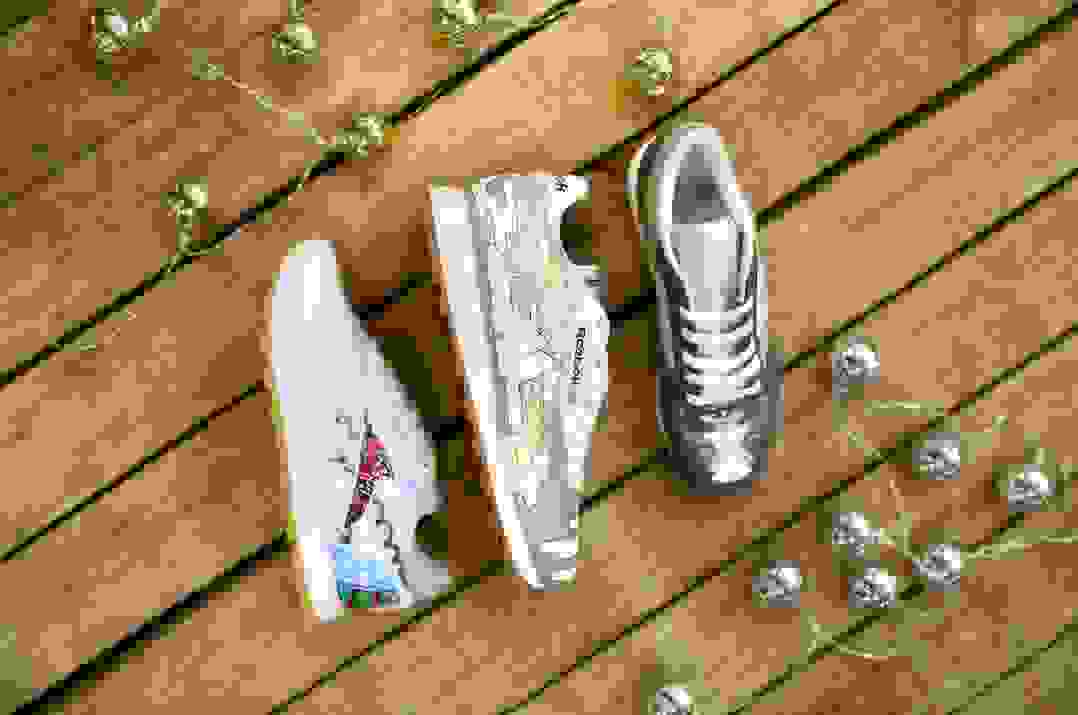 Hand-crafted Holiday Kicks
As you deck the halls and hang the mistletoe this year, it's not just your Christmas sweater that should be turning heads. Your sneakers are the perfect place to express your holiday cheer.
Reebok teamed up with three Instagram artists to create one-of-a-kind pairs of Reebok Classic Leather shoes for the holidays.
We gave them each a blank canvas with a pair of white Classic Leathers and asked them to create a holiday scene from scratch. They captured the entire design process from start to finish, and the results are insane.
Santa Sneakerheads … this one's for you!
Artist Inspiration: A New Holiday Style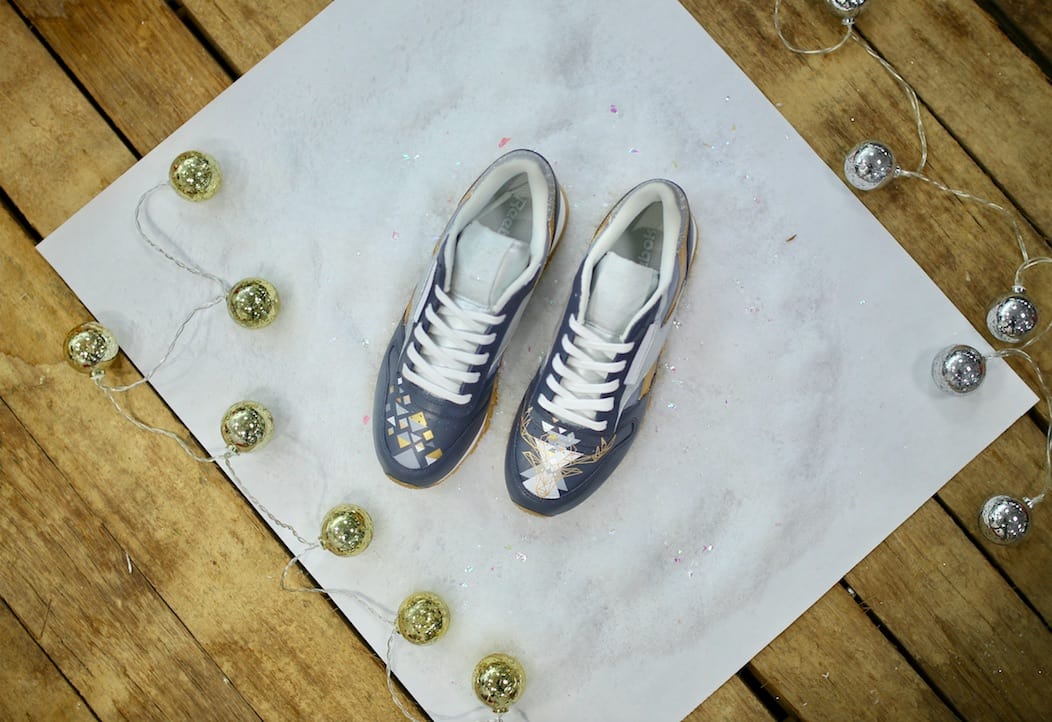 For Kelsey Archila of Kelseyland Customs, her inspiration for her reindeer themed sneakers came from an unlikely place--her mom.
"I was initially inspired by modern styles of holiday home decor. I wanted to express that subtle, comfortable feeling by using neutrals and grays," she says.
"I added metallic gold and silver for that extra touch of sparkle. I incorporated a reindeer because, in the spirit of moms, some of my favorite ones taught me that reindeer decor is so 'in' right now."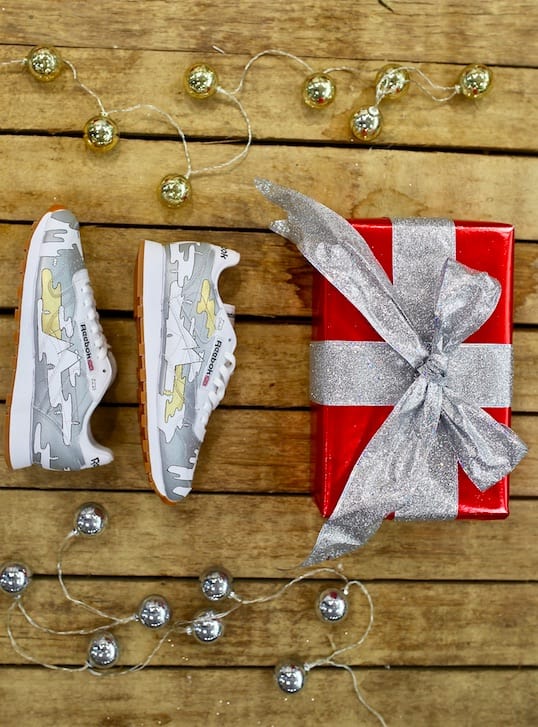 Founder of Doodlers Anonymous, Rony Tako, says his approach to his design was a seasonal one, capturing the ice cold of winter months.
"I wanted the challenge of designing something I know nothing about living here in Miami - frozen lakes, pine trees and snow-capped mountains," he says. "The design is inspired by the reflections, the mirror-images, of winter and the sheen and smooth texture of ice."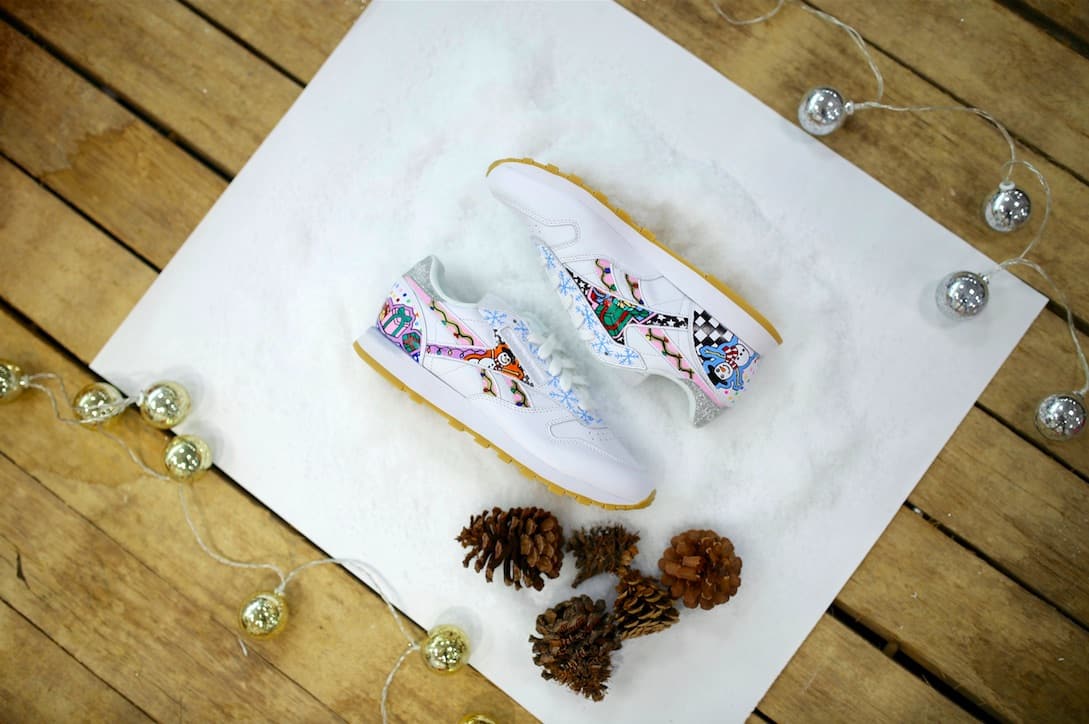 But for Jordana Schrager of by Jordana, her sneaker design was based on color. She says her use of bright shades was all to capture the spirit of the season!
"This design was inspired by the happy and festive feelings of the Holiday season," she says.
"Between the vibrant colors and symbolic icons, I wanted to represent the holidays in an exciting, young, and fun way."
A Canvas for Your Creativity
We can all agree making a bold fashion statement can be risky. But for these artists, custom sneakers are their way of expressing themselves.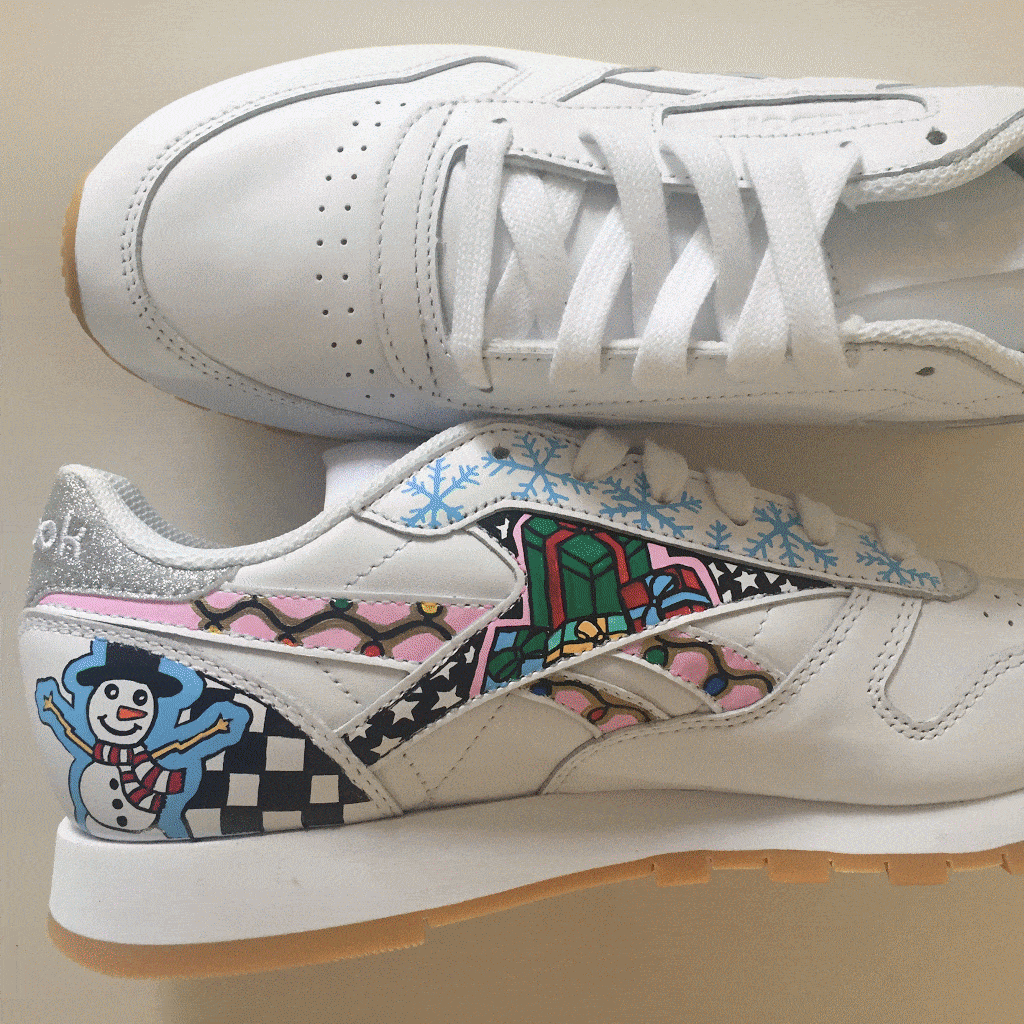 Sneakers are a go-to for Schrager. She says she likes that custom sneakers allow her to stand out from a crowd.
"I love fashion and footwear, and always wear sneakers wherever I go," she says. "The Reebok Classic Leathers are especially great for both comfort and fashion. I like to make my outfits pop by wearing these bright and colorful shoes!"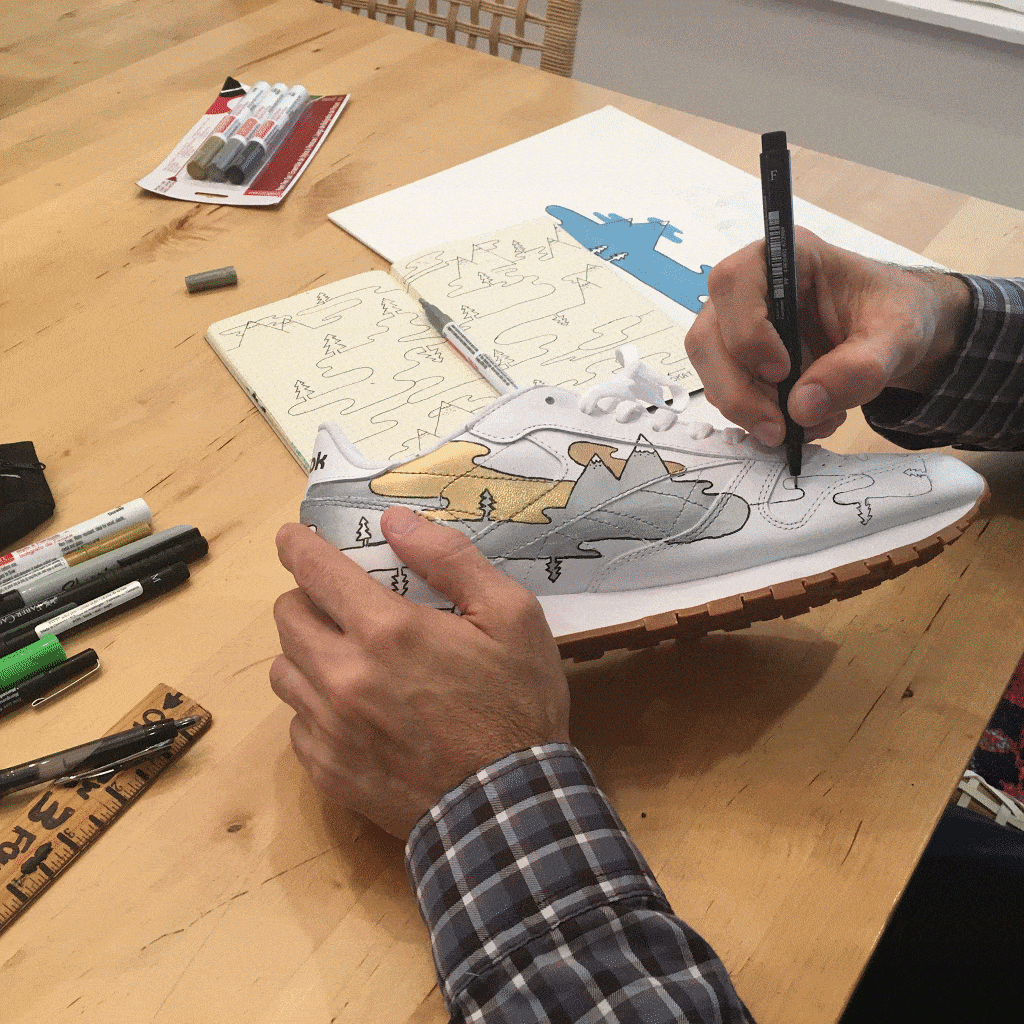 For Tako, it's a bit more personal.
"I remember doodling on shoes as a kid," says Tako. "For me, custom kicks are almost an homage to those days of drawing on a shoe during class. It's such a personal accessory."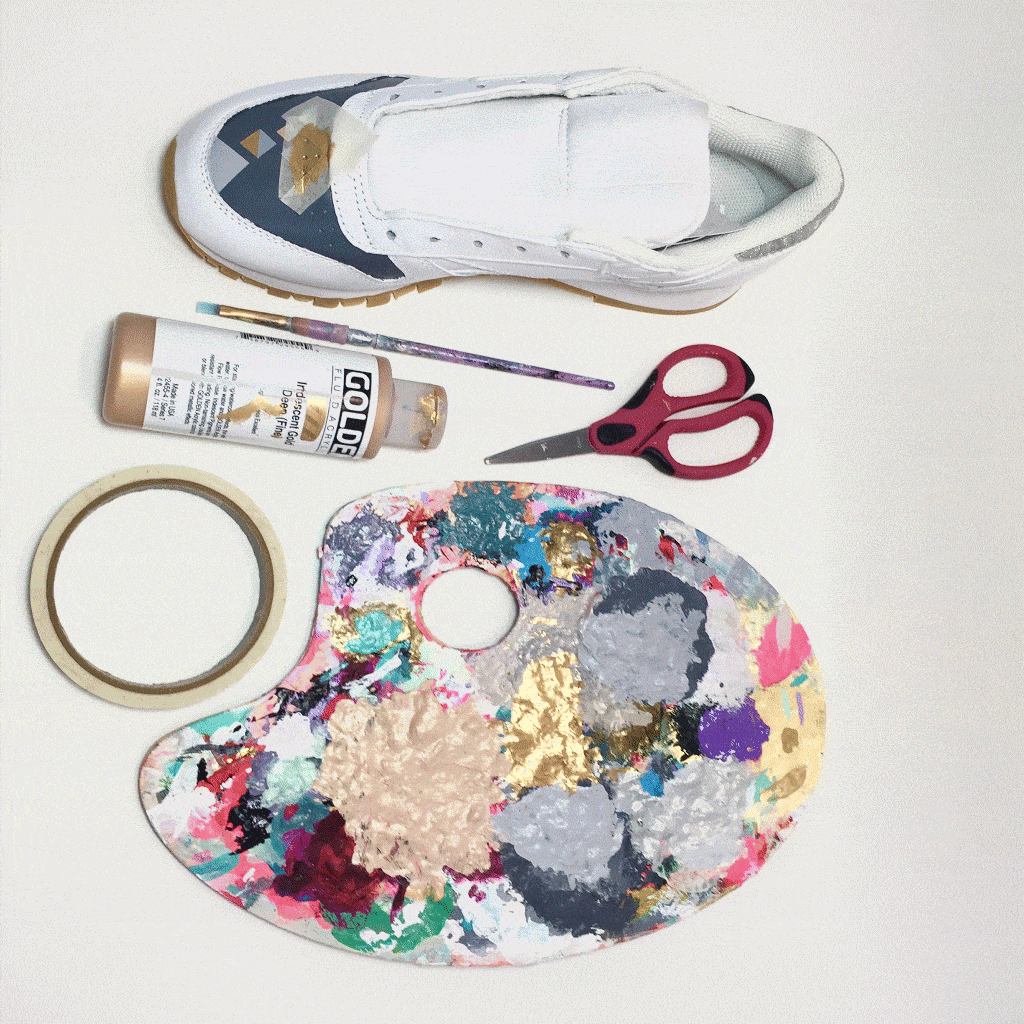 Archila says for her, it's all about the attitude that custom-designed footwear brings out in her.
"Unique footwear is the best way to build confidence and gets you in touch with your originality," she says. "When I'm wearing really amazing shoes, there is a proud, hard strut that comes about in my walk. I am beaming with a positive energy that I want to share with others."
Behind the Designs: A Closer Look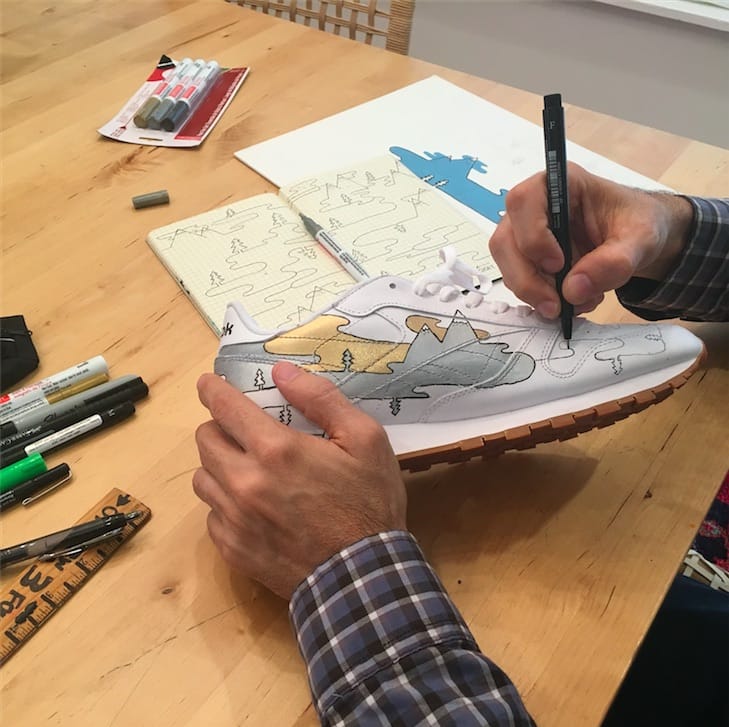 With such unique designs, all three artists were still able to pick out their favorite part of their one-of-a-kind creations.
"I like the fluidity of the design, because although the pattern was essentially planned, it was also somewhat organic and gave me the freedom to freehand sections of the shoe, which made the process more fun," says Tako.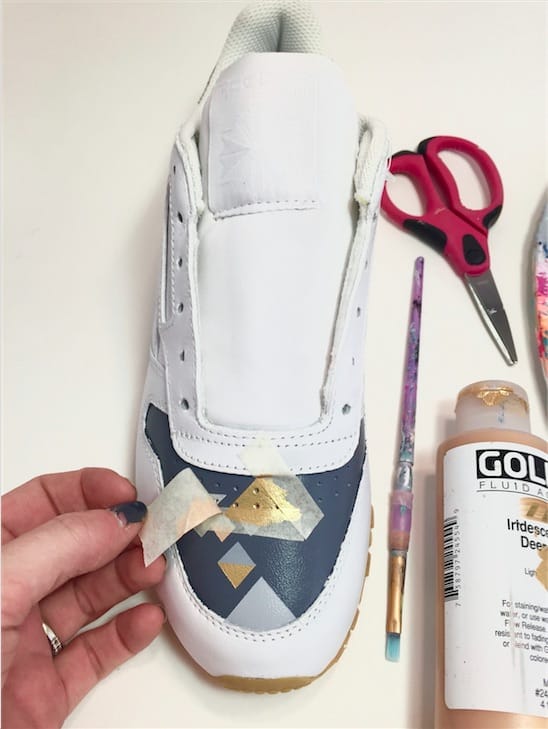 Archila points out that she likes that the subtle nuances of her design leave it open for interpretation.
"My favorite elements of this design are the different colored geometric diamonds throughout the shoe," she says. "I didn't do it intentionally, but I realized that they can be seen as a lot of different things depending on a person's perspective."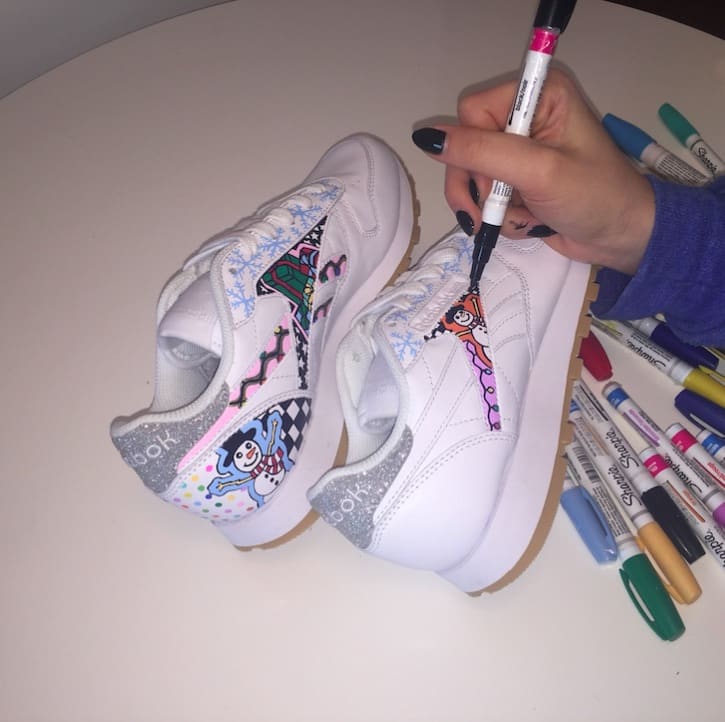 Schrager says it was the festive touches in her design that really helped it come together.
"My favorite element of this holiday design would have to be the Christmas lights that wrap around the shoe! The lights were designed with a variety of colors and outlined with gold and pink."
Bonus Timelapse Videos:
How would you design your own holiday classics? Tweet @ReebokClassics and show us!